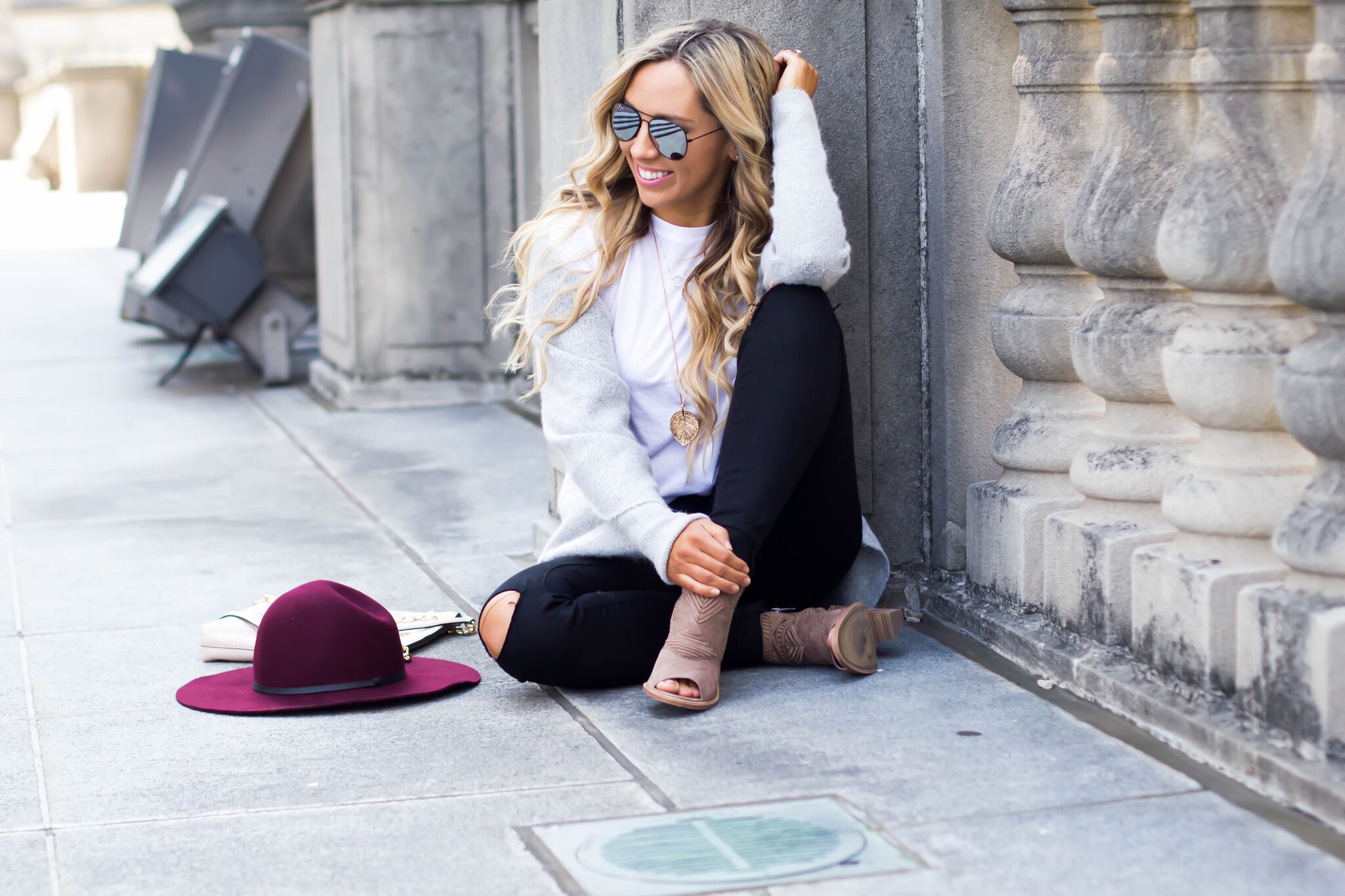 Mott & Bow Jeans | White Tee | Vince Camuto Booties | $12 Sunglasses | Leith Cardigan | Hat
Hey guys! Wow it actually feels like fall… it's only 70 degrees here in Richmond today! I might be ready for cute fall outfits but honestly anything under 60 degrees and I want to go into hibernation mode! haha is that just me? My blood has definitely thinned since moving to the south.
Anyways – I just wanted to quickly share this look with you! I love it because each piece is a staple item that you can wear over and over again this fall, and easily mix and match for different looks. These booties were a little bit of an investment piece but I have worn them so many times already. They're perfect for late summer and cool fall days when the weather is still pleasant! I also recently got these jeans as a gift from Mott & Bow, and they are incredibly flattering! They fit great and true to size, and the high waistline is perfect for making my legs look a little bit longer! I would definitely recommend their jeans.
Last but not least, I snagged this cardigan last fall, and it's back in stock this year in some new colors. It's cozy and I love the circle hem on it.
On another note – my thoughts and prayers go out to everyone in Texas, especially those severely affected by the storm. I have lots of family in the Houston area, thankfully who are all safe and sound, but I know other people are not so lucky. I was laying on the couch last night with both children asleep on me, watching videos and news clips of Harvey. It's devastating and I can't imagine what these people are going through. I saw one woman carrying a baby as she was being rescued by a boat and my heart just couldn't handle it. It really reminds me to not take things for granted, even safety, shelter and food. I'm shipping a few boxes of things we no longer need to some of the shelters, and encourage you to do the same! <3
Pictures by Amanda Matthews Photography