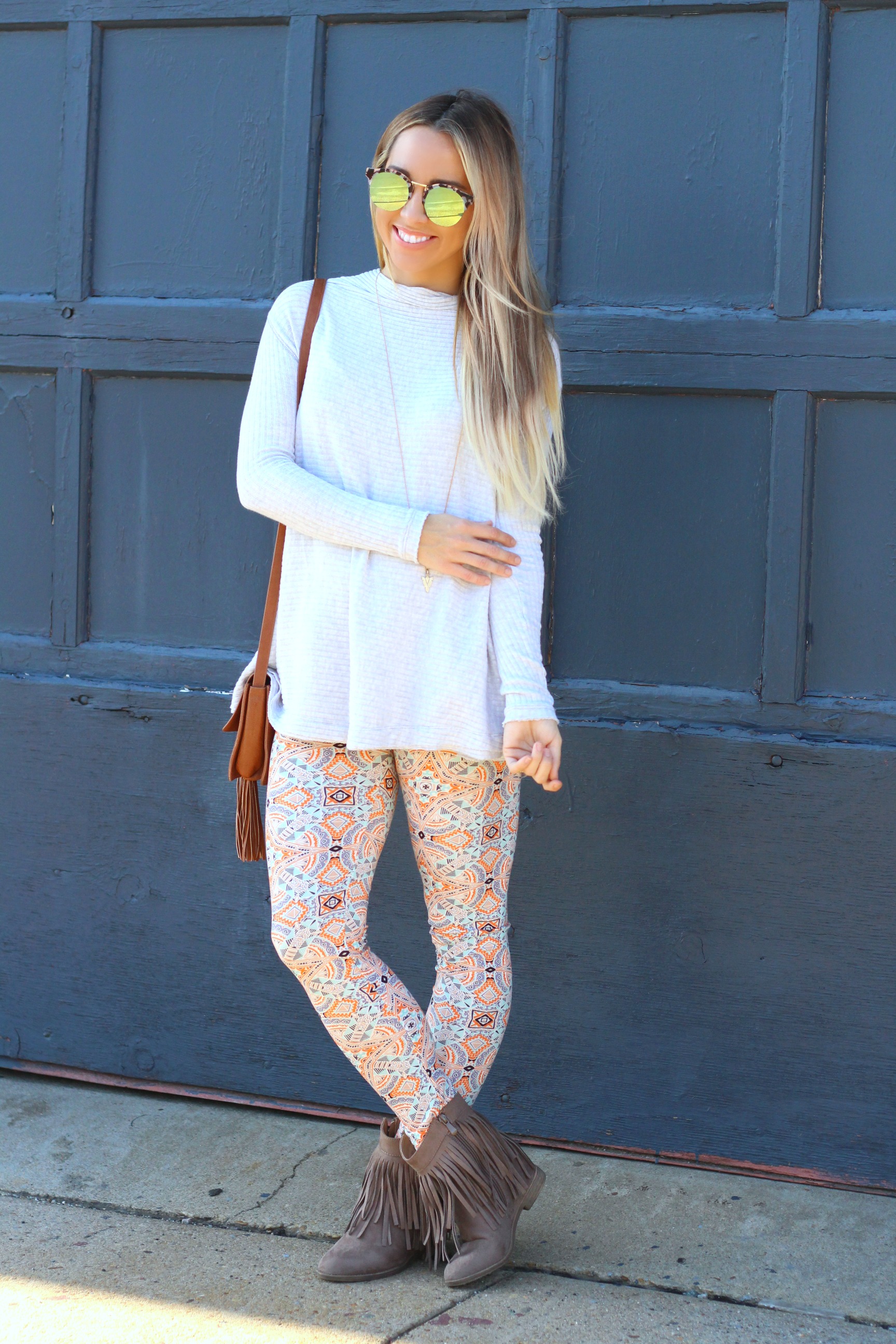 Simple Addiction Leggings // Free People Sweater // Simple Addiction Booties // Dottie Couture Sunglasses (old) // BP Bag (sold out, similar here) // Arrow Necklace from LuvIt
Did you guess it? Well, probably not, but here it is: PATTERNED. LEGGINGS. I recently stumbled upon these leggings from Simple Addiction, and I'm so glad I did. They are so incredibly soft, move over Lularoe, and they come in so many cute patterns and colors.
I have seen patterned leggings in stores before, but just figured they weren't for me. I'm so happy I tried these because they wake up any outfit, and you know I'm all about the comfort level. They are 95% polyester, and 5% spandex. It feels like I'm wearing my PJs but I look put together at the same time. They are not super thin, they're actually fairly thick without being uncomfortable, but still breathable and definitely not see-through.
I think these leggings will be super adorable around the holidays, with cozy sweaters when the weather is cold and snowy outside. The best part about them is they are extremely affordable and could even make a great gift for someone. They're normally $19.99, but all of the leggings are on sale for under $10 right now! Can I have them all?
Since the leggings were so bold and so colorful, I decided to keep the rest of my outfits neutral and solid. You definitely don't need much accessorizing with these, just some cute fringe booties to seal the deal. I also got these from Simple Addiction and they are my new favorite bootie. They are also very affordable, coming in at $26!
What do you think? Would you ever try patterned leggings? Make sure to check out Simple Addiction for inexpensive and trendy fashion and accessories. I'm sure you will love everything!
The booties & leggings were gifted by Simple Addiction. All opinions of the items and the brand are my own.