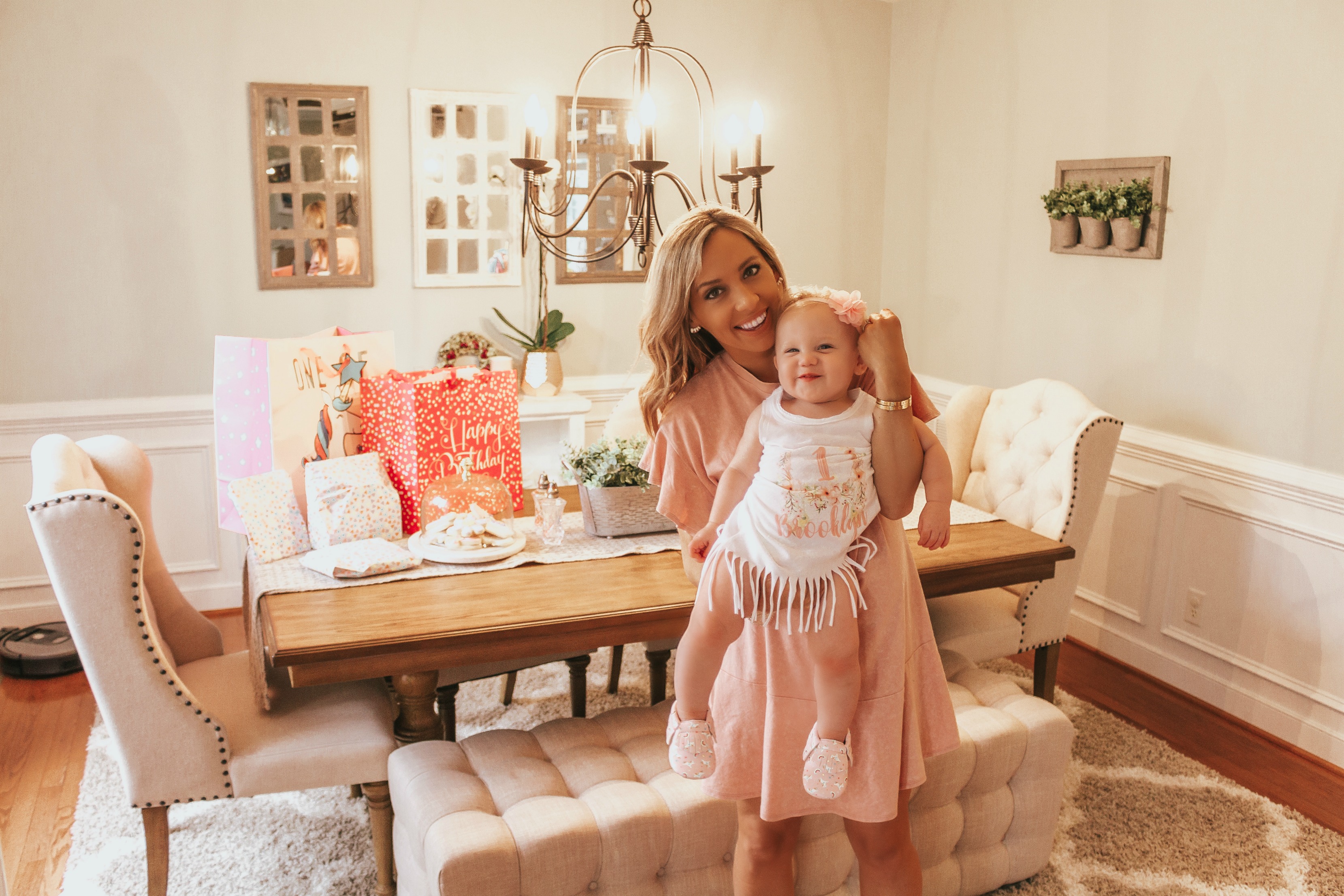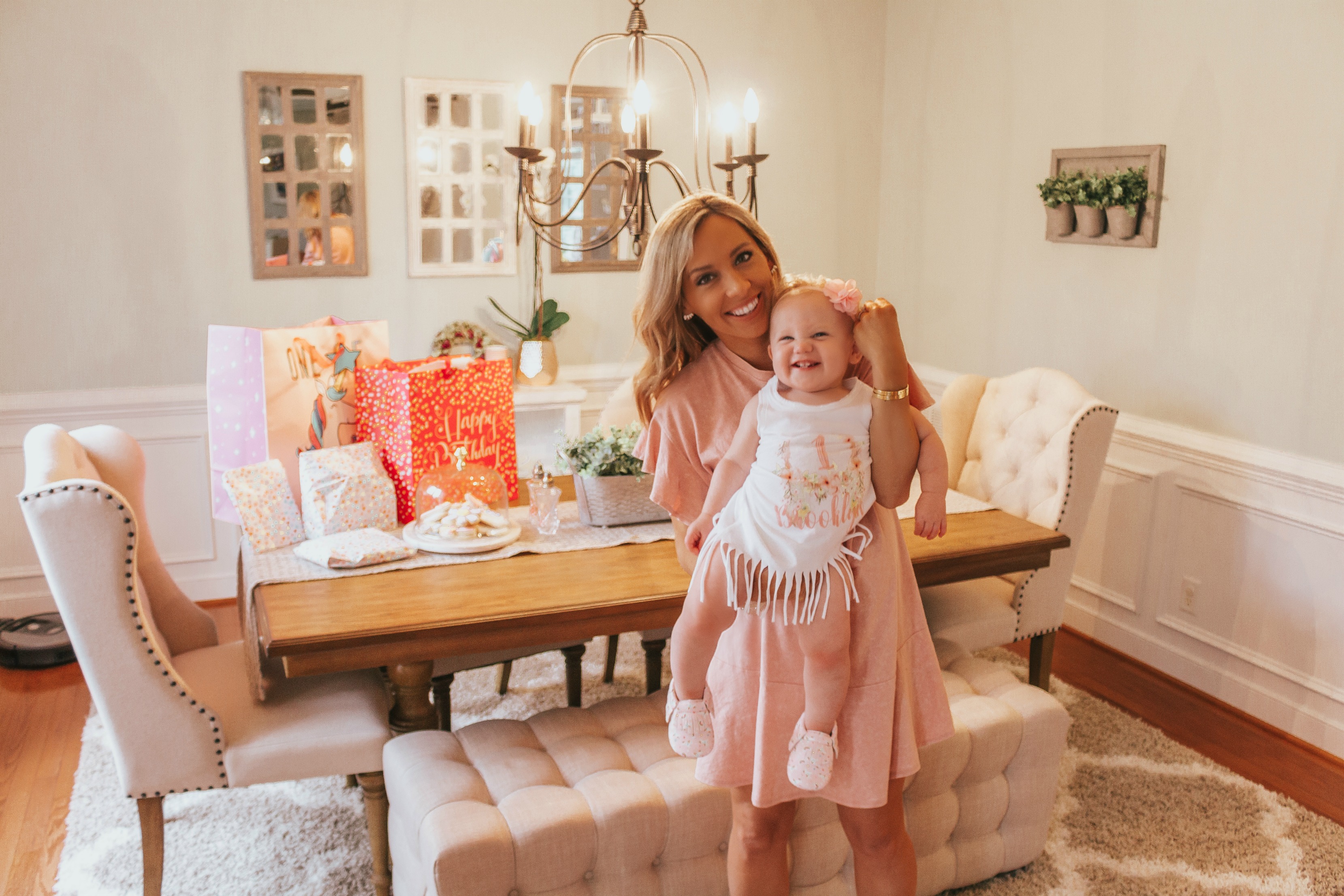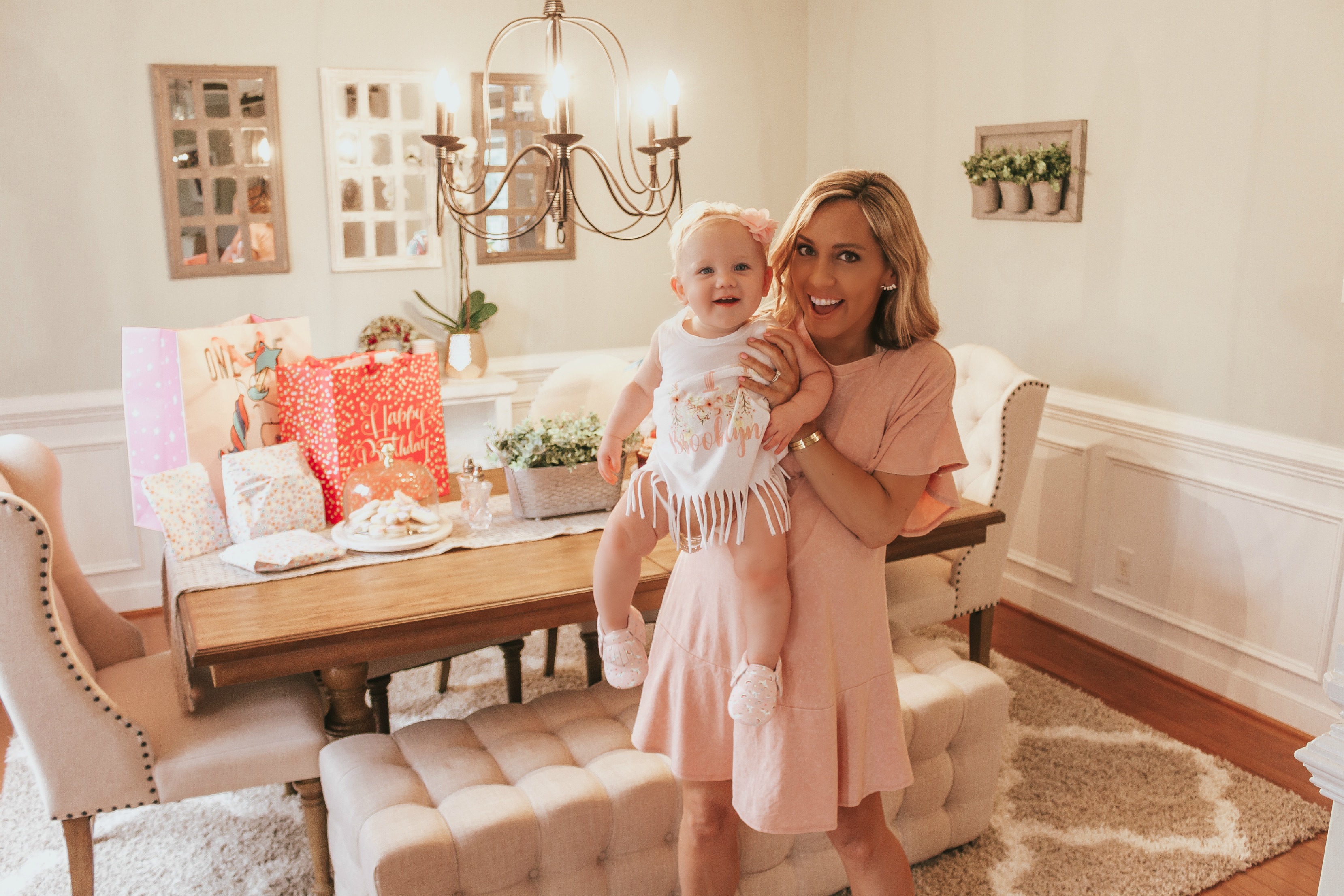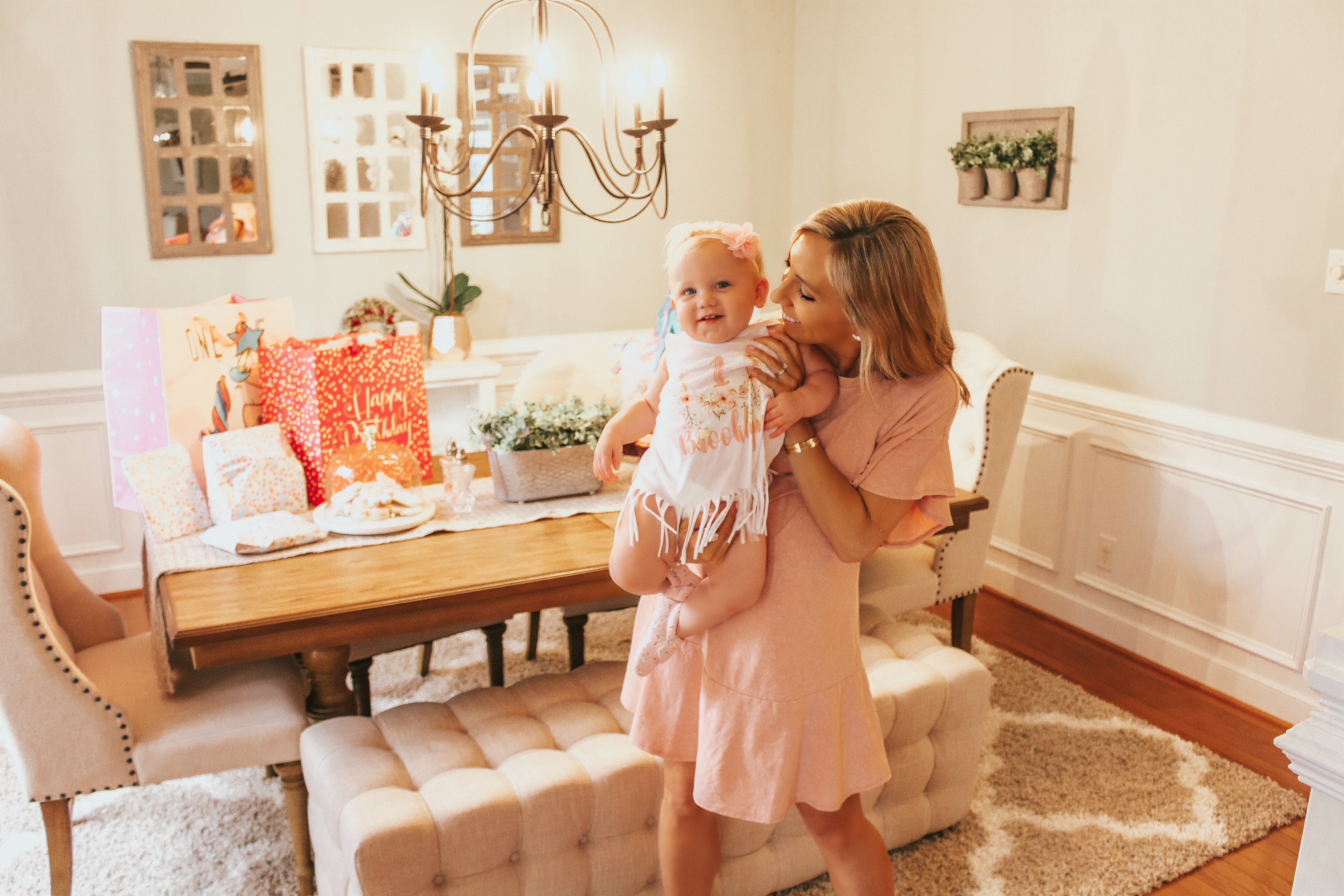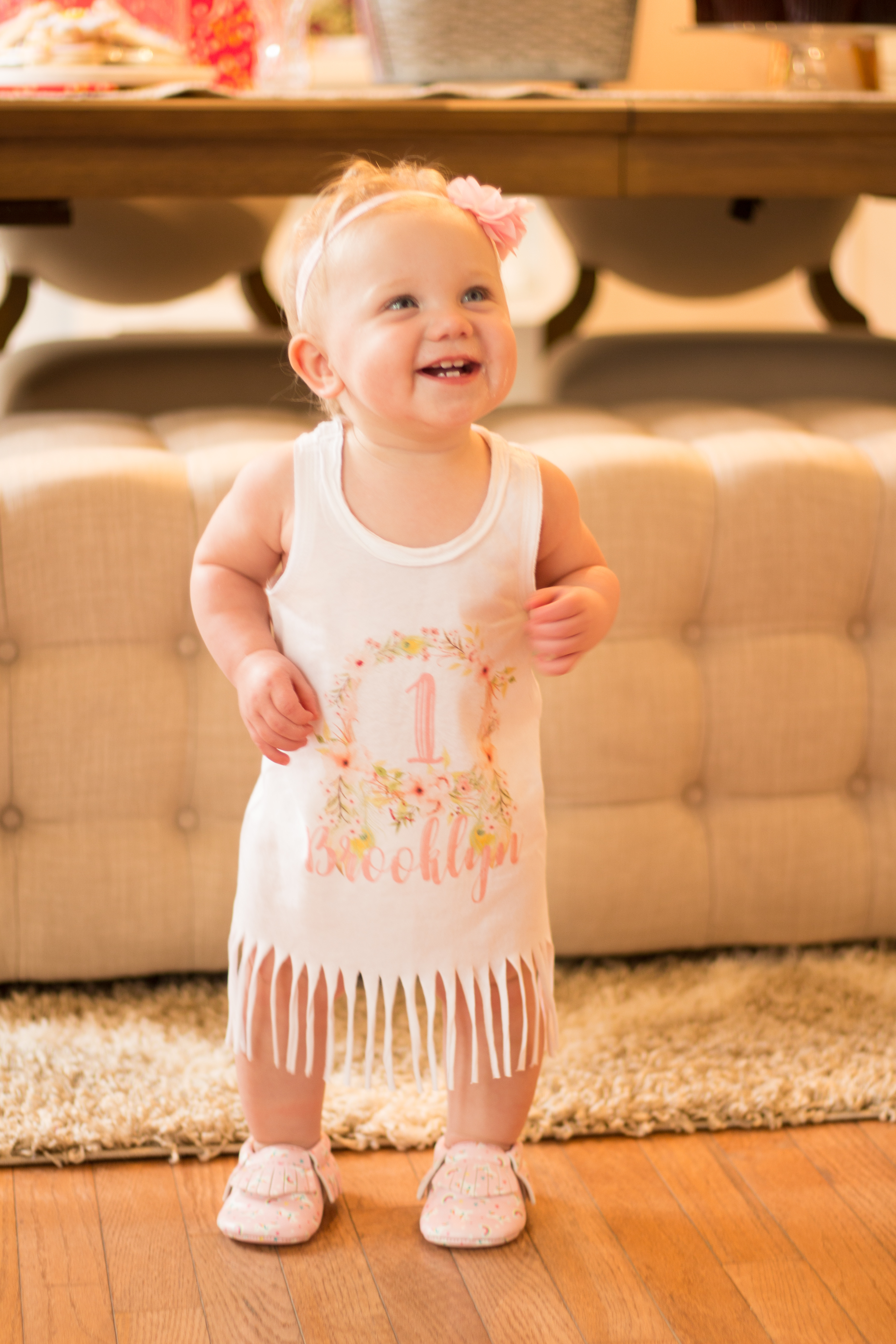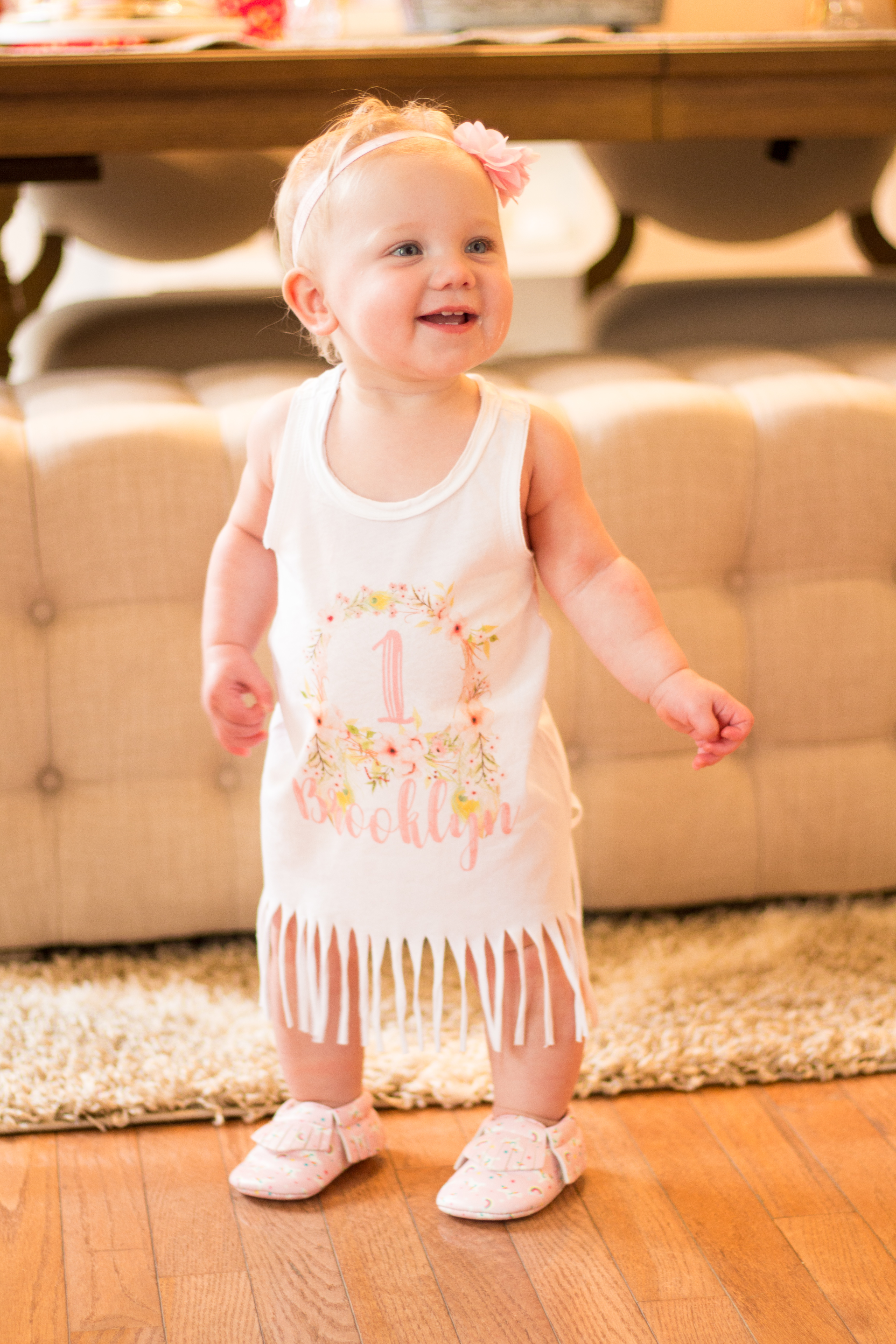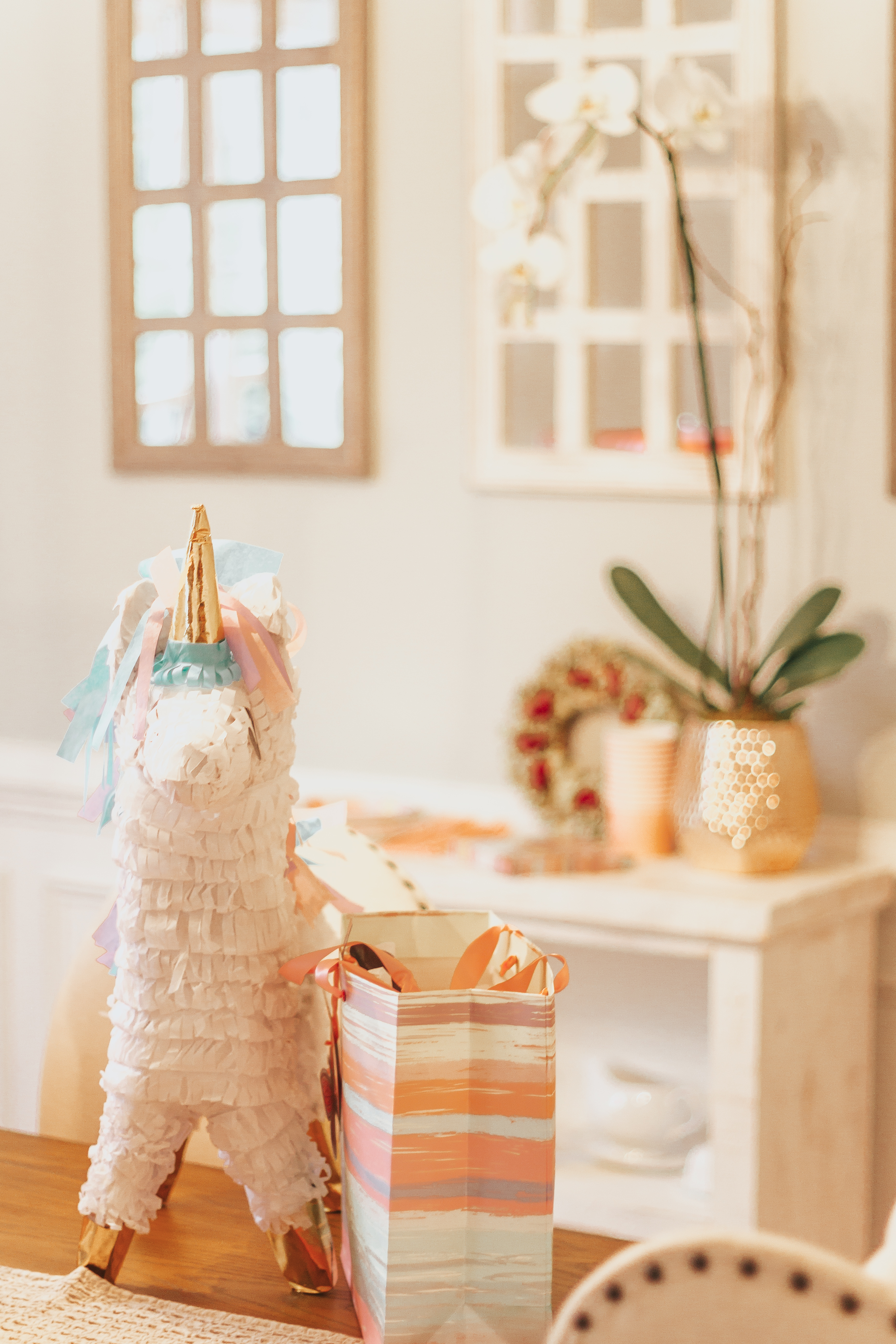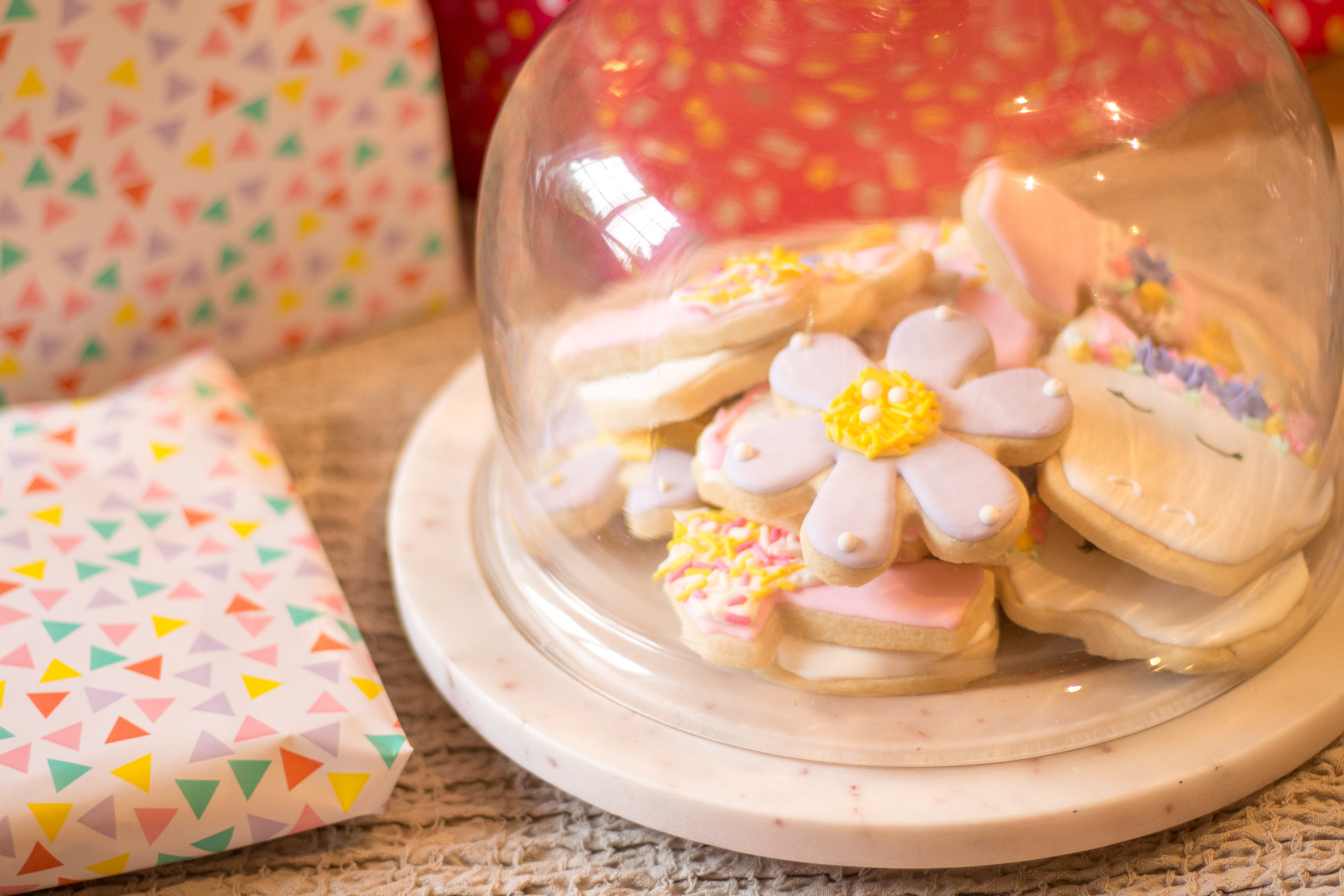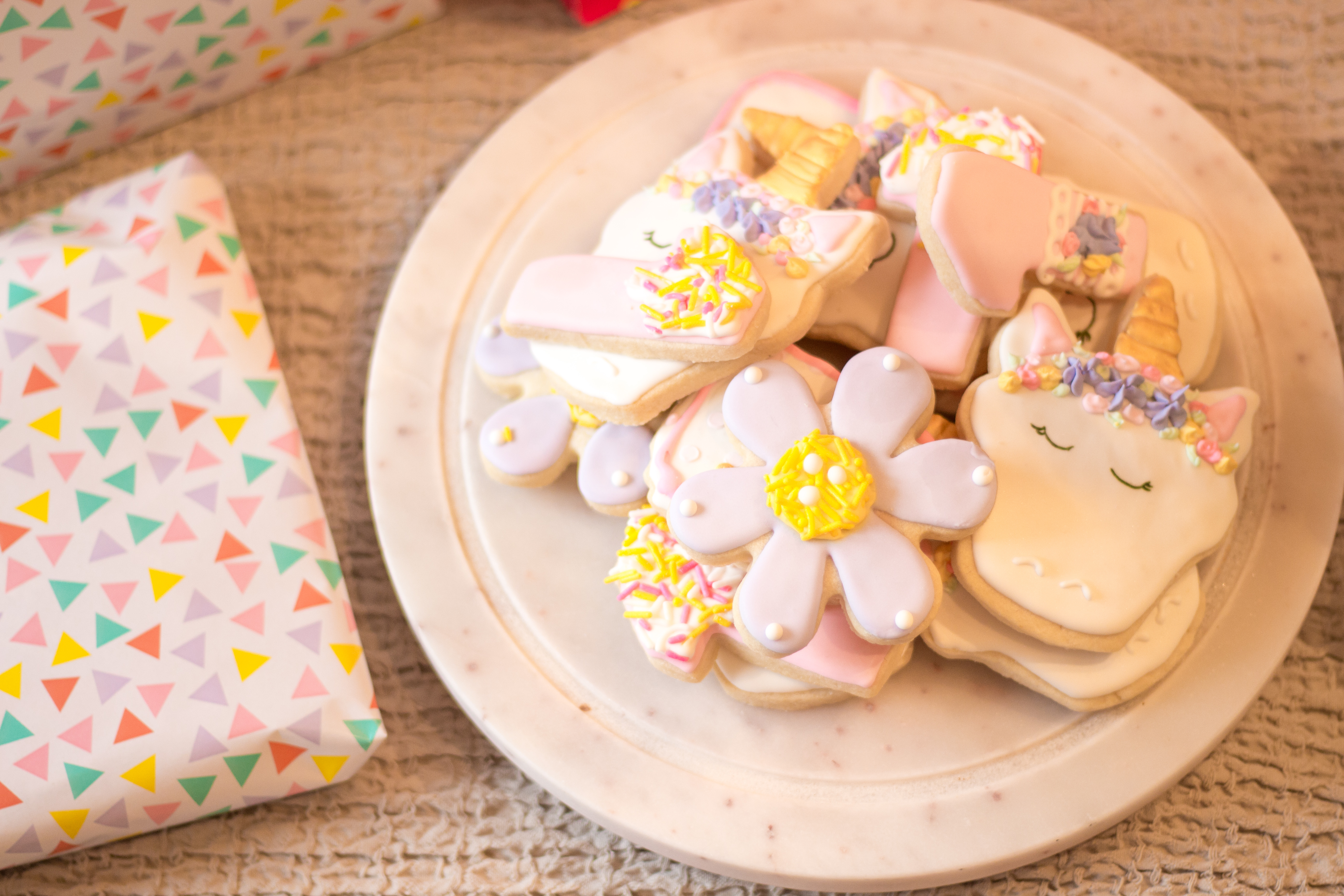 Can someone please tell me how my little baby is officially one already? I swear I blinked and she crawled, walked, and now becoming a big girl! It will be crazy to see baby boy in a few short months, where I'm sure I'll realize then Brookie is no longer a baby 🙁
Luckily her birthday was on a Saturday, and our families came in from out of town. We knew it would be a jam packed long weekend anyways so we decided to keep it small & low key, and Brooklyn loved all of the one on one attention she got from her grandparents! Ideally the plan was to cook out and hang out outside, play in the sprinklers since it's been so hot and she loves water. But it rained the entire week so we had to adjust. I ordered the Fresh Market meal deal, which if you live near a Fresh Market it's amazing especially when you're hosting people. Every week they change the menu and it's either $20 or $25 and feeds at least a family of 4. I got two for 7 adults and 2 kids and it was more than enough! We actually do this all the time because its so easy and cheap, and then we have leftovers the next day.
Treat Details 
Even though we didn't end up doing the piñata til a few days after her birthday, Brooklyn laughed the whole time Blaire & her friend Amelia busted it open! It was only $15 and great quality. I did stuff it with candy (obviously for Blaire to have a little fun) because I couldn't think of anything that Brooklyn would like that would fit in a piñata!
These cute cookies were made by a family friend, isn't she amazing?? She does it mostly for fun and for a few loyal customers, but if you're in the Indianapolis area you should definitely check her out. Her name is @the_cookie_cupboard on IG. We definitely had treat overload but what can I say, I'm 7 months pregnant after all we needed lots of sweets options! I didn't end up getting a smash cake because Blaire wasn't super into hers, so I figured we'd just try a cupcake.
This place had the cutest cupcakes (not special order but you can) and we ended up just getting an assortment. Blaire and I had been there before for cupcakes so I knew they were good, but now I've been craving the chocolate ones since Saturday! If you're local to Richmond I highly suggest ordering from them. Last but not least in the dessert category, DONUT CAKE!!! I'm sure you've seen us eat a donut cake 100x by now. I'm not positive if other donut shops make them or not, but here you can call ahead (at least 24 hrs in advance) and they will make you a giant freaking donut that is better than any regular size donut you've ever had! The one pictured is the big one, 18″ and was under $25 I think!
Outfit Details
I absolutely loved Brookie's outfit and it was affordable and came pretty quickly. You can personalize your own cute fringe dress here, and you can find these adorable unicorn Mocs here! I ordered a really cute braided gold headband but even with 3 weeks shipping time it didn't come in time for her bday. Of course it came right after and then Blaire decided to keep it for herself, sisterly love! haha! Also – the wet diaper is not included! 🙂
My dress I recently snagged because it was on major sale, and I loved the ruffle details. You can get it here for $27 while it's on sale, I'm wearing an XXS (non-maternity). My shoes linked here are under $100, super comfy and come in lots of colors!
Decor Details
Table & Chairs / Bench / Window Mirrors / Paper Plates / Piñata / Rug / Wrapping Paper
I didn't do a whole lot of decorating and mainly let the food & the presents be the center of attention. However, we did recently redo our dining room so we wanted to set everything up there and out of the way of the kitchen. Again, it was also going to be outside so I didn't have much planned for indoors!