Hey guys! Today I'm sharing tons of cute bump OOTDs that never made it to the blog! You may have seen them on my instagram page, but if you didn't catch the details there I'm linking everything here for you! There's also an awesome giveaway at the bottom of the page, make sure you check it out & get entered! xo, Stefanie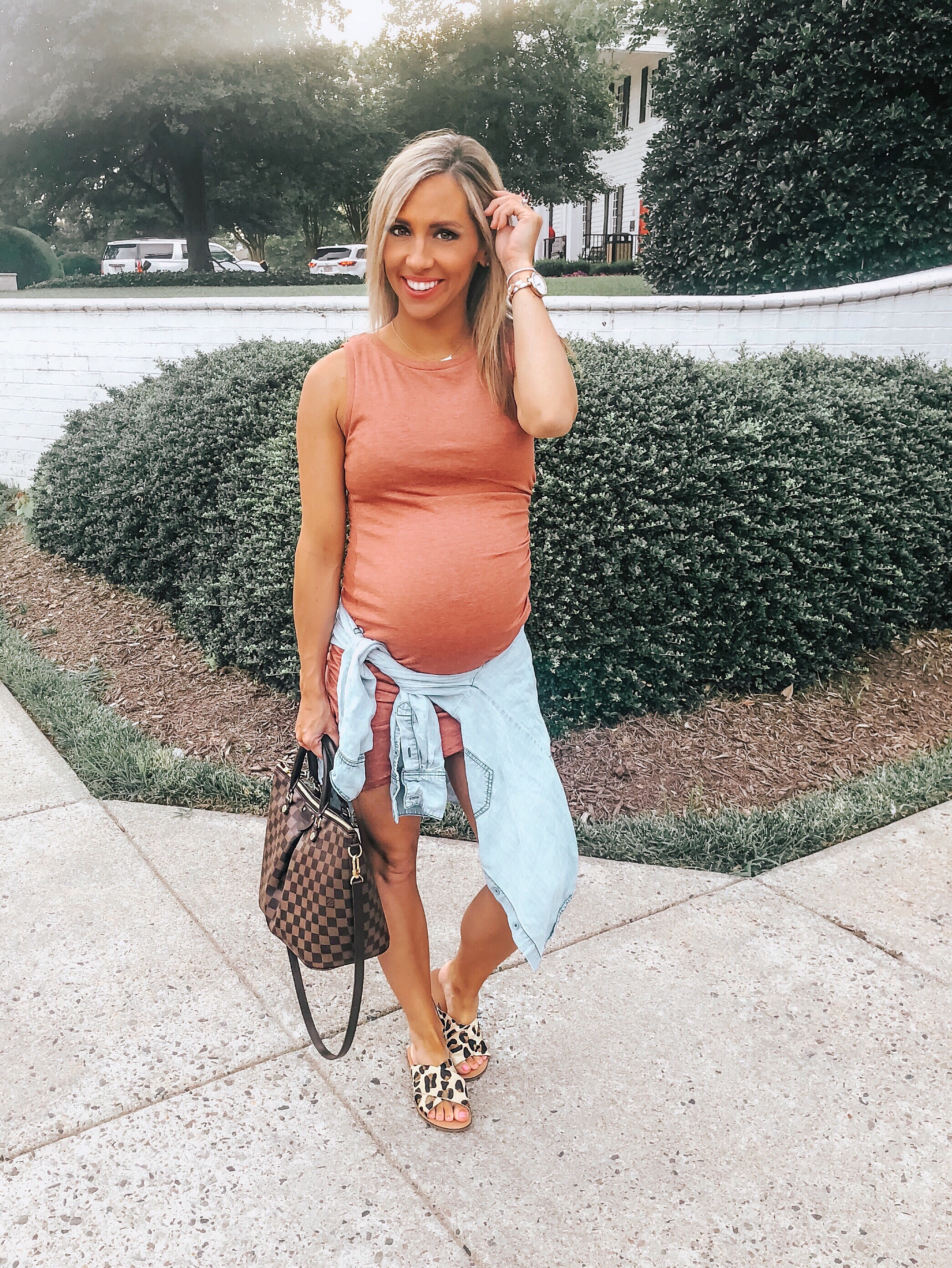 Bodycon Dress // Leopard Slides (similar here & here) // Chambray Shirt // Kate Spade Watch
This bodycon dress is one of my favorites! It's non-maternity, I bought an XS and it's fit my entire pregnancy. I love how flattering it is and even bought it in a few other colors.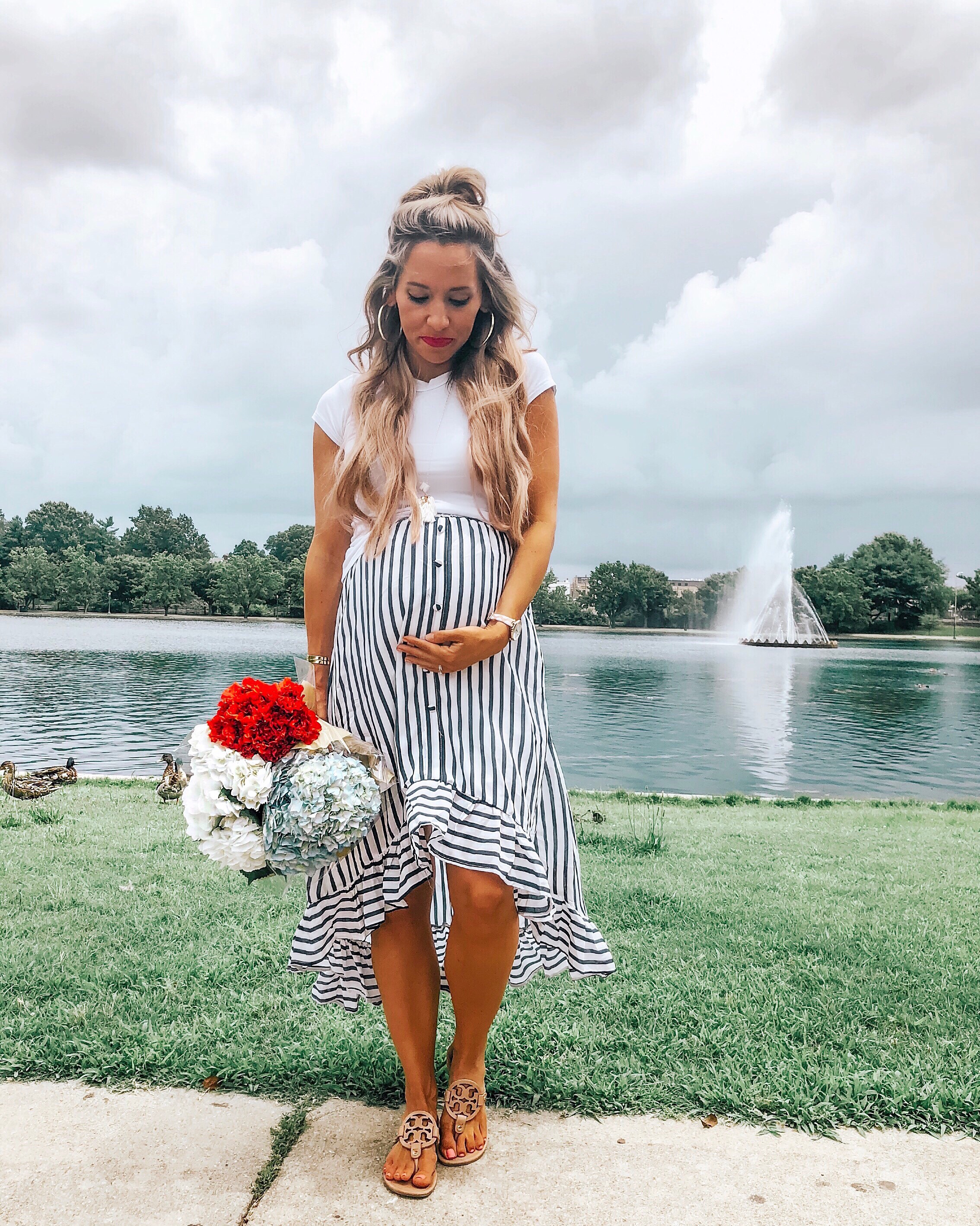 Top c/o Sexy Mama Maternity // Skirt c/o Pink Blush // Tory Burch Sandals // Non Maternity Crop Top Option here // Non-Maternity similar skirts here and here
This skirt is maternity and on sale for only $29! It's also available in a yellow stripe. I love Pink Blush because they offer almost all the same things in regular sizes and maternity sizes, so they are perfect for pre-pregnancy, during pregnancy and after pregnancy!
Oh the first time I let my bump out in public! But ya'll were sooo nice and I couldn't love you more for it! I'm about 8 months pregnant here, wearing a medium bikini top and my normal size XS bottom. I mentioned this bikini was bump friendly and someone said "aren't all bikinis bump friendly?" and I suppose they could be! But will a little extra fullness up top I needed support, and with carrying so low I needed some low rise bottoms that were comfy and didn't fit too tight. So – I would definitely say some bikinis are better than others but I definitely was wearing them for awhile when my one-pieces no longer fit!
Another thing – I did get A  LOTTT of questions about these sandals. They are topshop from last year, I think they were called the Holiday sandal or something, but there are tons of dupes out there including the two I linked above!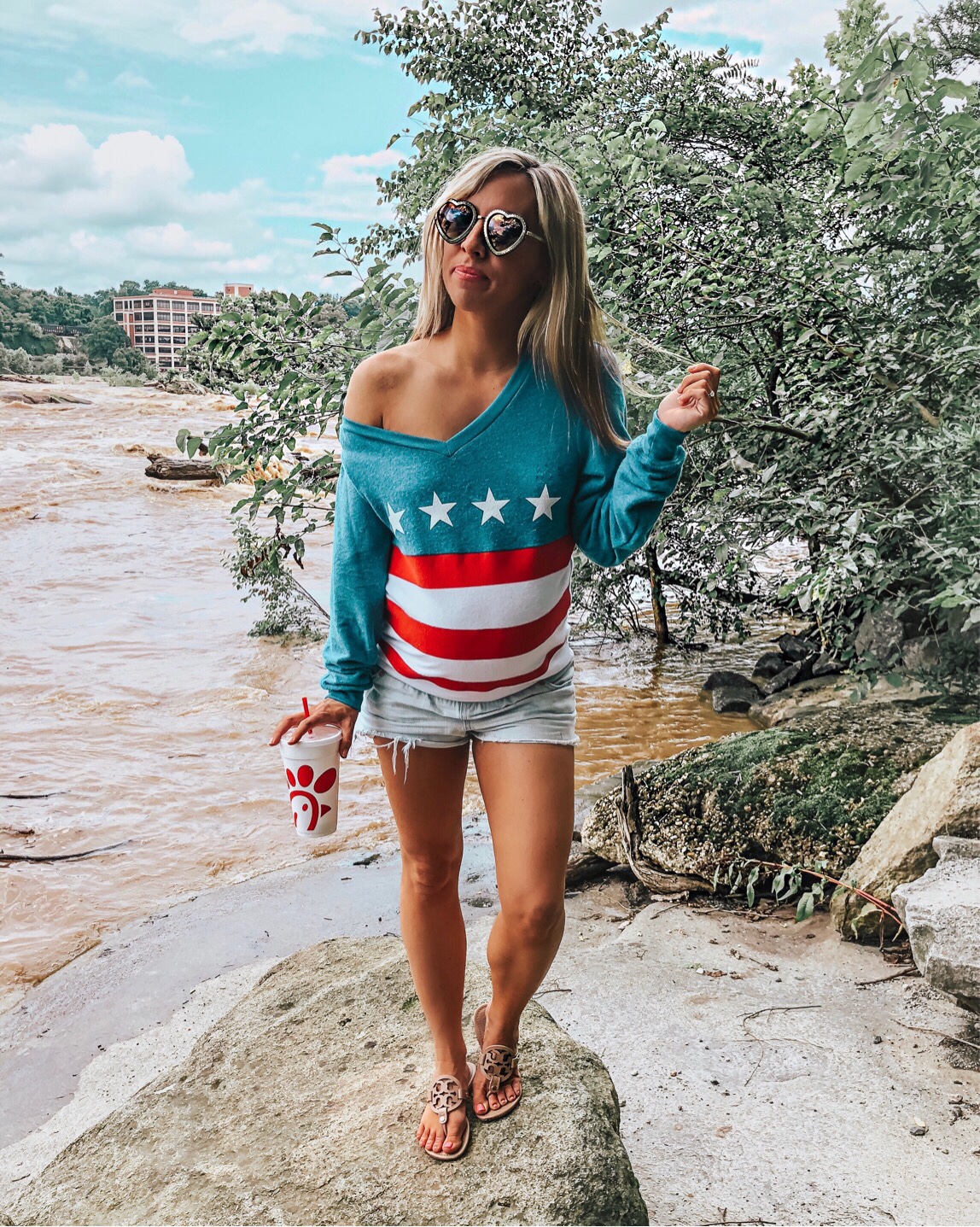 Wildfox Pullover // ASOS Denim Shorts // Tory Burch Sandals // Heart Sunglasses
Cutest little heart sunglasses that are only $14! They are designer dupes, and I'm super impressed by the quality of them.
White Tshirt // Shorts c/o of Pink Blush // Express Studded Sandals // Sunglasses
Blaire: Ruffle Swimsuit // Rainbow Slide Sandals
If you guys couldn't tell, we are living at the pool this summer! It's sooo hot here in Virginia! PS- I think those rainbow slides come big enough in kids that I could wear them.. I'm strongly considering getting them am I crazy?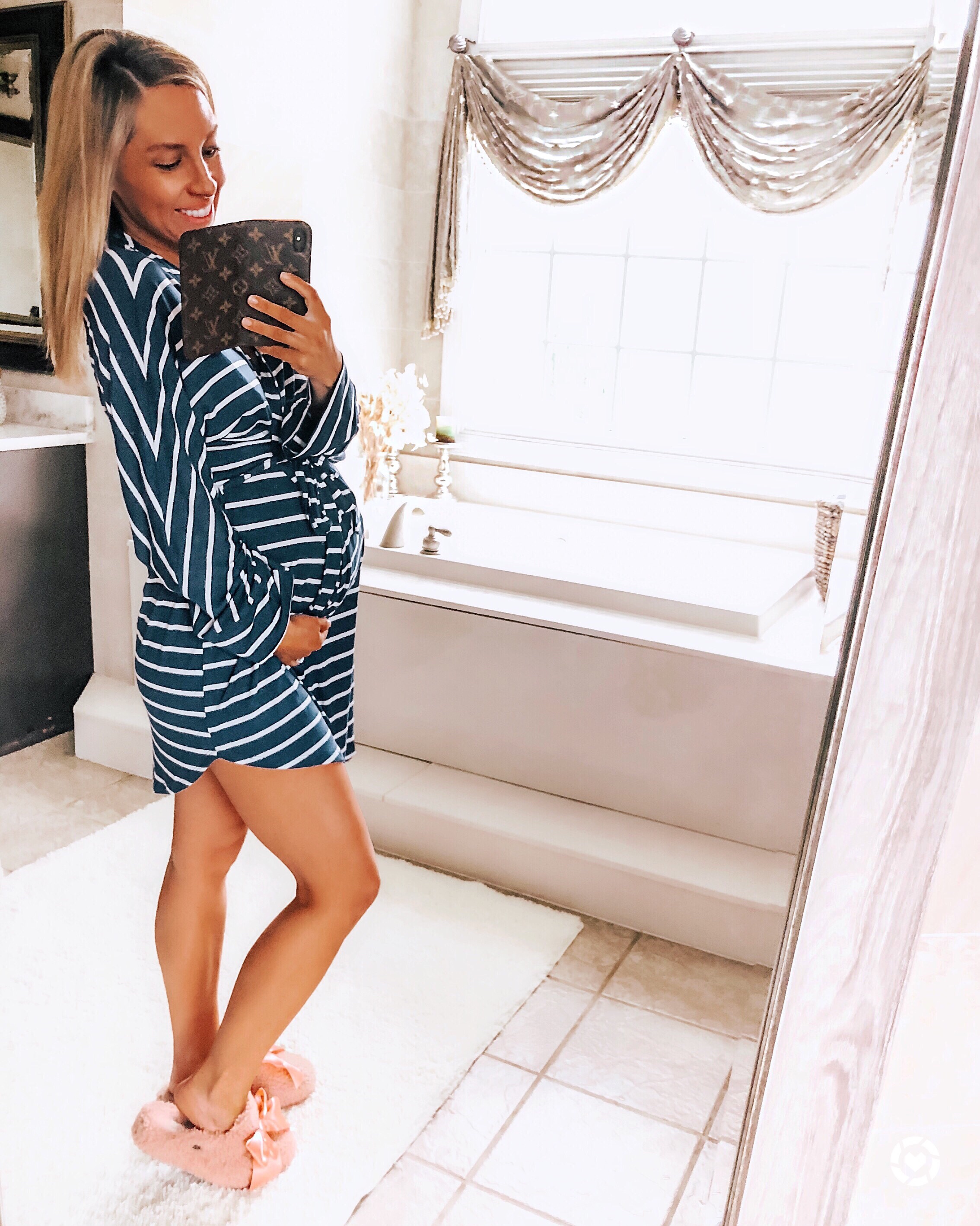 Jersey Robe // Ugg Bow Slippers
I bought this little combo for the hospital! I can definitely do a "whats in my hospital bag" post if you guys would like. But this robe was really affordable and SOOO soft that I couldn't wait to start wearing it.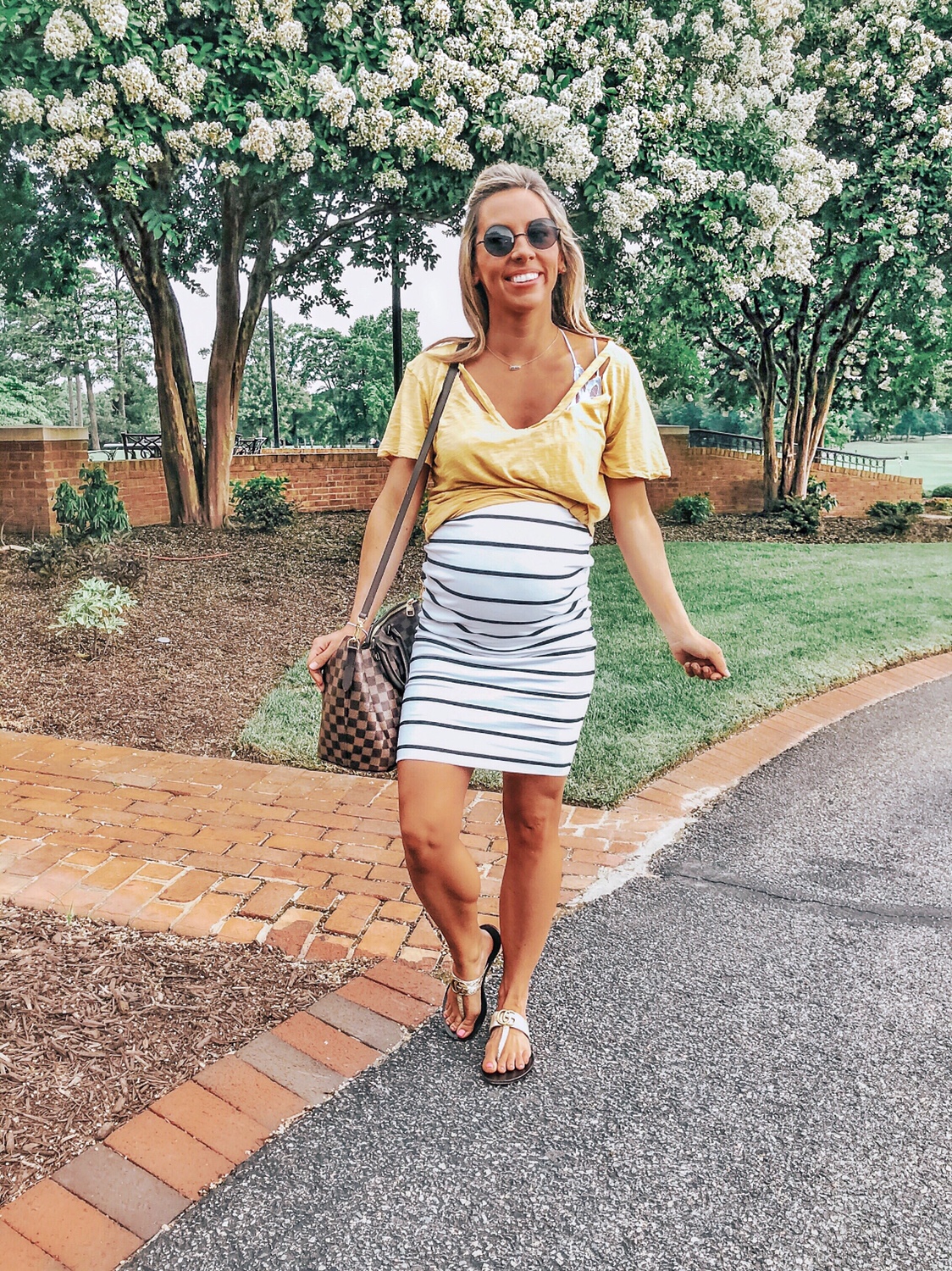 Sunglasses // BP Slit Tshirt // Skirt c/o of Legoe Heritage // Gucci Thong Sandals // Bralette
I don't wear a ton of fitted clothing during pregnancy, thats just me, but this time around I literally feel like I'm carrying a basketball and have felt a little bit more comfortable with clothes that hug the bump. Legoe Heritage has some really cute stuff including this skirt if you are pregnant!
Quay Sunglasses // Tory Burch Sandals // Black Tank Top // Kimono c/o Pink Blush s/o, Similar Here // AG Skinny Jeans (maternity & non-maternity available)
This was the night we were basically kicked out of a restaurant for having a Starbucks cup (at dinner… at a place they don't sell coffee… after a long wait and after they seated us I was then harassed by the waitress and it was so uncomfortable we left!) For real though don't tell a pregnant woman what she can and cannot have! LOL. These jeans are kinda hard to find now but they are by AG jeans. This exact style (I linked both) comes in maternity and non-maternity and are some of the best jeans I've ever owned!
White Tshirt // Ruffle Split Leg Pants // Gucci Sandals // Necklace // Sunglasses
This is one of my favorite maternity looks of all time. I felt like I was wearing PJs that day! These pants are so flows and fun, and the elastic waistband is very forgiving with a bump. I am normally a size 00, but since that wasn't in stock I went with the 0 because I usually size up when pregnant anyways. It worked perfectly under my bump and they were very comfy! I would order your normal size if not pregnant, but the elastic waistband gives a lot of lee-way either way!
Palm Print One Piece Swimsuit // Tory Burch Sandals // STS Blue Jean Shorts s/o // Beach Bag ($10!) // White Sunglasses // Yeti Tumbler
Up until a couple weeks a go I was just snagging all the one-pieces (non-maternity) in a small or medium (normally I'm an XS) but for these last few weeks, I have to go bikini or maternity swim which is hard to find! I did just buy some really cute maternity suits that I can't wait to share with you. Hopefully I love it as much as the pink rose one that I posted over the 4th that you all loved as well!
Lilac Ruffle Maxi Dress (Wearing XS!) // Nude Strap Heels // Hoop Earrings
I absolutely love this dress and was so glad I fit into an XS so I can keep wearing it even after I'm pregnant. It's hard to see but the bottom layer of the dress is actually sheer, and it is a light lilac color. It is a little long, and these were totally the wrong shoes because I kept stepping on the back of the dress since I'm so short!
Pink Tshirt Dress // White Mules // Bella Dahl Chambray Button-down // Earrings
Tshirt dresses have been my serious go to this pregnancy! And for the most part I've just gotten XS as normal, including this pink tshirt dress that also comes in a navy and white stripe.
Yellow Striped One Piece Swim // ASOS Denim Shorts // Quay Sunglasses // Stud Earrings
These shorts have been work 487 times this pregnancy. They are maternity but they are underbelly which is my favorite if it's an option. I just hate the over the belly things usually, they feel uncomfortable to me! My Dad actually commented on these shorts this weekend… that basically I totally WOULD have a pair of maternity daisy dukes! Haha, thanks Dad 🙂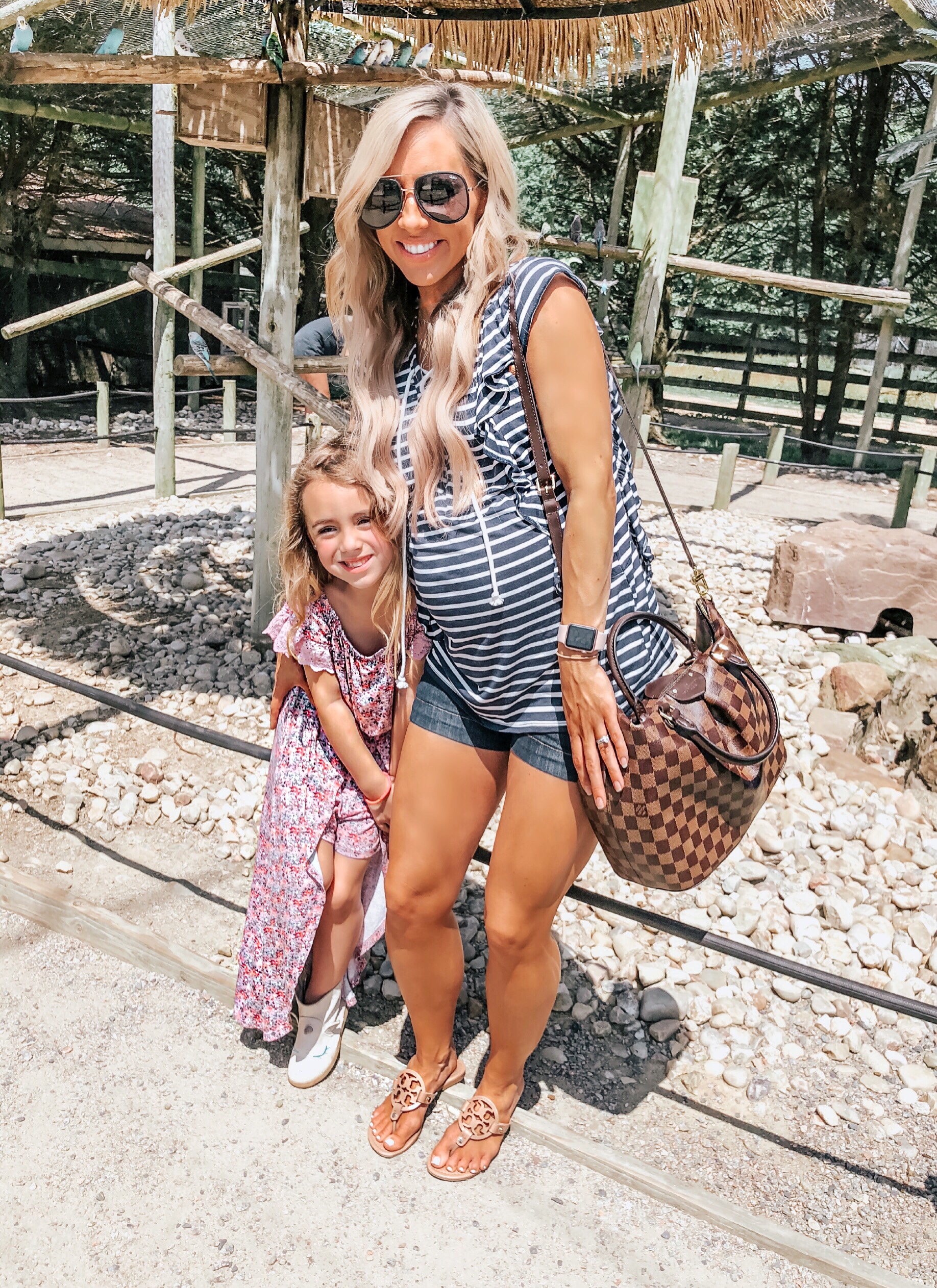 Quay Sunglasses // Tory Burch Sandals // Pink Blush Shorts // Navy Ruffle Top (size M)
Blaire: Maxi Romper (2 colors available) // Cat & Jack Unicorn Boots, similar here
These shorts were another go to for me. I have to be honest when I first got them (they are either small or XS, whatever the smallest size is)  I didn't like them! They were tight and my legs felt like sausages, but I wore them one night anyways and they actually stretched out perfectly and fit really well. Now I think they are the most flattering maternity shorts I own!
Also – If I could fit into Blaire's adorable maxi romper I totally would steal it!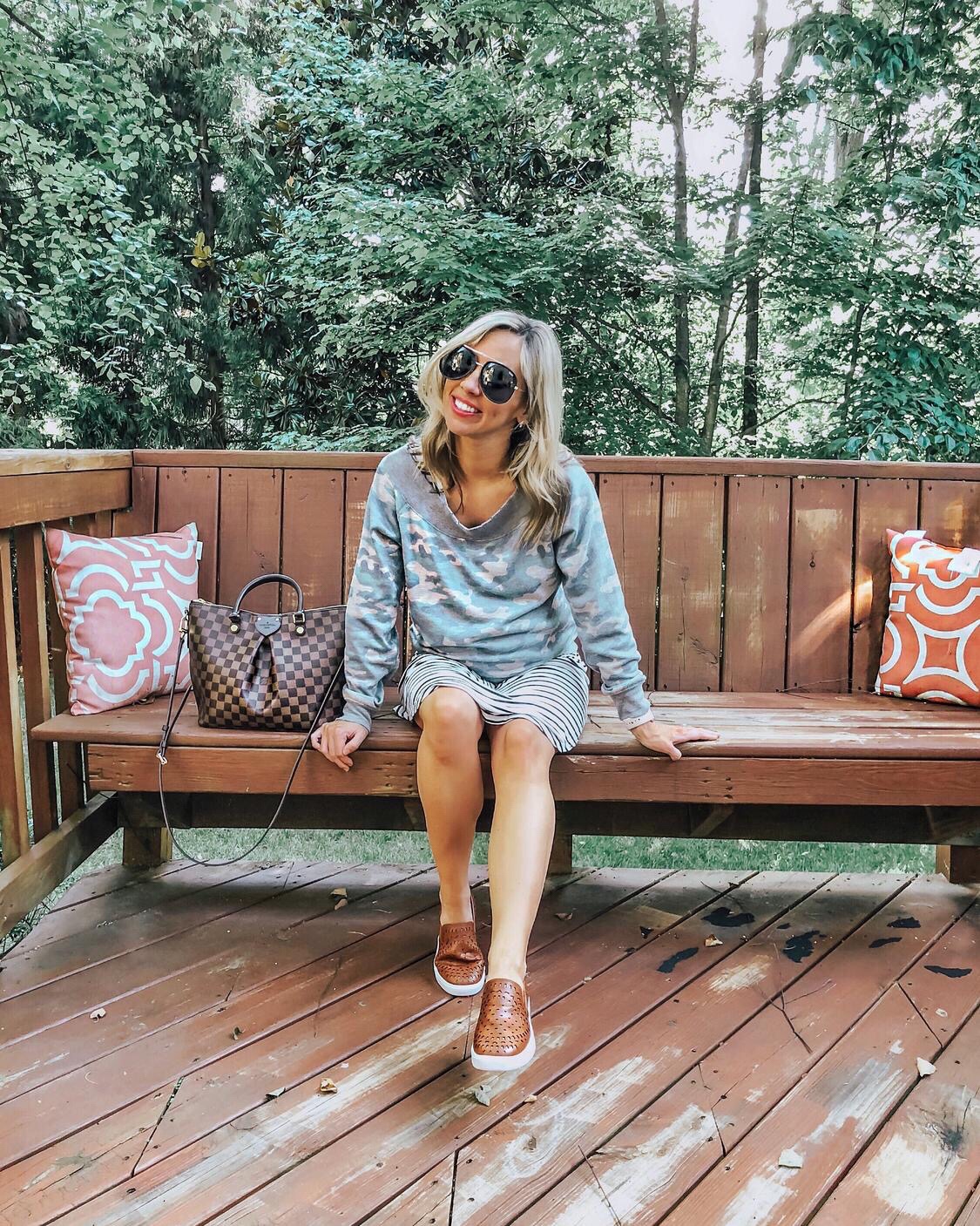 Camo Pullover (similar here) // Striped Tshirt Dress // Sugar Shoes // Quay Sunglasses
I feel like this look is an easy look you can recreate! A cute tshirt dress and printed pullover, and some sneakers, comfy & cute!
Quay Sunglasses // Chevron Strap Heels // Olive Tshirt Dress // Monogrammed Necklace
I swear this is a different tshirt dress! Lol, there were 3 main brands of them I have been loving the most.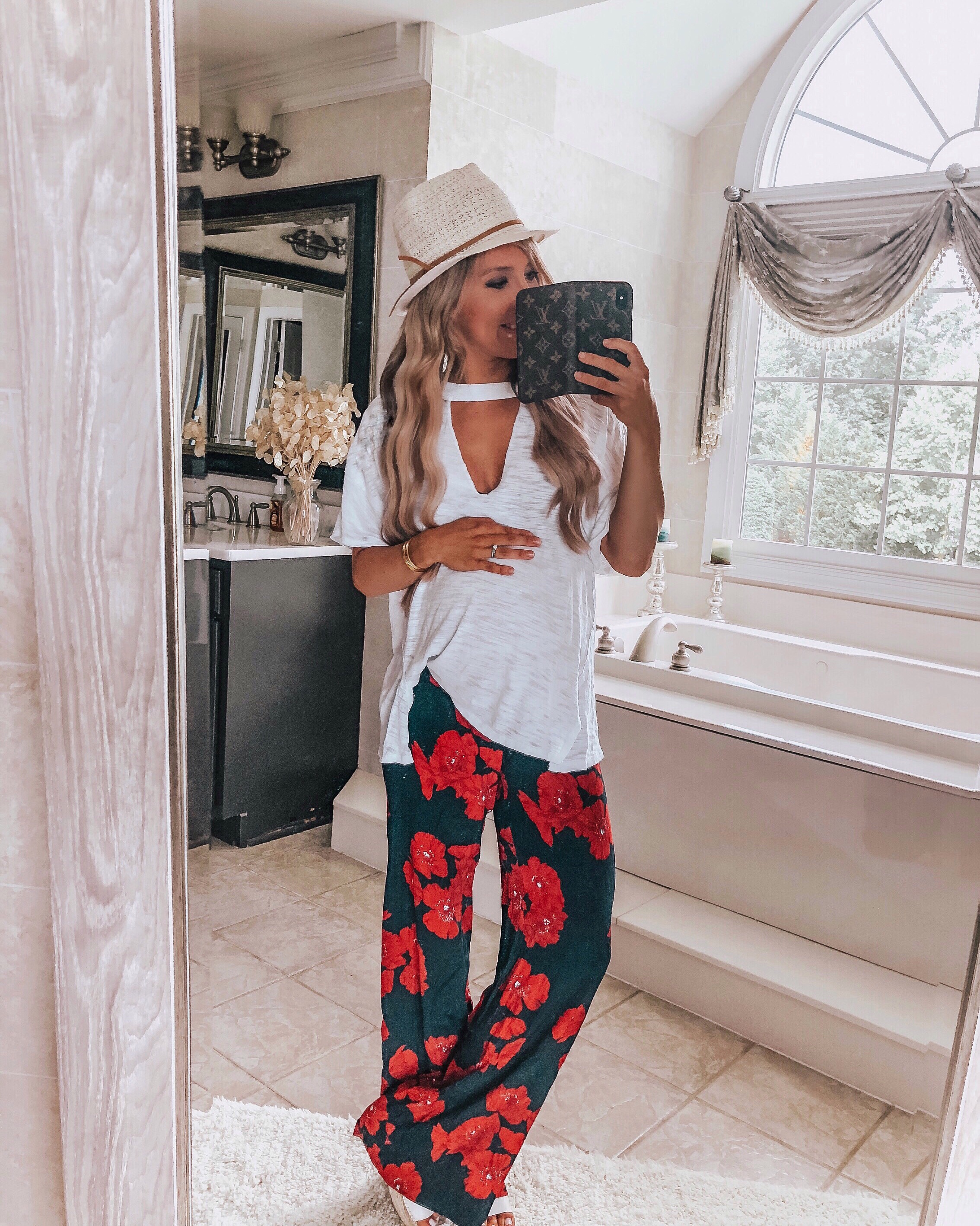 Free People Tshirt // Floral Wide Leg Pants (underbelly maternity) // Hat // Wedges
A cute twist on a basic white tee! It is low cut tho so I would order down a size. These pants are maternity but they are underbelly, and honestly you'd never even know they were maternity pants!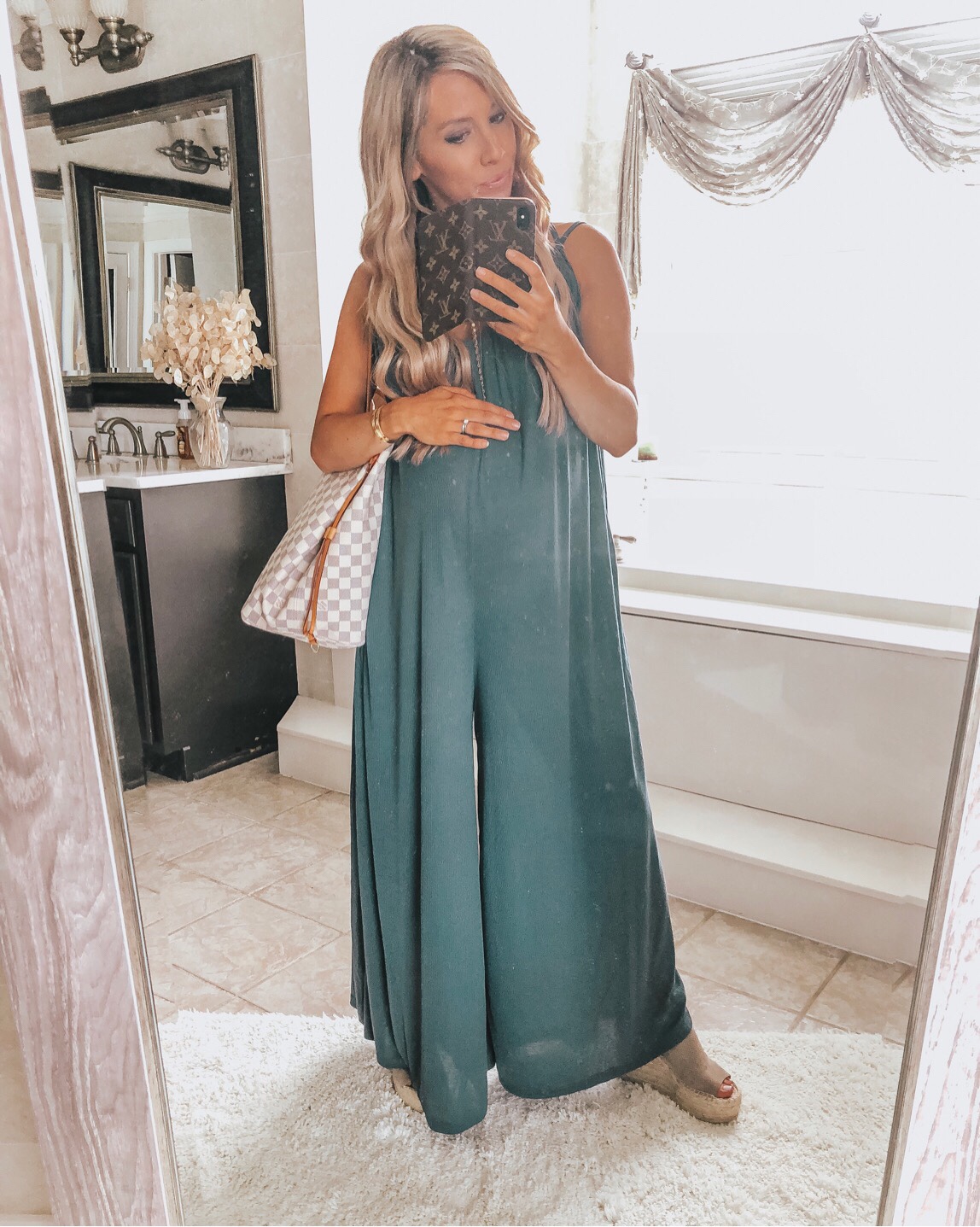 Jumper c/o Pink Blush // Marc Fisher Wedges (on sale!)
This jumper comes in maternity and non-maternity. There is a lot of room tho so I think I could have gone the non-maternity route! But it's insanely comfy and easy to dress up or down.
Ruffle Off the Shoulder Pink Stripe Dress // Gucci Sandals // Sunglasses
The blue version of this dress was my most popular look of my second pregnancy, so ironically I got the pink one this time around! I believe I went with a medium in both because the reviews read short. I'm 5'2″ and this was a good length on me.
Topshop Swimsuit (similar here) // ASOS Shorts // NY Hat // Sunglasses
Brooklyn: Old Navy Swim
If you don't get your kids swimsuits at Old Navy, you're missing out! I'm obsessed with their kids section and have always found the best suits there. My suit is sold old now I believe, but I linked a really similar style in the same brand. I would recommend this brand for pregnancy because its stretchy (just size up) but only during the first half or so. Topshop has some really weird cuts on their swimsuits and you may not want to be as exposed in the thigh/bottom areas was you get bigger!
Tshirt Dress (Bump friendly & cheap!) // See by Chloe Espadrilles
This particular tshirt dress comes in tons of prints and colors. I sized up to a small, and they still fit now. I believe they come in petite, regular and tall, so make sure you order accordingly for length.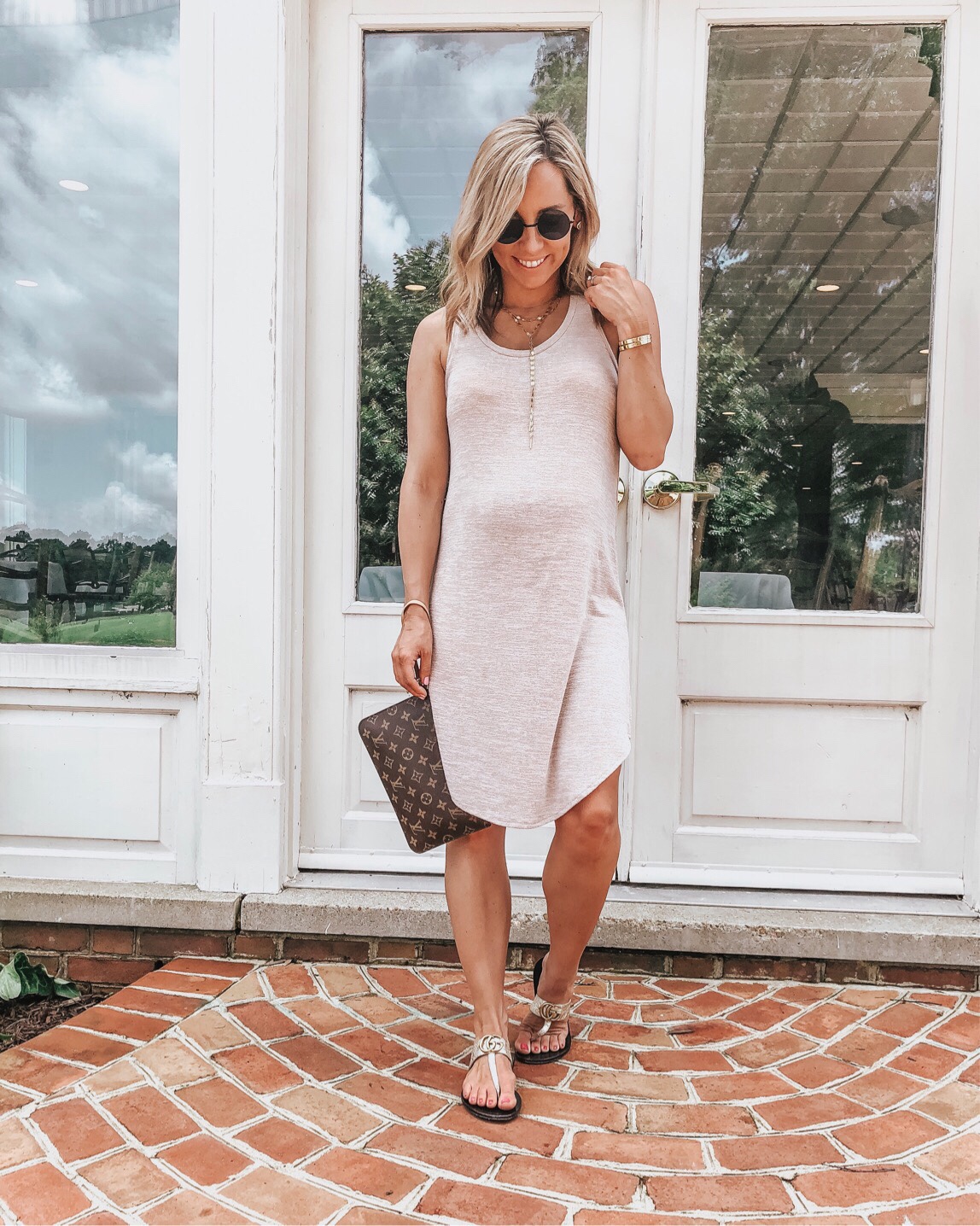 Nude Tank Dress // Sunglasses // Gucci Sandals // Necklace // Bracelets
Another simple dress that I own in 2 colors. Its soft, roomy, and actually pretty long, so I don't worry about bending over in it! I'm wearing an XS, still plenty of room for the 9 month bump!
Knotted Tshirt (similar here) // White Wedges // Maxi Shorts // Sunglasses
Love these wedges, several colors and under $80. They don't hurt to walk in which is obviously nice. These shorts are non-maternity, and I just thought they were super fun! They have an elastic waistband, so I stuck with my normal XS.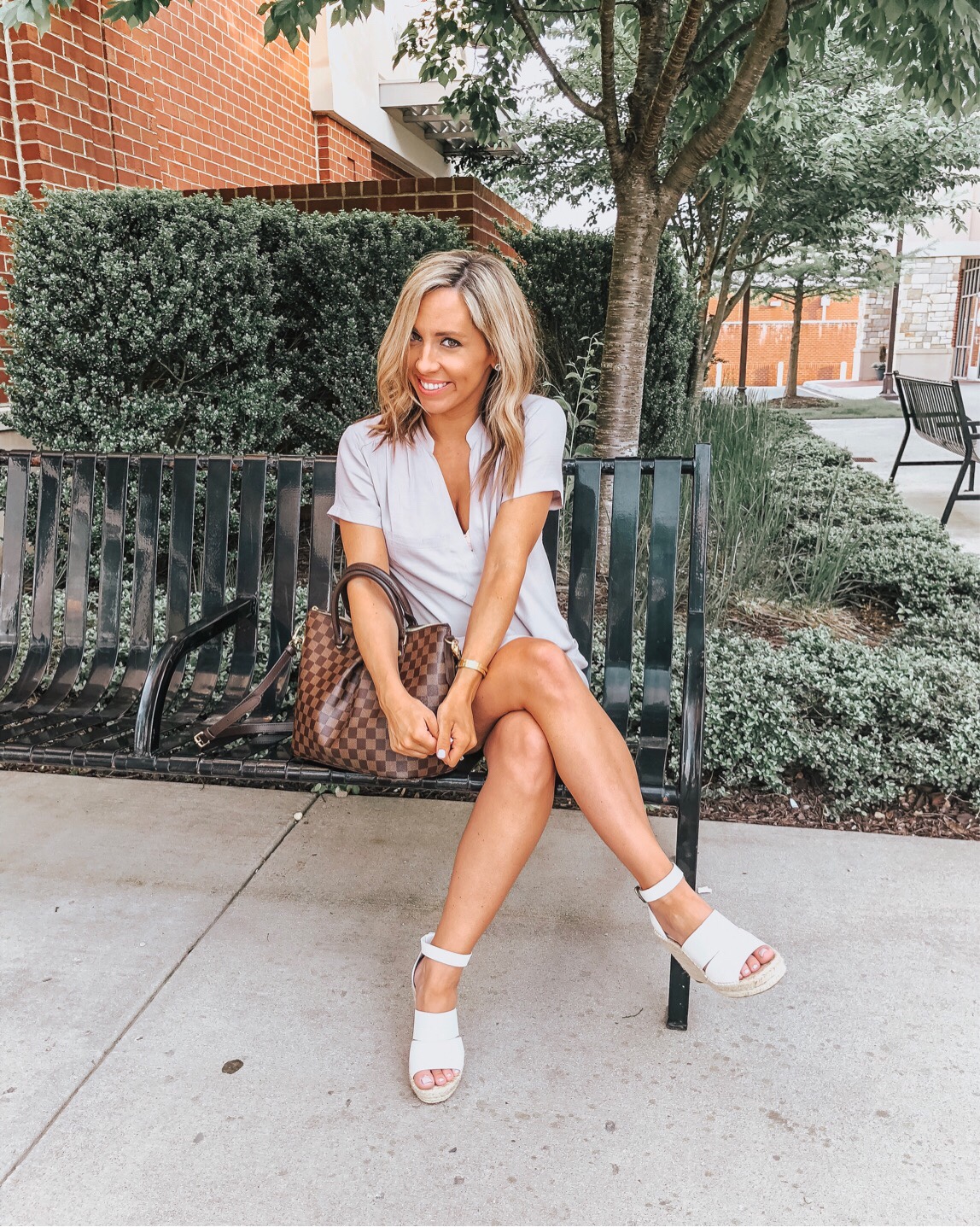 Linen Dress (multiple colors) // White Wedges
This dress in an XS is too short for me now, but it worked the first half of my pregnancy in my normal size. It could work for the second half but just consider sizing up for length!
Aerie Sweatshirt // Jeggings // Bow Espadrilles
World's best sweatshirt right here. Obsessed. I own it in this light pinky color, white, and olive. I am wearing a medium now but the small was working great for most of my pregnancy.
Gray Tshirt Dress // Croc Slides // Ray Bans
Blaire: Chevron Crocs // Skirt
Twinning with my girl! Can you believe these are crocs? I wear these to the pool all the time, so lightweight and actually cute!
White Vneck Tshirt // Denim Shorts // Chambray Button-down // Jslide Rose Sneakers
There is a bump in this pic! I guess the angle I snapped was just really flattering. Another simple look you could easily recreate, add a fun sneaker like these ones for a pop!
Black Tank Dress // Chambray Button-Down // Tory Burch Sandals\
Tory Burch sandals are still a thing and I still love mine! I get a new color every year, and all of them are holding up!
Ingrid & Isabel Eyelet Top // Pink Blush Shorts // See by Chloe Wedges // Sunglasses
Blaire: WonderNation Tunic // Stuart Weitzman Wedges
I don't know what the Easter Bunny was thinking when he bought her these wedges… but I will say Blaire loves them and wears them well! She wore them during two school performances, on stage, and didn't fall, she's got it down better than me!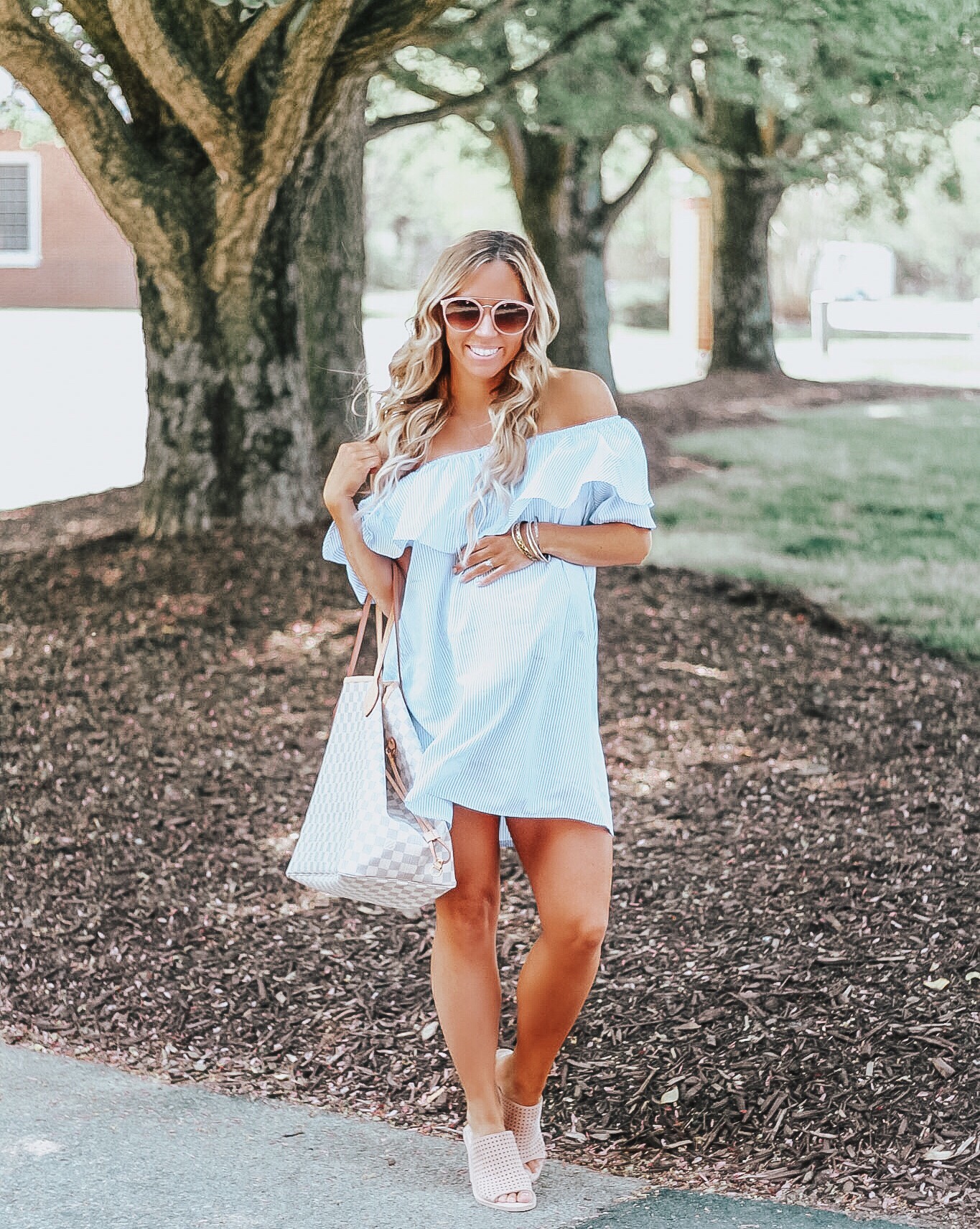 Blue Striped Off the Shoulder Dress // Peep Toe Mules last year, similar here
The most loved maternity look from Brooklyn's pregnancy! This dress is from Shein, and I do love their clothes and shop there. HOWEVER, always read the customer reviews about sizing and fit. I almost always order up a size or two because of the reviews.
Pineapple Tshirt // She is Btq Cardigan // Tory Burch Sandals //ASOS Denim Shorts // Sunglasses
I love this cardigan, and she still has it in stock for now!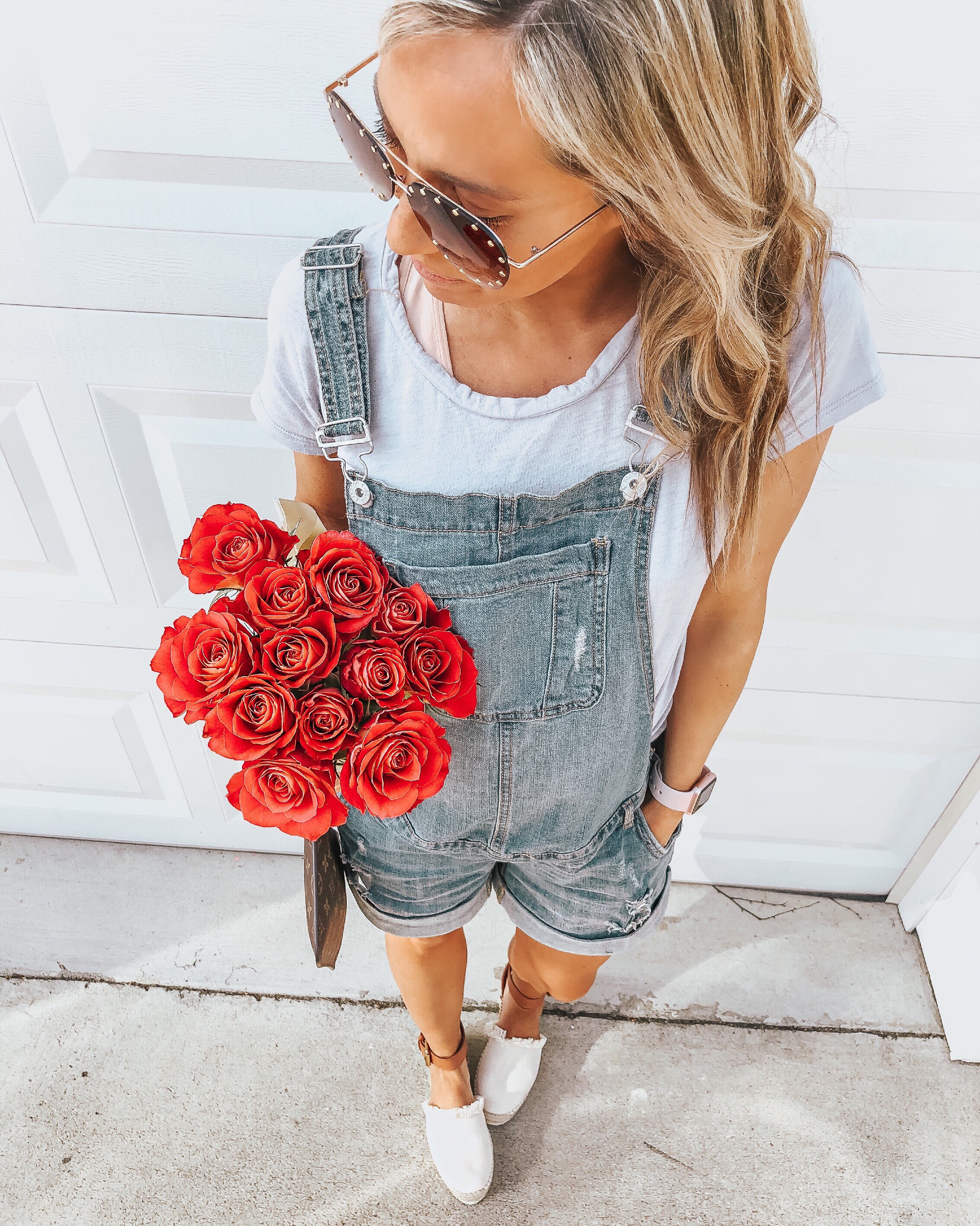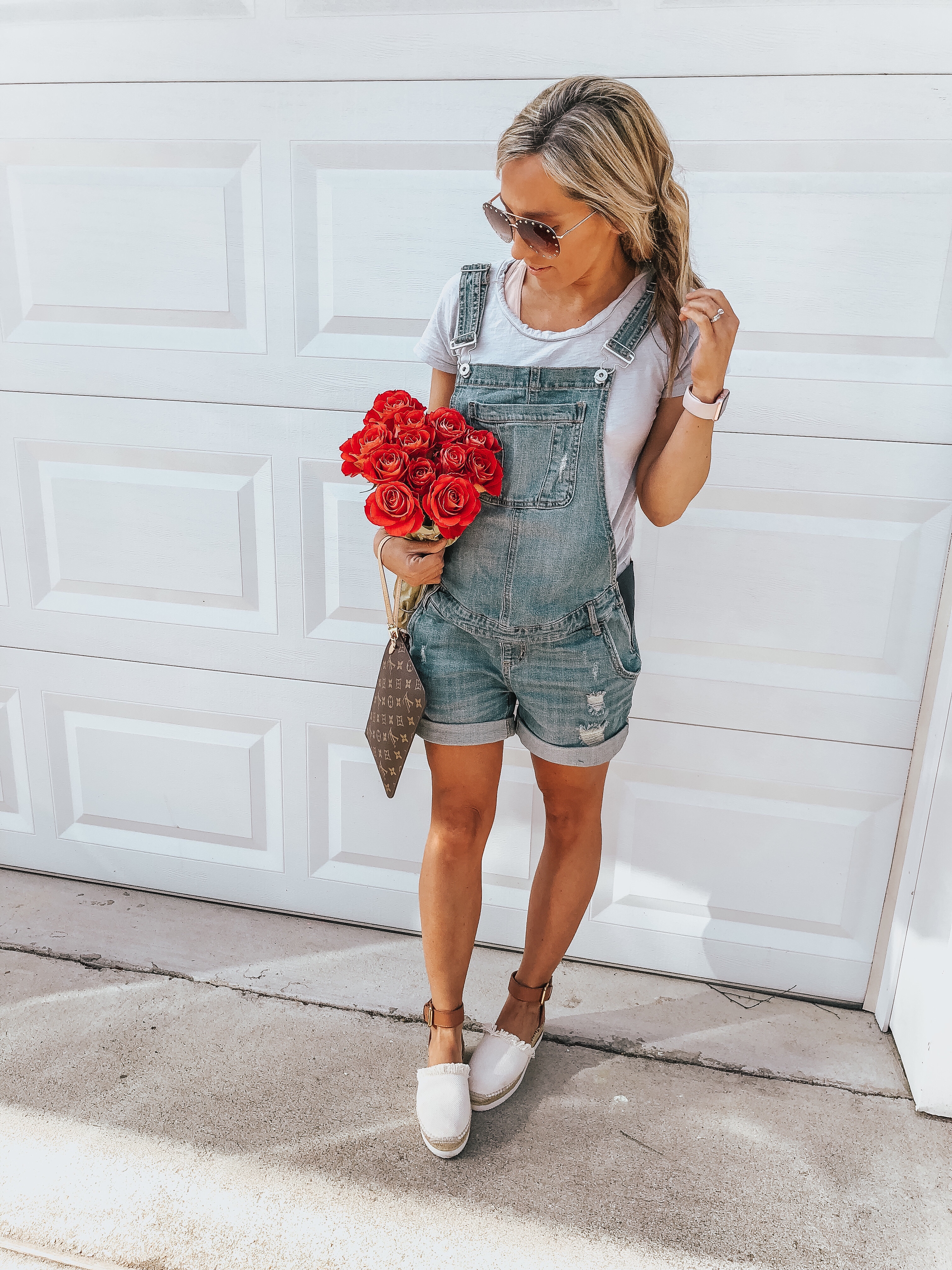 Motherhood Shortalls // See by Chloe Espadrilles // Tshirt // Free People Sunglasses
I absolutely love overalls on other girls! However, I'm not sure how much I love them on me. Maybe I'm too short???
Topshop Jumper // See by Chloe Espadrilles // Round Sunglasses
I think I was around 20 weeks here… I can't remember! But this jumper is everything, so so soft!
Did you guys like this round up?? If so let me know – it took forever but I thought it might be helpful to see some of the things that I wear a lot and in different ways. Are there anything you guys love or loved while pregnant and wore over and over again?  <3