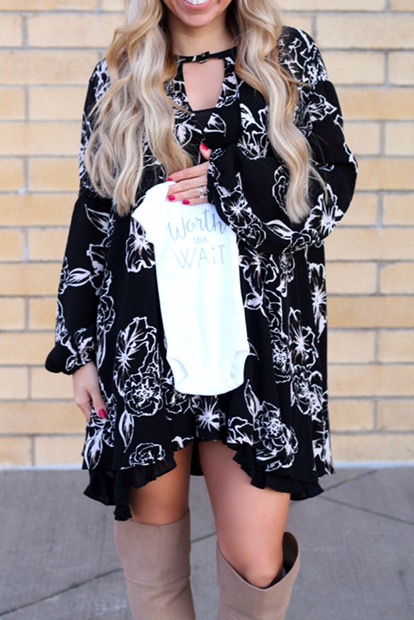 I'm a couple days away from 14 weeks and the beginning of my 2nd trimester. I thought it would be fun to keep you updated along the way and tell you how I've been feeling so far!
For the first 10-12 weeks I didn't want to do anything! Although not doing anything made me even more tired so I had to find ways and force myself to keep myself busy. Now adays, it's quite the opposite! I'm keeping busy, catering to my 3 year old, high maintenance pups, managing the house, my blog, constant errands, and the second I sit down I'm wiped. It's not uncommon to see me trying to crawl in bed around 930pm…
So far no real bump, but I'm definitely feeling bloated which is no fun. I'm sure it will be here very soon, and then I'll feel less like I ate too much for lunch, and more pregnant. With Blaire I didn't take my first Bump picture until 25 weeks, but I'll be showing much sooner with this one I'm sure!
Symptoms so Far: Other than exhaustion, I've felt pretty good! No sickness, which I'm so thankful for. My chest is growing so quickly it's painful, I feel like they're going to explode sometimes! I'm pretty sure my hair is starting to fall out… I don't remember that happening with Blaire until postpartum… but maybe I'm just imagining it.
Foods I'm Into / Not into: I'm always into food! Nothing has really turned me off. I haven't been starving, but if I go to long without eating I start to feel weird so I always keep a snack on hand. I usually love salty snacks and sweet desserts, and that hasn't really changed! I find myself eating a lot of cereal during the day, and I've been really wanting Jimmy Johns lately. I guess you want what you can't have! I have given up my coffee most days. Although when I'm really tired it's a nice treat. I didn't have to cut it all out of my diet, but figured it was a good time to wean myself off a little bit more.
Blaire's Thoughts: It's probably pretty needless to say that Blaire is over the moon with excitement about becoming a big sister. She's been asking us for several months almost every single day.HOW MUCH LONGER? IT SURE IS TAKING A LONG TIME FOR MY SISTER TO GET HERE.Right now, she's completely convinced it's going to be a girl. She's already started setting aside her old clothes for 'her sister' and even one dress that she has two of so that they can 'be like twins!' We keep trying to prep her that there's a 50% chance it could be a brother, but she isn't having it. Blaire say's if the baby is a boy she's going to throw it in the trash can. It's kind of funny because that's EXACTLY what I said to my parents when I was 4, and on my 5th birthday I got a little brother 🙂 (Don't worry, I decided not to throw him in the trash can and we kept him. And I survived just fine without a sister!)
What's Next: Right now we are waiting on some blood test results for the Panorama test to come back which will also tell us the gender of the baby! This test is pretty cool because a Lobotomist comes to your house, takes your blood and mails it off! Your doctor calls you with the results as soon as they know. The test can actually determine your blood from the baby's, so it can give you a lot of reliable information anytime after you are 9 weeks pregnant. It checks for trisomy 13, 18, and 21, and can also search for a X or Y chromosome to determine the gender of the baby. While the gender is definitely an added bonus, we only pray for a healthy baby! We have two mores appointments before Christmas, one being just a regular checkup, and the second one being the 18 week ultrasound. I have been so lucky to already have had 3 ultrasounds of this baby, and will get another at 18 & at 32 weeks. This is so much more than I got to see with Blaire! But since we saw a specialist for so long, I was heavily monitored by them, and then started seeing my OB at 10 weeks. Now we're trying to spread out the appointments so I don't have to go so often, although I secretly like it!
I hope you enjoyed this little bumpdate! Let me know if there are other things you want to know and I'll try to incorporate them into the next one. Thanks for stopping by!
xoxo, Stefanie