Summer Target Haul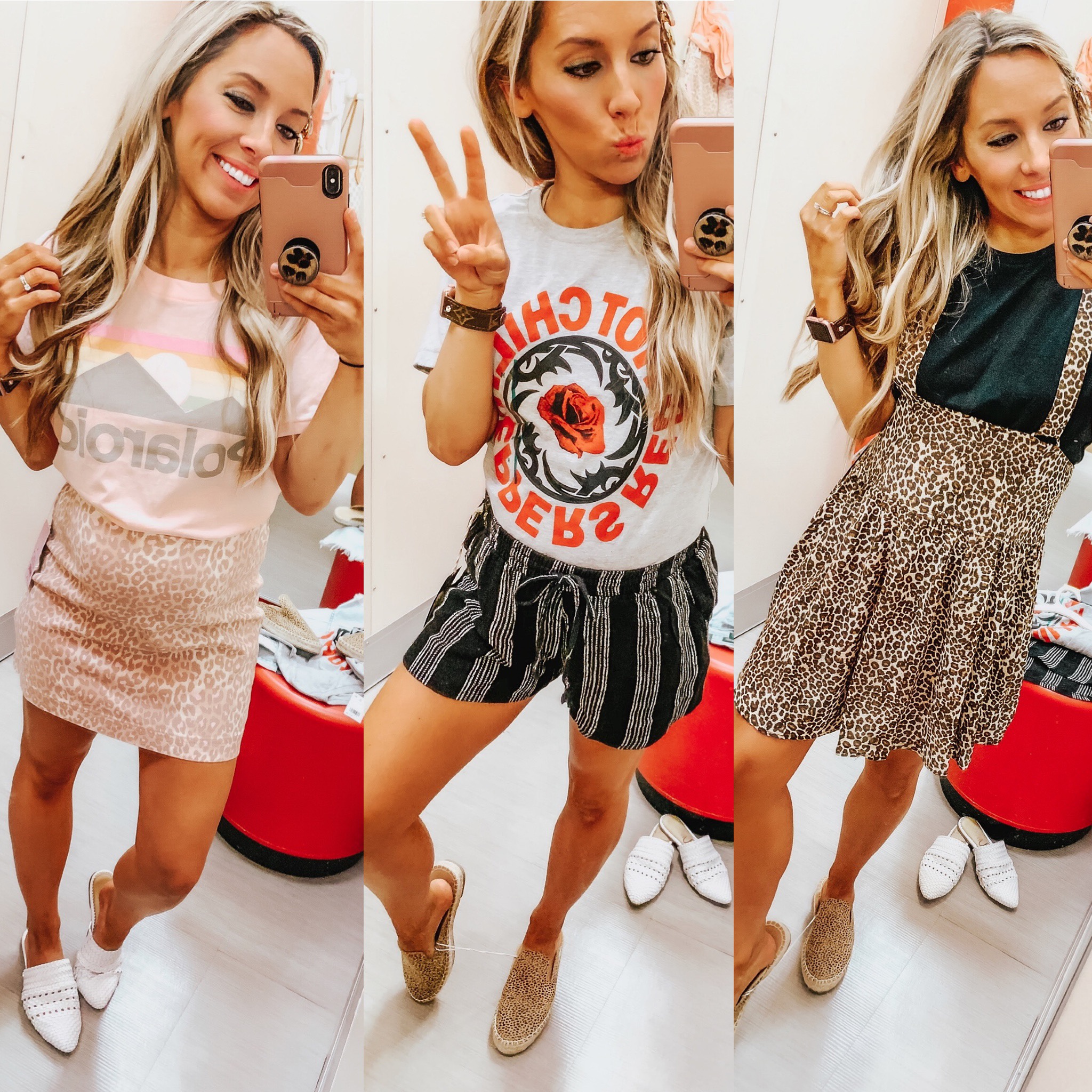 So many fun finds! Which look is your fave?
SEE SOMETHING YOU LIKE?? HERE'S HOW TO SHOP – To shop any piece or look below, simply click the MINI photo of the item below the description of the outfit. This will take you to a new tab and directly to that item. I have mentioned all sizing information in the descriptions – I am 5'2″ and currently 6 months pregnant. NONE of these items are maternity, but I found them all to be bump friendly pieces! If you do like an item or an outfit and decide to buy – using one of my links when checking out will give me a tiny commission that otherwise would go to the retailer – so it makes NO difference to you, but helps support me and my business! <3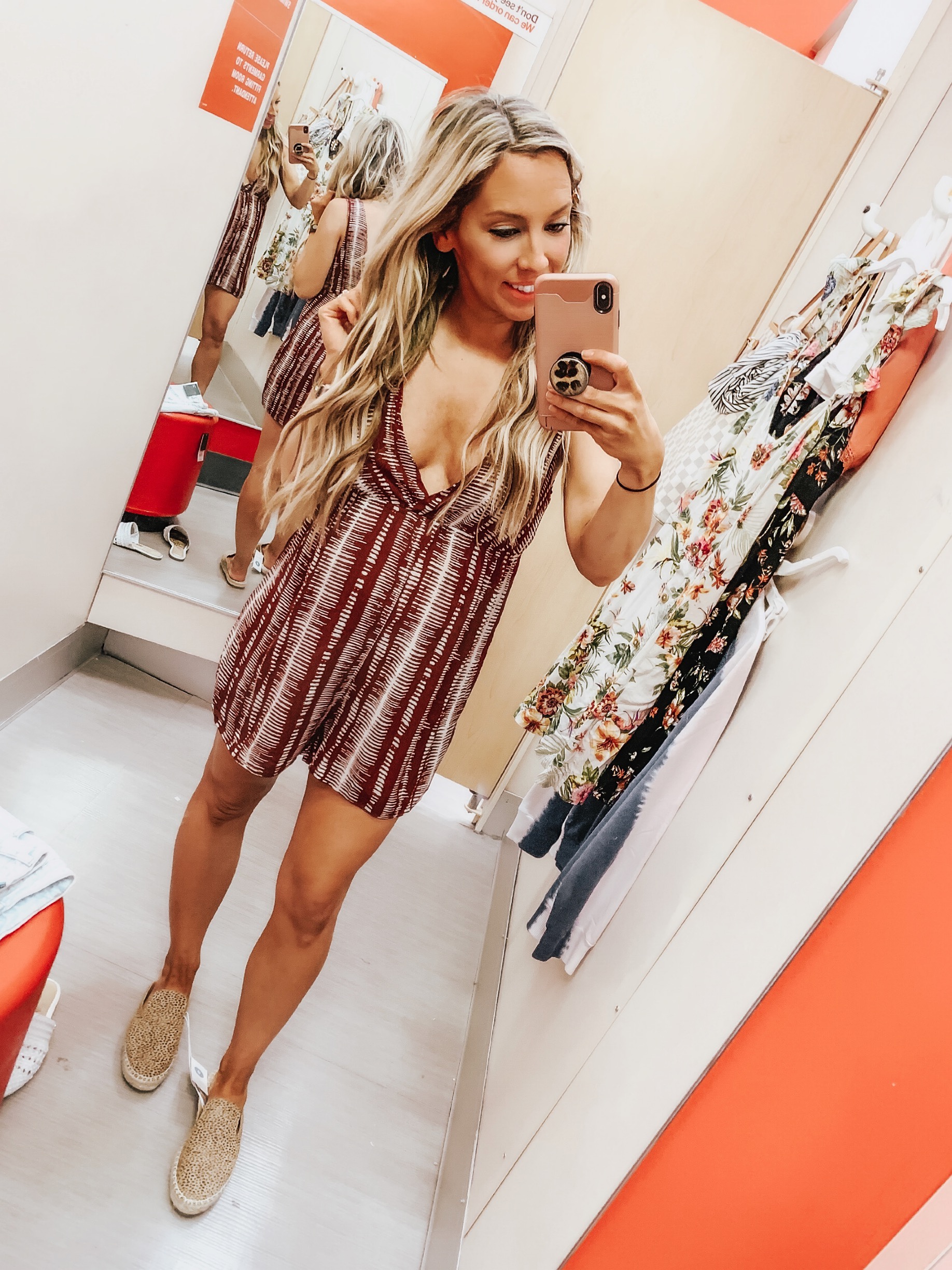 Striped V-Neck Romper
I am wearing medium here, but grabbed the small on my way out. It definitely seemed like it ran big to me! Normally I would get XS, but a S was good with the baby bump.
Floral Button-Front Dress
This dress is the size XS! There was still enough room for my bump but I should have sized up to a small just because the buttons were pulling in certain areas. It's such a pretty floral on an off white / ivory dress!
Floral tie front Dress
I thought this dress was really cute and flowy! I got the XS because there was still enough room for the bump. Is does run a bit long though, I'm about 5'2″.
Tie Dye Flag Tee // Frayed Denim Shorts // Cross-Slide Sandals
These sandals are way cute!! Love the dark tan color to them, and this tee couldn't be more perfect for summer, and the 4th of July! I'm wearing a Medium (sized up two sizes for bump!) These denim shorts are extra soft and very stretchy (in a good way!). I thought they were really flattering even with a bump, but did size up about 3 sizes to a size 6 to be able to button them. They weren't really high waisted so I think that's why they work so well with a bump. They are a light wash denim color and frayed at the hem!
Cropped Palm Sweatshirt 
Wearing a medium in this sweatshirt. Its soft and lightweight, same exact one as the 'coconuts & cocktails' one below. It is slightly cropped, with gray palm trees. 
'Coconuts & Cocktails' Crop Sweatshirt
Snagged a medium in this sweatshirt! It is slightly cropped tho, so if you are pregnant like me but maybe a little taller, you may size up on more for length!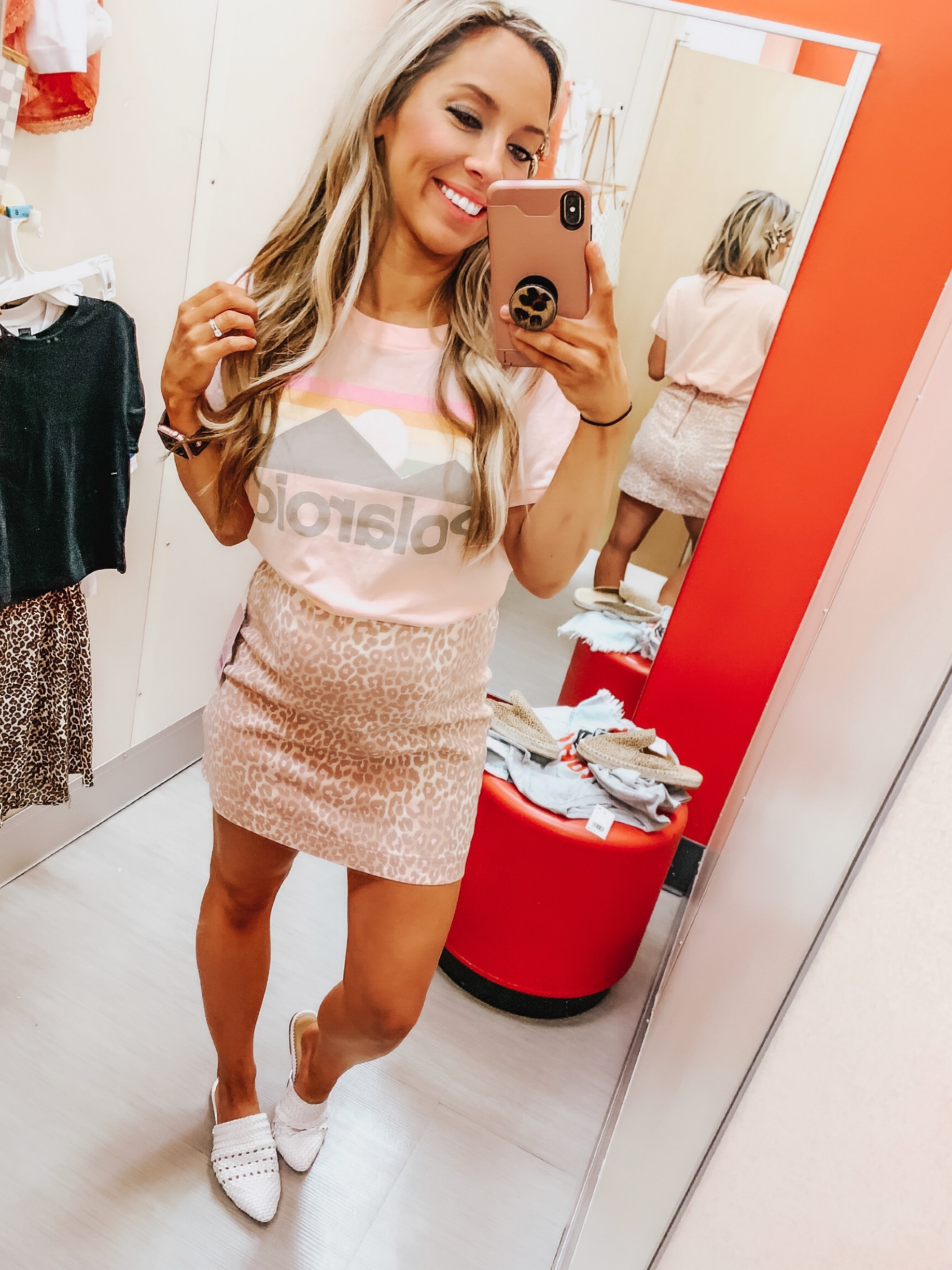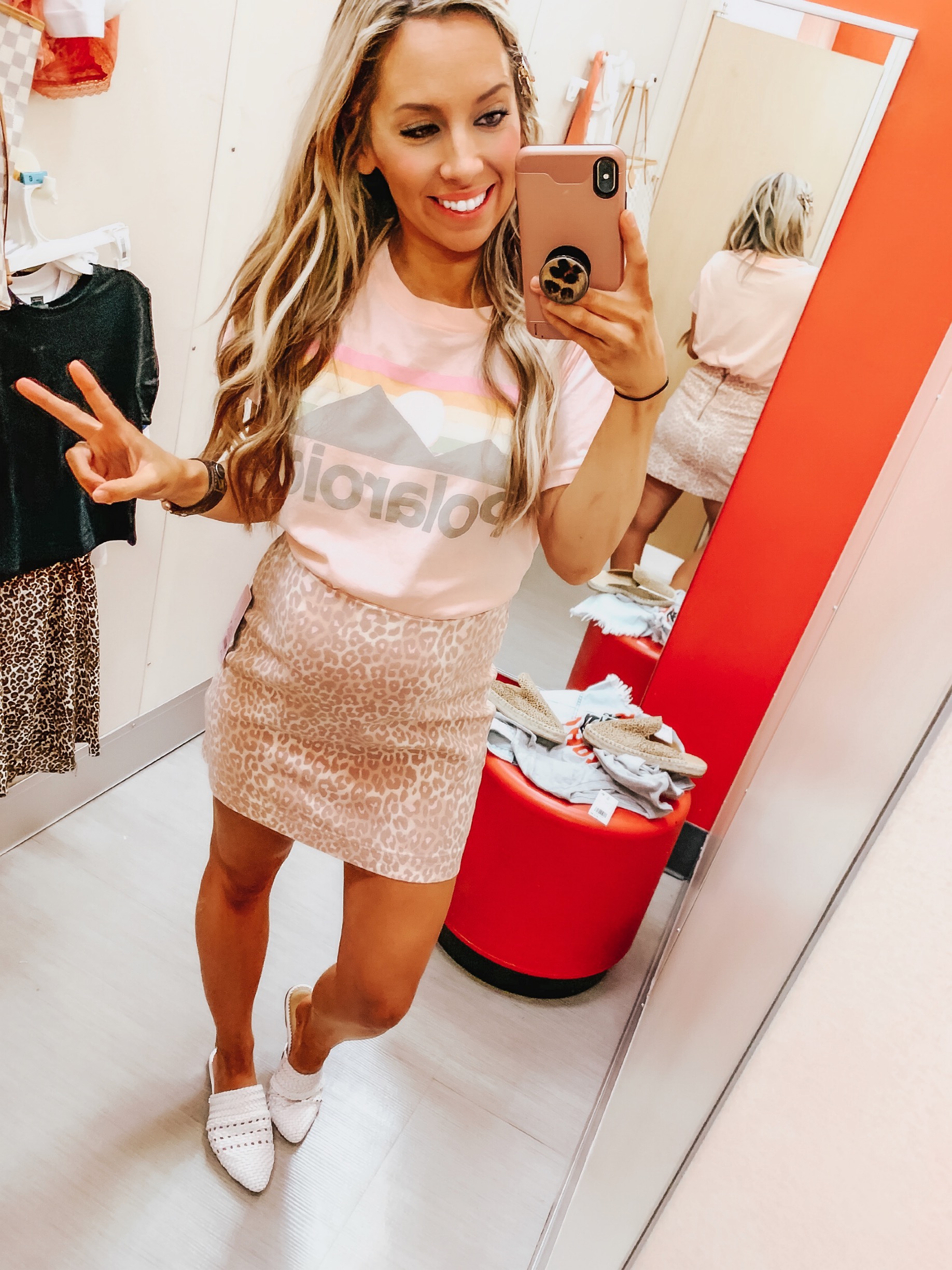 Polaroid T-shirt // Pink Leopard Print Skirt 
The skirt is stretchy which is super nice! The fabric is thinner, and zips in the back. Would normally get a 00/0, got a 6 for my bump and it fits great. Wearing a medium in the graphic tee.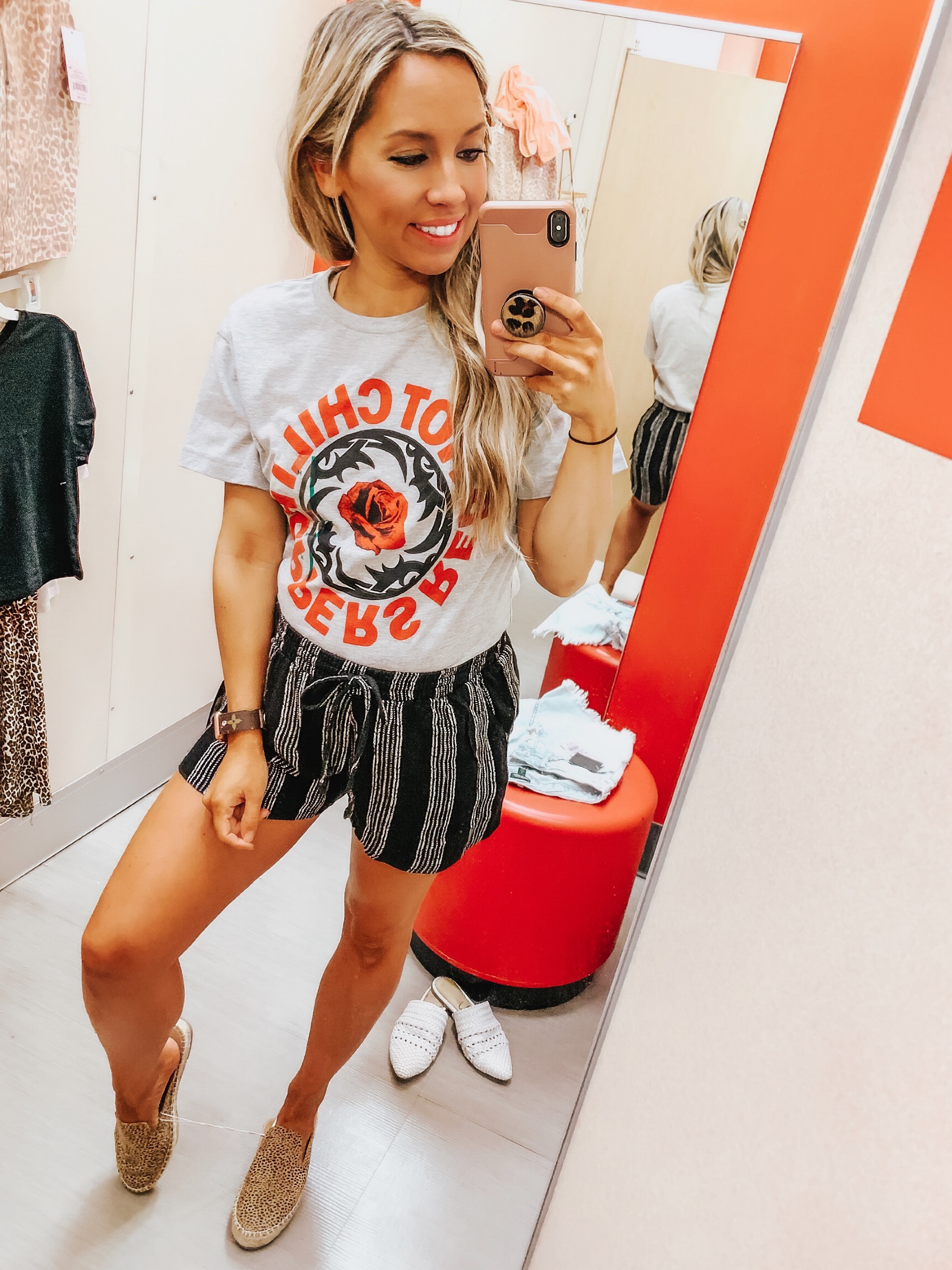 Red Hot Chili Peppers Tee // Striped Pull on Shorts 
Wearing a medium in both pieces!! Both the XS and Small shorts fit fine, but it depends on how you want to wear it! I sized up to the medium shorts last minute because I wanted to wear them at the waist with the bump, not below. Otherwise I would say they are very true to size! These leopard print slides are really cute too! Made with a canvas like material. They're basically a neutral / staple shoe for summer!
Black Cropped Tee // Leopard Print Dress with Suspenders
How funnn is this little suspender dress!! I'm wearing the small I think but could have done the XS. The straps are adjustable too! Lots of flow in the skirt of this dress. I wouldn't really recommend this tee for pregnancy because it is cropped, but it worked for this outfit. If you're not pregnant then it would be a great piece for summer!
USA Cropped Tee
Another cropped tee – but super cute. Again, I'm 5'2″ so the medium worked for my bump. This could be a fun tee all summer or for the 4th of July!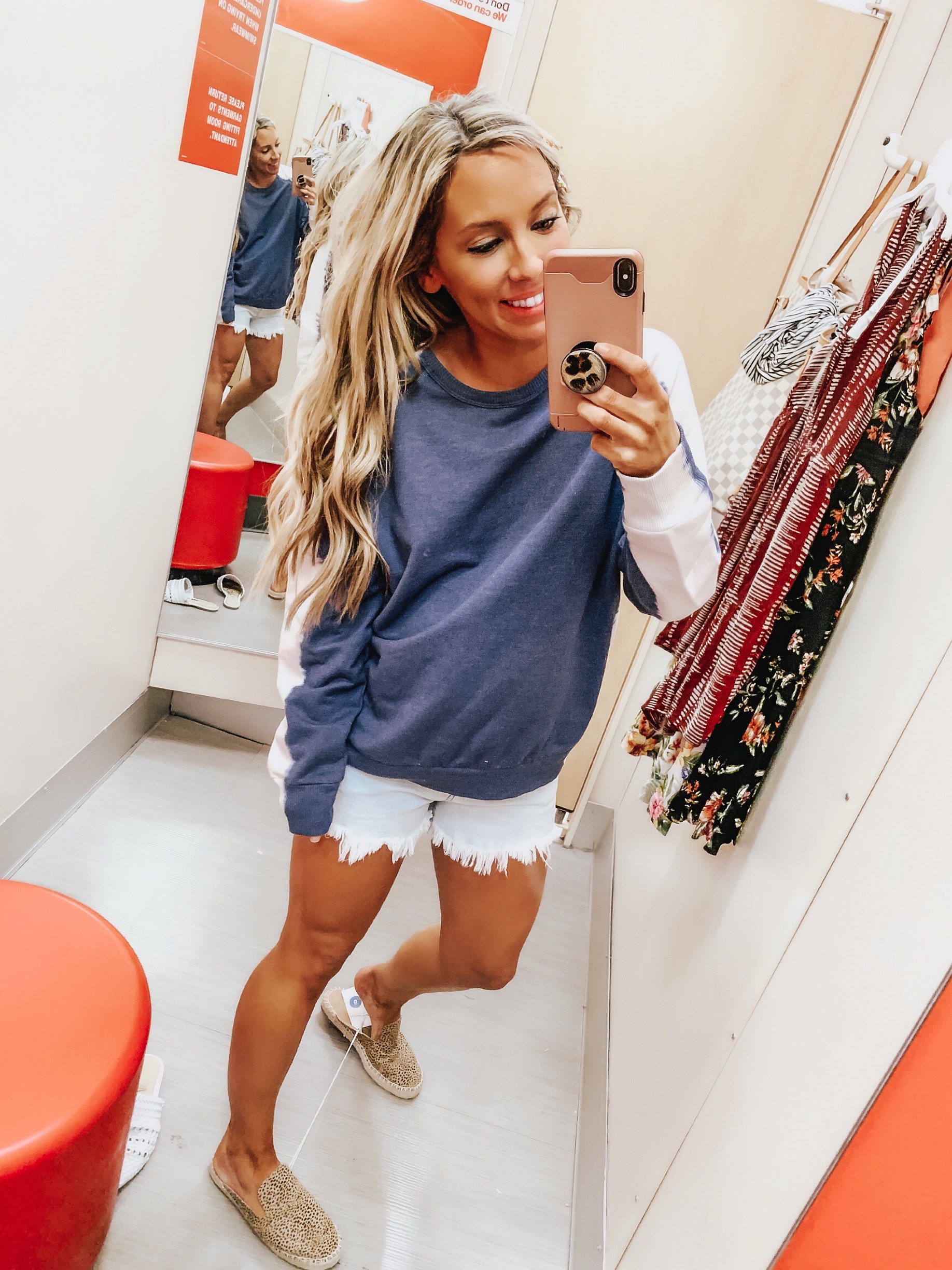 Navy & White Tie Dye Sweatshirt
If you saw my stories then you know I came home and put this on immediately. This is more of a sweatshirt overall than the other two, thickness and sizing wise. This is a medium and I have plenty of room. I loved the white tie-dye in the sleeves so much!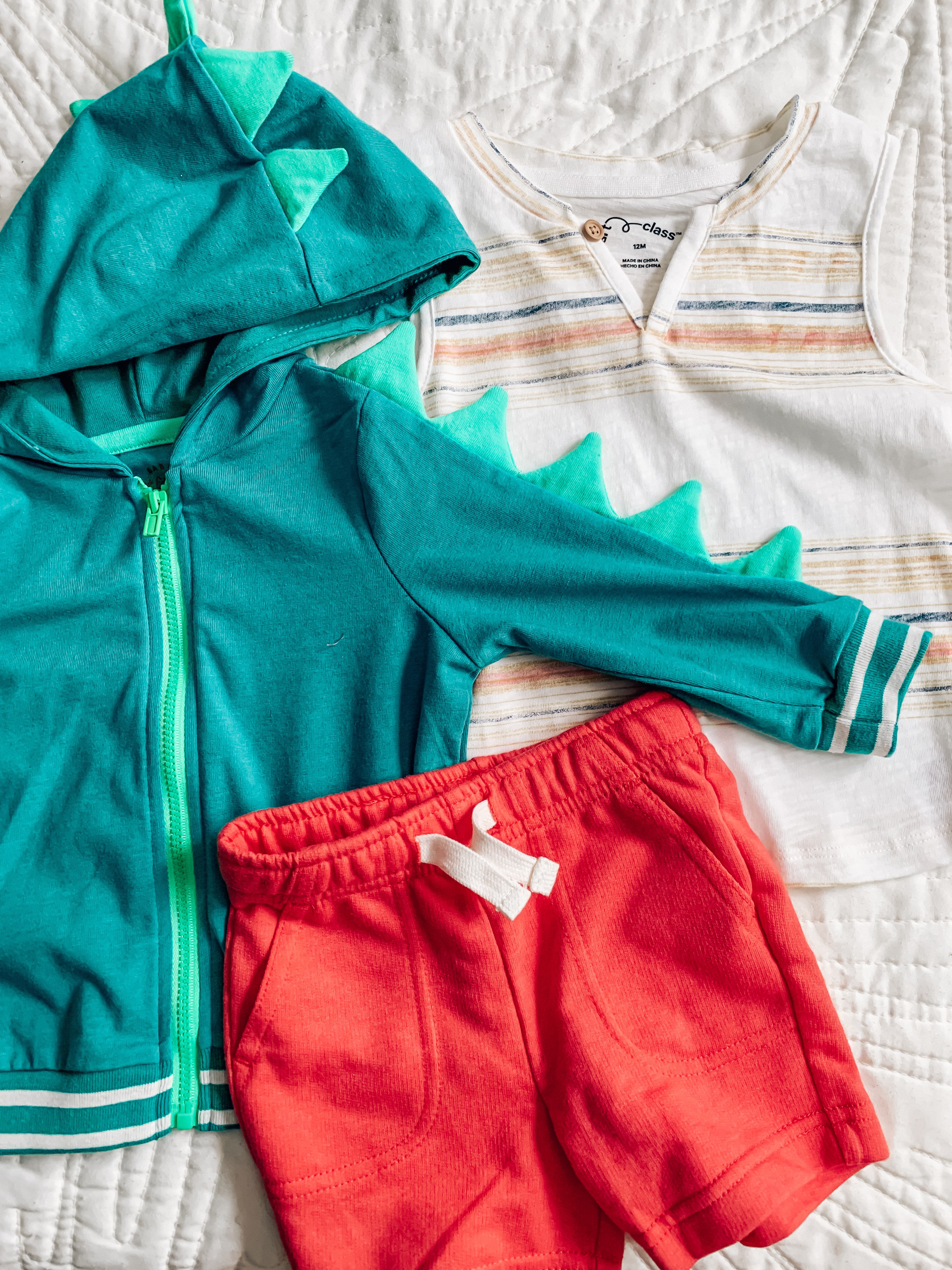 Boys Dino Hoodie // Red Sweat-shorts // Henley Tank
Linked some cute baby boy stuff!! Including some basic tees that Blake has in about 100 different colors and patterns. They hold up really well and don't shrink in the wash.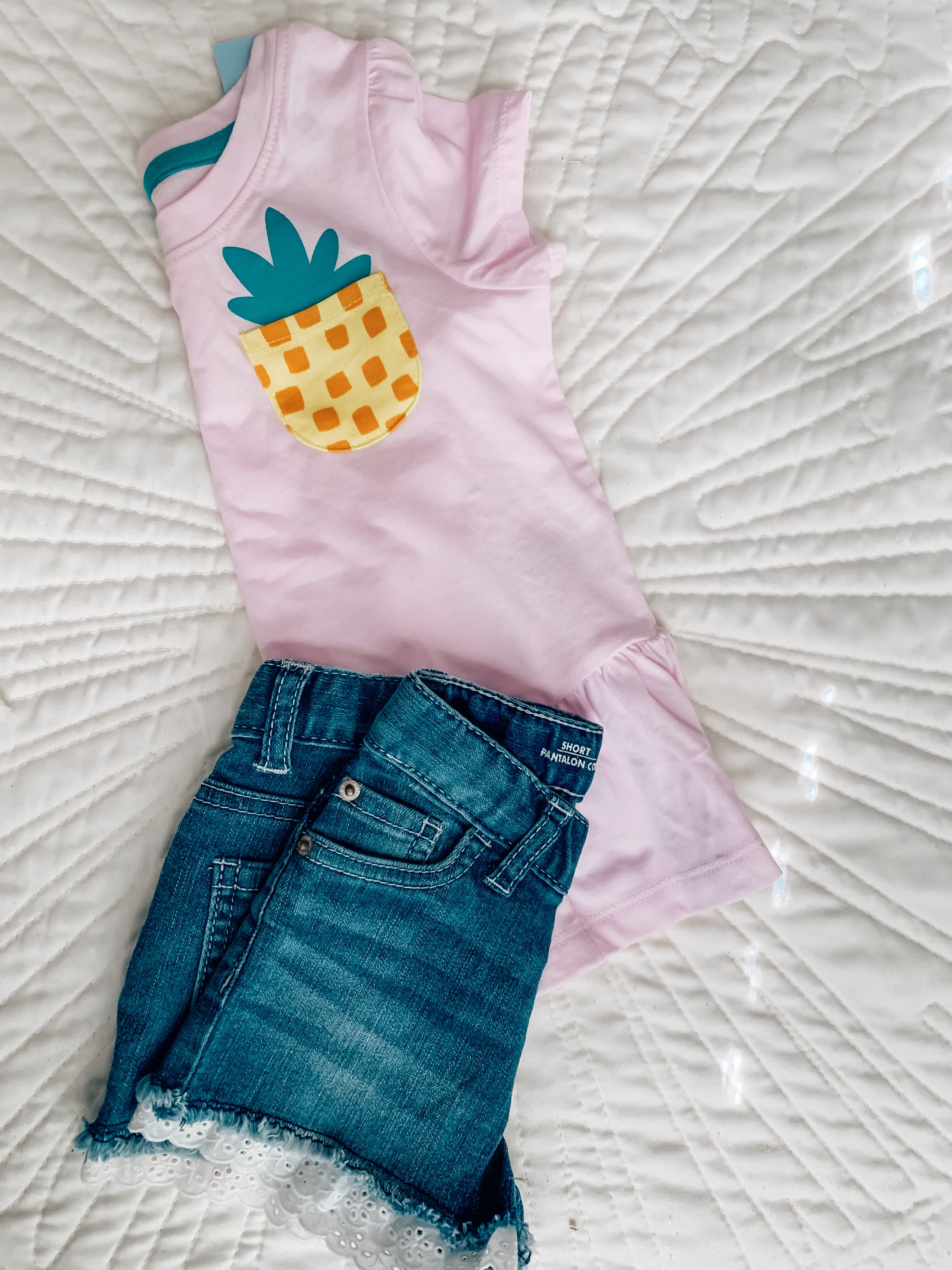 Pineapple Tank for Toddler // Lace Shorts
Couldn't pass these pieces up!! Cute for preschool or playing outside.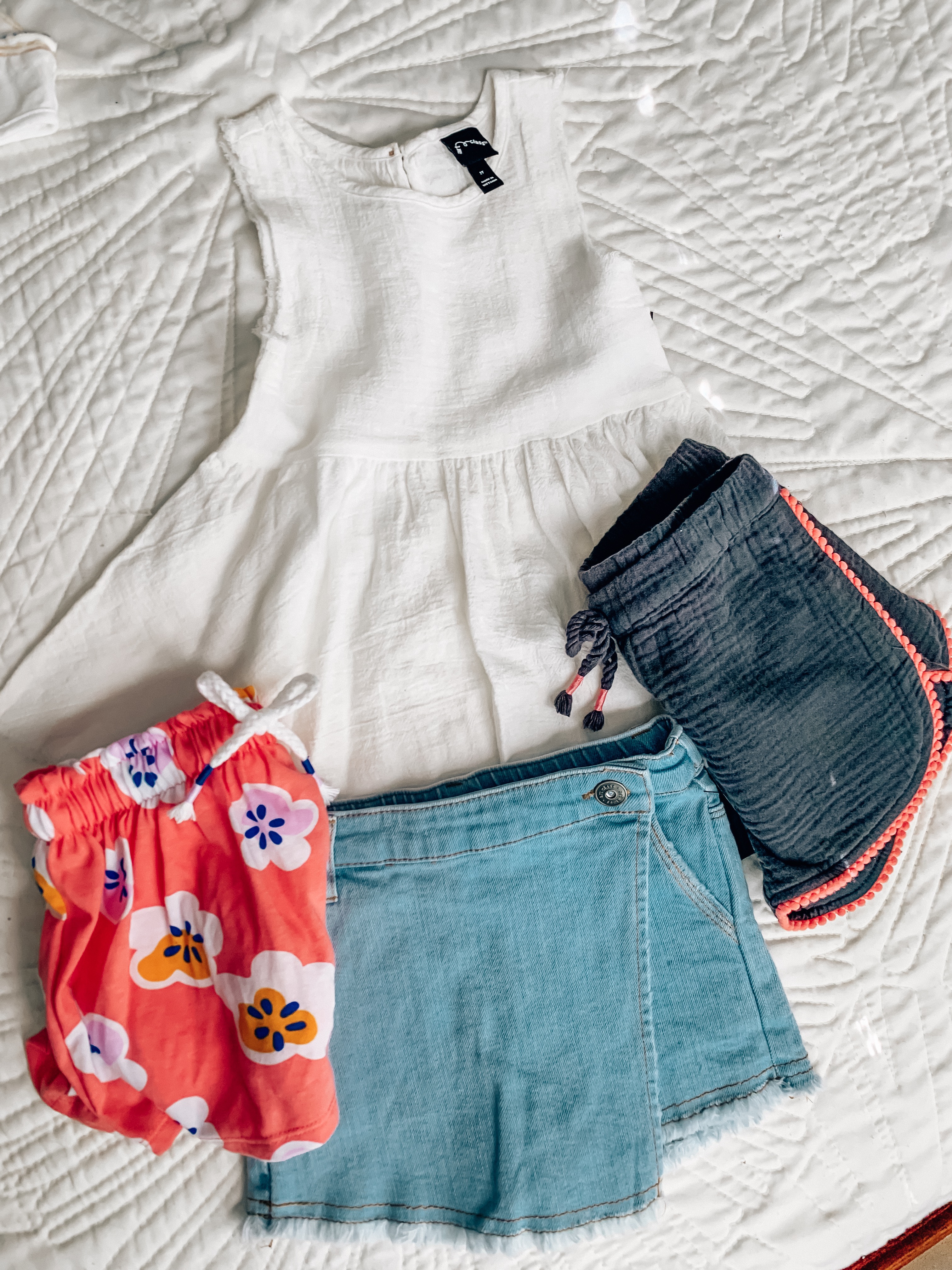 White Linen Tank Top // Denim Skort // Floral Skort // Navy & Pink Pom Shorts
Again, had to snag all these pieces for Brookie just cus they're so dang cute! Most of her clothes are Blaire's old clothes, so I try to grab her a few new things when I shop!