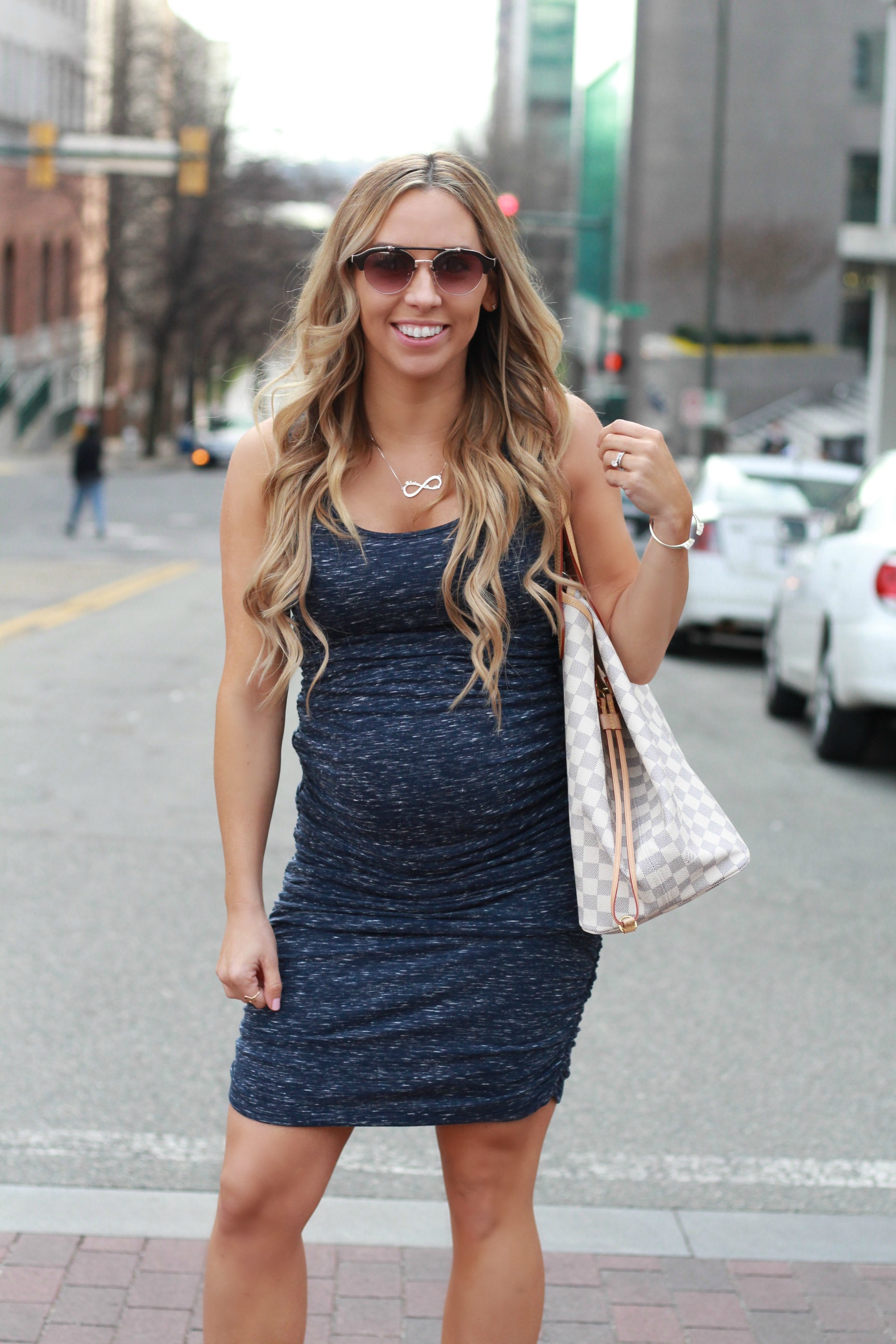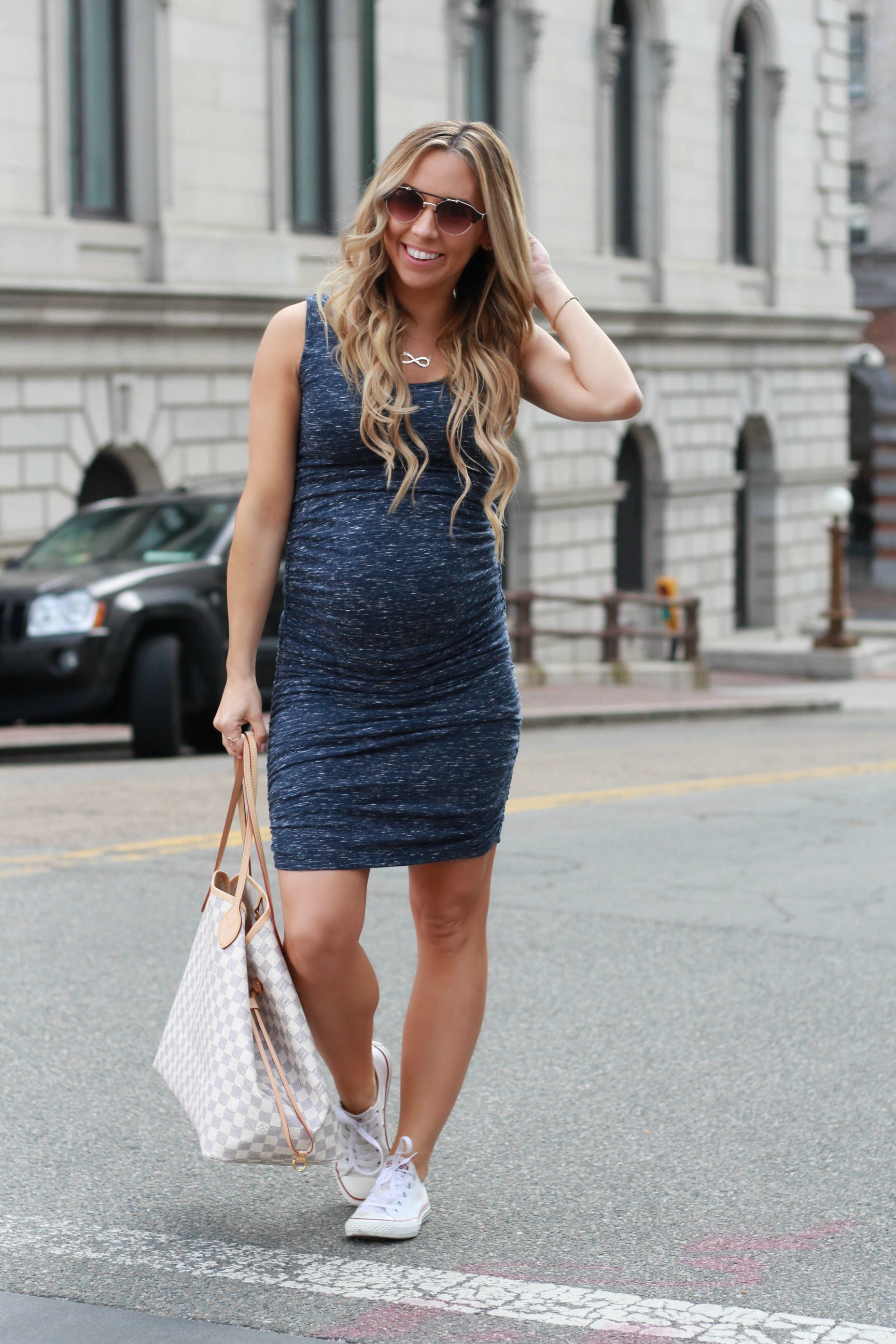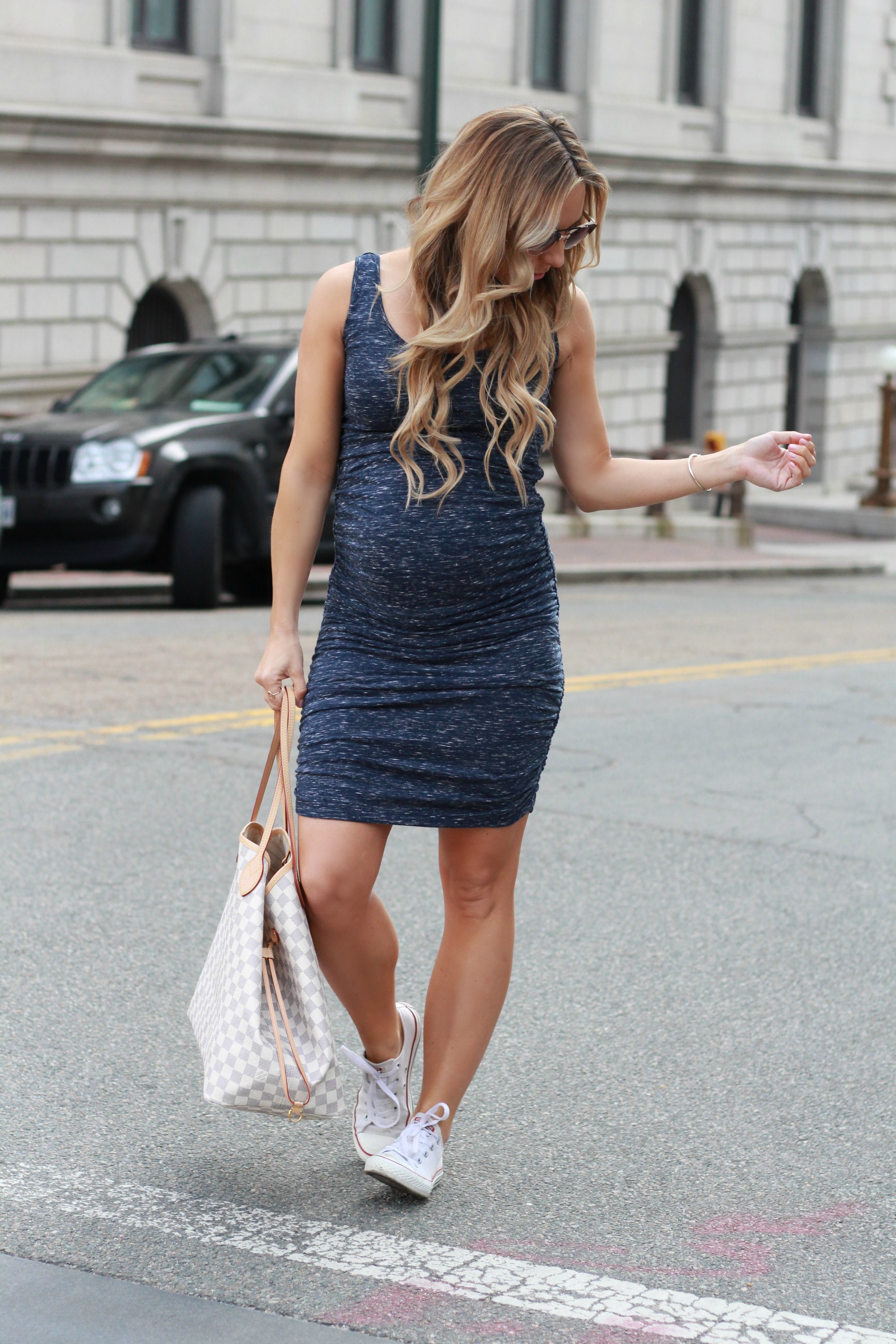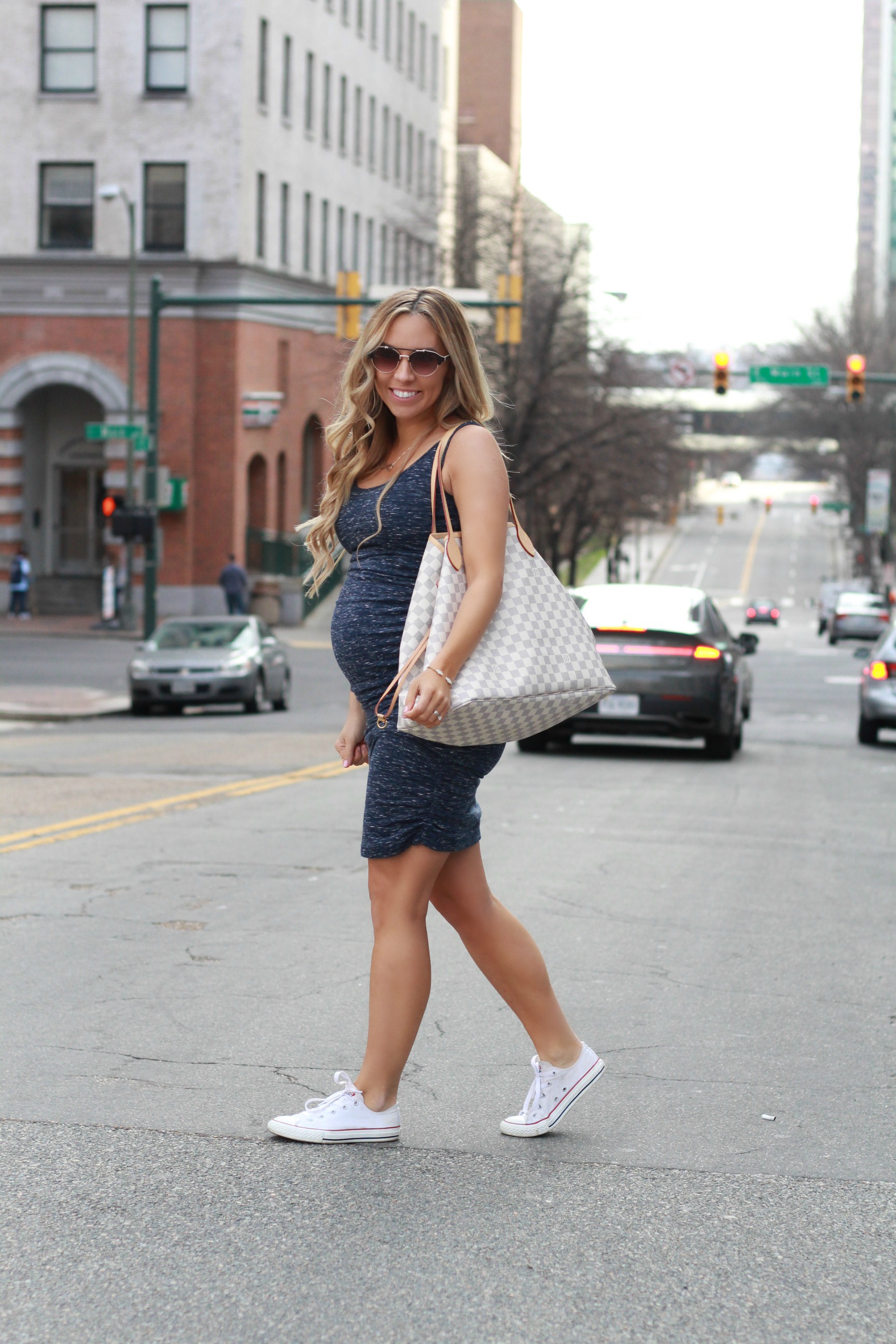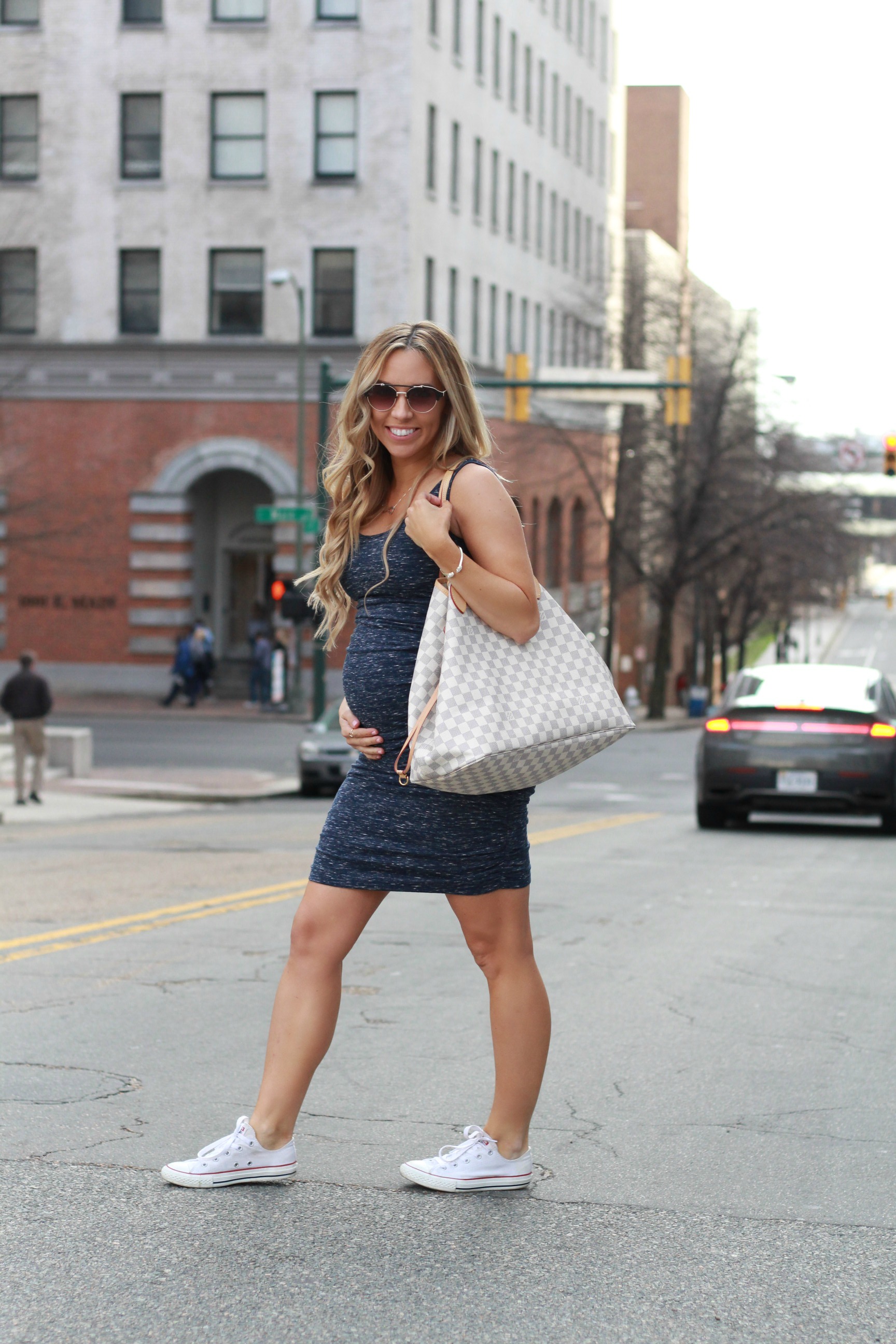 Ingrid & Isabel Tank Dress // Converse Sneakers // Tijn Eyewear // Louis Vuitton Neverful GM // Kendra Scott Bracelet
Comfy & Casual Maternity Look
Rouched Tank Dress
Nothing is more important when you're a mom than being comfortable! Now with another little one on the way I still want to be active with my first, and staying comfortable and casual is a must for me.
This rouched tank dress from Ingrid & Isabel fits like a dream, and the material is so soft. I'm a little (or a lot) on the short side and the length is great! It's easy to shimmy up just a bit to make my legs appear a little longer, or pull down a little closer to my knees if I want to. It's a great basic that can be worn alone or layered with a cute cardigan, denim jacket, or even leggings! If you're not currently pregnant a tank dress is still a great basic to own, here are some of my faves currently in stores: this one that's only $29, this one with a super cute asymetrical hem, and this rib-knit dress. Also – If you don't own a pair of these old school converse, then you're missing out! I wear them all the time and they literally look cute with everything and are the ultimate comfort shoe.
Lastly, with the Lenton season underway, I've been trying to figure out what to give up for the 40 days leading up to Easter Sunday. I always struggle with this because first of all its hard to give something up, and second of all, I forget about it all the time! I can barely remember to not eat mean on Fridays, let alone give up something for that long. So this year I'm trying something a little different, and I'm trying to just be a nicer person. Even when people hurt me, or something doesn't go my way, I don't have to react to it or let it affect me. I'm trying to be more aware of other people's feelings, and go out of my way to do small acts of kindness and make others feel good.
This pregnancy has been easy over all and I'm so thankful, but I've definitely been super sensitive and that's been a bit difficult to deal with. My late grandpa whom I was very close with once gave me a print out of this poem by Mother Teresa, and I pull it out every once in awhile when I'm feeling overwhelmed or just need  to be reminded to be kind. I hope it's a good reminder for you too and inspires you in some way!
People are often unreasonable, illogical and self-centered;
Forgive them anyway.
If you are kind, people may accuse you of selfish, ulterior motives;
Be kind anyway.
If you are successful, you will win some false friends and some true enemies;
Succeed anyway.
If you are honest and frank, people may cheat you;
Be honest and frank anyway.
What you spend years building, someone could destroy overnight;
Build anyway.
If you find serenity and happiness, they may be jealous;
Be happy anyway.
The good you do today, people will often forget tomorrow;
Do good anyway.
Give the world the best you have, and it may never be enough;
Give the world the best you've got anyway.
You see, in the final analysis, it is between you and God;
It was never between you and them anyway.
-Mother Teresa
Lots of love, Stefanie
Pictures by SheSawStyle
Affliate Links were used in the post.
Dress c/o Ingrid & Isabel
Bracelet c/o of Kendra Scott
Sunglasses c/o Tijn Eyewear