The Heartbreaker Bag / Twisted Mustard Seed Designer Diaper Bag
DRESS: c/o Pink Blush Maternity (similar here) | NECKLACE: old, similar Y-Necklace here | HEELS: c/o Mari A. (two colors & on sale for $29.99) | SUNGLASSES: Nordstrom | BAG: c/o Twisted Mustard Seed
The Heartbreaker Bag HERE, comes with Wet/Dry Bag. Accessories available include the Snap in Cooler (comes in two colors, keeps times hot or cold), Changing Pad, and Stroller Clips (Perfect for attaching the bag to a stroller, or anywhere!)
You can also get the whole bundle (everything included!) available HERE. Full Review below with a MAJOR DISCOUNT CODE. BLAIRE'S DRESS: Old Navy
Clearly Blaire is anxiously awaiting her duties as a big sister. She will not be changing any poo diapers, but will gladly help with pee-pee ones. NOTED.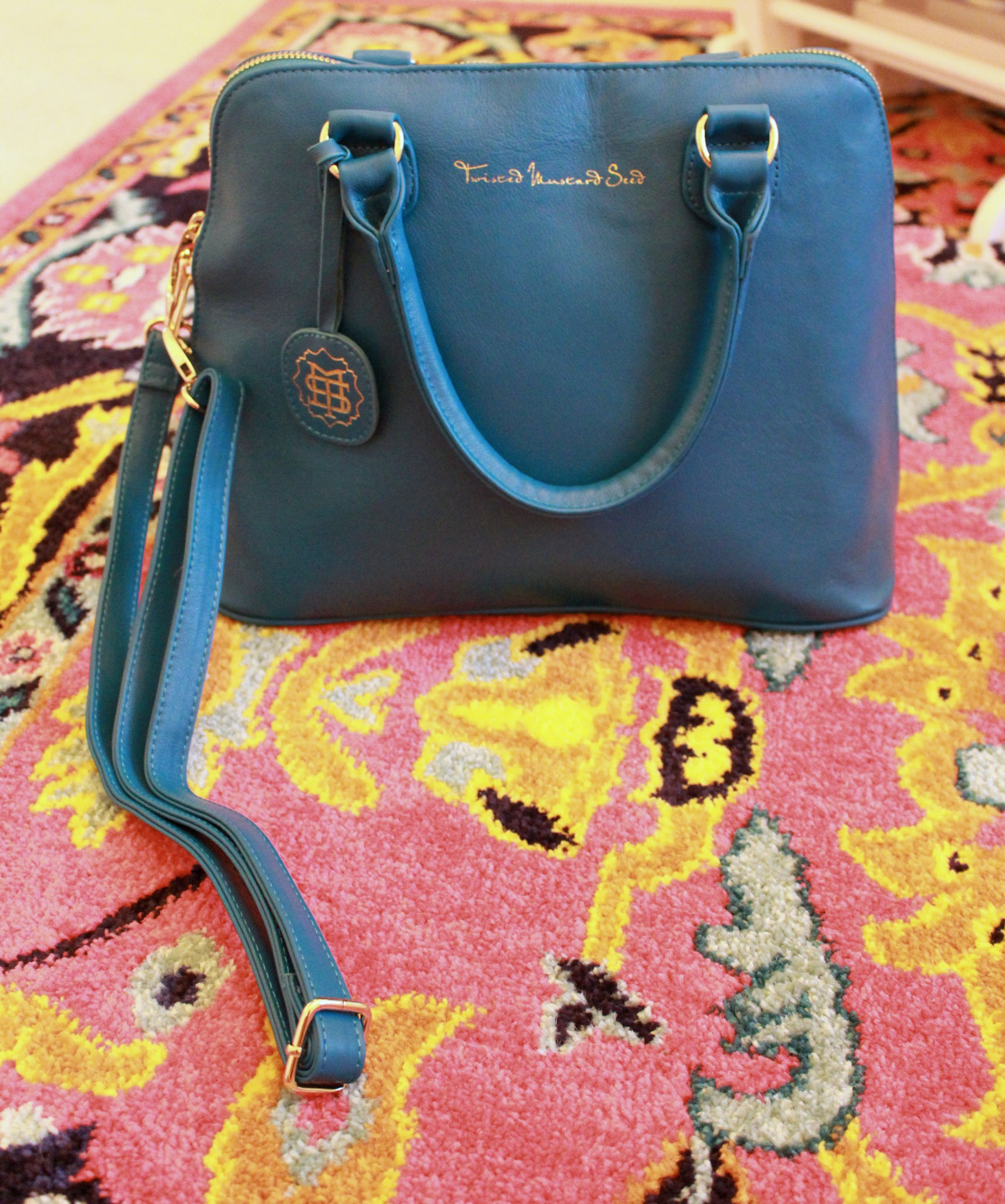 Changing Pad / Cooler / Wet-Dry Bag / Not Pictured: Stroller Clips /GLASS BOTTLES: c/o of CHICCO / Pampers Diapers / Unknown Piano Toy from almost 5 years ago / RUG: c/o Rugs USA

Before I get ahead of myself, a full nursery reveal will be on the blog in a few weeks. It will include this rug, some feeding items, more about why I'm choosing Pampers diapers, and of course all the fun decor! But – I wanted to show that all of these items easily fit into this perfectly sized bag. You know what the typically say, the bigger the bag, the more shit you carry? Or, something like that… well, this bag is JUST the right size for everything you NEED, and trust me they thought of all the extras.
The cooler keeps things hot or cold, and fits these two fairly large Chicco glass bottles inside with room to spare. This little cooler is going to make things so easy when carrying breastmilk or formula, and let's be honest – an apple juice and a snack for my 4 year old! I just threw away our old changing pad, well because it was old and I don't even want to recall the places it's been. So I was so happy when Twisted Mustard Seed included this in the bundle because a changing pad is a definite must have when you're on the go. There are tons of little pockets for all your gadgets, like cell phones, necessary makeup items, your wallet or credit cards, and even a little light to help navigate inside the bag.
The material and quality of the bag are outstanding, it truly looks like a purse and not a bulky diaper bag. With Blaire, I never was able to find a diaper bag that was cute AND functional, so I just ended up carrying giant tote bags that got overfilled and it was impossible to find the things I needed when I needed them.
Twisted Mustard Seed has been WONDERFUL and is offering my followers 35% off the entire shop until 4/17/17 using the code 'Spring35'.
It would be the perfect gift for a mama-to-be (maybe you??) and you'd receive it in time for Mother's Day. I honestly can't say enough good things about this bag, and have ZERO complaints.
I'd love to hear your thoughts and what you typically look for in a diaper bag in the comments below. Thanks for stopping by! xx – Stefanie
---
Thanks Twisted Mustard Seed for Sponsoring this Post!
All opinions of this bag and the accessories are my own.
Affilate Links may be used in this post.
BAG & BAG ACCESSORIES: C/O Twisted Mustard Seed
DRESS: C/O Pink Blush
HEELS: C/O of Mari A, Now + Zen PR
BOTTLES: C/O Chicco
RUG: C/O RugsUSA