Happy Tuesday y'all! We are back in RVA and getting back into the swing of things. I came home to so many goodies from the Nsale that I can't wait to share with you soon!
When I was in Indianapolis I hit up the local Nordstrom there to do a little try on. A few of these items I've already worn several times and even ordered seconds in other colors. Here are some iPhone photos of the stuff that I loved so much I had to take home with me.
Pink Mauve Pullover (3 colors) // Hudson Jeans // Y Necklace
I'm not sure I could love this pullover any more! It's lightweight, a slightly oversized fit, and is on sale for only $24, #yassss. This color is selling out with only a few sizes left, but I ordered the other colors in this since it was such a steal!
I wasn't planning on getting multiple pairs of jeans, but the prices were SO GOOD, and a good pair of jeans really never goes out of style so… sold, sold, and sold! ha. But these Hudson ones are my top favorite, I love the hem on them and they are crazy flattering! I also wear this necklace with almost everything, I'm obsessed!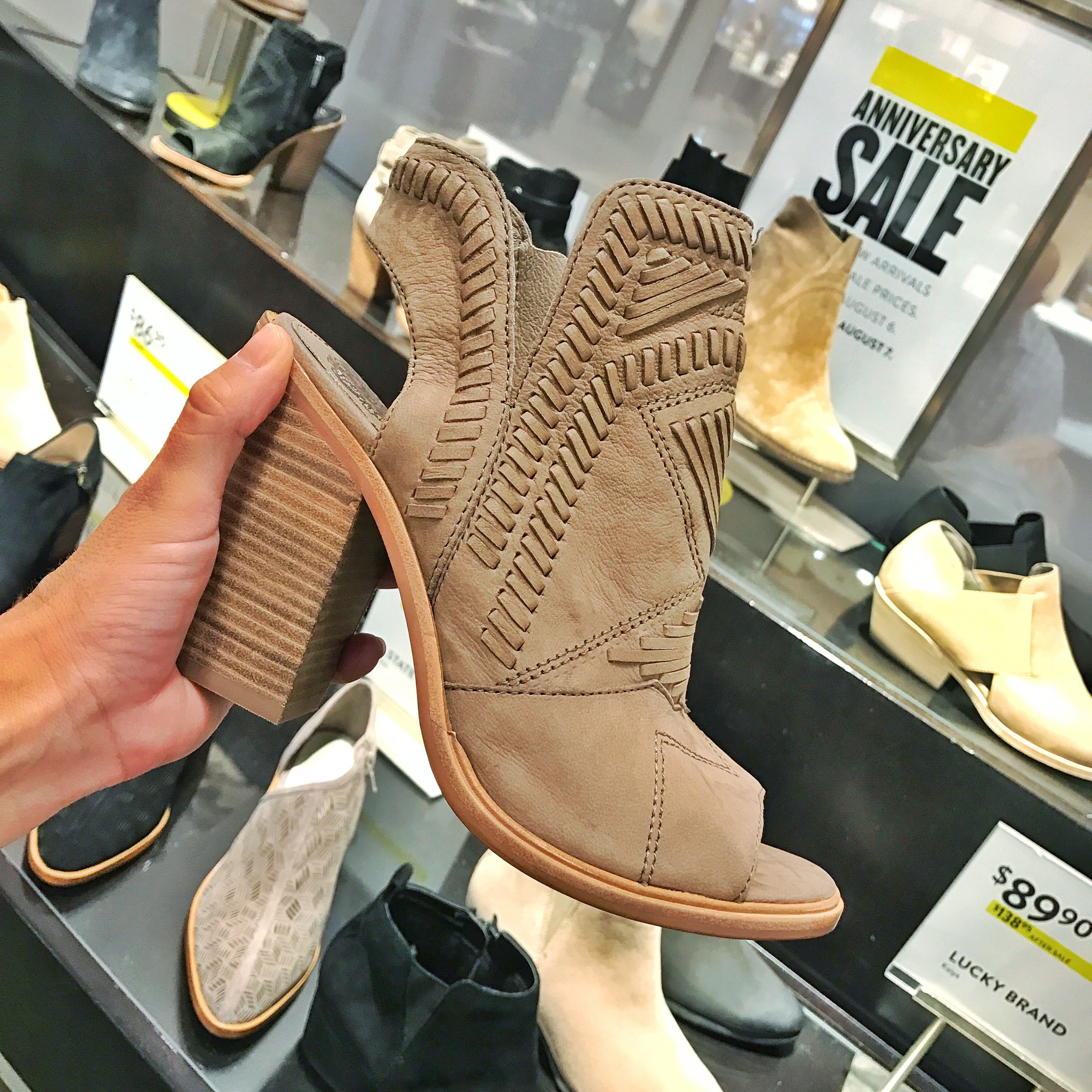 Vince Camuto Booties, under $100
I had to order these little cuties since they didn't have my size in stock at the store but I couldn't get enough of the peep toe y'all! It doesn't get that cold here in the winter, so I'm thinking I could wear these on warmer winter days, and they would even look cute in the summer with a little sundress! They also come in 3 colors and are a hot hot item that's selling out quickly.
Leith Dress // Shoes (Not part of the sale but still the best!)
This cute dress is only $35 and comes in such great fall colors. Its a great dress to wear alone, or layer with a leather jacket and some booties when it gets cooler. I love the length and the fit!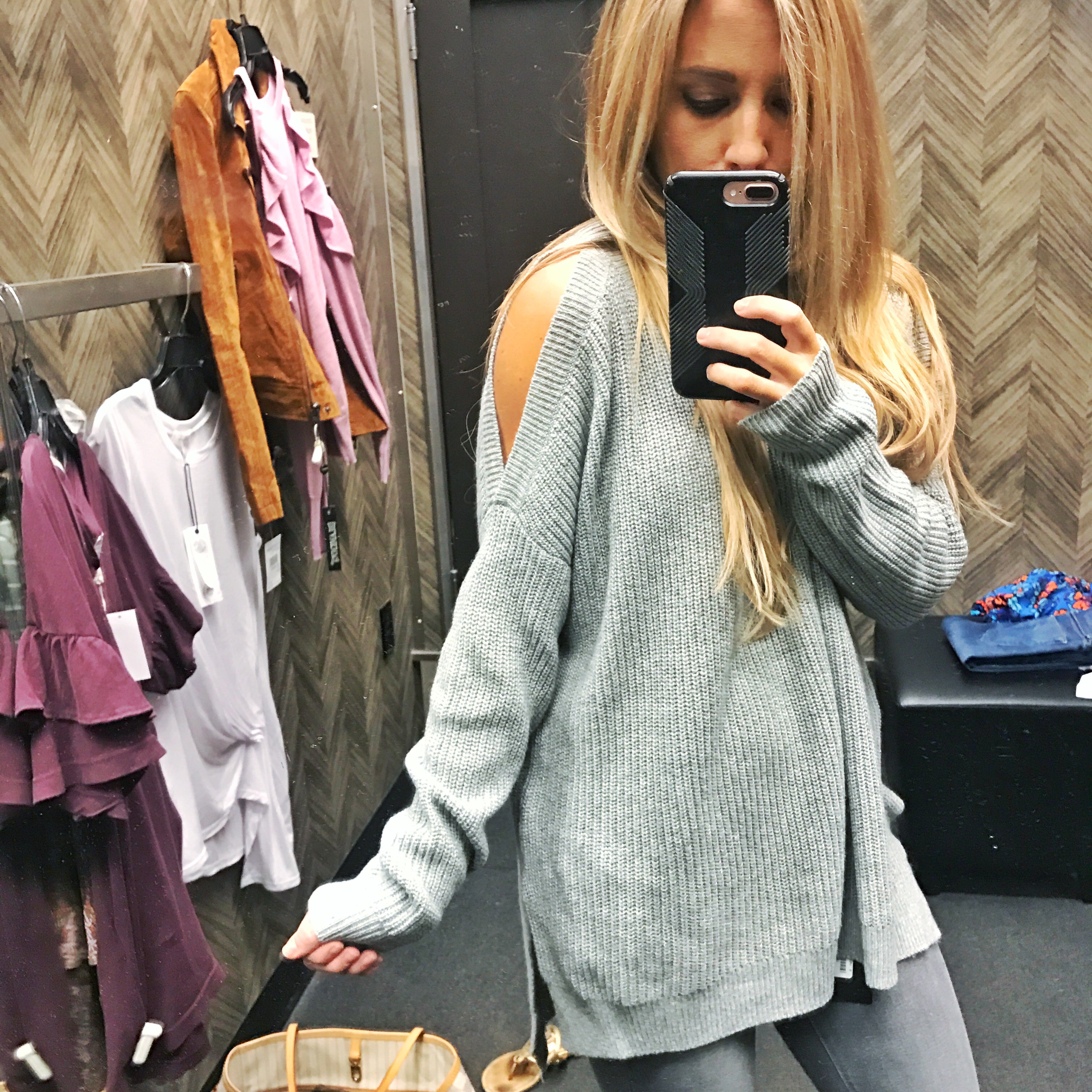 Cold Shoulder Sweater // Paige Denim
Paige is hands down one of my favorite denim brands. I'm pretty petite but I have a booty and muscular thighs. I've always been attracted to Paige jeans because they tighten it all up and fit my big booty and smaller waste. If you've never given them a try, DO. I liked these because of the grey-ish color and the raw hem!
This cold shoulder sweater is a great find at only $35 and makes a great staple piece in your wardrobe. I opted for gray because it goes with so much. The fit is amazingly oversized, with cold shoulders and little side slits!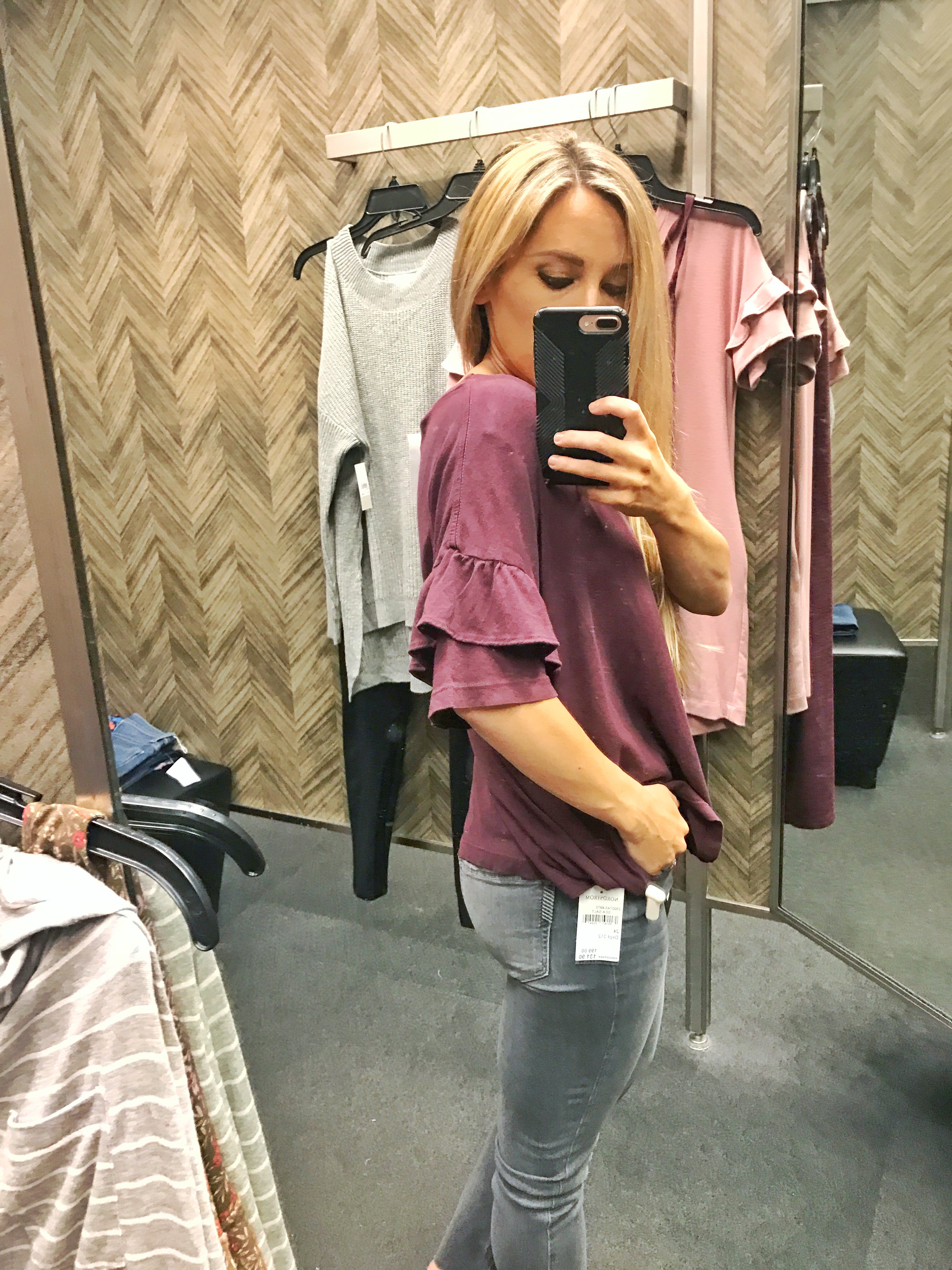 Ruffle Sleeve Tee
This tee is a little on the pricey side for being a tee, BUT, it's on sale and the softness of this top is out of this world. It's amazing and the quality is great. You would easily get your money's worth because you'll want to wear it every day!
Ruffle Cold Shoulder Sweater
Ruffles are still a thing and thats ok by me! This sweater is very thin (not see through thin, but just not bulky at all). It's much more fitted, so if you're in between sizes I would order up. However, I am wearing an XXS and love the where the length fell right at my jean waistline. I did NOT end up purchasing this (even though I loved it and the gorgeous color) because I'm breastfeeding and my chest and nursing bra was just not looking cute in it! #momtruths
Striped Long Sleeve Tee // Hudson Jeans
This tee is only $18 and comes in several other colors! I still have a few of these from last year and I remember wearing them non-stop. Definitely a must have basic!
Floral, Ruffles, and cold shoulder? Sign me up! This lightweight top is perfect for fall and would be so cute under a denim or suede jacket. AG is truly one of the greatest denim brands ever. I wore a pair when I was pregnant and even though I paid full price they were worth every penny. These are on major sale at only $149 (normally $225) and such a classic pair you can wear anywhere.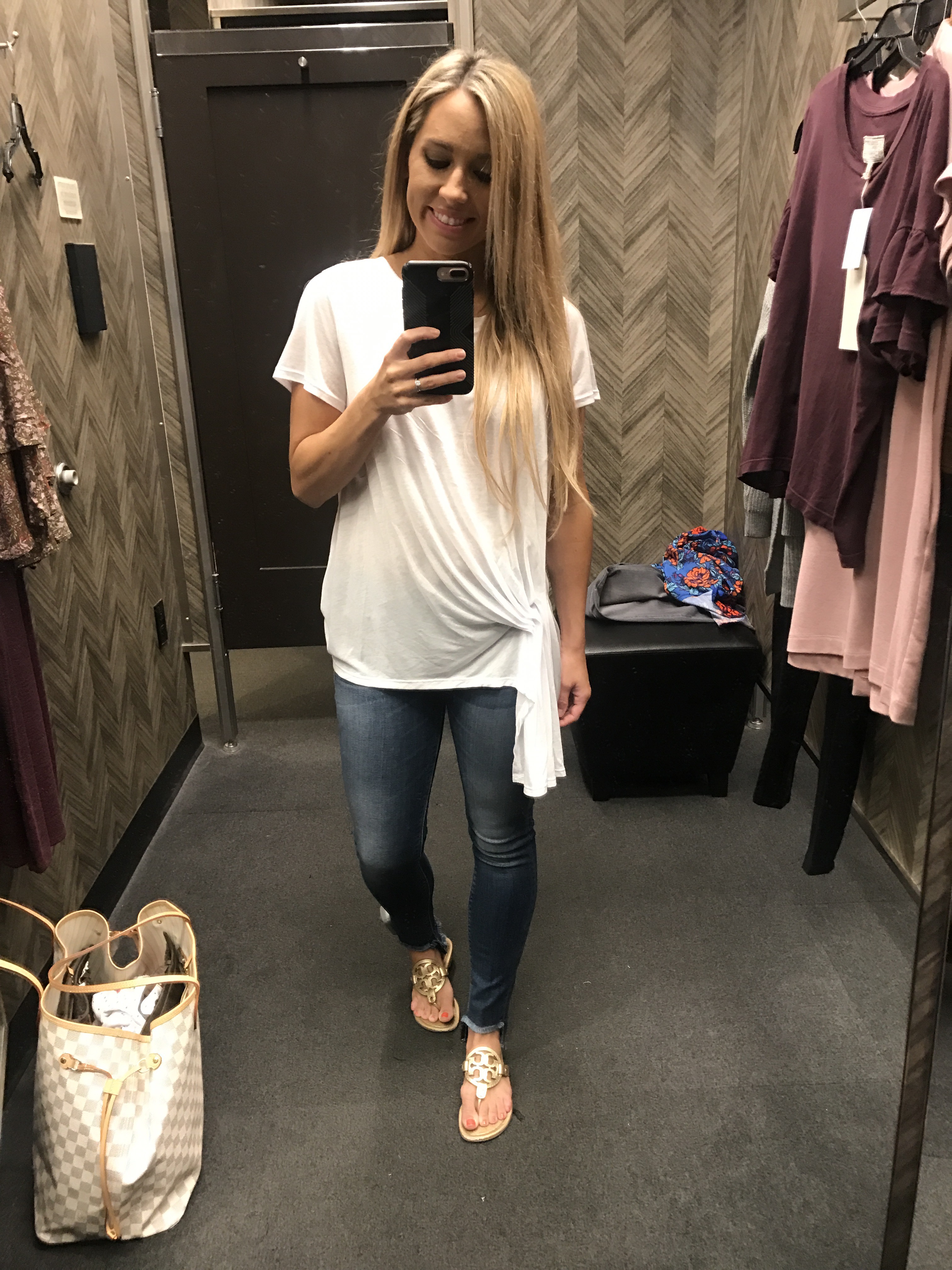 Suede Jacket // Pleated T-shirt
How adorbs is this jacket tho? It's currently on sale for $125, normally $188. It comes in three colors, but I personally thought this color would go best with the rest of my wardrobe. The fit is great, the color is so versatile and since its super neutral it will go with almost anything you pair it with. If you're in the market for a new fitted jacket, this one is a top pick in my book!
This pleated front tee is also so cute! It's a great way to mix up a look, even if its just jeans and a t-shirt!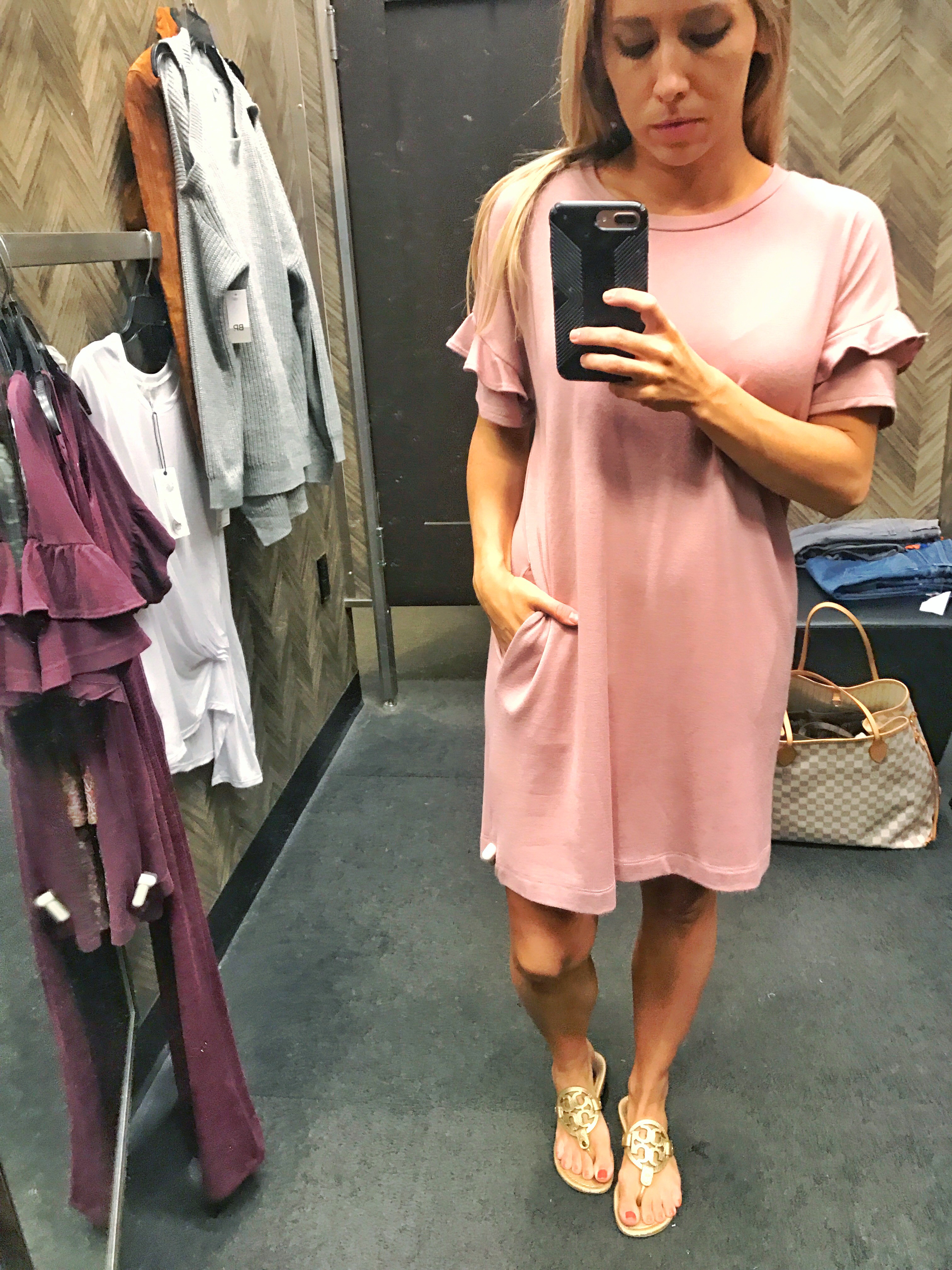 Lush Ruffle Sleeve Dress (already sold out) // Similar here, and here only $29
This dress was pretty popular, I have seen it almost every where but for good reason! Its soft, a bit oversized, has the cutest sleeves, and you could dress it so many ways. The two dresses linked above are REALLY similar though and also only $29!
I'm finally starting to see the rest of my orders coming in from the sale so I hope to get those up soon. These are just few of the many things I loved at the sale! I'd love to hear what you guys are loving or anything you'd like to see my try on next time I go in.