What to Do & Eat When Visiting the Greenbrier
A few weeks ago we stayed at the Greenbrier for a holiday party with Jason's company. I'd been to the Greenbrier as a little kid, and walked the property a few times as an adult, so I was so excited to stay for a whole weekend and see what The Greenbrier had to offer. If you haven't heard of the Greenbrier before, it's resort in the middle of the Allegheny Mountains in White Sulphur Springs, West Virginia, and it's know as America's Resort. It's full of old southern charm and the prettiest interior design I've ever seen.
This post was not sponsored by the Greenbrier, but I did receive several request to review our experience there including what to do, and where to eat. If you have any additional questions please let me know!
EACH ROOM IS FULL OF SOUTHERN CHARM
When you arrive at the Greenbrier you're welcomed with complimentary champagne. Each room is a little bit different, but all of them have bold wallpaper, bright carpets and florally bedding. It's like a fairy tail!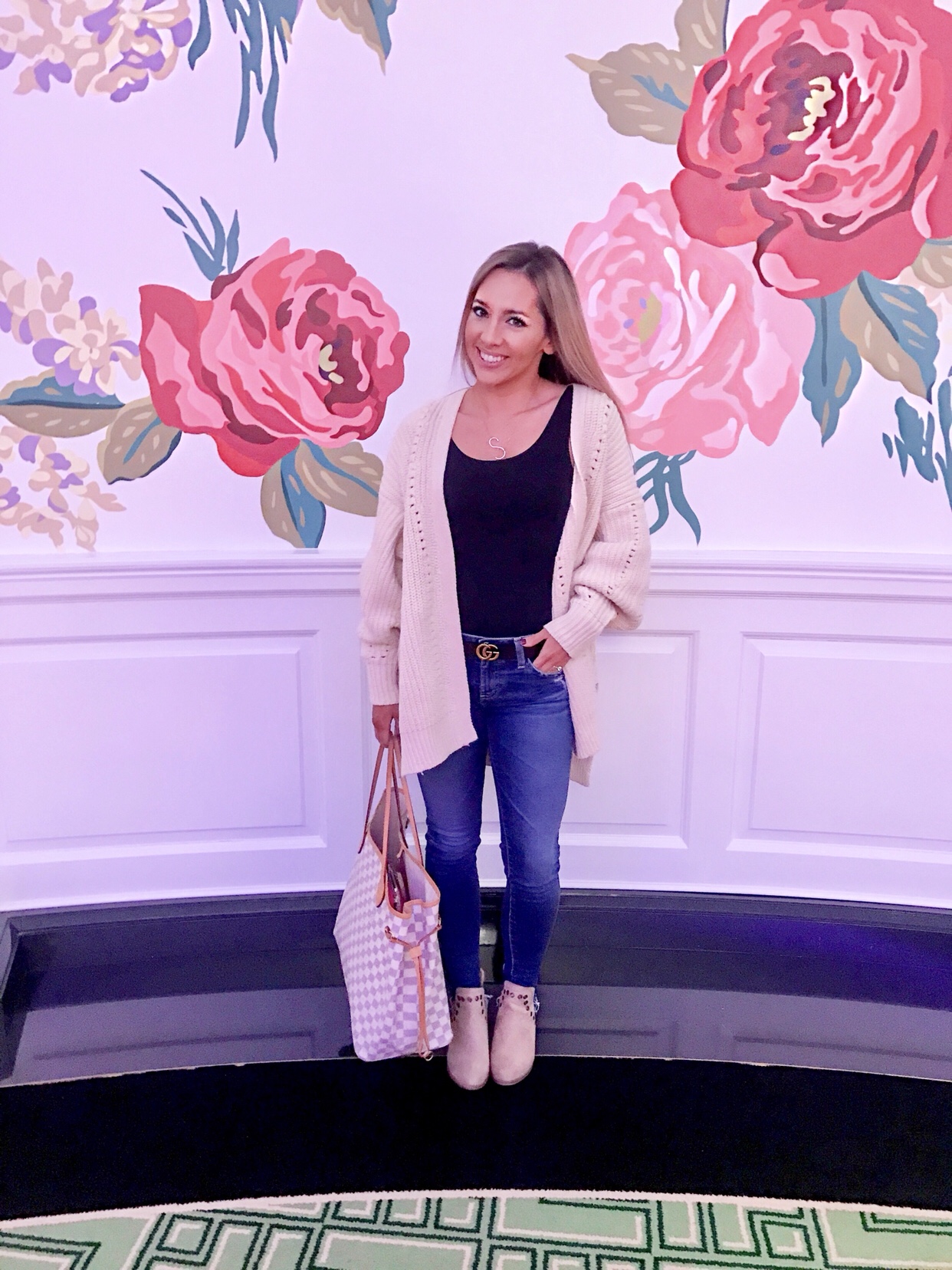 THE CASINO
 We stayed pretty close to the casino and ended up spending a lot of time there. It's pretty quiet during the day but they have a cute lounge and bar area that you can hang out in, drink and relax.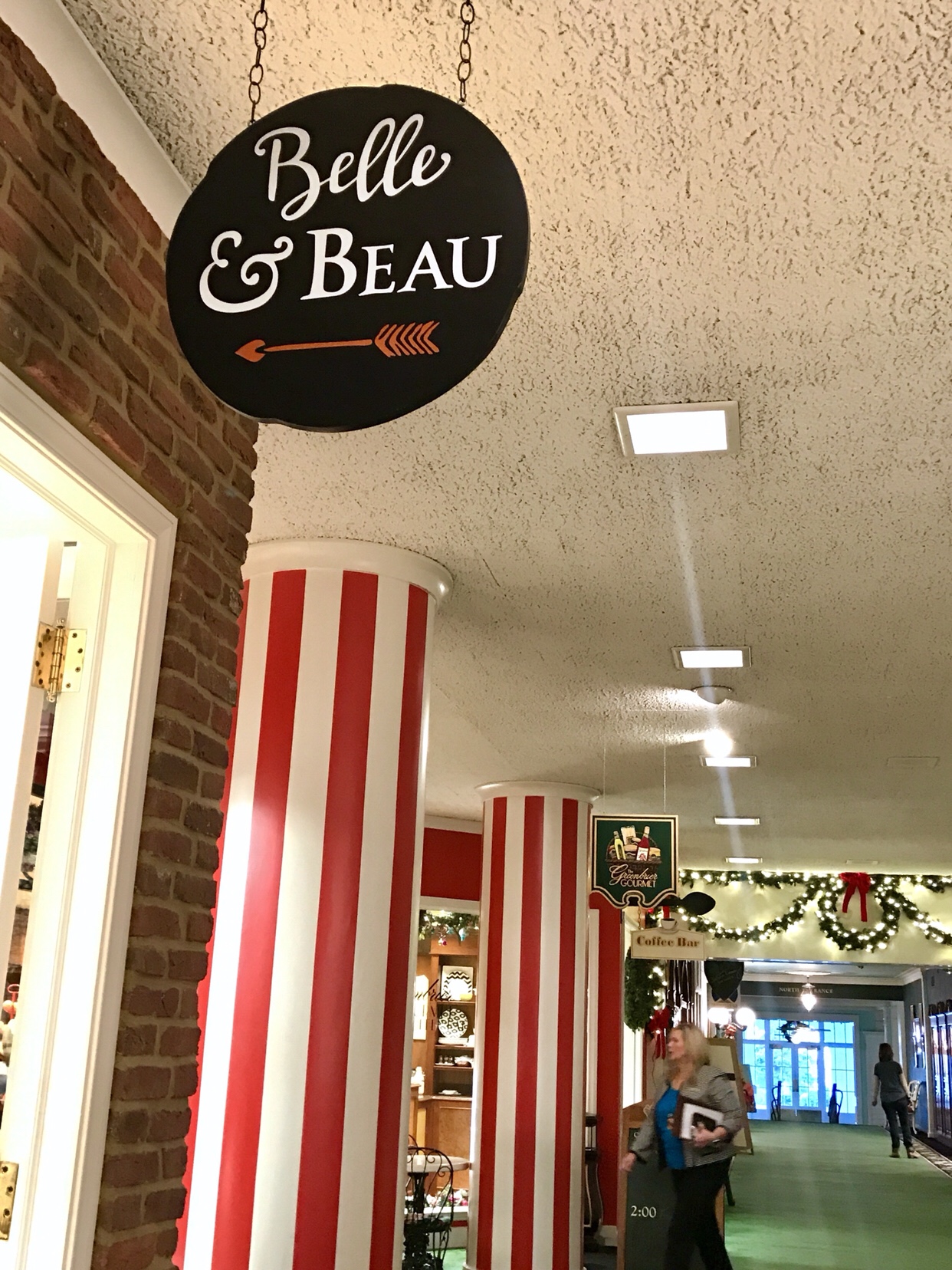 DINING AT THE GREENBRIER 
The food at the Greenbrier was amazing! Even though we were only there a few days, we tried out several of their 19 dining options and there wasn't much to complain about. Our favorite spot for breakfast was the Greenbrier gourmet, where they had lots of breakfast sandwich options and coffee to go. Obviously I like the place with good coffee the best! But it was easy and convenient, and located in their shoppes area.
For lunch our favorite spot was Draper's. The decor there was so southern and charming, and the food was my favorite of the trip overall. It's right outside the casino in the lower lobby, so Draper's was extra convenient for us! If you're looking for super casual, bar food type stuff, then JJ's Sports Lounge was also pretty good. They have TVs and a Sports Pub atmosphere.
For dinner the first night we ate at the Forum, and that was definitely my favorite of our two dinners. The forum is Italian, with lots of pasta and seafood options. It's a little bit more casual than some of the other spots, but the food is incredible.
The second night we ate at Prime 44 West. Since we had a large group of around 30 people, we reserved the private room with a bar and bartender. It was a really nice experience especially for a big group. Since we dined in the private room we did have a set menu that was 4 course, and you had the option between two things. It was all really good but was definitely not a light dinner! I would recommend Prime 44 West for more of a special occasion, such as anniversary or birthday.
Last but not least we did order room service late at night. I'm pretty sure they're available at all hours of the day and night, which was perfect when we would get back to our room late at night.
THINGS TO DO AT THE GREENBRIER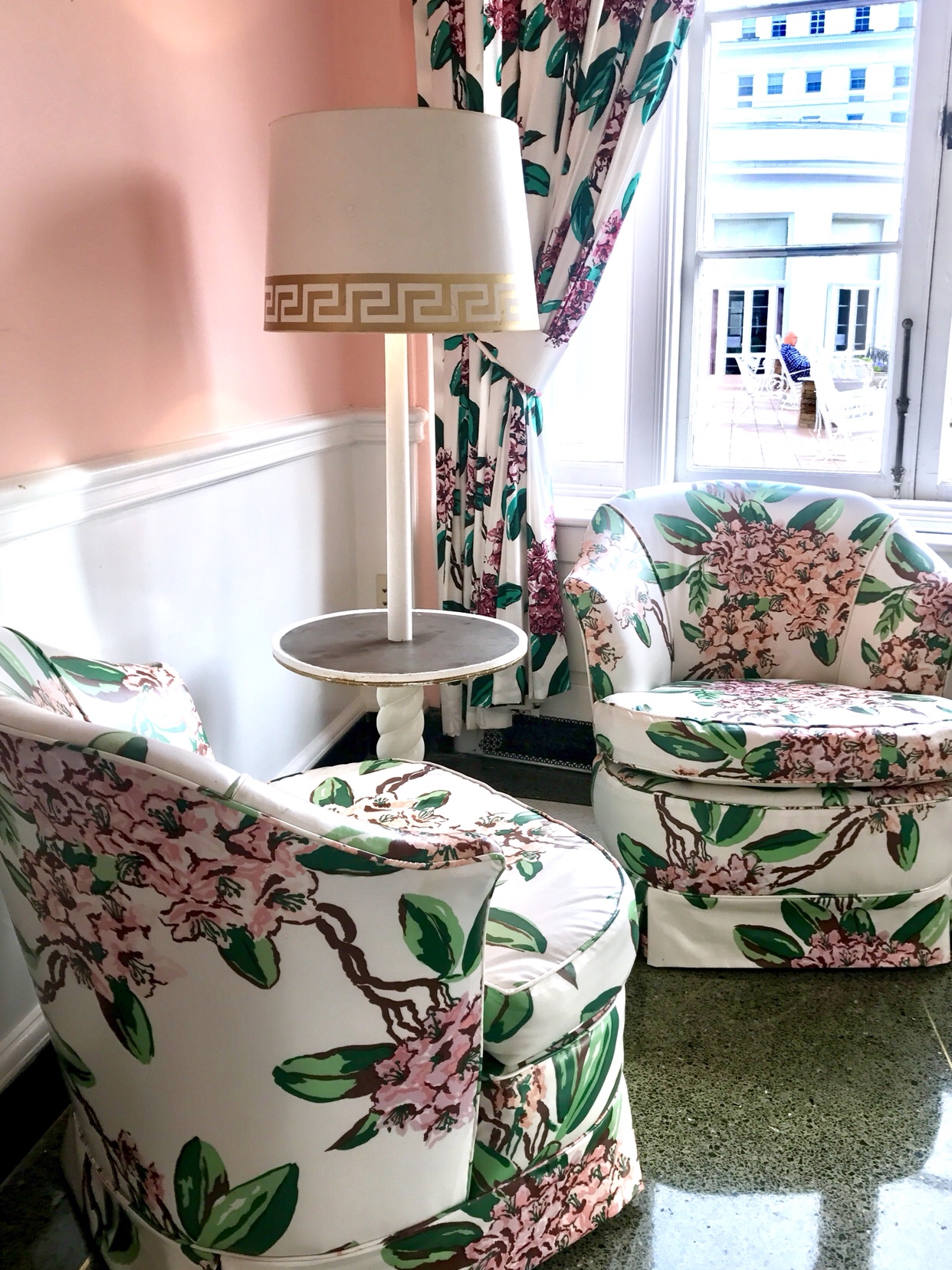 THE BUNKER TOUR
The Greenbrier is a National Historic Landmark that has been around since 1778. There's a lot of history there. In the 1950's the U.S. government need the Greenbrier for assistance with an Emergency Relocation Center for the President and U.S. Congress in case of war. The Greenbrier actually build an addition to the hotel called the West Virginia wing, which was really built as a decoy to cover up the bunker/bomb shelter the had underneath the hotel wing. Although it never had to be used, the bunker codenamed as Project Greek Island was in a constant state of readiness, before the secret was released by Washington Post Magazine.
We went on this tour, which I believe was between 60 and 90 minutes. I think there are certain people that would really enjoy this tour, but for our group we were a little underwhelmed. You do have a tour guide that will walk you through the bunker, and just a heads up they do take any cell phones, cameras and electronics so you can't take pictures. However, we realized that a lot of it is actually open to the public anyways, without paying and without having to stick with a group for an hour. While you can't see everything if you're not part of the official tour group, it would have been enough for us. If you are a history junkie though then this would likely be an enjoyable experience for you!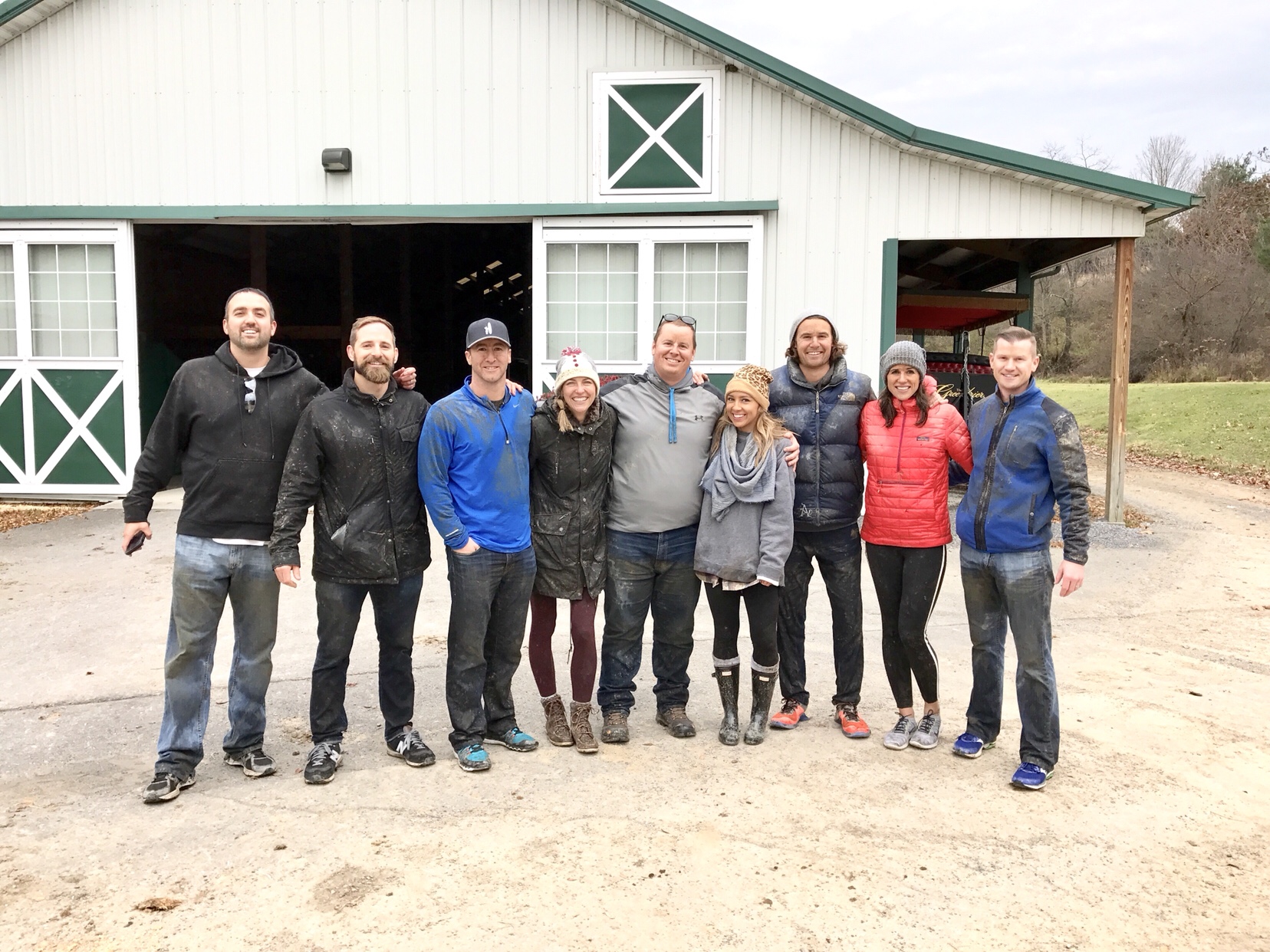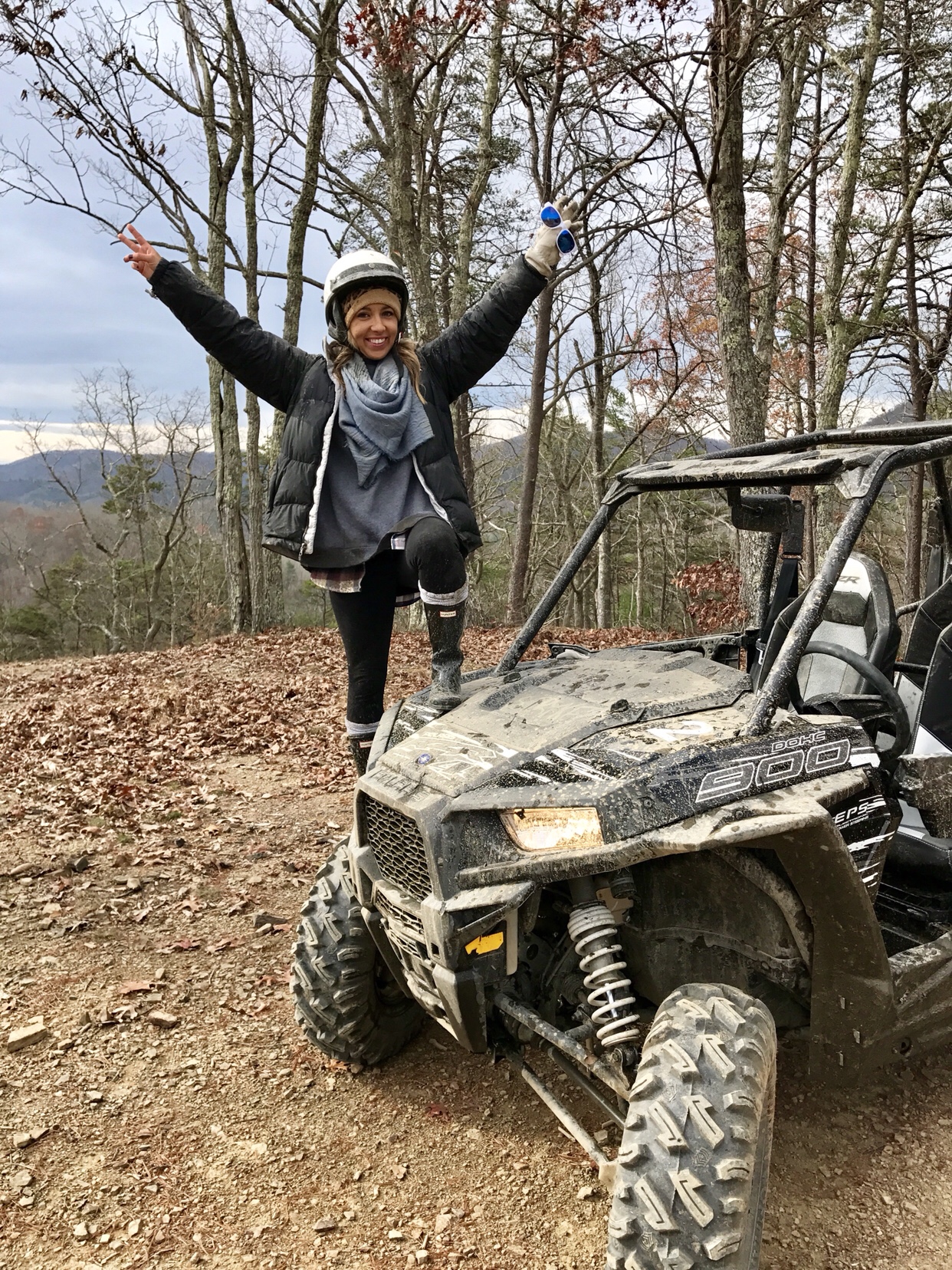 UTV TOURS
On to my favorite part of the whole weekend, the UTV tours! I'm so surprised I enjoyed this as much as I did because one, I'm terrified of heights (I pretty much get fainty and dizzy anytime I'm near an edge or height of any kind) and two, its cold, muddy, and dirty!
BUT you guys, it was the most fun we had the whole weekend. Not all of us went, because it is not cheap. However, all of us thought it was 100% worth the money and the tour is 2 hours long. We went 2 to a UTV, but I think you can do 4 to a UTV which would make it a lot cheaper as you pay to rent the UTV, and not per person. Since a lot of people wanted to drive though (I was not one of those people), we went in twos.
Rick was our tour guide, and I imagine he does all of the tours, and he made the whole experience amazing. He was really thorough with his instructions, and made safety the number one thing. For 2 hours we rode through about 12 f 32 miles of mountain trails, and not one minute of it was boring. Some parts were slow where you had to be able to get your UTV to climb over or through rough terrain, and other parts you were able to go fast and get muddy. You have to dress for the weather tho! It was about 50-60 degrees the day we went, but when you get wet, or are going fast you can get cold quickly. So you have to bring gloves and wear glasses (or bring your own) that they provide. Ya'll I'm not kidding I was terrified for half of it but it was so fun we all seriously thought about doing it again the next day. Highly, highly recommend this tour!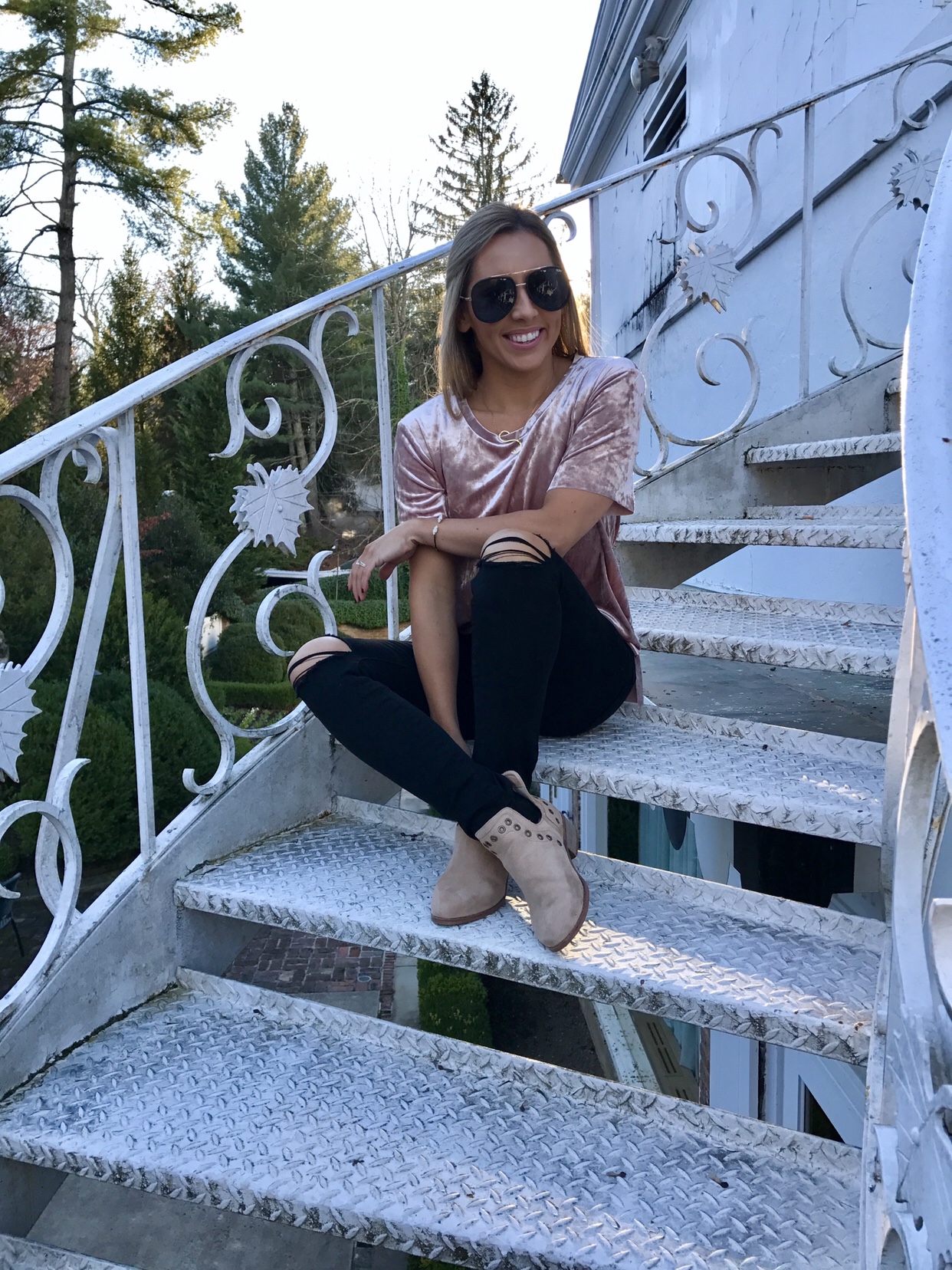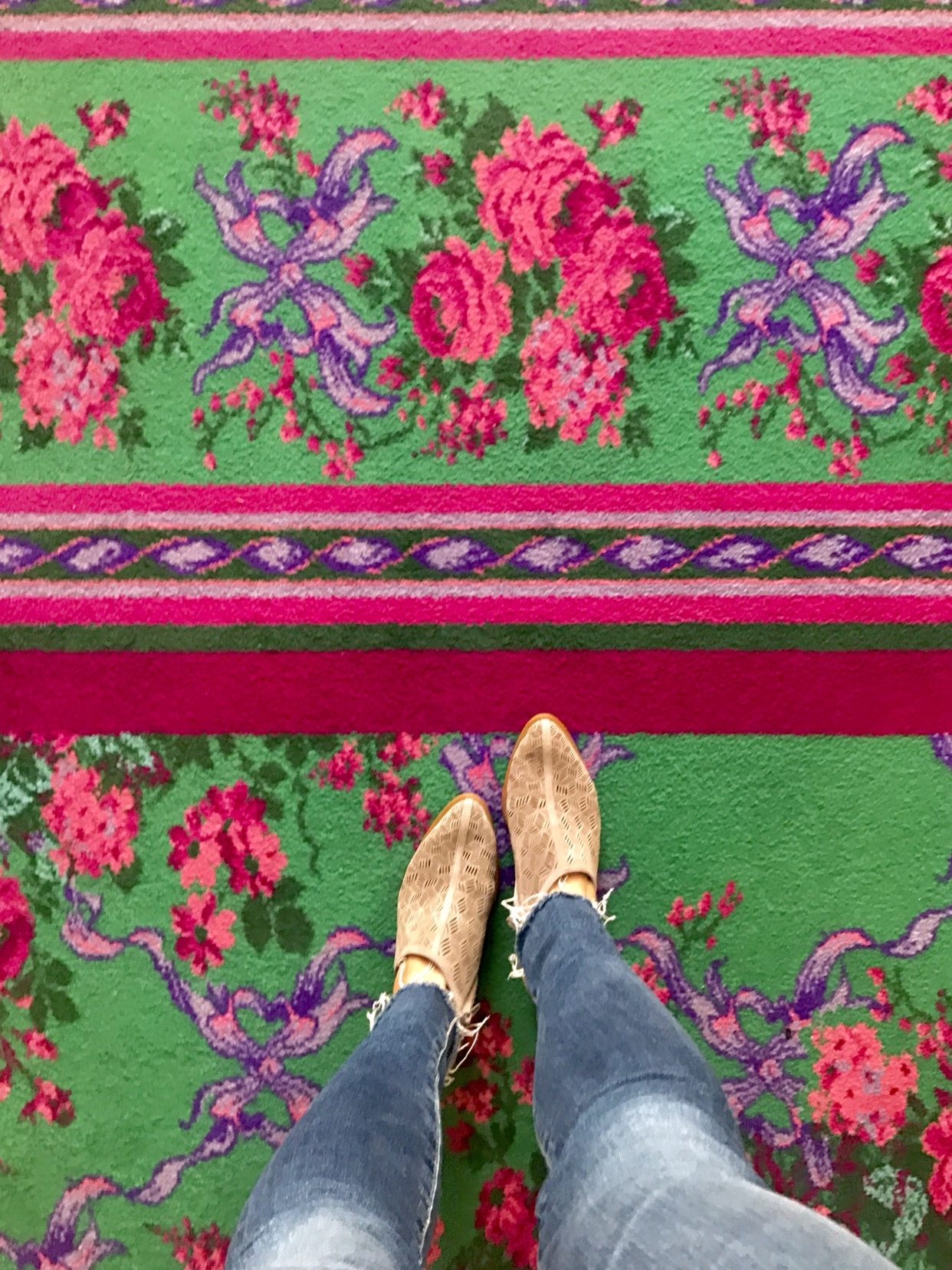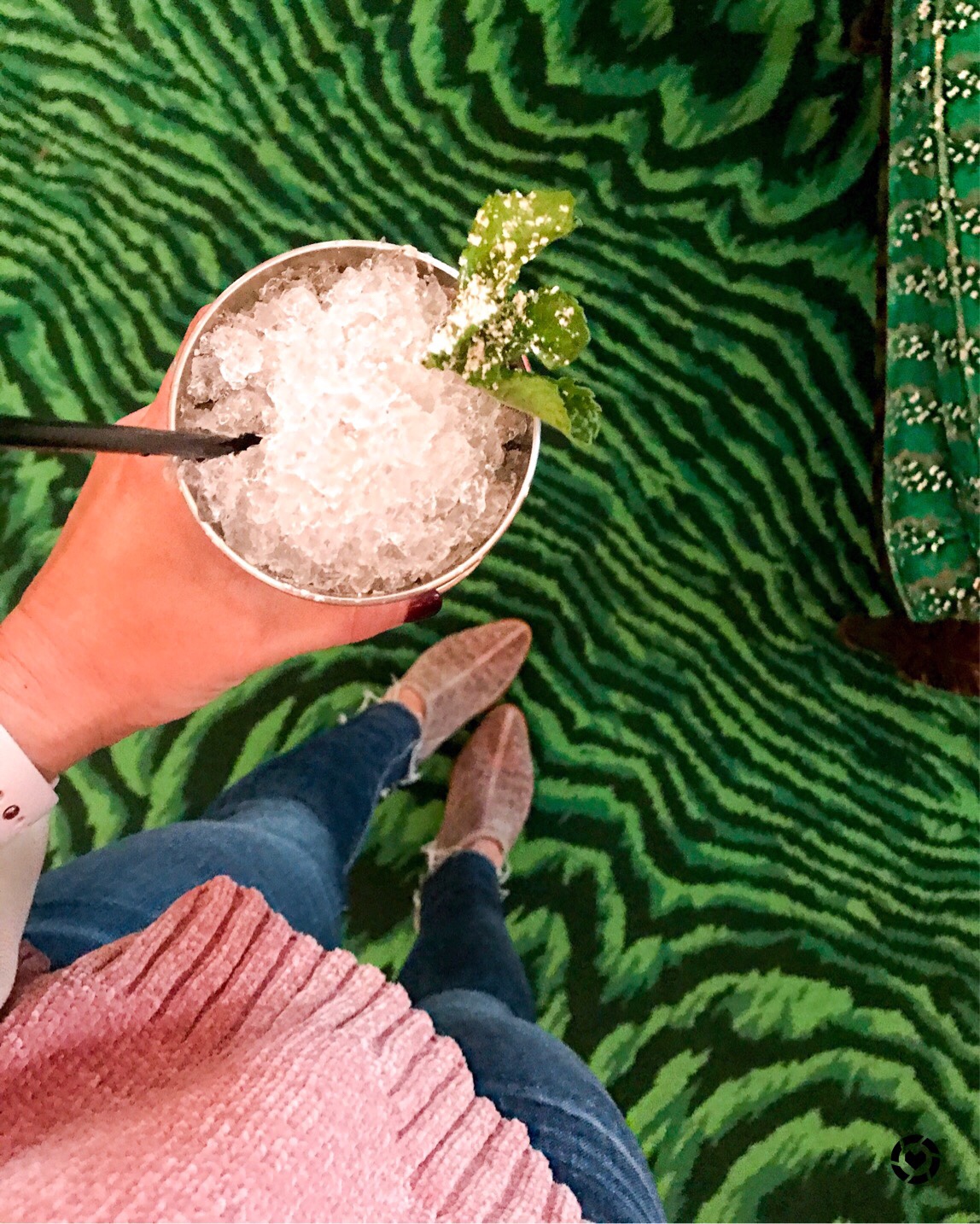 EXPLORING THE RESORT & THE PROPERTY
Last but definitely not least, we really enjoyed just walking around. The resort is huge, and there were so many things to see. There were gorgeous ballrooms and conference rooms, and ice skating rink, the golf course and pool areas, so many beautiful things to see. Every room and hallway is decorated to perfection, and it's all so cheerful and unique. Lots of cute lounges and bars to grab a drink while you explore!
Hopefully this answered a lot of your questions and will help you plan your visit to the Greenbrier. I can't wait until we go back, we've already been planning it out!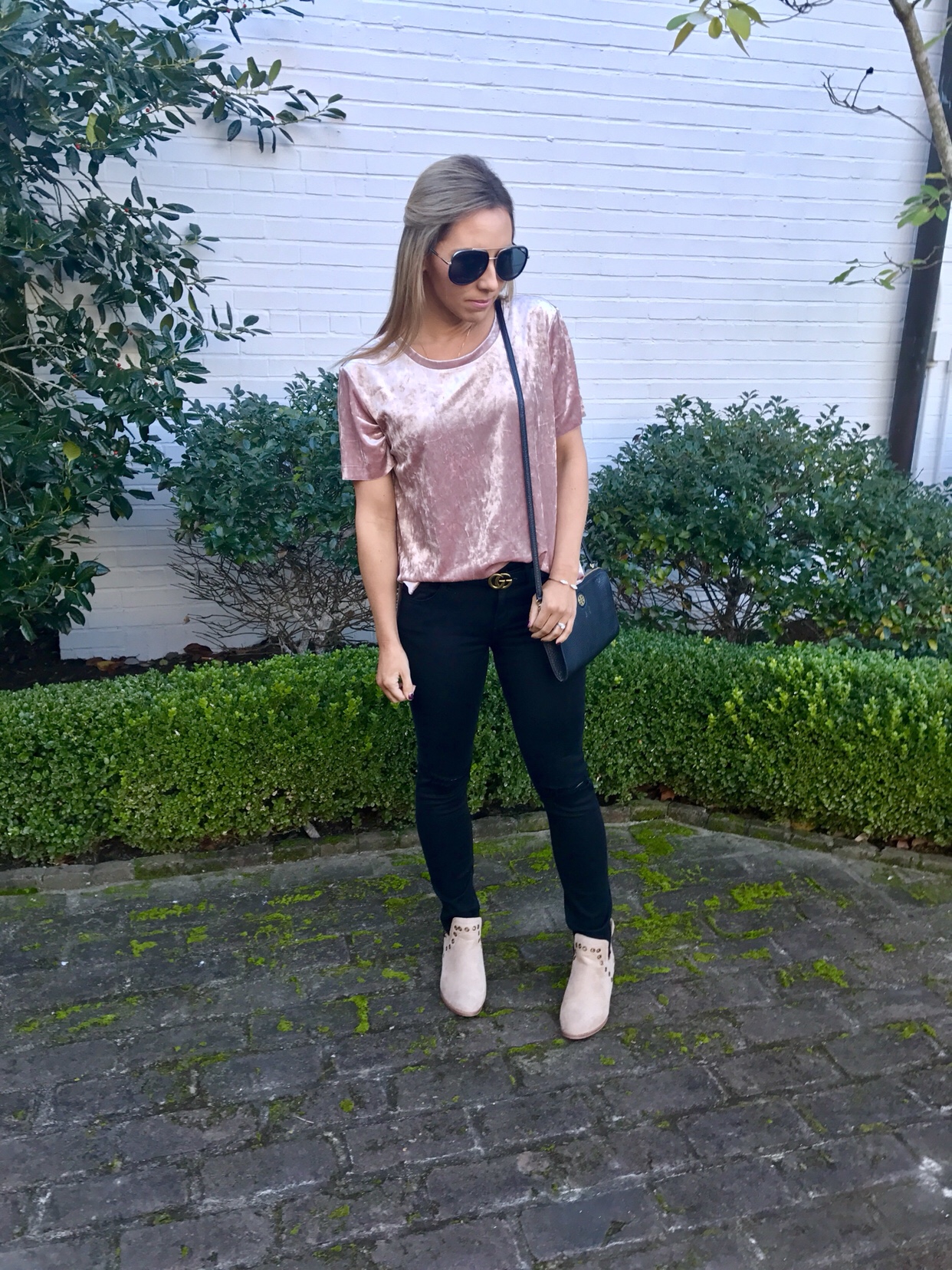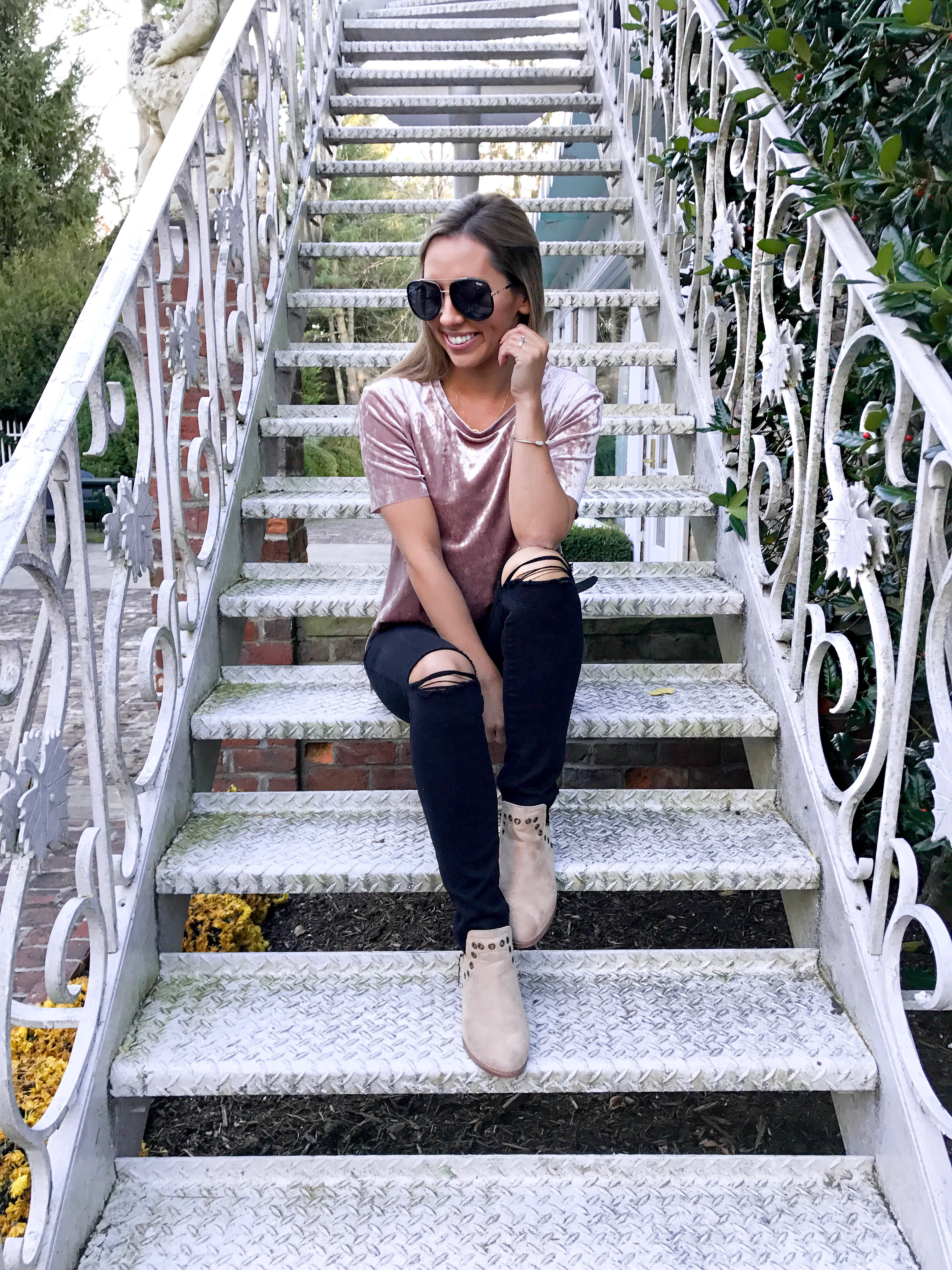 Velvet Tee is from Lidl, part of Heidi Klum's collection // Ripped Jeans // similar Booties // Quay Sunglasses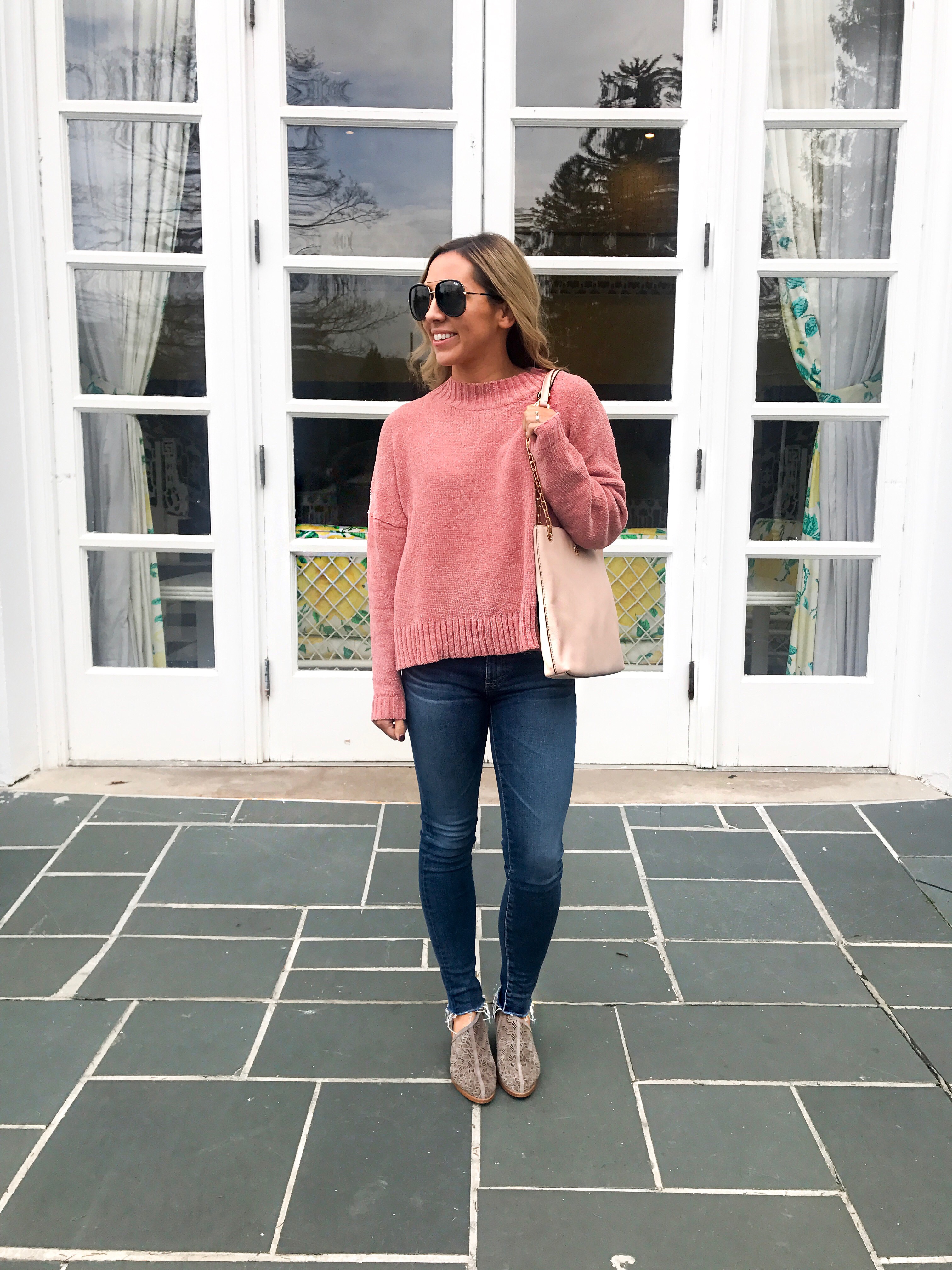 Chenille Sweater // AG Jeans // 1State Booties // Tory Burch Crossbody Bag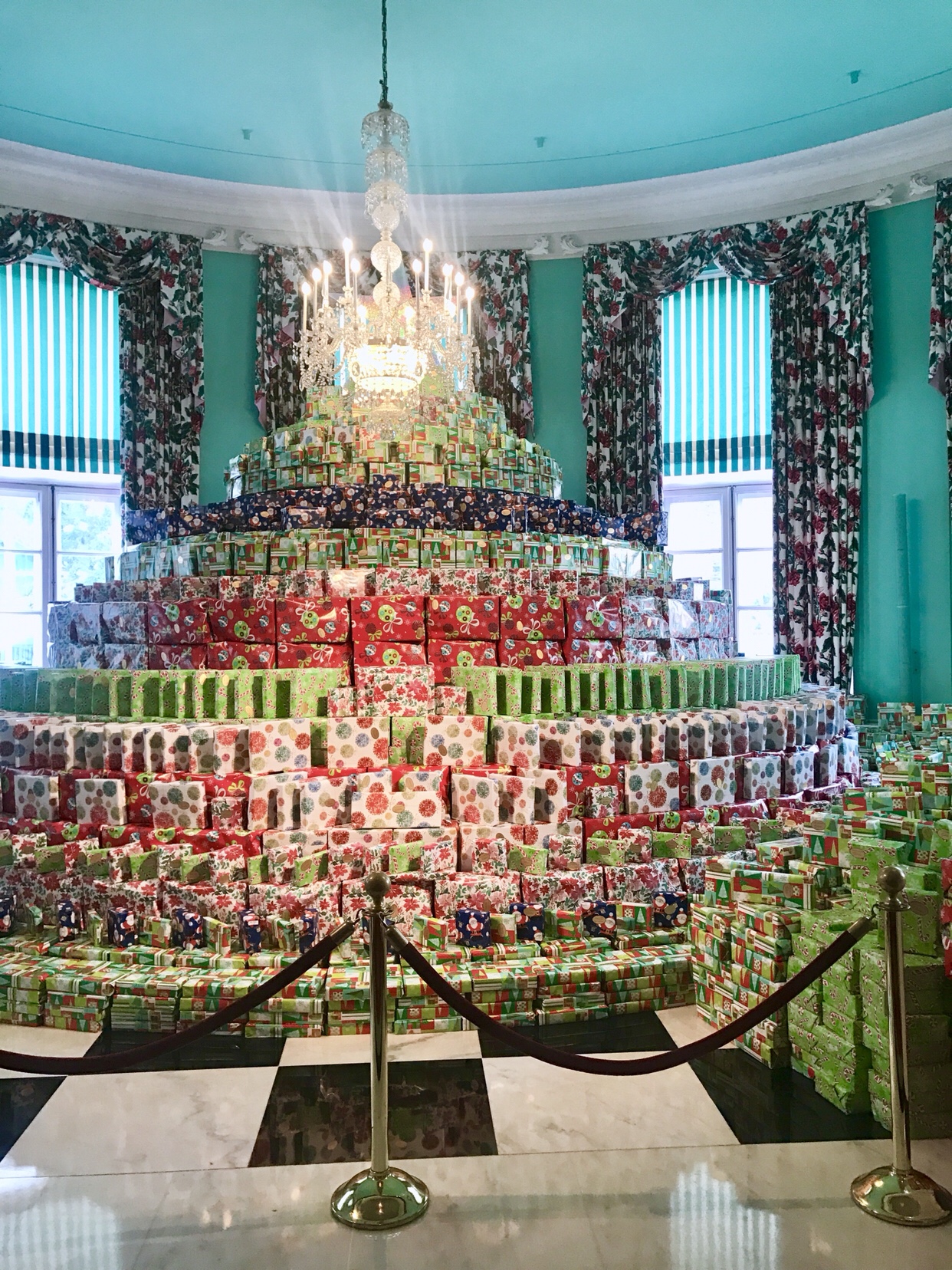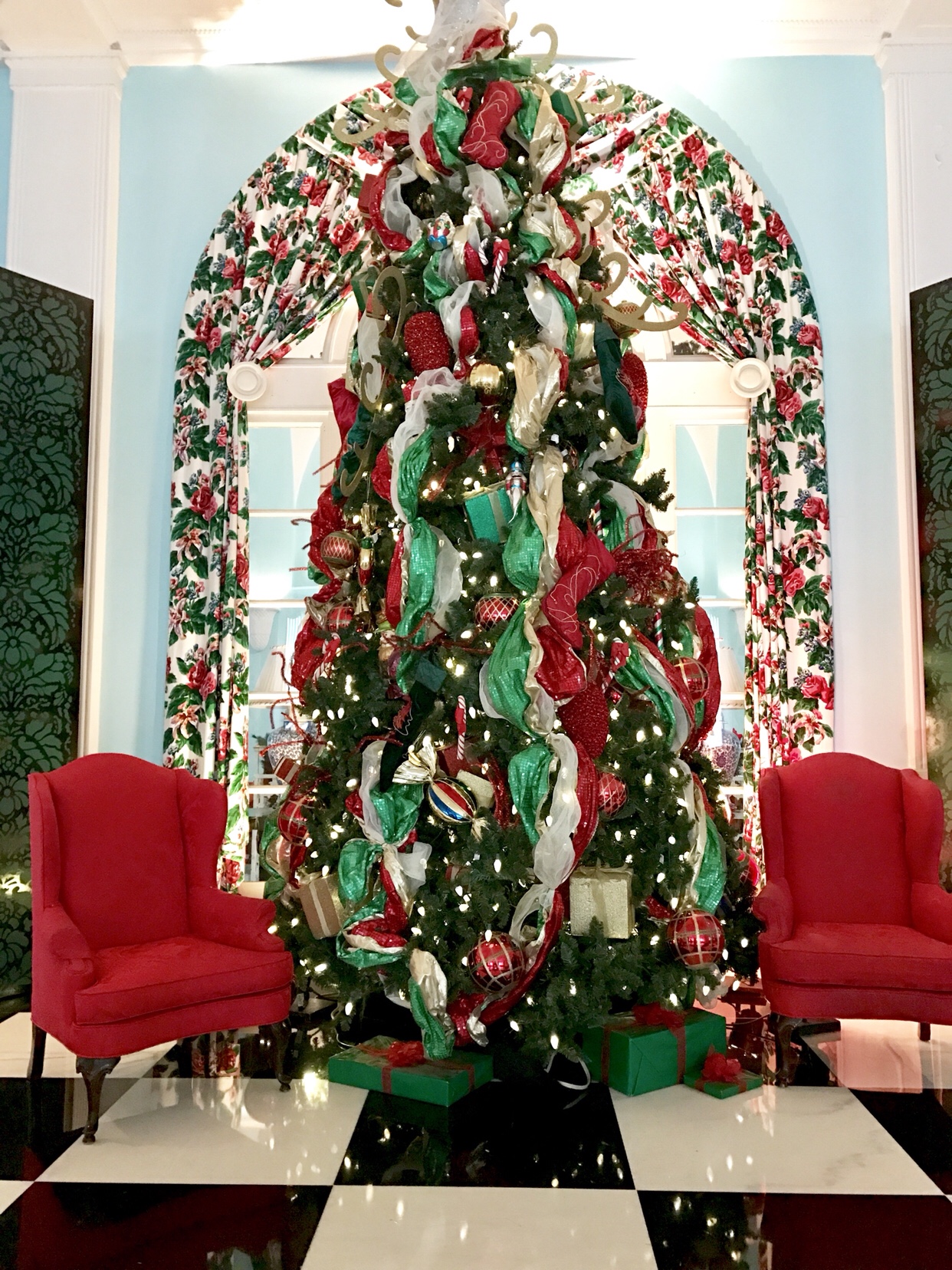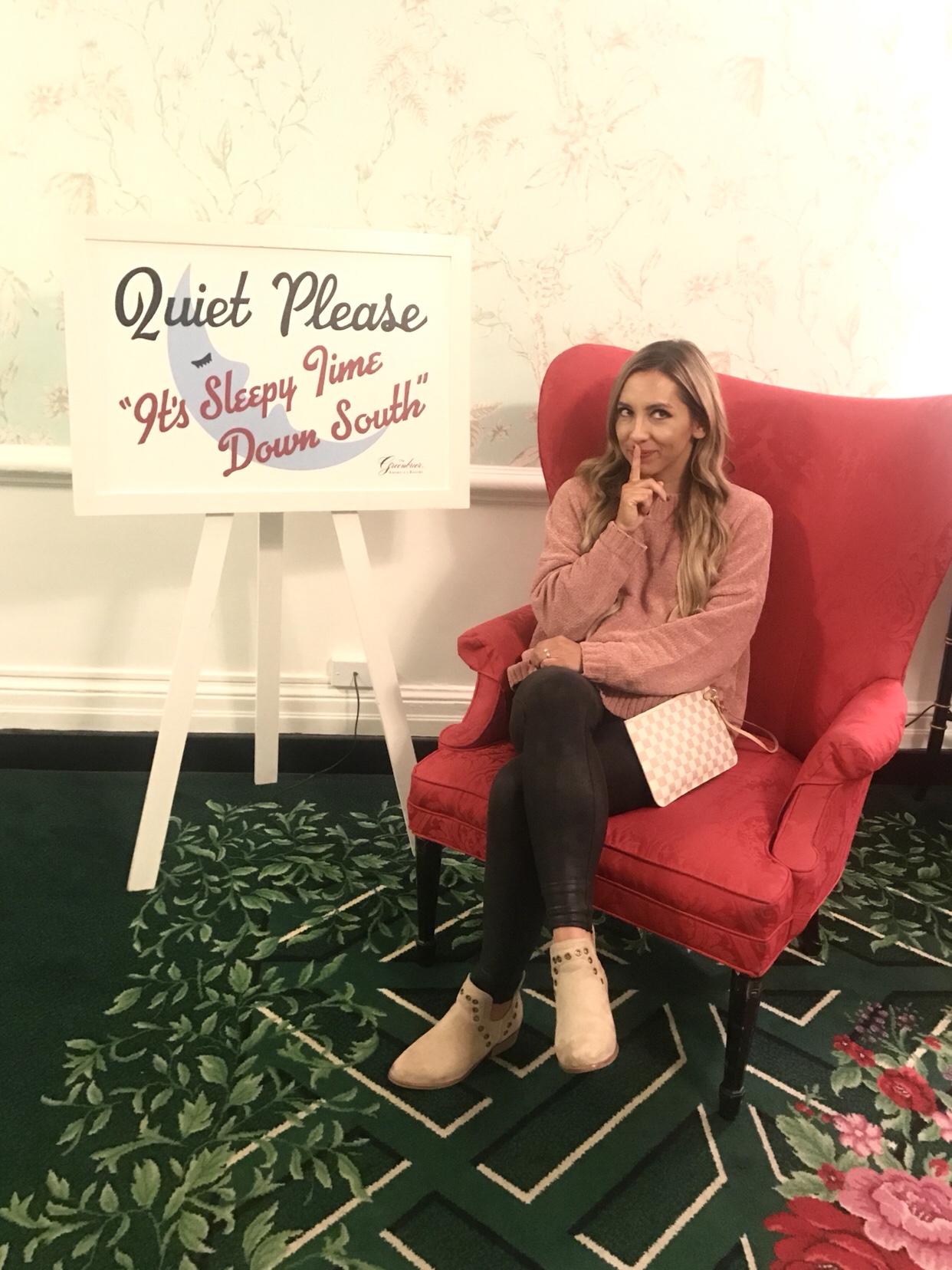 Leather Leggings