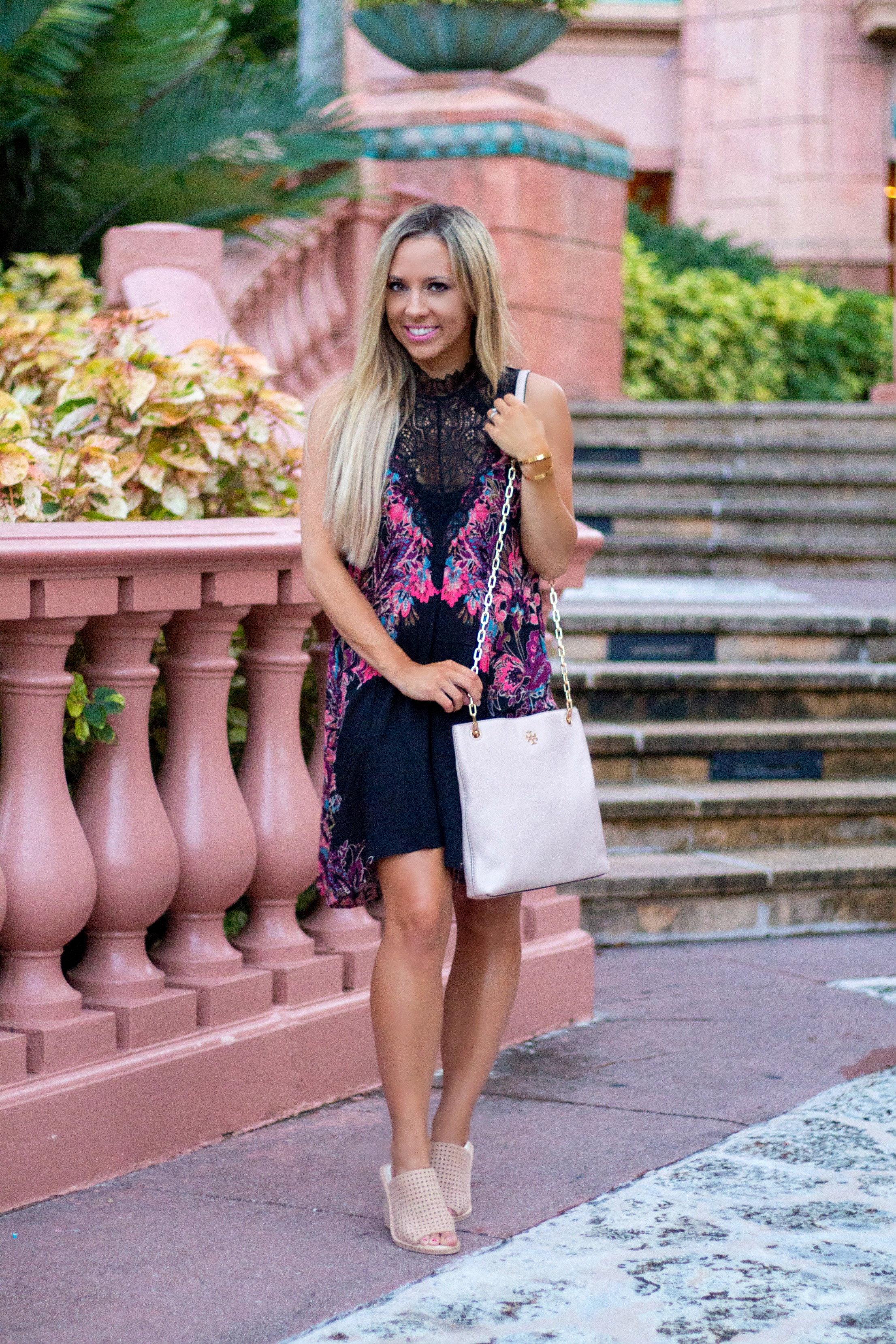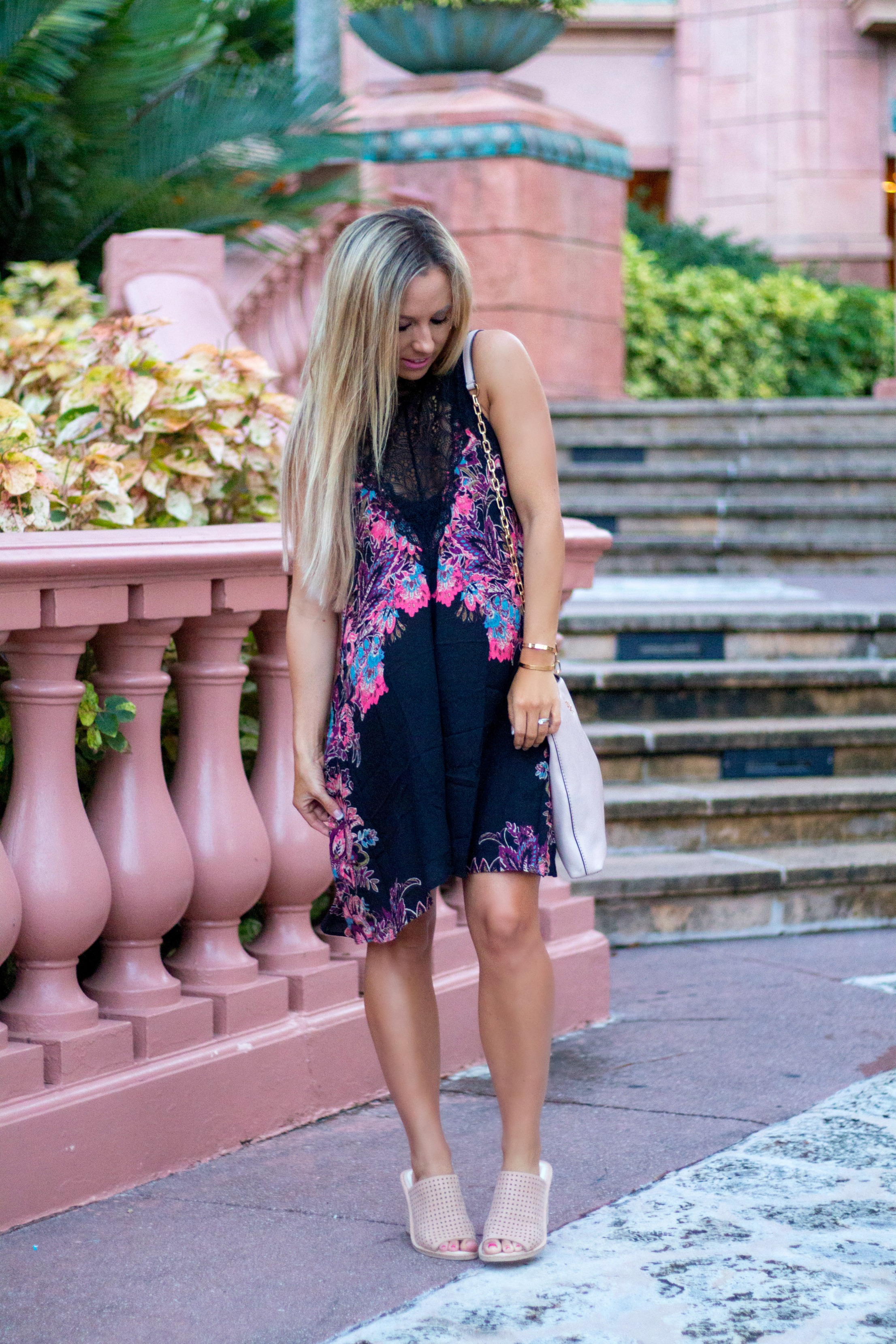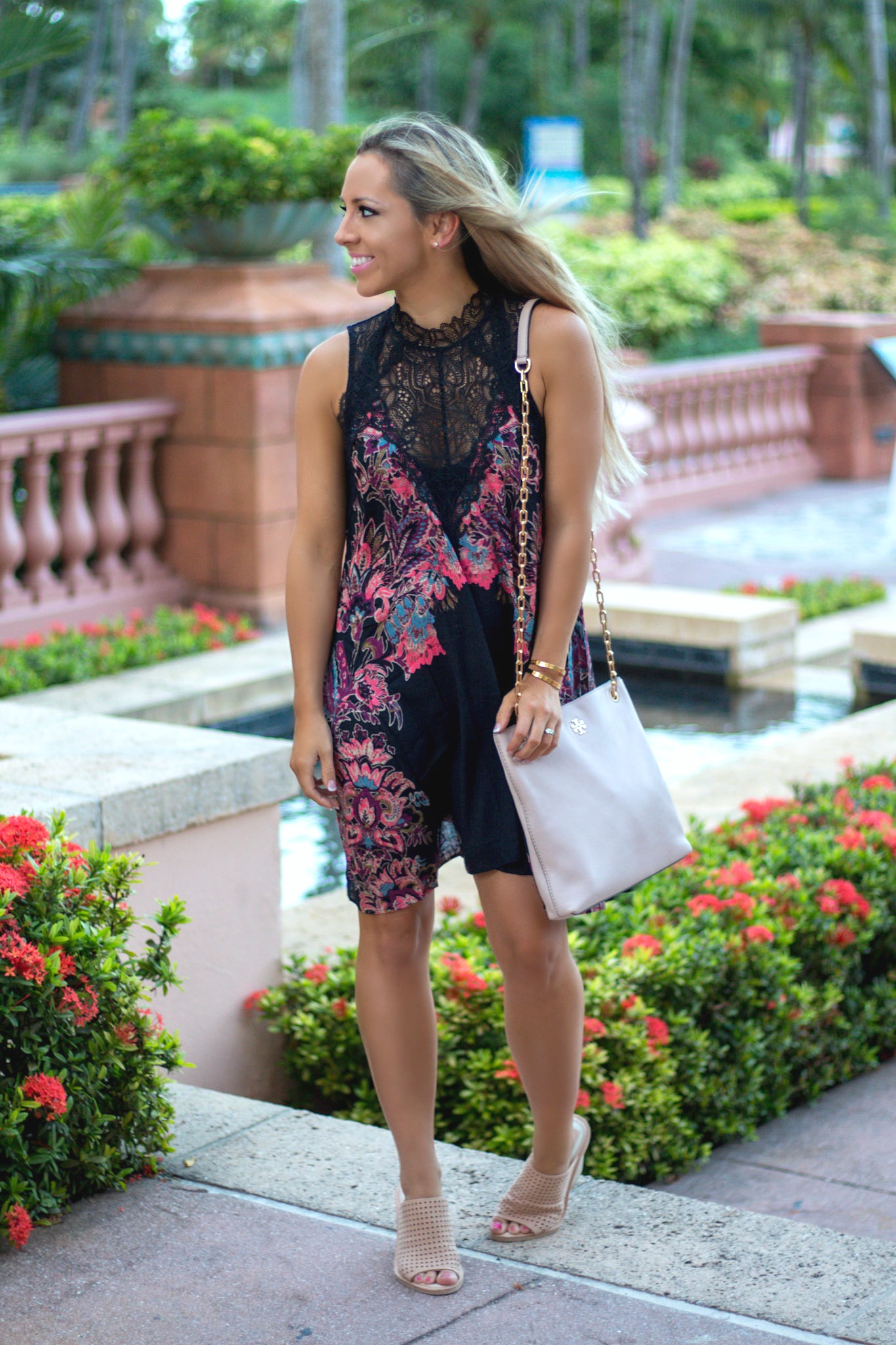 Dress // Mules also in gray here // Tory Burch Crossbody Bag (newer one here)
Hello from the Bahamas!! I wasn't exactly planning on doing any blog posts while I was here but, since the weather isn't exactly cooperating with us, I thought I would share this look from the other night, as well as our experience here so far!
I wore this Free People dress the other night to dinner. It's lightweight and breezy, perfect for a date night on vacation! I definitely plan to wear it later on this fall with a black leather jacket and black knee highs, so I can get more use out of it when the weather gets cooler. The best part is that its under $100 which is a great price for Free People!
So onto our stay! If you've been watching my instagram stories, you already know the weather has been less than ideal. We pretty much ride a few slides in the morning and then go hang out on the beach for the day. Obviously – it's hard to complain about a rainy vacation when all that's going on right now in the world, but I did want to give an honest review of the resort in case any of you were thinking of vacationing here soon!
THE POSITIVES:
I've heard great things about the Atlantis, and was so excited to get away with just the hubby for a few days and relax. They have tons of pools, water parks, beach access, swimming with sharks and dolphins. They have a really awesome aquarium in the main hotel, where you can also walk underground and see all kinds of fish, jellyfish, and other sea creatures. It's so neat to see and I know if Blaire were here she would absolutely love it!
There are several water slides that you can go down on tubes and some without. There is even one that goes underwater through the shark tank and the sharks are all swimming by or laying on top of the clear tunnel. Some slides are super high and straight, theres are dark and loopy. There's lazy rivers and rapid rivers that you float down on tubes. It's really relaxing, the water is refreshing but not cold, and most everything is also kid friendly (48″ and up so Blaire would miss the cutoff quite a bit). There's lots of little huts to grab drinks and snacks, and a few table service areas as well.
We did not pay for all inclusive, but I believe that's an option. I will say that the food has all been amazing! They have tons of great restaurants like Nobu, an amazing buffet called Poseidon's Table, Olive's was amazing. Other than feeling stuffed after every meal, I can't complain at all about  the food!
We were super excited when we got here and walked into the resort. We got lucky and checked in with Aleehia (sorry if I spelled your name wrong!). She has been so sweet to us the whole time, and when our room wasn't ready after 3pm she put us in one of her favorite rooms at the hotel. It's so pretty, has two balconies, a living room, two bathrooms, we LOVE our room.
The resort itself is super gorgeous, between the ocean and the harbor. Palm trees, flowers, perfectly landscaped. It's beautiful and well designed everywhere. The animals look healthy and happy and there is a Starbucks onsite! (the one by the pool has been open every day 11-6!)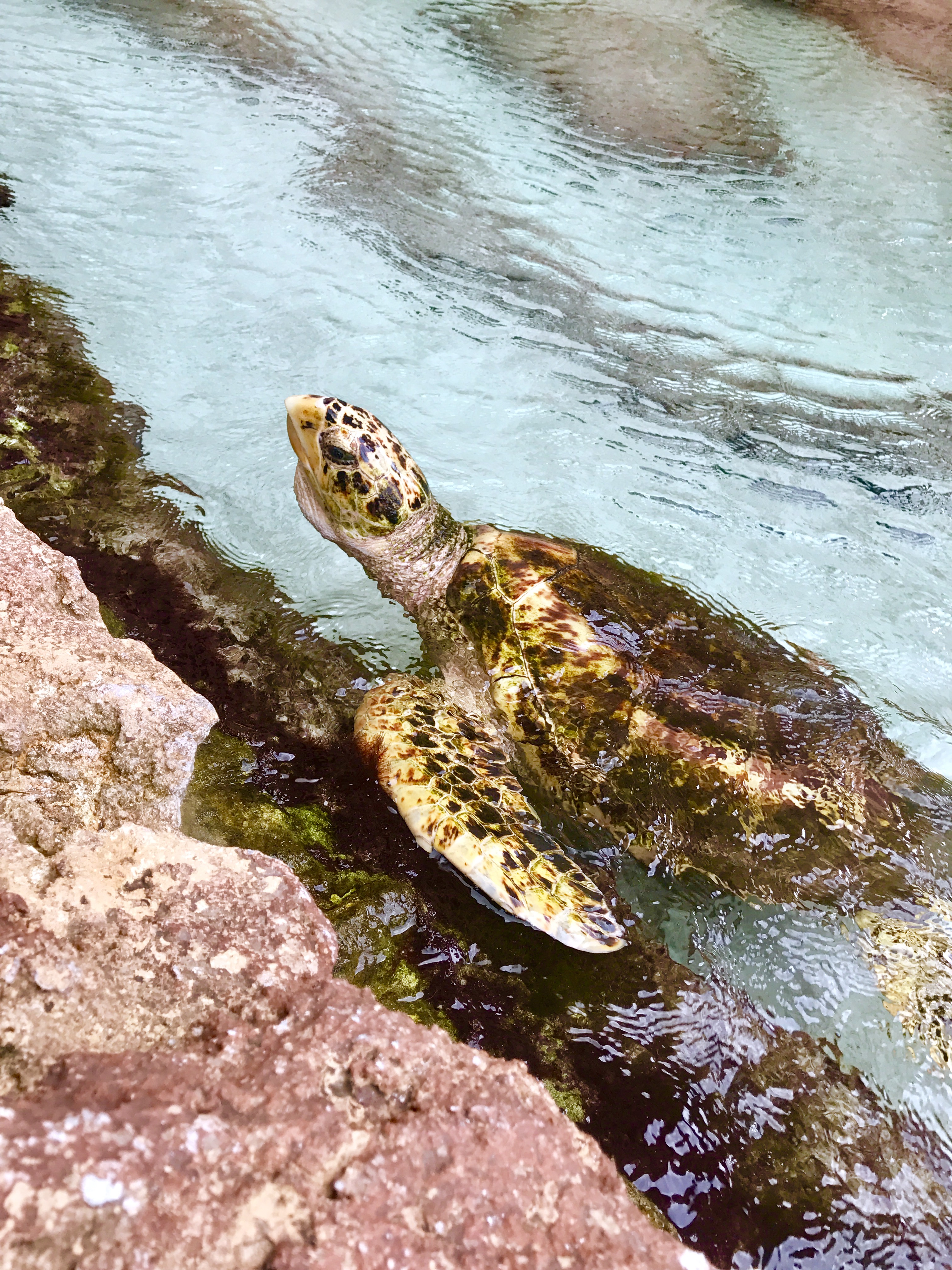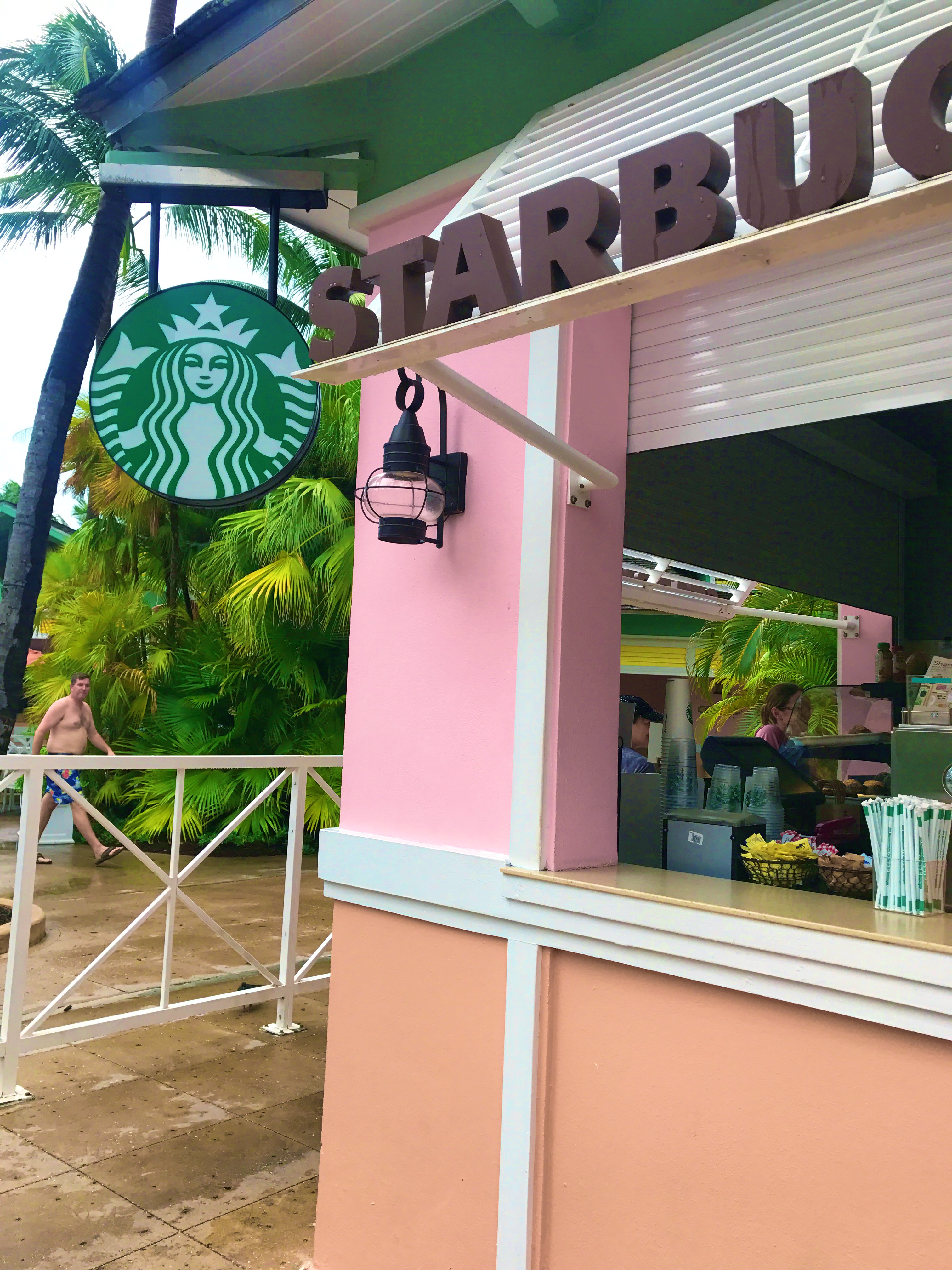 THE NEGATIVES:
Water is a little hard to come by. You can get ice water or bottled water at any restaurant, but bottled water is expensive. The give you a water coupon each day so each person can have a free bottle of water, but after that you have to pay. The food is really expensive. We got a package that allows free breakfast everyday, which was $70 for us at the buffet each morning, or you can go else where and play a la carte, where we spent about $55 on breakfast at another place. However, I think that's to be expected when you're on vacation!
One HUGE complaint for me is that we've been here four days now, and so many of the attractions and pools have been closed. There's one pool that you have to pay extra to sit at, when no one is ever there. There are a few other lounge pools that are surrounded by rocks and they are private and calm, but they've been closed the entire time. We even asked a lifeguard why it was closed and he just said its been closed for a long time. Lots of the slides are closed off for no apparent reason. We have tried to go to ChopStix to eat about 3x and it's been closed every time. The food by the pool closes at 4pm, and the majority of the dinner places don't open until after 5:30, so the first day we got here we struggled to find a spot to sit down and eat since it was about 4pm. The night club has been closed the entire week as well, and while that typically wouldn't be our thing, with all the rain we want to do something at night time to make up for it and have stopped by a few times to see that it's closed. The other weird thing to me is that we came up after dinner last night to get swimsuits on to go sit in the hot tubs, but then we were told all the pools close at 7 every night. I feel like on vacation at least one or two pools should be open, especially the hot tubs! So with no night swimming, and no night club, it's just dinner and casino.
I'm not sure if you're allowed to smoke outside or not, but lots of people do! It's kind of annoying because the breeze picks it up and you have to deal with the second hand smoke.
Have you ever stayed here before?? I'd love to hear what your experience was like and if you have any tips or anything we should check out while we're here! But for now we will just keep doing what we've been doing and drinking our cocktails on the beach (in the rain!) haha!  Side note – I wasn't compensated for this post, and we've paid our own way on everything here. This is just something I wanted to share here because I've seen a lot of mixed reviews of Atlantis online and wanted to share our experience so far!
xo, Stefanie