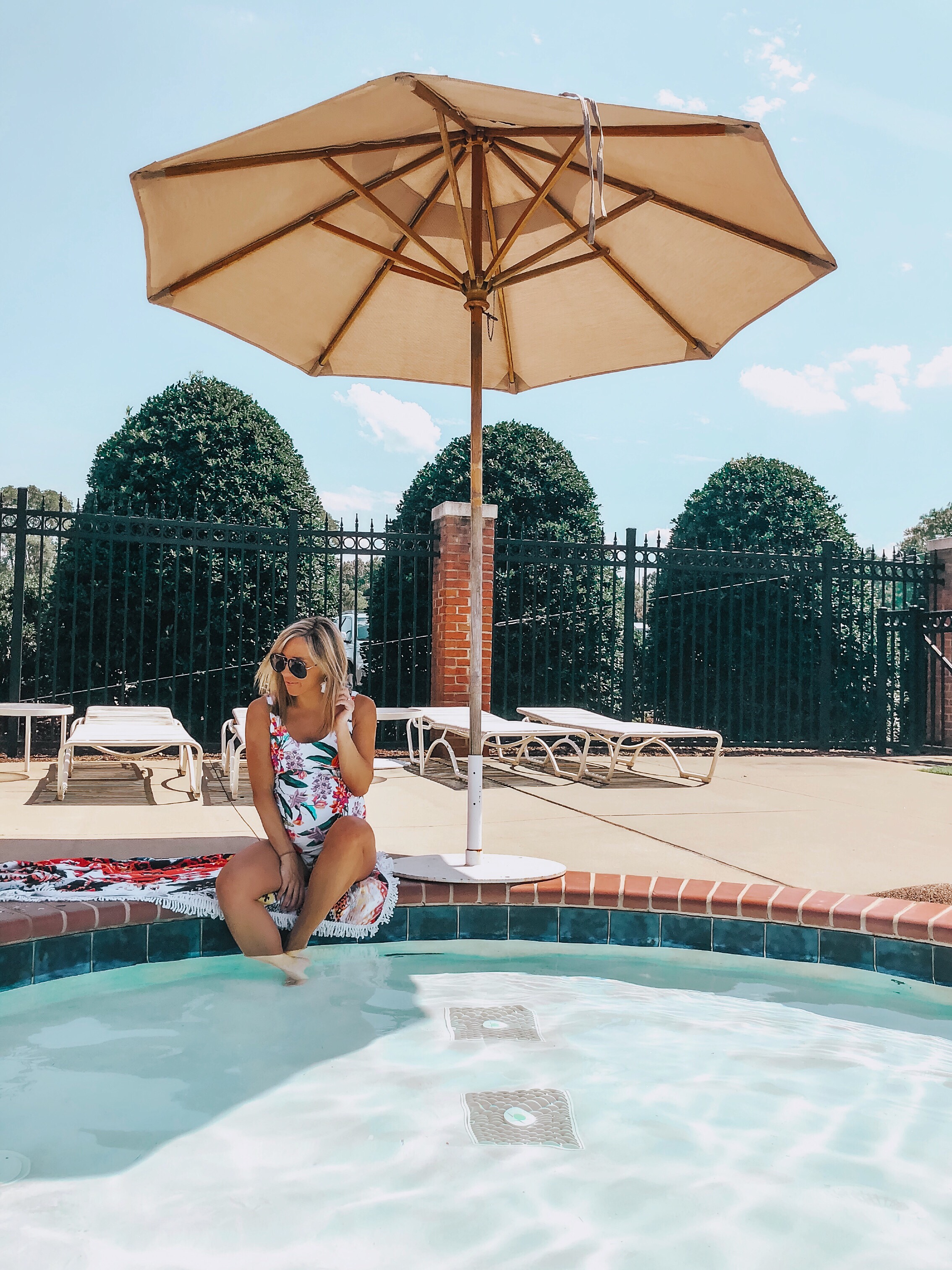 You guys!! It's only taken 2 and 3/4 pregnancies before actually finding CUTE maternity swimsuits! This is the first time I've been really pregnant in the summer, and while sizing up in regular swimsuits and wearing bikinis worked for awhile, at some point you just begin to feel like a beached whale and want to be covered up. I have tried so many suits and had the hardest time finding maternity ones that weren't too big for me (I'm 5'2, normally an XS) and most of the suits I tried made me feel bigger than I felt… if that makes sense? I want suits that flatter my bump, and I found a few that I think you will love!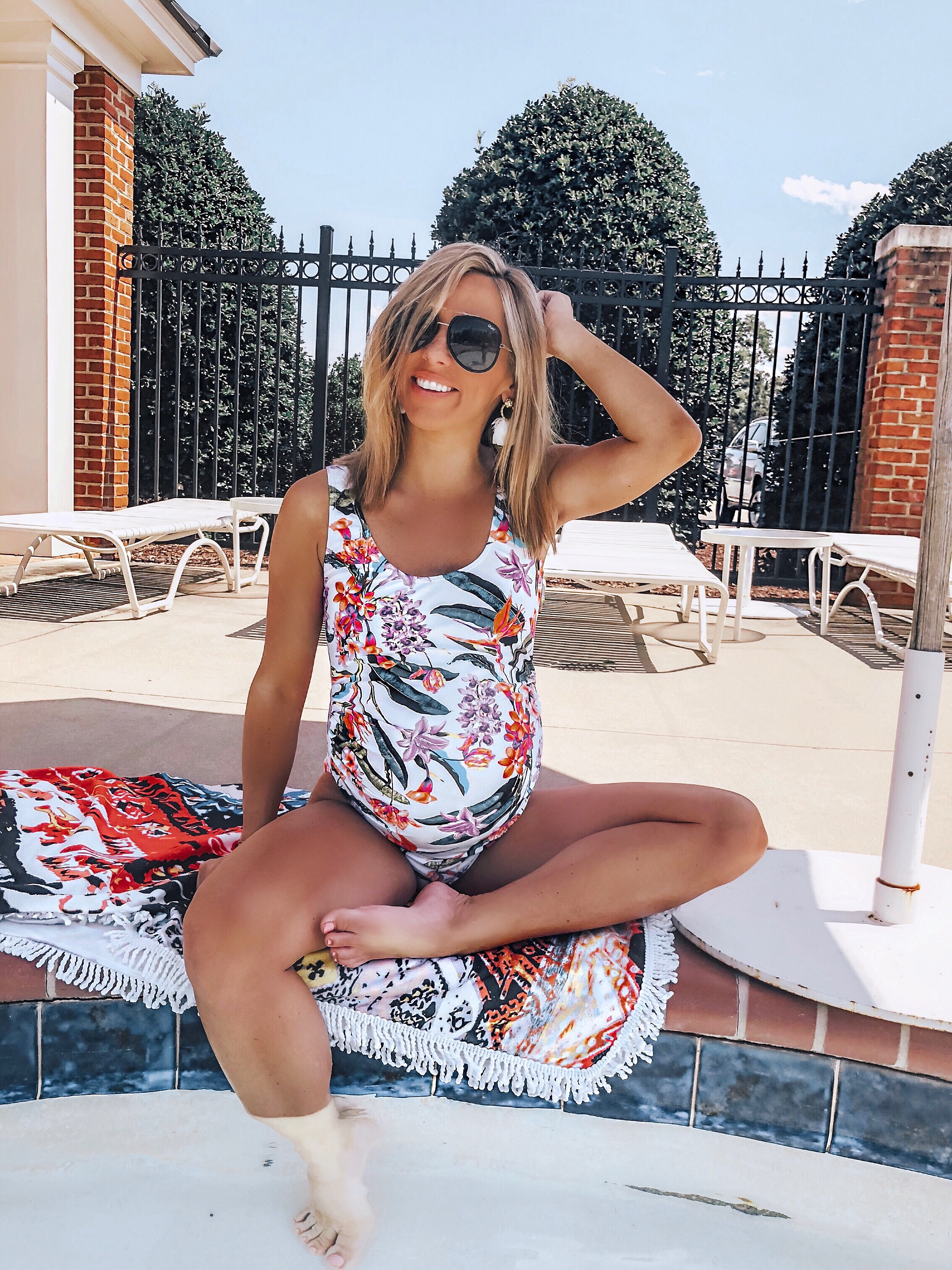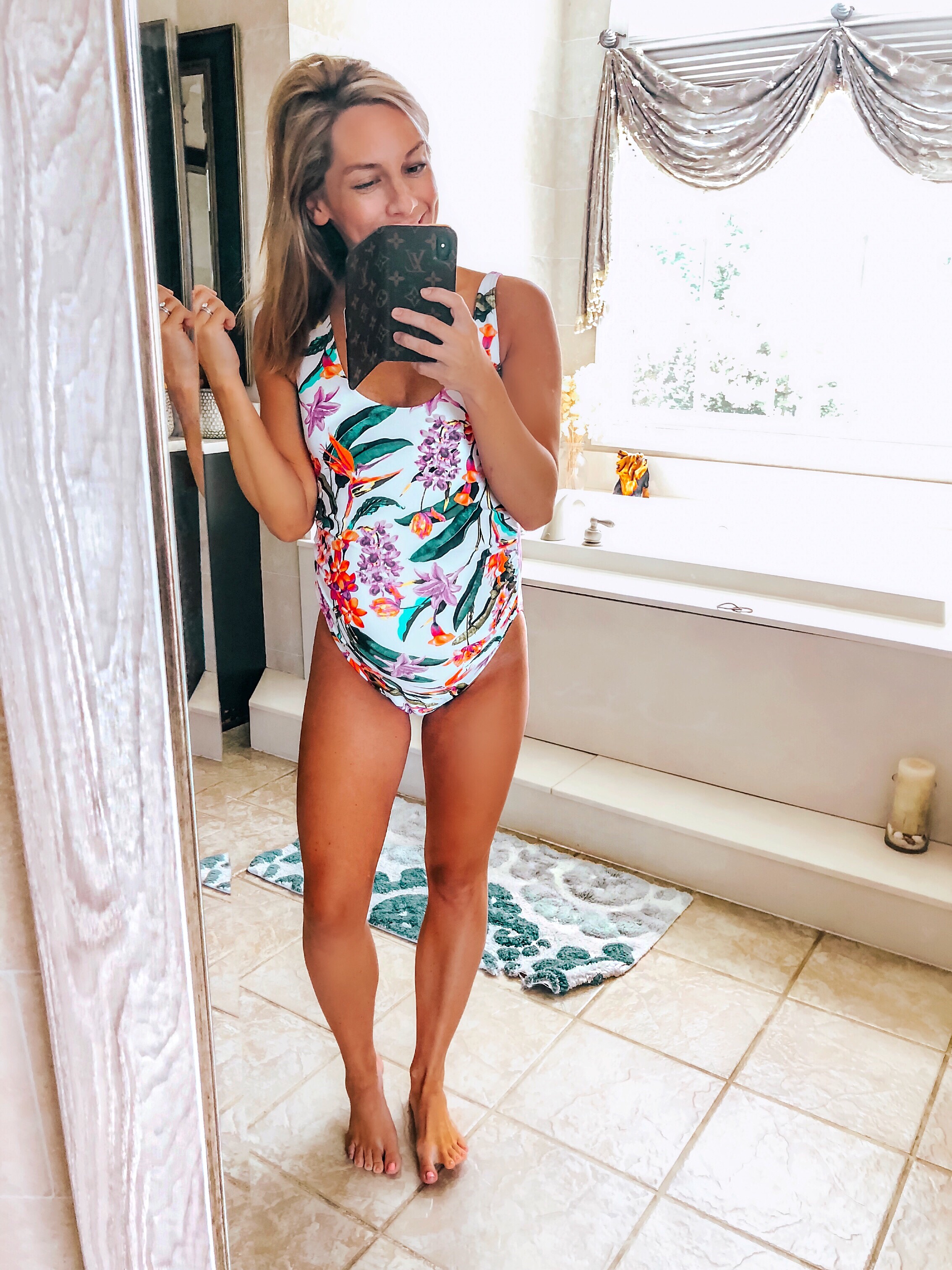 boohoo Maternity Beth Floral Scoop Neck Swimsuit // For Love & Lemons Earrings // Quay Sunglasses // Skova Towel
This one might just be my favorite! It's normally $30 but on sale for $15, and the quality is really good! Shipping did take about 10 days, but the suit was exactly what I expected. I will say that the cut is a little high in the back, so it feels a tiny bit cheeky. So be cautious if you don't typically like that fit. I ordered a 4 which is their smallest size, and am happy with the fit!
Ok so I had to look back at this order because I didn't remember purchasing it! However, I did purchase a solid red scoop back swimsuit in bright red (it was on sale for $10!) and so I guess this is it! haha. But I do love it! I flipped the photos around so you could read the print, but it does not show or say that it says "baby watch" on the site. So… anyways you might keep that in mind! But I did find this suit here and similar styles here.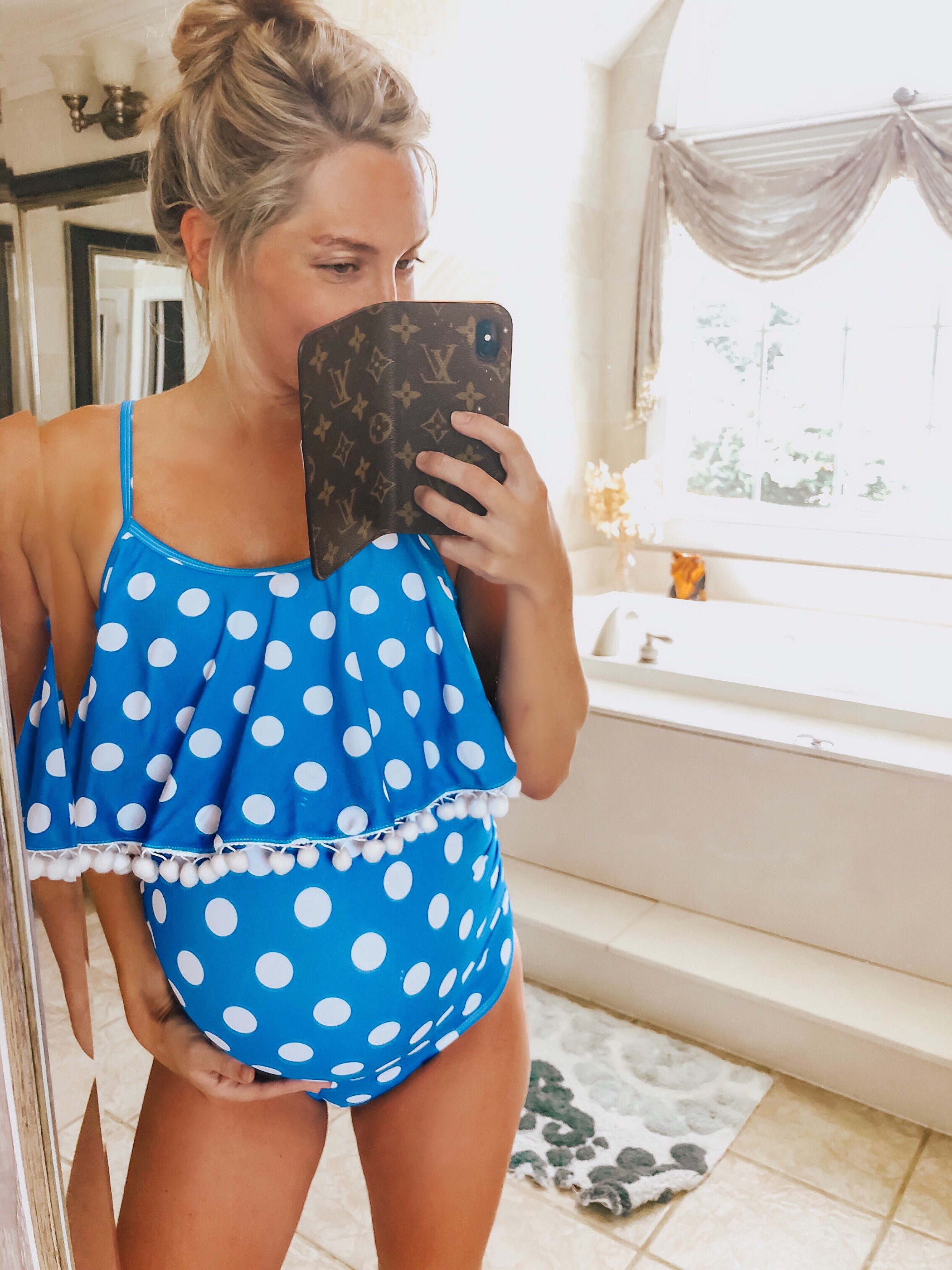 boohoo Maternity Polka Dot Pom Pom Swimsuit
This suit is normally $44, on sale for $22. It's a really pretty blue with the prettiest pom pom details! I ordered a size 4, which is a US 0 I think. Make sure you read their size chart to find the best size for you!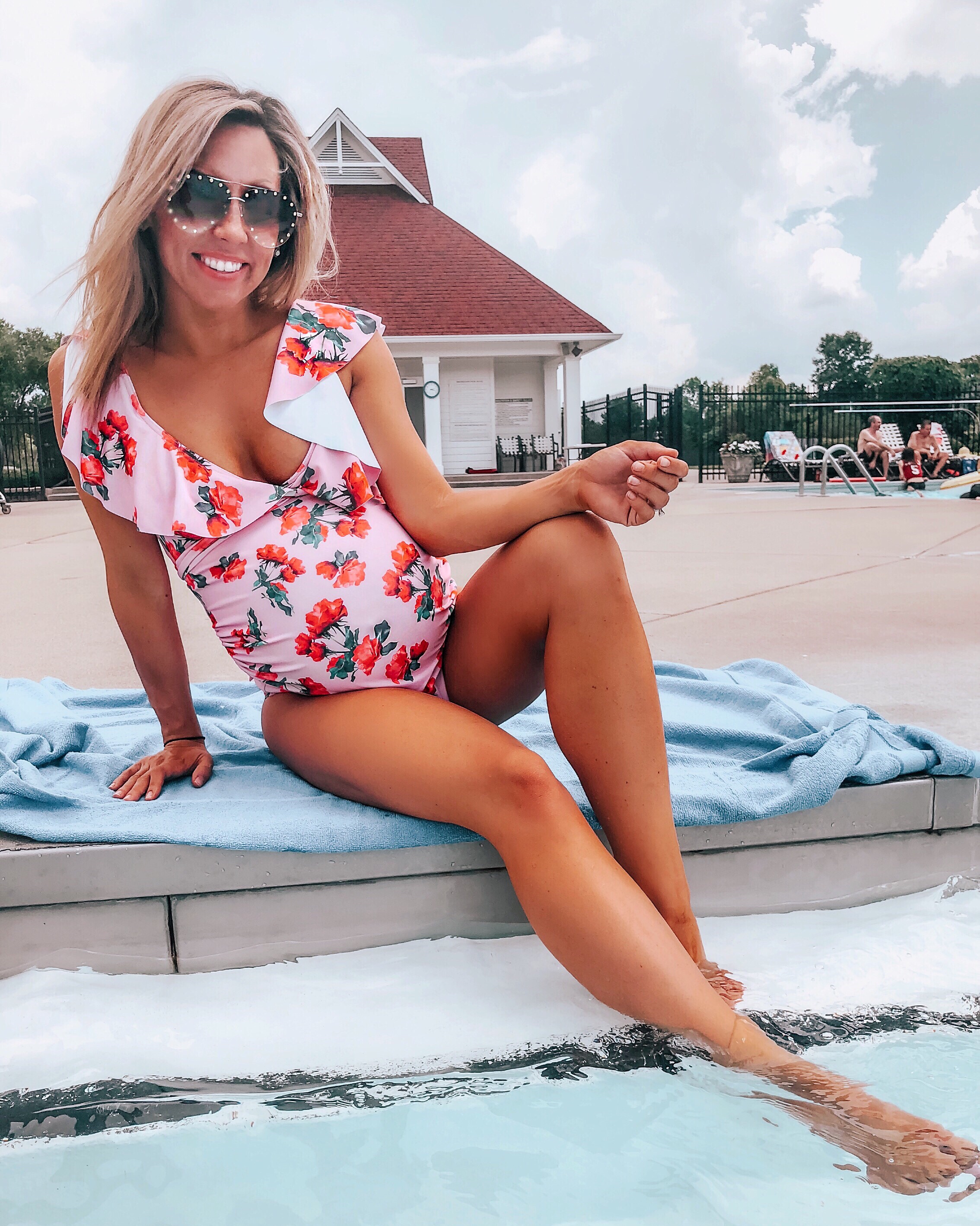 ASOS Design maternity wrap front frill detail swimsuit in rose print
 //
Free People Sunglasses
You guys LOVED this suit when I posted it on my instagram a few weeks back. Unfortunately it keeps selling out and only a few sizes are available, but, they do restock it every once in awhile. I feel like ASOS sizing runs pretty small generally, so I ordered what was available, a 6, and it actually fit me really well. If you're towards the beginning of your pregnancy I would probably not size up as much but it ended up working out well for me being 8+ months along! I would definitely recommend this line, and never felt like my chest was going to pop out either, the top is very secure.
37 Week Bumpdate
I hope you guys love these suits as much as I do! I am really impressed with the price/quality and fit of them all. I am just over 37 weeks along now, so I will probably try to squeeze in one more bumpdate for you before the little guy makes his appearance!
I know at the end of all my pregnancies I have thought that oh I'm not gonna make it! And I always do! But this time, I am definitely more uncomfortable than I ever have been, and I don't know if thats because of his size, the position, or just the fact that I have two other kids and literally do not get a break. My husband has been sick, I've been sick, Brooklyn has had a fever, but life still has to go on. I faintly remember trying to catch up on Z's before Blaire arrived, and this time around there are few Z's around at all.
I could definitely be in worse shape for sure, but I have pretty intense sciatic nerve pain, and something I've never had before until recently, lightening crotch! gahhh If you don't know what I'm talking about, google it, it's a real thing and it's totally embarrassing when you're waddling around in public and randomly get hit with it. It hurts!!
While there is not much glamour at the end of pregnancy, and I feel like all I want to wear is an oversized t-shirt and no pants (not a single pant is comfortable at this point!) I'm trying to focus on the life I'm creating, and enjoying the time that I have left. I know it's 10x harder once the baby is here and I'm healing from surgery, but we sure can't wait to see what an Eadie boy will be like! Feel free to send any boy mom tips my way 🙂