Recreate this Maternity Nautical Look!
(with Non-Maternity Options too)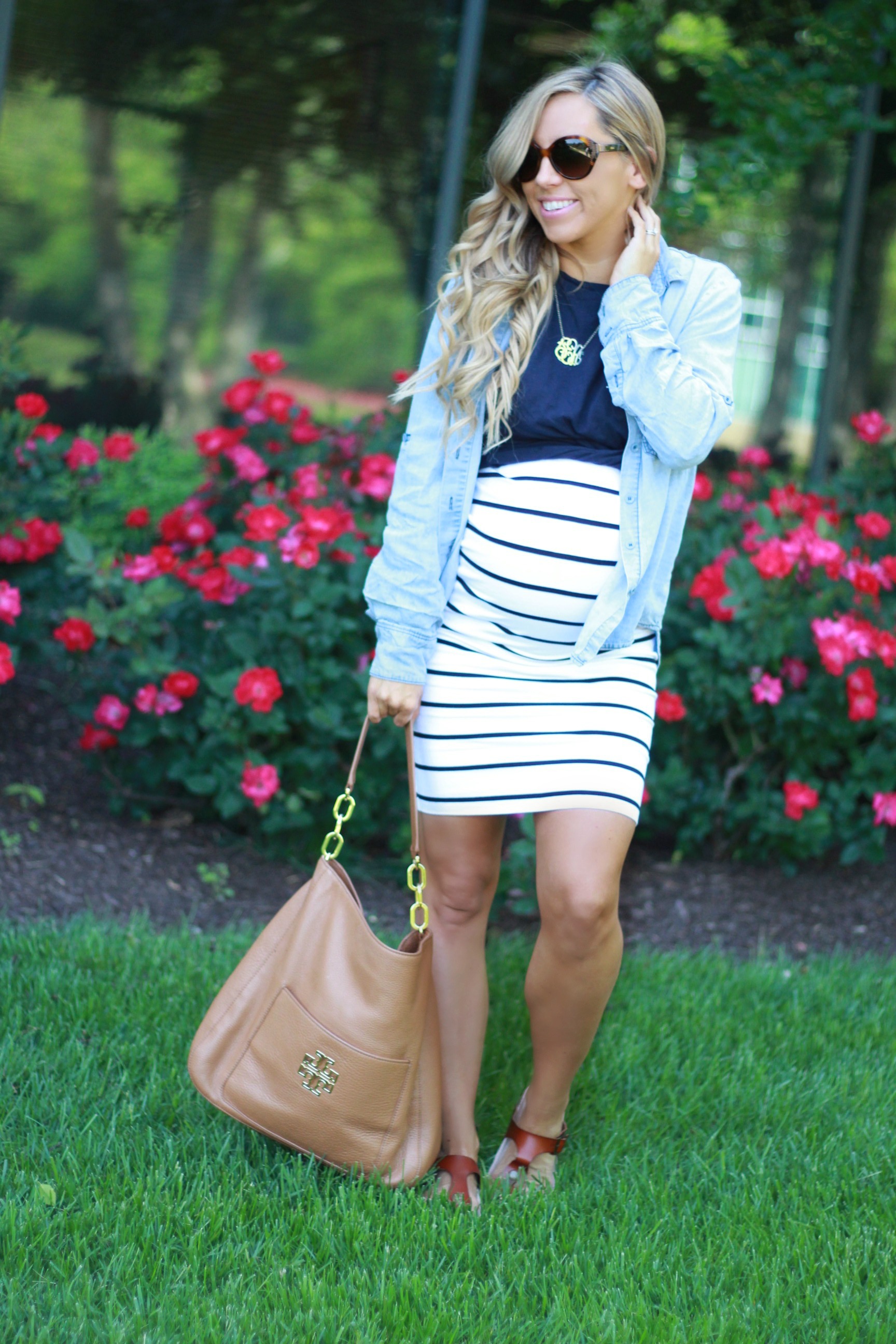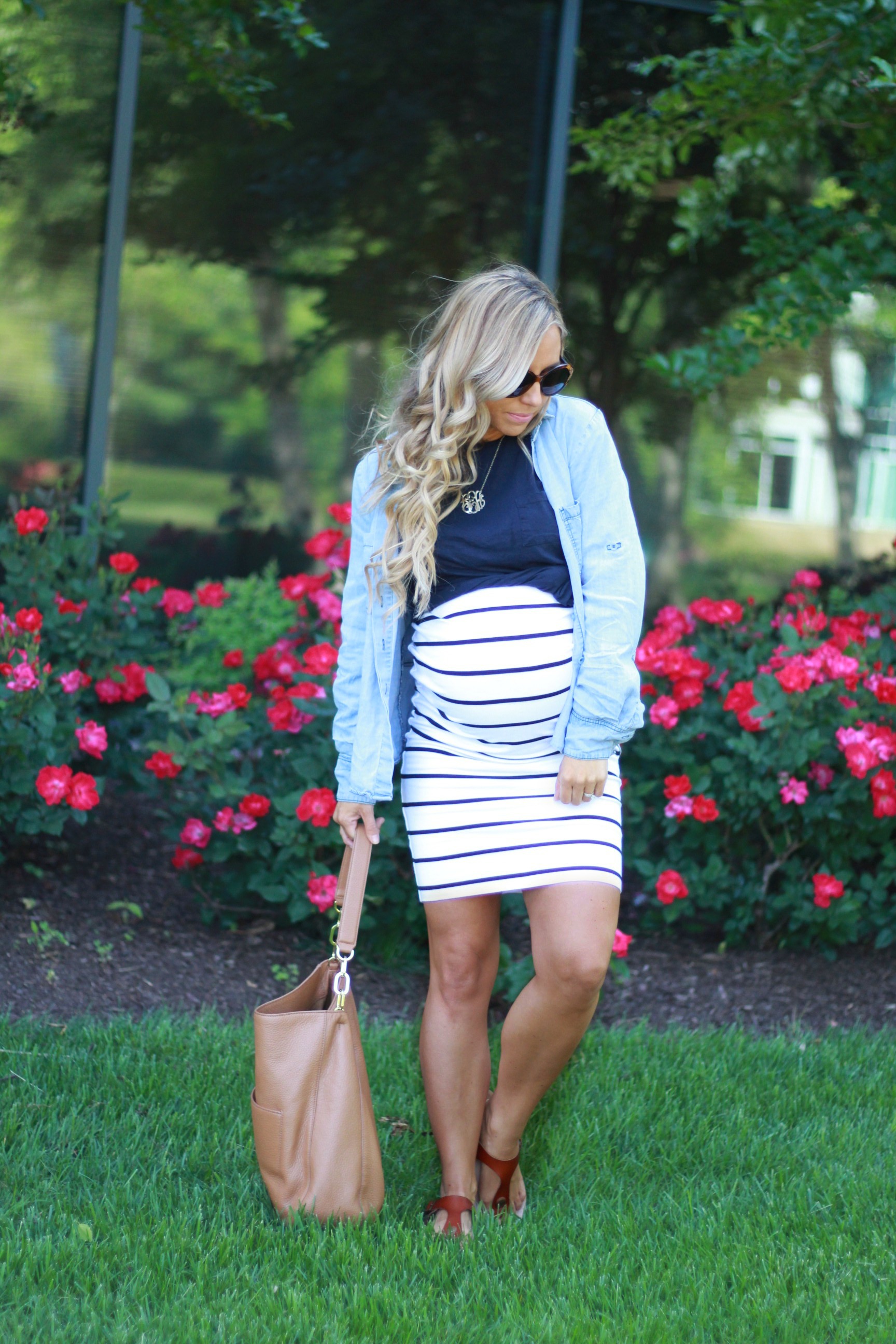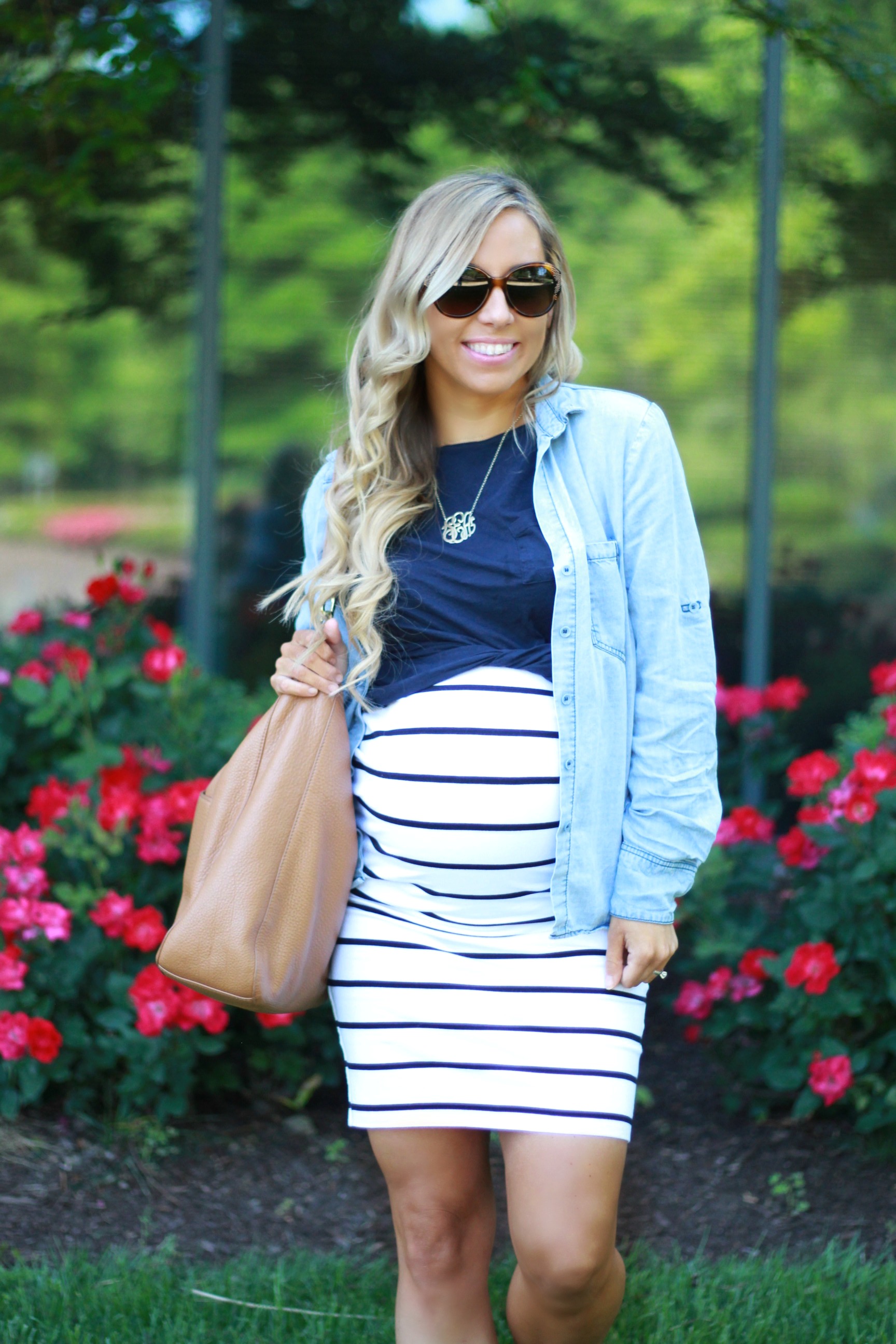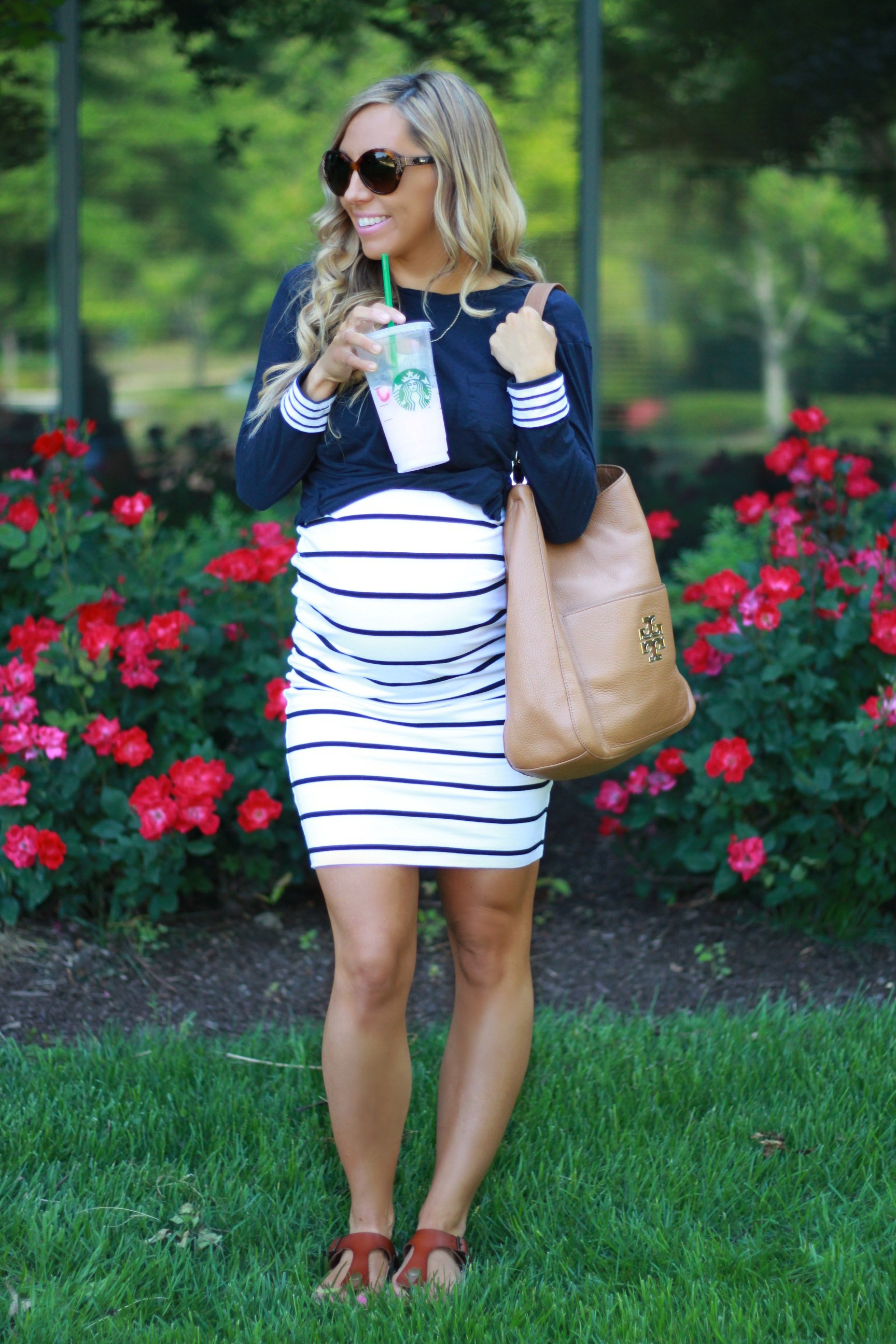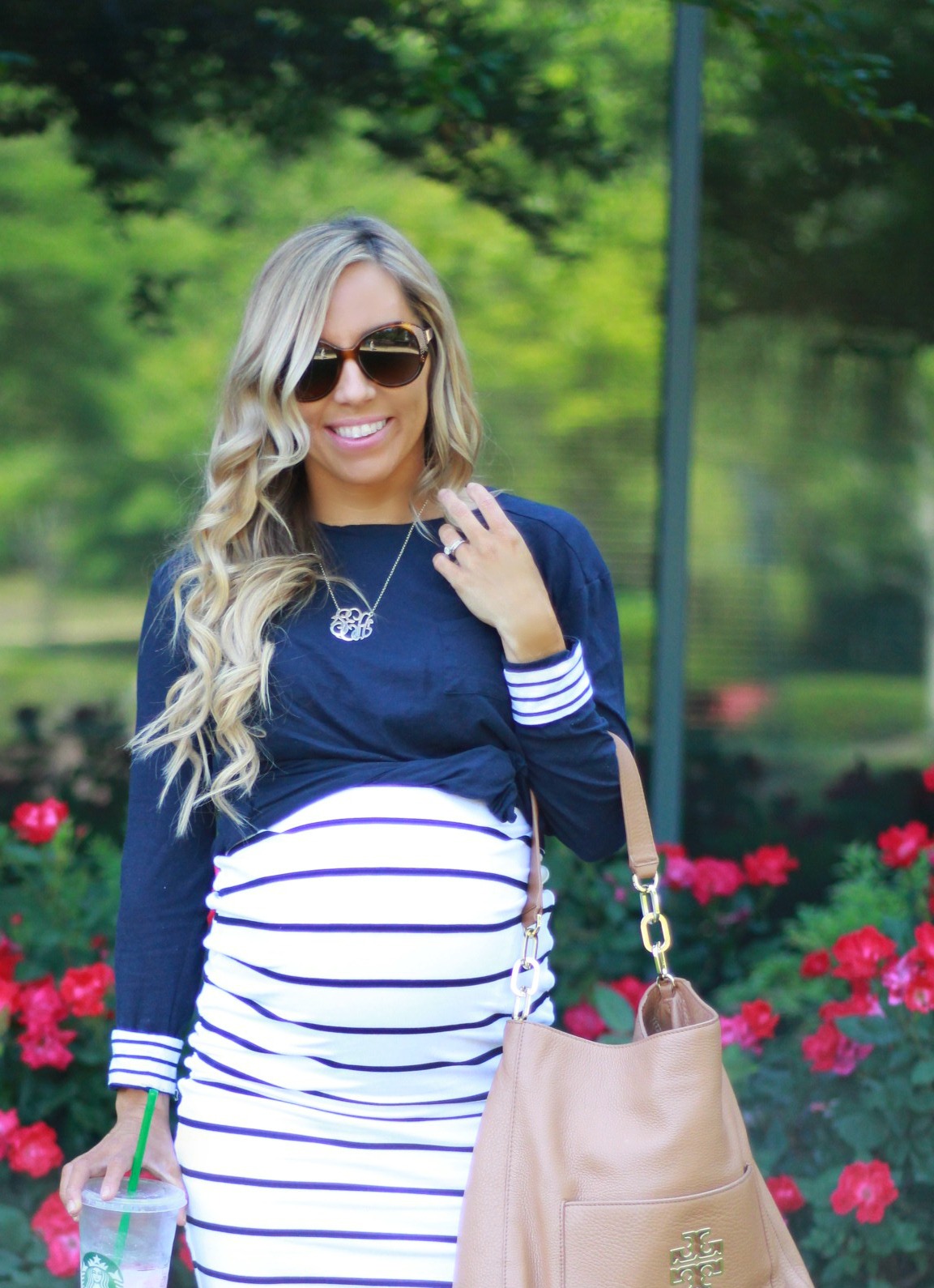 Top // Skirt // Necklace // Bag // Shoes, similar here // Similar Chambray Top // Sunglasses
As most of you guys know I haven't worn much maternity this pregnancy at all. To be honest, I don't really like maternity clothes, and most of them are either not cute, or not very flattering. It drives me crazy when brands sizes are Small, Medium, or Large, and those are your only options, so I was SO happy to find Legoe Heritage – a maternity brand that's freaking adorable AND offers lots of sizes. It's seriously great quality and fits great! This is the top I'm wearing, and I've just rolled up the sleeves to reveal more stripes, and tied it just above the bump for a different look. I really like how it turned out! This skirt which you can find here, is a great length, and is not see through as a lot of white skirts can be.
If you aren't pregnant, I think this look would still be super cute! Either tying a long sleeve shirt just like this, or even a little crop top with a high waisted skirt. I paired it with some comfy sandals, but you could wear some nude strappy heels, espadrilles, etc. Here is a good non-maternity skirt option, and a really cute navy top here!
Last but not least, I wanted to mention these sunglasses. I'm either a pay $12 for a pair that I won't cry should they get lost or broken, or I splurge on designer. The pair I'm wearing are Chloe, and I got them c/o SmartBuyGlasses. They have tons of designer glasses and sunglasses and they're all at a severely discounted price. The two pairs I received from them are high quality, and came with the case/dust rag and all. I would definitely recommend checking them out if you're in the market for a new pair, they have a huge selection!
Pictures by Stephanie of SheSawStyle
Sunglasses c/o of SmartBuyGlasses
Top & Skirt c/o of Legoe Heritage
Sandals c/o of Skechers