Roundup of my Favorite Items for Newborns
It's been a bit! But baby Brooklyn is here and I've been enjoying the last two weeks with her and our families. She is a spitting image of her sister as a baby, and I'm thankful for our phones that keep track of the dates so later on I can look back and tell who's who!
Brooklyn was born May 19th, at 8:42am via c-section by the most amazing team and doctor I could have asked for. I couldn't have done it without my husband who kept me strong the whole time, and every second was worth it! I wanted to round up the few items that we've really been loving these past few weeks and that have made our lives so much easier during these sleep deprived couple of weeks.
This diaper pail is not only ADORABLE, it also holds a ton of diapers and traps the smell. We used a different kind with Blaire, but this one is super cute and much easier to use. Plus it doesn't take up much room.
We used one of these with Blaire, she used the crap out of it and we had to get a new one. It's a little stuffed animal that attaches onto your crib, stroller, carseat, or whatever and plays white noise and music. It has a timer on it so you can turn it on while the baby is falling asleep, and it turns off on its own. Love it!
These blocks are so cute! They have weeks, months, years and grade. It's just a cute little way to keep track of baby's changes as they age!
The boppy seriously gets used all day long. I use it while I'm nursing her, and when she's just hanging out next to me. They have tons of cute colored and patterned coverups that you can just take off and wash if they get messy. It would also make a really great shower gift!
I know I've mentioned this before but we love our MamaRoo! It doesn't take up much room, and there is a 4moms app that you can download and control the swing from your phone.
This little diaper caddy might be my absolute favorite! We keep it downstairs for daytime diaper changes so we don't constantly have to go up stairs. The diaper caddy has a foldup changing pad, a place for diapers, wipes, and a little pull out drawer for things like powder or paste. It's easy to carry around and store away when you aren't using it.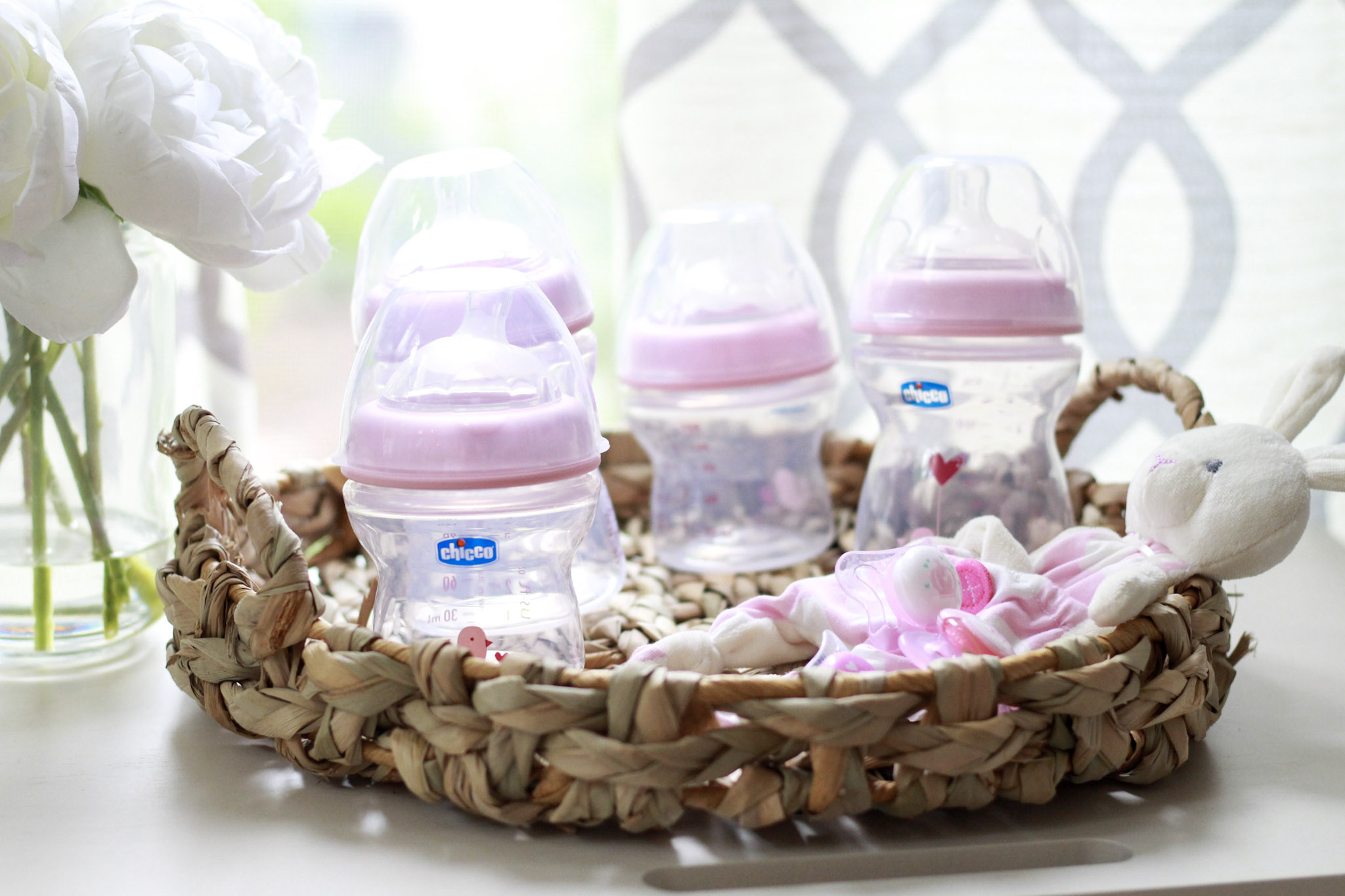 Chicco Feeding Gear, also obsessed with these from Como Tomo
I really like both of these bottles! These Chicco bottles are the natural fit ones, the nipple is angled and the bottles are shaped to fit easily fit your hand. The Como Tomo bottles are really different than what I've ever used before. They are silicone, so they're soft bottles and if you drop them they don't really make a noise or break or bust open. They can also withstand 356* F so I use them to heat her milk.
Coming home from the hospital can be super scary when you have a little tiny baby, but this particular carseat was so padded even our under 7 pounder was snug as a bug. Her head fit so nicely and wasn't moving around, and she was secure on all sides. The coolest thing about this carseat (especially for my husband because any carseat in our car MUST be perfectly installed) is the level on the base. It tells you exactly how it should be so you know the seat is secure. Then with two clicks the carseat fits right in its base. It's pretty awesome!
Finally, I really did a lot of research on strollers before I decided on this one. Blaire is almost 4 and a half and has never been a stroller kid. However I really thought when we had another kid that she would all of a sudden want to ride on the stroller, and I was right. We didn't want or need one that was really wide, or had two big seats, so when I came across this one I knew it would be perfect. Blaire can either stand on it right by me, or there is a little seat that fits down so she can turn around and sit. The carseat fits in as well and when Brooklyn gets too big for it there is another seat that pops up for her. If your kids are a little bit apart it's an amazing stroller! For a more in depth review see my previous post here.
If you guys have any questions for me please let me know! I've gotten a few questions on Instagram and I was thinking about doing a post to answer all your questions so please don't hesitate to send me an email at accordingtoblaire@gmail.com or comment here or on my last IG post. Thanks for being so patient with me while we enjoyed our first few weeks with Brooklyn! xo