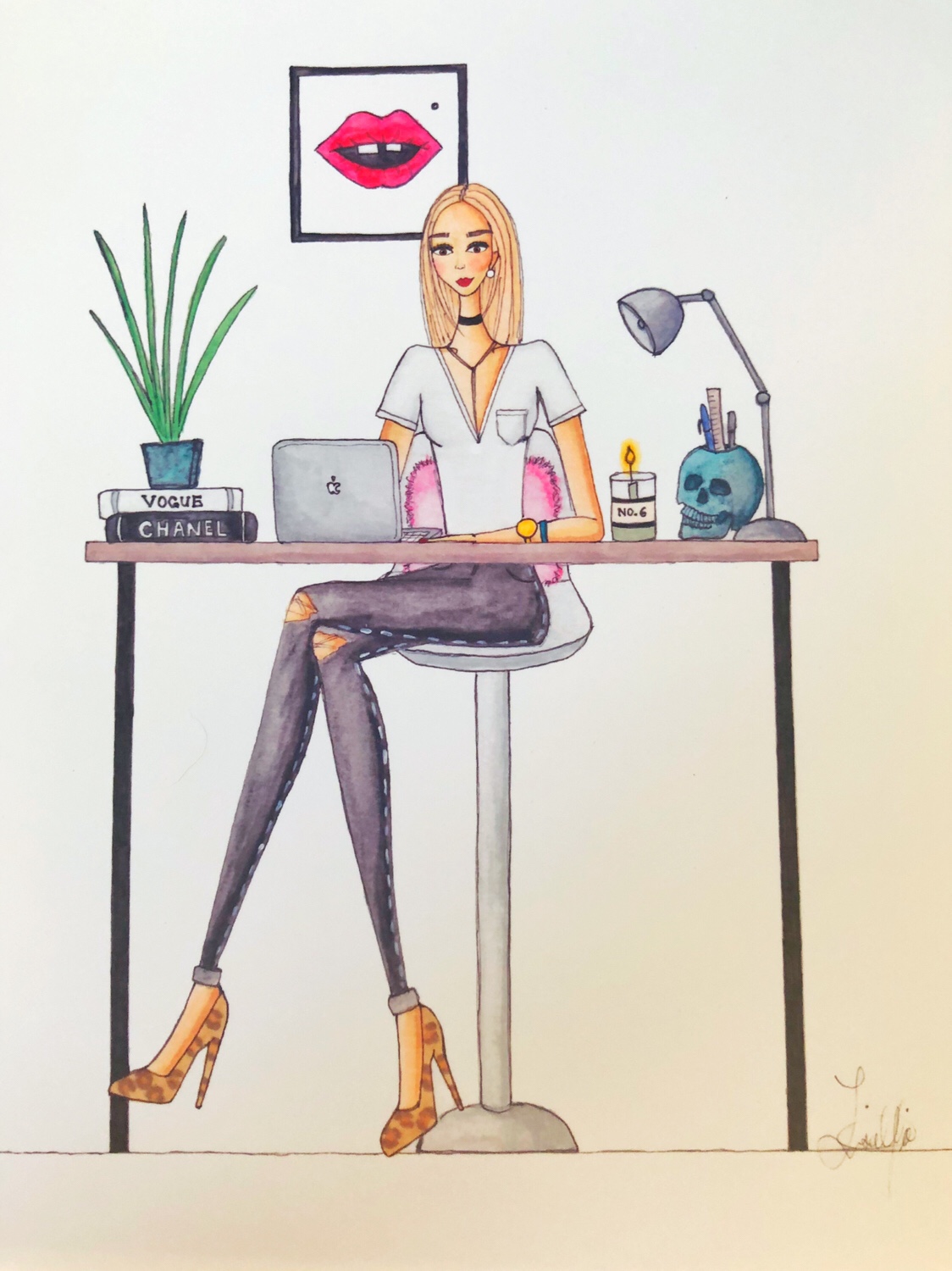 Hi guys! Life has been so crazy lately. With 2 kids and 1 on the way, doing it all on our own with no help from family while both working full time – I've been so drained! Anybody else with me??? lol Speaking of all that, I definitely need to do a bumpdate and catch you up on this pregnancy, so stay tuned for that!
In the mean time, I've gotten SO many emails and messages lately from you about how I got started blogging, and people wondering how to start and grow their own blog. It's not really something I can just quickly respond with so I thought it would be best to put it all in one spot, so I can refer ya'll if you ask. I did a post similar to this a long time ago, and it's still one of my most popular posts, see here.
How I Got Started
I started with an instagram account about 4 years ago, taking #ootd selfies, flatlays of outfits, etc. We moved from Indianapolis to Richmond, Virginia and I was staying at home with Blaire. I became bored being at home all day, it was lonely, I felt like I needed an outlet to express myself and have something to focus on. I had a fashion and business background, and have always loved shopping and styling looks. After I started interacting on social media and growing a small following, I started my blog. I am not super website savvy, so I'm thankful my husband was able to set it up for me and get me started! If you want to start your own blog, here is some advice!
Find Yourself & What You're About
This can be the hardest part of blogging. It took me a long time to figure out what exactly I wanted to focus on, and what my blog was about. I mainly focus on casual, every day fashion and mom life. This comes easiest to me because it's who I am. I am a busy mom that loves fashion, but wants to be comfortable. I love fun and unique pieces styled with basics that you can wear over and over again different ways. If you aren't being yourself, your followers will see right through it and you won't be able to build that trust. Being yourself creates a uniqueness and allows a follower to get to know you and like you. I would not recommend trying to do it all and blog it all. Its overwhelming, and people who love you for your fashion, may not really relate to you in fitness, cooking, or home decor. The occasional  off category post is ok, but again, it has to be relavent to your life and who you are. If you're good at everything, your audience isn't going to believe you 🙂 Create a brand, and be true to it.
Blogging / Growing an Audience isn't Easy
If something is easy, then you're probably not doing it right. So many people want to become bloggers because they see only one side of things. Free clothes, paid travel, work from home, lux lifestyle, etc. While there are definitely perks of being a blogger, it is still a full time job, and you get out of it what you put in. You can't expect to throw up a blog post, post a cute pic of yourself in a new outfit, and expect your brand to take off. With social media being saturated with influencers and wanna be influencers, you have to work harder than ever to get the results you want. Every path to success is different, but your passion has to be there for it or it won't work. Set small goals for yourself and ACHIEVE THEM. Don't expect someone to tell you how to do it, or how to get there. Do your research, ask your followers what they want to see. Find out what your audience wants from you, and deliver. Once you achieve your smaller goals, make new ones. Do what it takes to get there while looking to others for inspiration (not to copy).
My Best Tips for Growing your Social Media
Quality images & cohesiveness is key when it comes to growing an audience on social media. Your page has to be appealing to those that do not follow you, and inspire them enough to want to click FOLLOW.
A good bio – Your profile bio is one of the first things people see about you. If you can't clearly communicate who you are and what you're about in a couple of short sentences, then people likely are not going to follow. If you do have a short, clear message of who you are, the more likely someone is going to want to follow you. This message should be portrayed similarly through all of your channels and your blog.
Consistency – You don't want to post so much that your audience is annoyed, but they do want to hear from you on a regular basis. Keep it interesting while still being yourself, create clever captions or captions that allow them to learn more about you.
Engagement has always been important in growing your social media and is now more important than ever. You have to engage with your followers as often as you can so they can relate to you on a personal level and get connected to you. It's nice to get to know them too! Answer their questions, ask them questions, respond to them or like their comments whenever you can. They are your biggest supporters, and you should show them how much you appreciate them and their valuable feedback. I've actually made some amazing friends, through social media, and I absolutely love when I meet one of my readers!
Engaging on other profiles is great too, other people will see your likes and comments and can find you! Remember that it's important to be genuine and post REAL comments. "Cute dress," "love it," "cool," are not good comments! Be thoughtful and specific if you can.
Tag brands & use Unique Hashtags – tagging brands will allow you to show up on their feed under "photos of" which creates more exposure for you. It also gives the brand the chance to see you, and possible post you on their page for additional exposure. Using unique, non-oversaturated hashtags is important for exposure as well. For example, if I post a picture on instagram where I'm wearing a purple, floral dress, my hashtags may include #Easterdresses #floraldresses #springdresses #Easteroutfits #springootd #prettyinpurple #easylooksformoms #thebrandofthedress #dressingthebump etc. When you type a hashtag, it will show you how many times that hashtag has been used. If its hundreds of thousands, or a couple hundred, avoid it. Look for some between tens of thousands and a hundred thousand, so you have chances of showing up when it is searched. When thinking of hashtags, thing of things people might be searching for.
Use stories and video every day – Even if you can't post that day, try to check in on video with what you're up to. Figure out the amount of stories per day that get you the most views, and try to shoot for that. If your followers tend to get bored and drop off around story #10, then posting more that than is just a waste of your time.
Treat each Social Media Channel Differently – This is actually something that I've only recently realized, and I can't believe I didn't before. Its so easy to post a pic to instagram, and then add to facebook and twitter. But WHY would your followers want to see the same photo multiple times? That's boring, and I know when I see the same photo on every channel I get annoyed. Why follow all those channels when they're all the same? Use instagram for your every day life, photos, videos what you're up to that day. Use twitter for quick statuses, or asking your audience questions. Use facebook for sharing interesting things, other photos they haven't seen before, promoting a blog post occasionally. Whatever you want to do with your channels, make them all different so that people have to follow them all to get the whole you.
Commonly Asked Questions 
What should I focus on, my instagram or my blog? The answer is – both social media and your blog are important. Your blog is the only thing that you own, so it's probably the MOST important in my opinion. You can do anything you want there, share anything, post about anything. It's 100% your space. But having social media channels to help grow an audience, find new followers, get more exposure, is also really important. You have to find that balance and what works for you but at the end of the day, your blog is where your followers can go and really learn about you. Your blog is going to get you the most opportunities, your blog is and should be your home base.
How do I grow my social media? In a nutshell: find your niche, be vulnerable and open, create beautiful and relevant content, a great bio, engage engage engage. (see above for more detailed tips)
If you're a shop or service, the concept is still the same!
How do I make money as a blogger? Have a blog. Don't just do social media, you need to have a home base, where your audience can find everything they need and want. You can make lots of money as blogger, but it is work. You have to know your worth and value. You can make money from affiliate links, third party apps like LiketoKnow.it or ShopStyle, collaborating with brands and sponsored posts. You can make money from blog posts and product reviews, ads, the opportunities are pretty endless!
Do's 
BE YOURSELF! People want to see you and get to know you. This is how you build their trust and a unique following.
Engage with your followers, and non-followers if you have time. Engaging with your own followers shows them that you care about them and appreciate them, and that you are a real person behind all the photos.
Use Instagram stories, post videos. This lets followers get even closer to you and see how you are in real life. Your stories don't need to be perfect. In fact, makeup-less / sweat-pant wearing / sweaty-after-workout stories are encouraged. You're not perfect, and you aren't dressed up and in full makeup all the time.
Have a blog or website where people can visit and find information about you and your brand.
Open up and let people get to know you! It's hard, but the more real you can be, the better!
Don'ts
Don't copy what other people are doing, or their style. People want to follow you because they can relate to you, or because they like what you're putting out there. Your followers want to see you as unique, otherwise they won't be loyal followers. Use other bloggers as inspiration, see whats working for them and adapt it in your own way.
Don't work with brands or promote products that do not fit your niche, or that you wouldn't actually use. If you promote anything and everything, people will see through that and lose trust in what you have to say.
So sorry this post got so long, and hopefully its not too all over the place! I just really felt like I needed to answer some of your questions, and let you know that I wasn't ignoring you if you've asked for my help. As you can see, it's not an easy solution or quick fix to grow your social media or blog, but I do hope that this helps! If you have more questions or there's something I missed, let me know and I'll do my best to answer. Thank you all for following along!