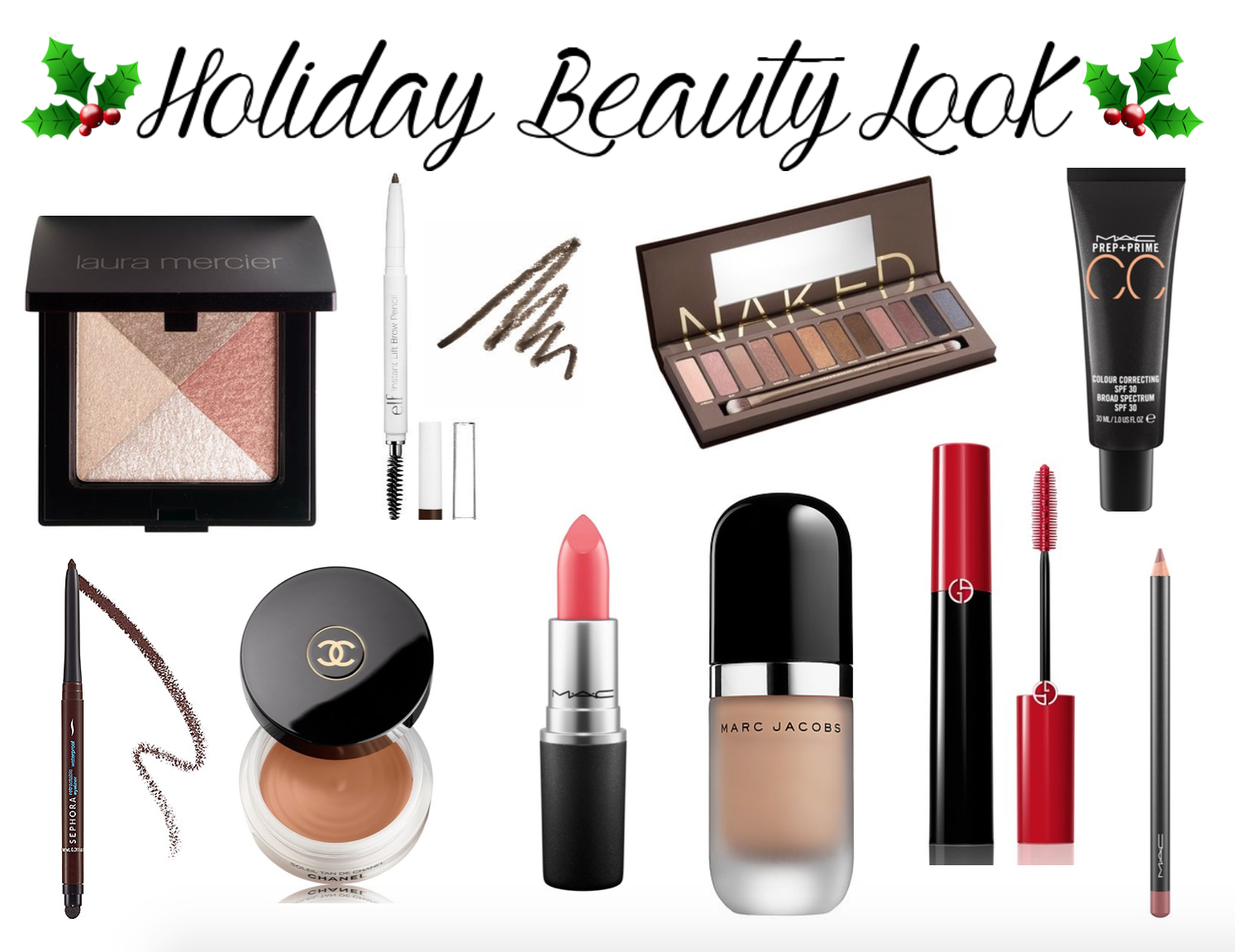 These are some of my favorites for every day use – as well as when I want to get slammed up for the Holidays, or an evening out. For this Holiday Look I used all 10 products, and believe me I've searched high and low for my favorite beauty products and these are it. My grandma asked me not too long ago what brand of makeup I used. And I had to explain to her that each of my favorites are different brands. I've tried so many brands and products, and I will go to 3 different stores to stock up for my own collection.
My first tip is that you have to being with a clean face! It's so important. Then, I start with the Mac primer, which I think is necessary to keep your makeup staying in place all day or night. Next I add a couple of dabs (use this minimally because it goes a long way) my favorite foundation, Marc Jacobs Re(marc)able foundation. After that sets for a minute I add just a touch of the Chanel Bronzer. It's cream based, but I use a kabuki brush to apply just under my cheekbones where the shadows are or would be on your cheeks. A little of this goes a long way too, and it also smells really good!
To finish my face, a love the Laura Mercier Shimmer Bronzer, I use it on my cheekbones and a little bit on my forehead. It has lighter segments on it too that also help highlight some of your features without all the handwork of contouring.
On to my eyes. I start with eyeliner, mainly on the top of my lids and then sometimes if I'm looking extra tired I add a little to the outer edges of my lower lids. I don't have an eyeliner that I have to have, but I do like the retractable ones best, because the texture of the liner is a little creamer and I never have to sharpen the pencil.
I've had this Naked eye pallet for almost a year now and it's still going strong! I love all the colors in it, and they're good for daytime and nighttime. In this look in particular, I used half baked on my lid, sidecar in the crease, and virgin to highlight my brown bone. I add my favorite mascara by Giorgio Armani and I'm done with the eyes. I like this mascara best because it doesn't go on too thick, but somehow makes my lashes really long and natural looking. I never wear fakes!
I've been adding a little darkness (and boldness) to my eyebrows lately and I love brow pencil from Elf. It's only $2 at the drugstore, and it works really well. I love the color most of all, and I suggest going just a tad darker than your natural hair for the best results. It's a sharp pencil, and it has a built in brush to comb them out. And clearly it's a great price.
Lastly, I chose a bold lip because I didn't have much color going on elsewhere, and nothing says Holiday more than some bright lips! I always in my lips, here in particular I used Mac 'Whirl' and Mac 'On Hold' Lipstick. I don't really have a favorite lipstick, you just have to find one that will stay on well for you! This stays on decent for me, I may have to reapply once a night but it's usually pretty good.
Please let me know if you have any questions or comments about any of these products or my look! This is day 2 of our '12 Days of Blogmas' – scroll to the bottom to learn how to enter for a chance to win a Lip Sense Giftset!
Please visit Thestrattons.weebly.com to enter to win this lovely Lipsense Bundle! It's easy to enter, good luck!
Here are the other bloggers participating in the 12 Days of Blogmas! Stay tuned for more daily giveaways!
Blonde & Ambitious
Honey and Betts
Mommy Gone Healthy
The Wandering Brunette
30 A Street Style
Gingham Ginger
The Strattons
By Brittani Lauren
Everyday with Bay
It's Me Neets
Spark{le}