The Best Hair Extensions that Won't Damage Your Natural Hair

Holy hair you guys!! I am almost 3 weeks in to having my micro beaded hair extensions in, and I'm here to tell you allll about it! I've got your questions from my instagram poll, details on the entire process, the pros, the cons, and my almost embarrassing before picture… so – here we go!
** this post is in partnership with Kelly & 1213 Hair Studio here in Richmond.
Photos shot by Stephanie of @Sheshootsrva / SheSawStyle.com/photography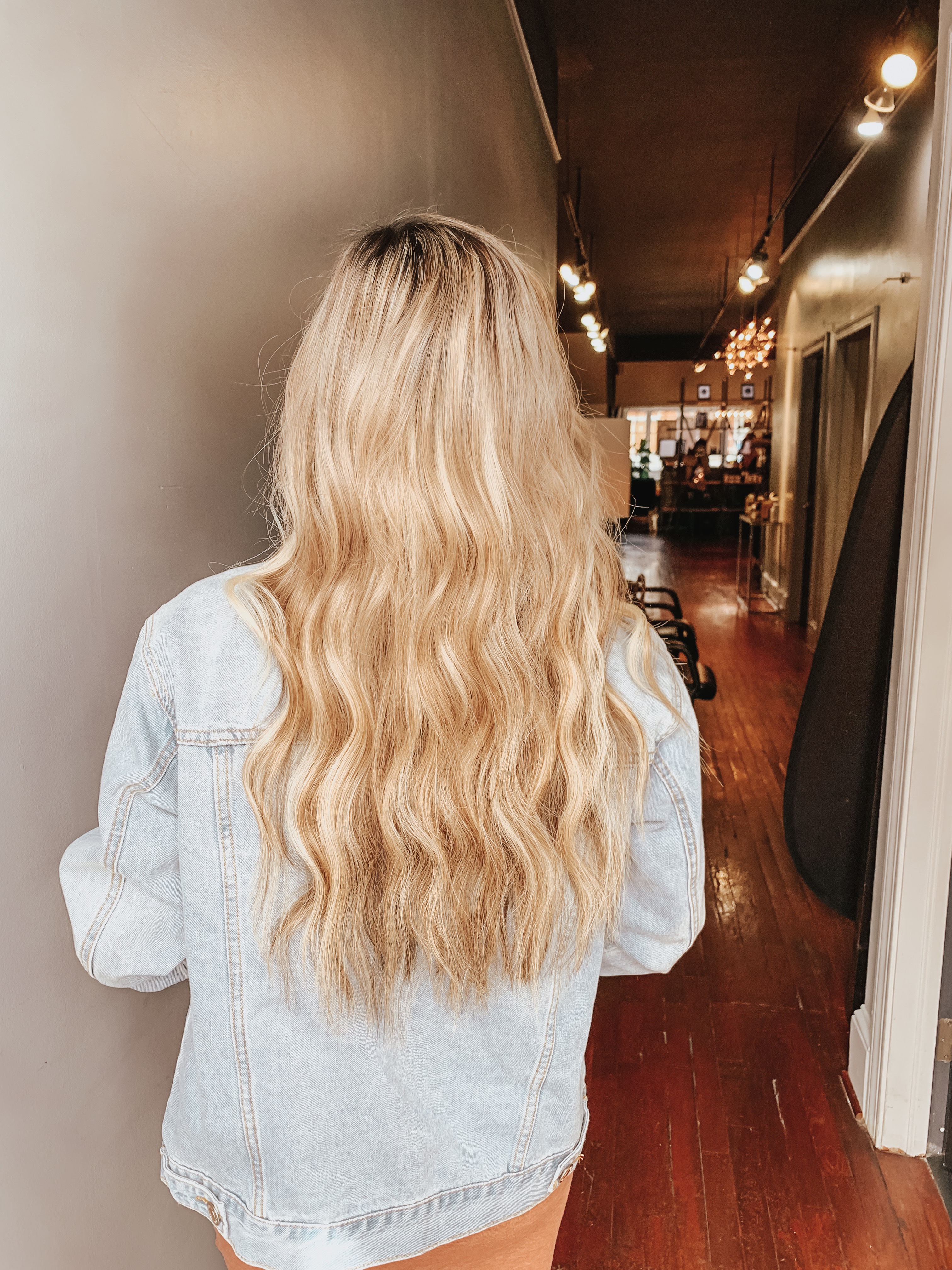 The extensions used here are by Dreamcatchers. It's a full cuticle Remy hair product, which means the hair runs from root to tip and is extremely high quality. I have done a lot of research over the past few years about different processes, I've tried and used just about every brand of clip in or halo extension on the market, and I want to tell you why this process is sooo different, and so incredible.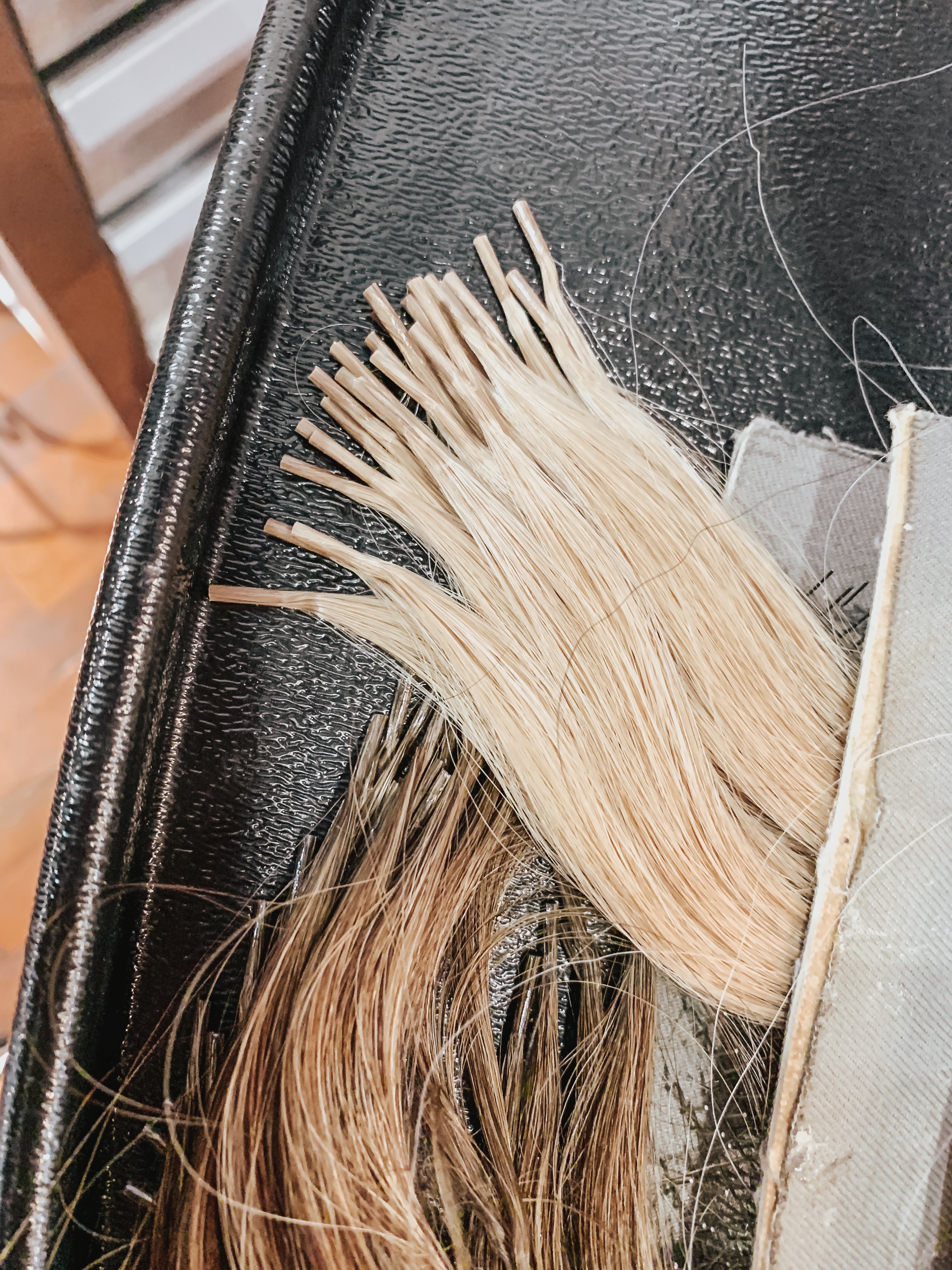 I had a consultation with Kelly to see if I would be a good candidate for this type of extension. I have fine, straight hair, and with 2 babies in the last 2 years, and now another pregnancy, my hair has been through the ringer. Its a thousand different lengths, its still falling out from having Blake, still growing in from having Brooklyn, and my hair is very very confused to say the least! During the consult I talked to Kelly about wanting more volume, more length, but nothing too crazy to have to maintain as I am a crazy busy work at home mama. It didn't take long at all, and once I decided to move forward, Kelly color matched my hair and chose a blend of 3 colors. One very blonde, one medium blonde, and one in a chocolate brown shade.
In the above pictures, you can see that the hair comes in very small groups of strands. So while the colors Kelly chose may look a little drastic off the head, she was certain (and she was right!) that they would blend flawlessly once in. Each shoe string like enclosure that you see above, is one extension, and each on has to be put in meticulously. Kelly sectioned off my hair and began threading a bead one by one, adding one extension within the bead, and then tightening it with a pair of pliers!  The beads and the process are shown up close below.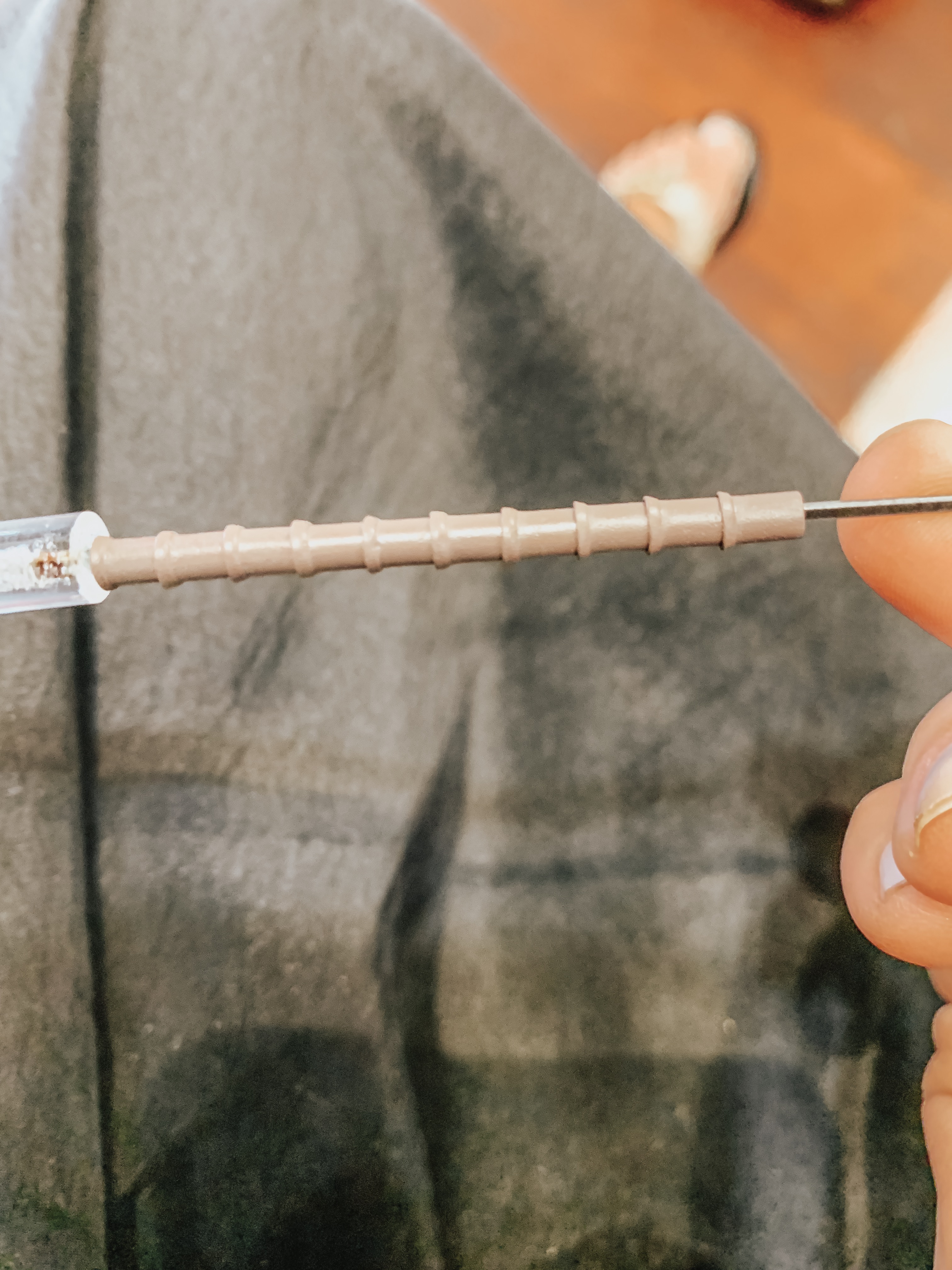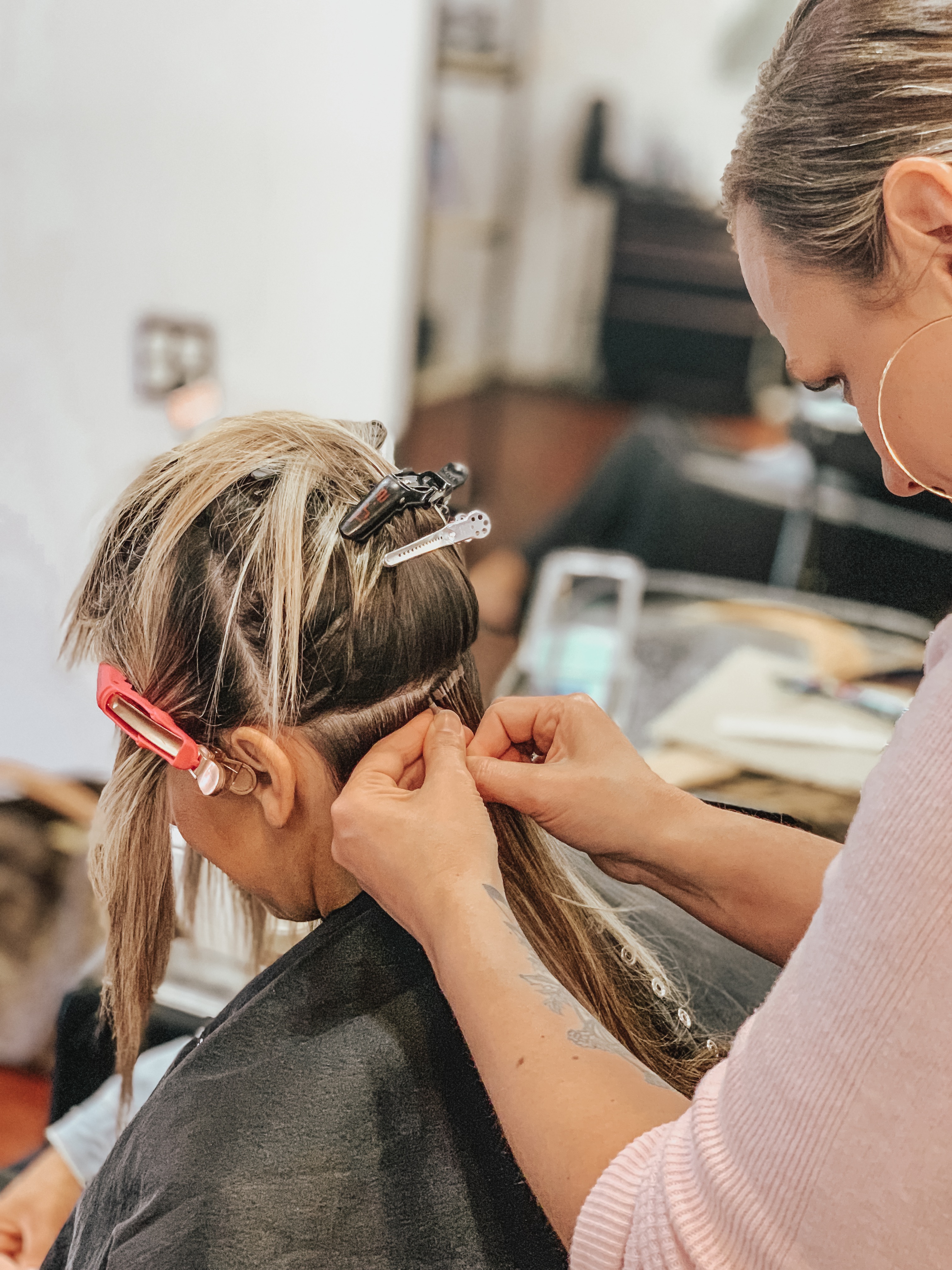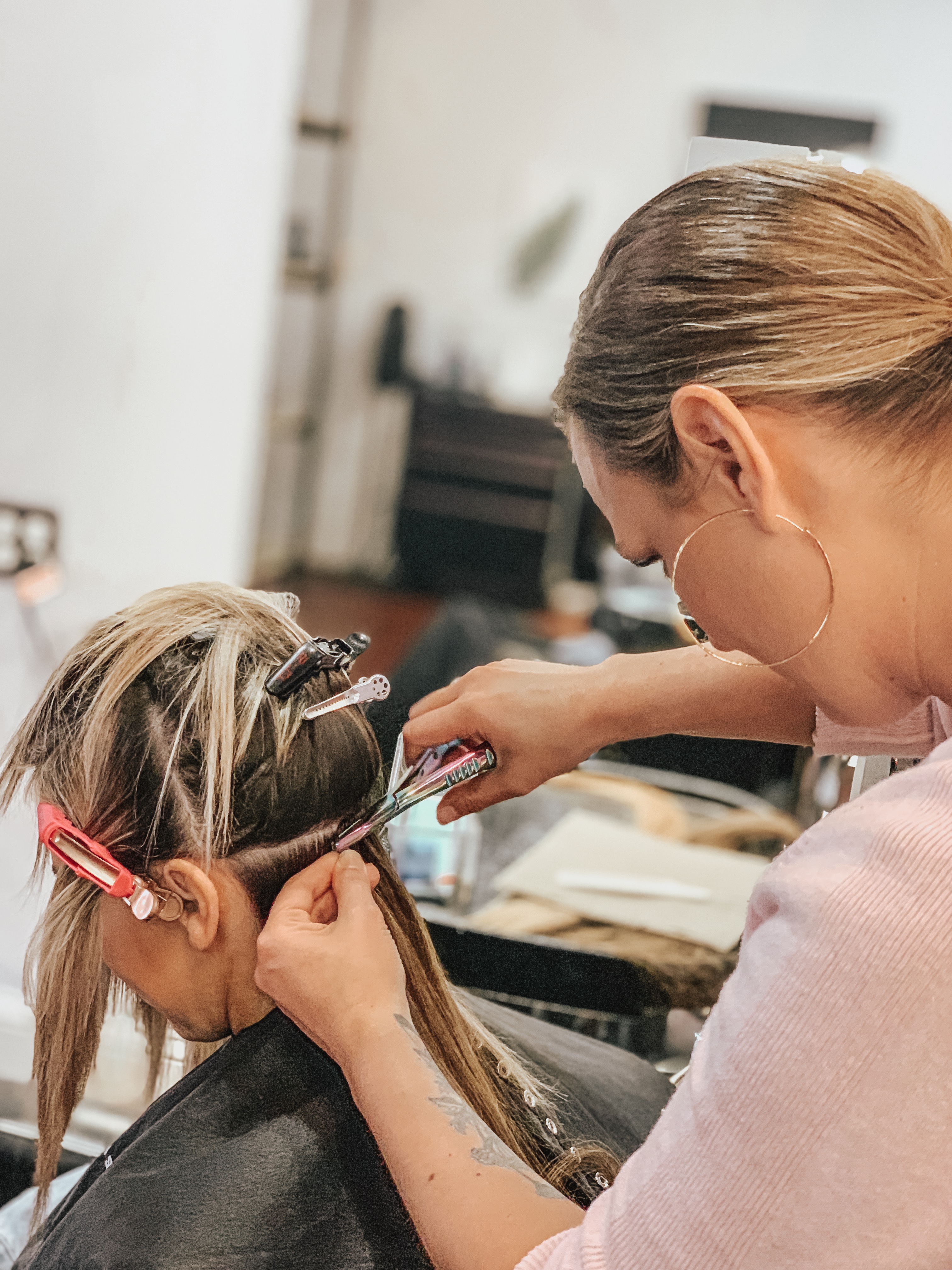 The beads slide right on to a very small section of hair with a tiny comb, she slips the extension in the bead, and tightens! Thats it! Well, repeat 1000x and then, that's it! I believe I have 4 rows in the back, two on the right side and then one on the left side. The beads are very small, and can hardly be seen. If a bead does become visible (which you can see from the final results picture that its very seamless) it actually looks similar to a bobby pin, and no one would every think it's an extension.
Now, before I share this crazy embarrassing photo of my before.. I want to answer your most asked questions!! I knew I was is in need of a hair cut, but I really didn't know just how stringy, fine and confused my hair really was until I saw the before photo. The final results are incredible, and I am extremely happy with them!
MOST ASKED QUESTIONS: 
ARE YOU WORRIED ABOUT IT DAMAGING YOUR HAIR?
No! And that is exactly why I wanted to work with Kelly at 1213 Hair Studio, because they offer this process. There is absolutely no heat, no sewing, no pulling, it's completely damage free AND, since the extensions are basically already perfectly colored, you only have to do root touch ups as needed while you're extensions are in. Meaning, all that damaged hair of mine does not need to be cut or colored at all, and is getting a major and much needed break.
WHAT IS THE MAINTENANCE LIKE?
In order to maintain the extensions, and make them last as long as possible, I use sulfate-free products and heat protection products recommend by my stylists. I wash my hair about every 5-6 days, which has been a huge time saver and a major pro for me. (Since the hair isn't attached or growing from your head, it doesn't get greasy and oily like your natural hair and it isn't necessary to wash often.)
I typically air dry my hair because blow drying does take a long time, plus its less damaging to air dry. I use a soft bristle brush to brush through my hair, and will braid it at night to keep from getting tangled.
*** the most important maintenance you need to know is that you WILL shed a little bit. I have lost a couple extensions so far, and once I get about 5 or so I will go back in so Kelly can put them right back where they go. Some have come out naturally, others have slipped down likely because of my kids pulling them or the brush pulling them down. It is not noticeable and your stylist should be able to put them right back in where they go so your hair stays at the perfect length and the extensions last as long as possible. YOU WILL NEED TO GO IN TO THE SALON APPROX EVERY 8 WEEKS to have them all moved up. Your hair will continue to grow, which means the extensions will lower with your hair and your stylist will need to move them up to make sure that they remain invisible and last their expected lifetime.
As I mentioned before, there's no need to color your hair (other than root touch ups) which is so so nice!
WHY?
lol, I assume you're asking why I got the extensions which I pretty much answered above. However, I'll tell you why exactly I chose this process. This particular process is damage free which was huge for me since my hair is already fairly damaged. Secondly, since my hair is so fine, I didn't want the extensions to be visible, and a lot of extensions out there are one big weft that is actually sewn into your hair. As your hair grows out, that weft droops down, and well first of all thats not cute, and second of all likely not very comfortable either!
WHAT ARE THE NEGATIVES?
So, I'm sure everyone is different but here are the very few negatives in my opinion about these extensions. The first few days my neck was actually a little sore from all the extra weight, lol!! But it's fine now. Sleeping is a little weird at first, but you get used to it. Having it in a braid helps keep it tangled and comfortable to sleep with. It is a little annoying that you do shed hair, but that is will all extensions and not just these, it just happens. It is also a lot more hair than I am used to, so when I do need to dry it or style it, it does take longer than it would without extensions, however on the other hand it saves me so much time on days I don't!
CAN YOU WEAR IT UP?
Heck yessss and I love it up!! I actually have always hated my hair up, because its straight and not voluminous, so it always looked limp and the ends were always spikey looking from being straight. Now I can actually do cute messy buns, or have a long pony and it looks way more put together than before I had extensions.
WHAT IS THE COST?
Everyone's cost is likely going to be different. First you do have to pay for the product itself, the extensions. Kelly gets the best quality hair on the market, that ultimately is going to last longer and give you your money's worth. Each person needs a different amount of hair as well, which can alter the cost of the product, as well as the service to put it in. You will have to service the hair about every 8 weeks to get them moved up as well, however you aren't spending money on cut and color anymore, so it does even out! You would need to set up a consultation with a stylist to get a customized quote.
WHERE CAN I GO TO GET THIS DONE?
Obviously – I'm going to recommend 1213 Hair Studio in Richmond. If you don't live in Richmond, I would look for someone in your area that is certified in this technique. Now, let me just say there are some stylists that are going to be better than others! It's technically doesn't take much to become certified in hair extension methods, but just because a stylist "knows how" and is "certified" doesn't mean they've done it a lot and are good at it. Kelly is GREAT at it. She takes it very seriously and has done it for years. My best advice is to ask them! See how long they've been doing it, ask to see before and after photos, etc. I'm sure most stylists are great- but definitely check it out and do your research.
Okayyyy I've kept you waiting long enough! Unless of course you've already peeked 🙂 But below are my before and after photos!