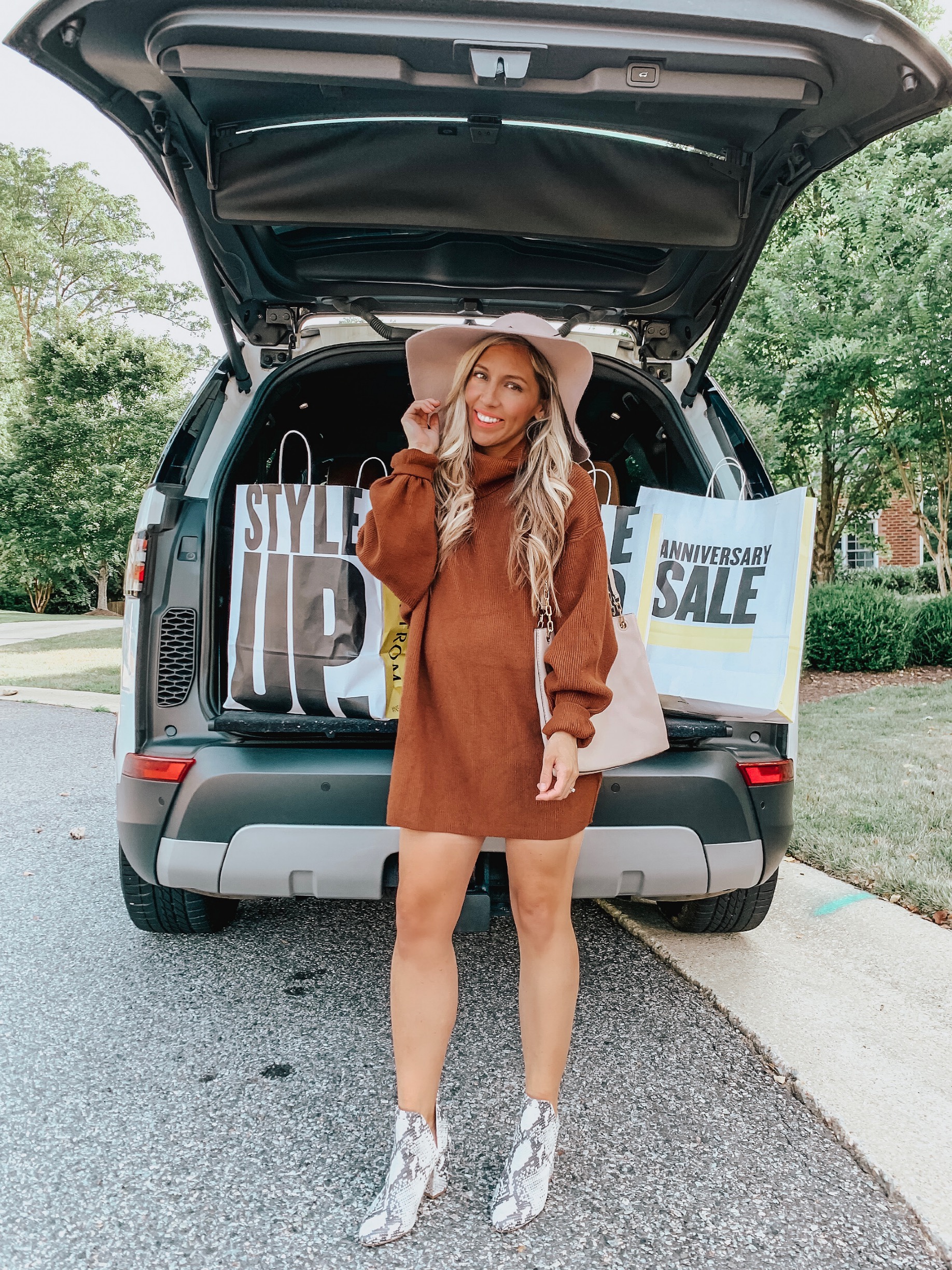 Happy Nordstrom Anniversary Sale!
Showing you a peak into what I got – and some of my favorite things I purchased last year that I still use! With being over 7 months pregnant this year, I shopped with a purpose and tried to pick some good staple items I can wear this fall after baby!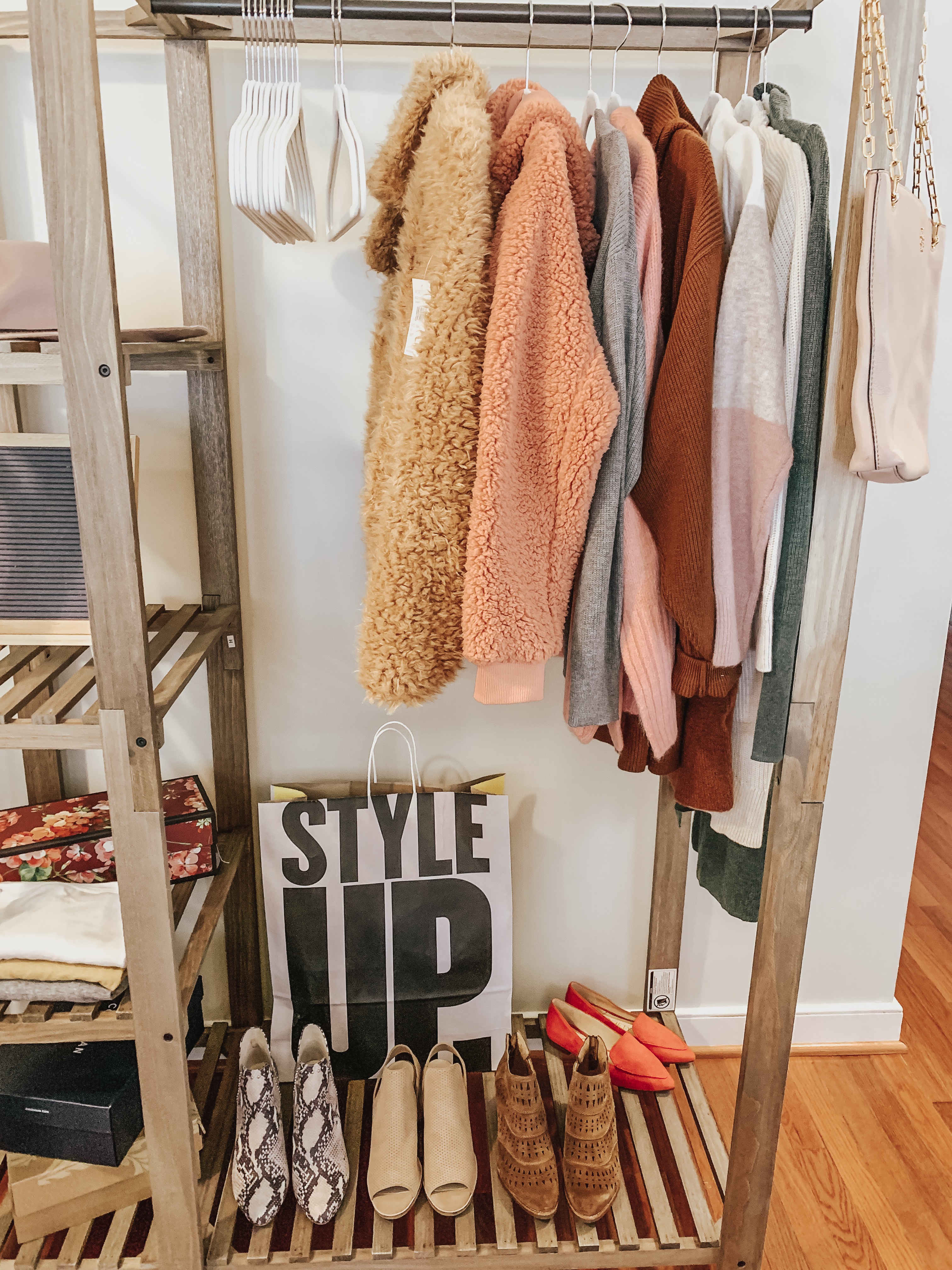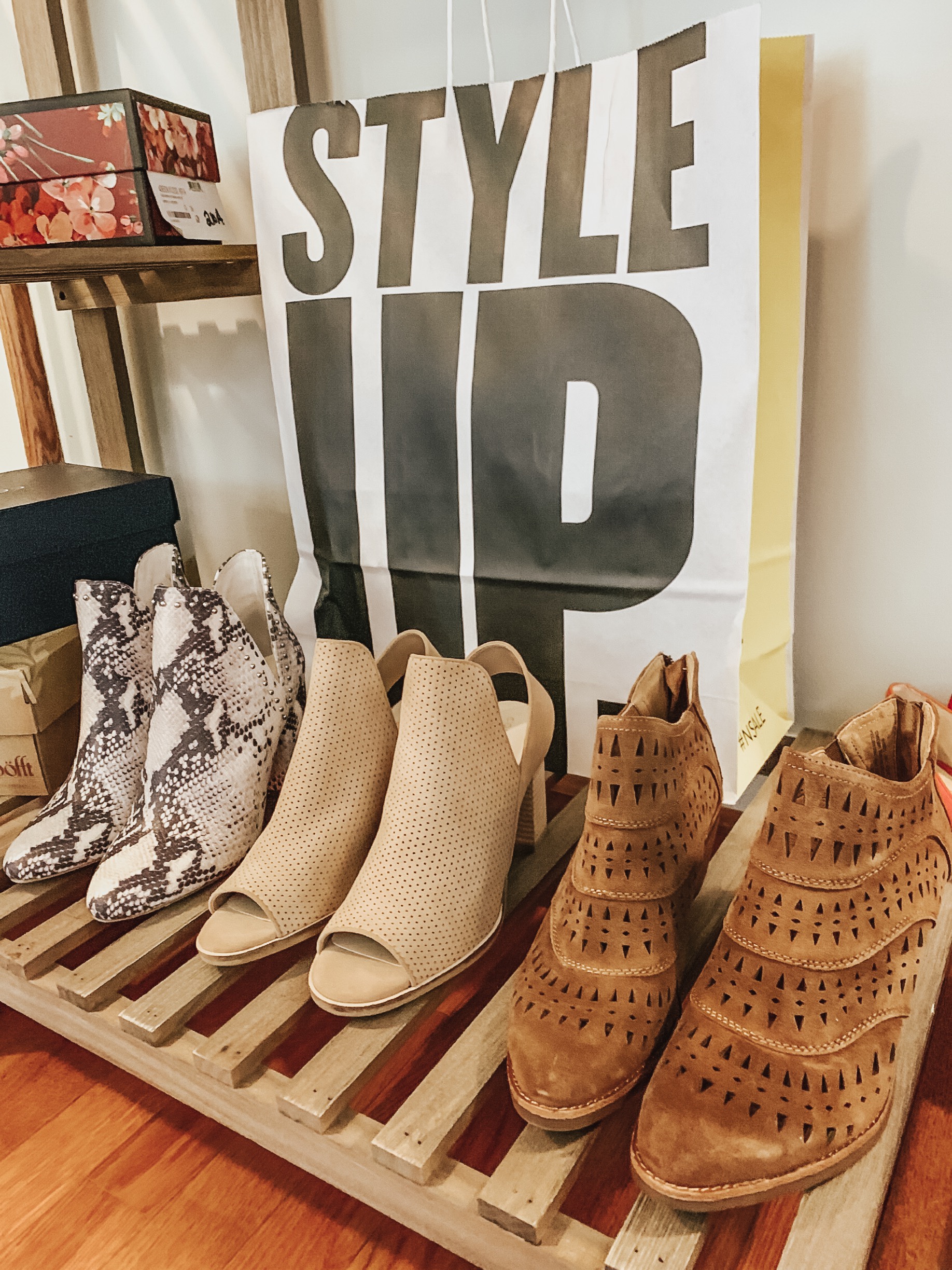 ***NOTE – if you're shopping before July 12th at 12:30pm EST, you must be ambassador or icon status, otherwise you likely won't even be able to view the items on the site. All Nordstrom cardholders can shop after that time on July 12th. If you are not a cardholder, the sale goes public July 19th. Keep in mind after a full week of shoppers, lots of things are sold out and are unlikely to restock. This is the way the sale works every year, so having a card is really the only way to secure the items you want.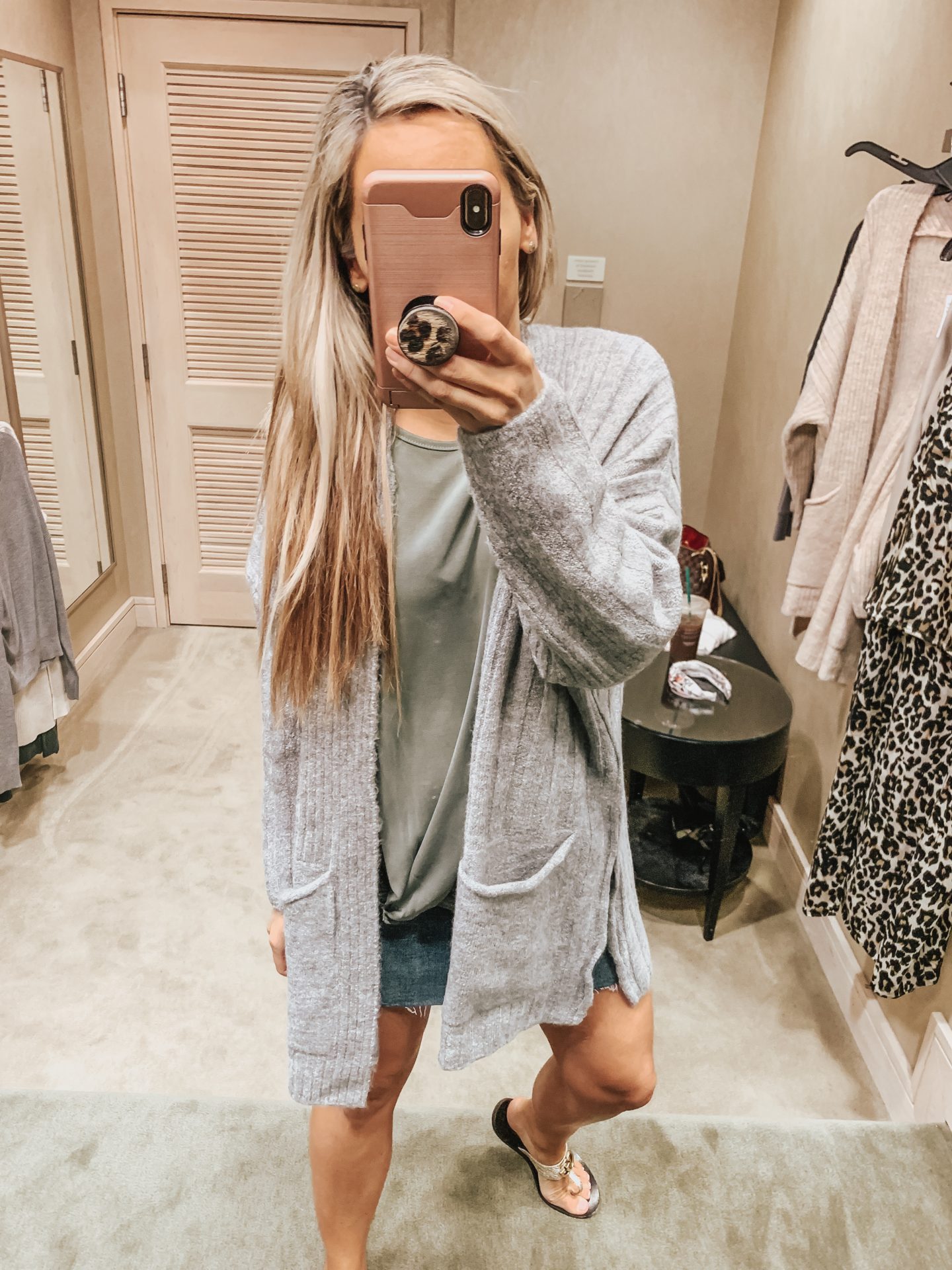 TopShop Long Cardigan – it's thick and warm true to size, big pockets and side slits! Chunky & ribbed, comes in gray, black, tan and oatmeal. $44.90 ($68 after the sale)
All in Favor twist top, comes in black, mustard, olive and mauve, $18.90 ($29 after the sale)
Emily Denim Mini Skirt by STS Blue. Stretchy, lightweight and extremely comfortable. Raw denim edge, on sale for $35.90 ($55.00 after the sale)
Basic White Tee, $11 and tons of colors including stripes and even plus sizes. These are a great basic tee, good for layering, wearing on it's own, soft and simple! $11.90 ($15.00 after sale)
Madewell Ryder Striped Cardigan – this will sell out fast! Big bold stripes, thick and warm – huge pockets! Great quality! $64.90 ($98.00 after the sale)
Long Ribbed Cardigan by Leith so happy I purchased this duster! It's thin but has some weight to it, ribbed texture, and side slits. The length is amazing and it's going to be so great for layering. Also comes in oatmeal, burgundy, blush pink, and black. $45.90 ($69 after the sale)
Leopard Print Cami Dress Why am I such a sucker for leopard print? This slip dress is everyyythinggg. It's actually not fitted, but super flattering. I tried on a large for the bump but could easily do a medium now with a little room. I would definitely order your normal size or if in between size down. The material is really silk and you could easily dress this up! So dang cute. $38.90 ($59.00 after the sale)
Faux Leather Jacket Holy pricetaggg! The quality of this is SO good and the price is crazy good. It's so soft and buttery, true to size, slightly cropped. You could seriously wear it with so much! It's only $64.90 and this will go very fast! ($98.00 after the sale)
TopShop Oversized Sweater with deep hem. Its very chunky but still feels soft and cozy. It comes in pink, gray and tan, and a similar color block one as well! It's very oversized but a really cute look!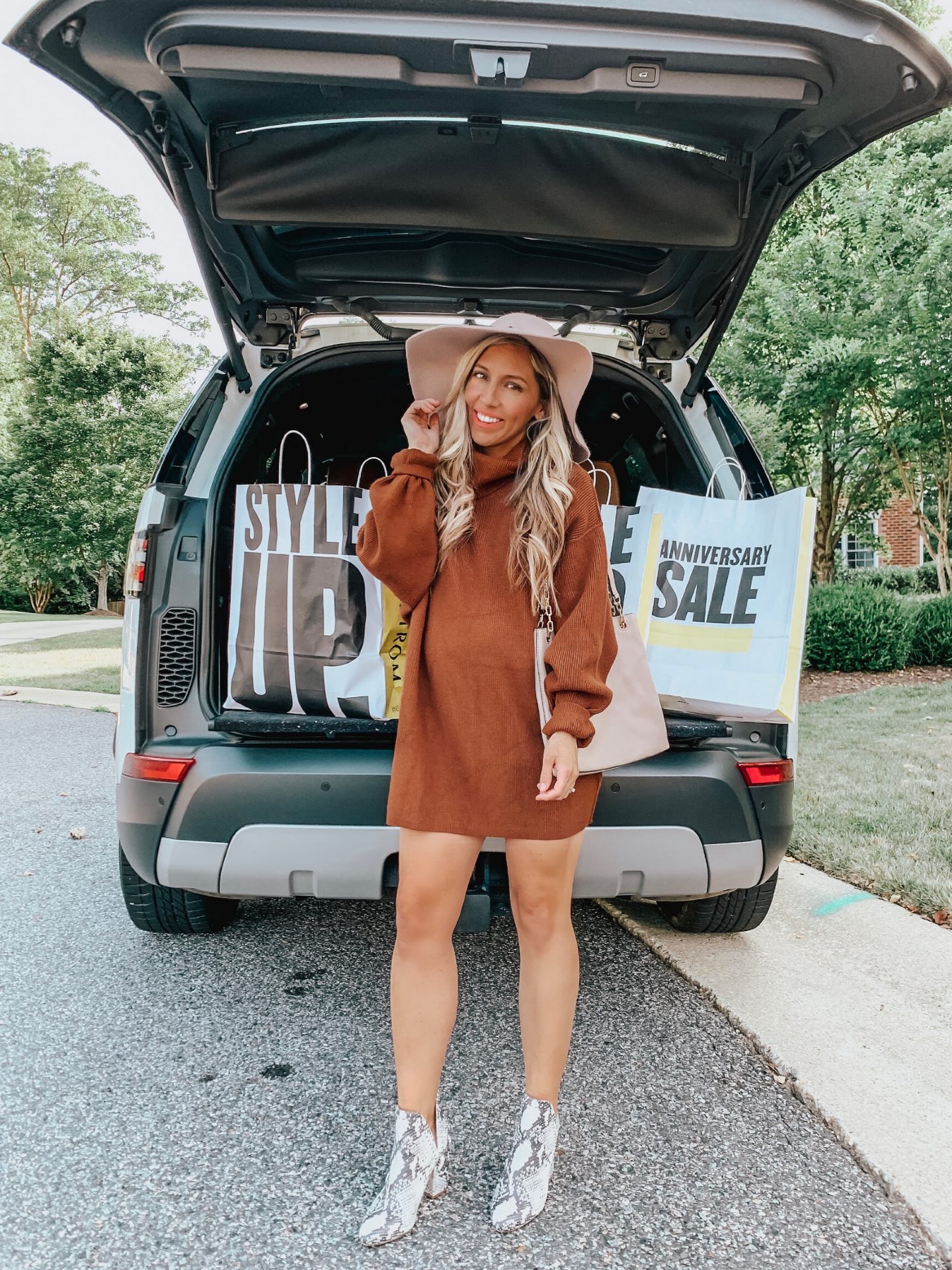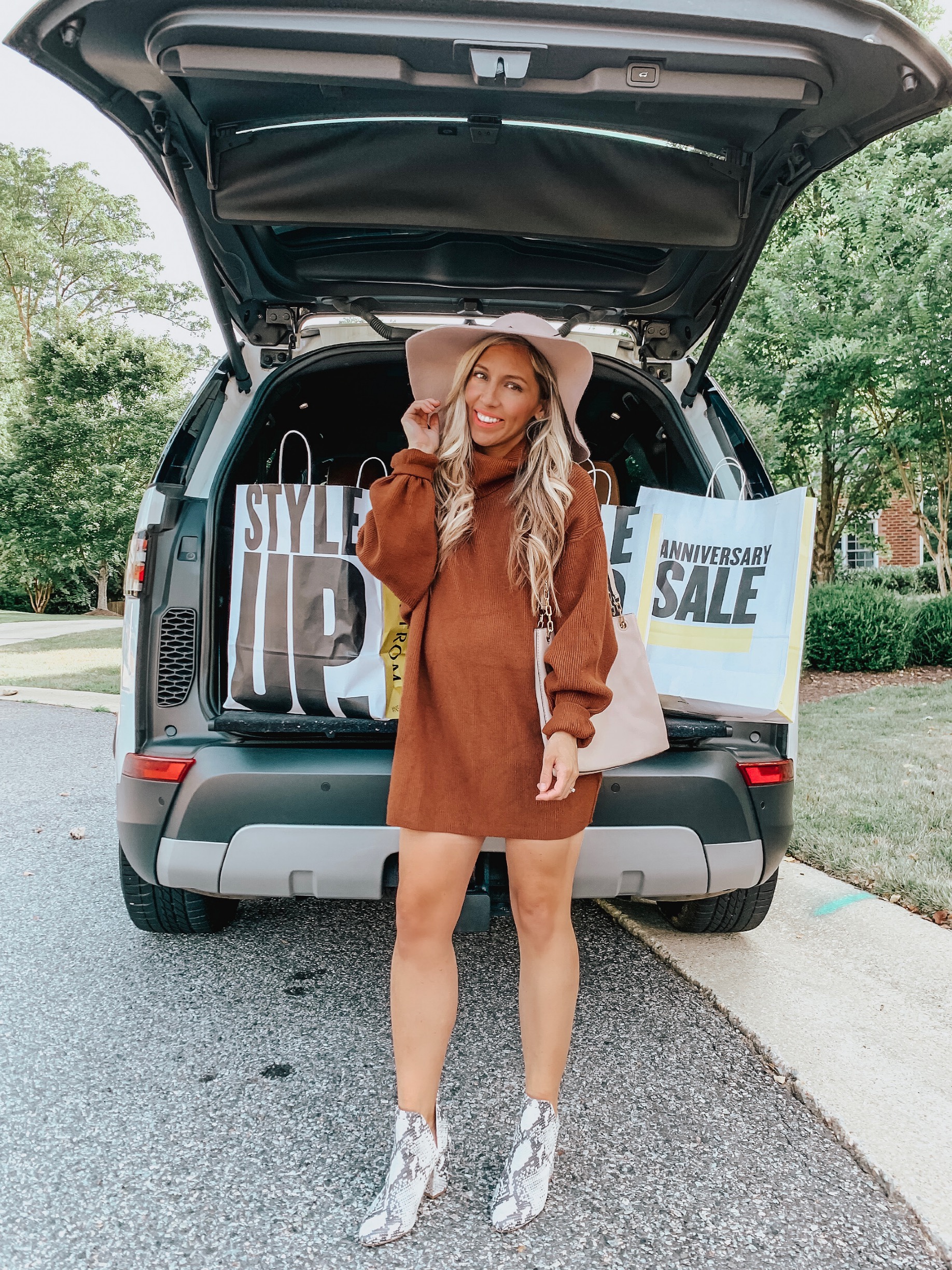 Snakeskin Booties, also come in Leopard Print and black! I LOVE these fun little booties and the neutral colors basically make them a neutral pair of booties that will go with everything! SNAG THESE RIGHT NOW if you want them cus they will definitely sell out quickly. $79.90 ($119.90 after the sale)
Free People Oversized Tunic (wearing as a dress, since I'm 5'2) So sizing on this is a little tricky. I tried on the medium in the store and came home with the small so I could wear after baby. In free people I always buy XS, even pregnant because everything runs so big. BUT. Since I wanted to wear this tunic as a sweater dress, it is short, so I recommend sizing up 1 if you want to wear it this way (and you better be a shorty! LOL) Currently $98.90 ($148.00 after the sale)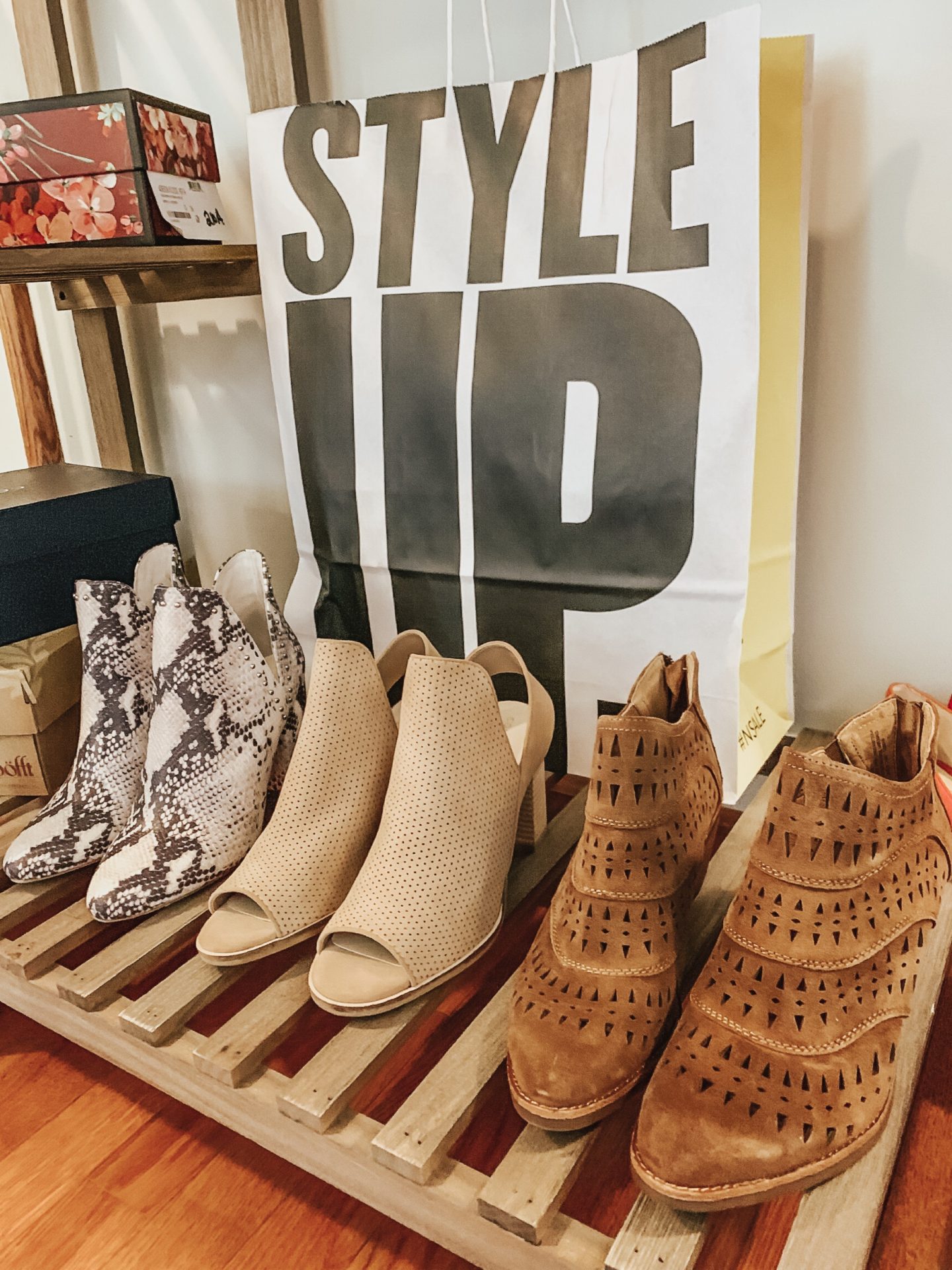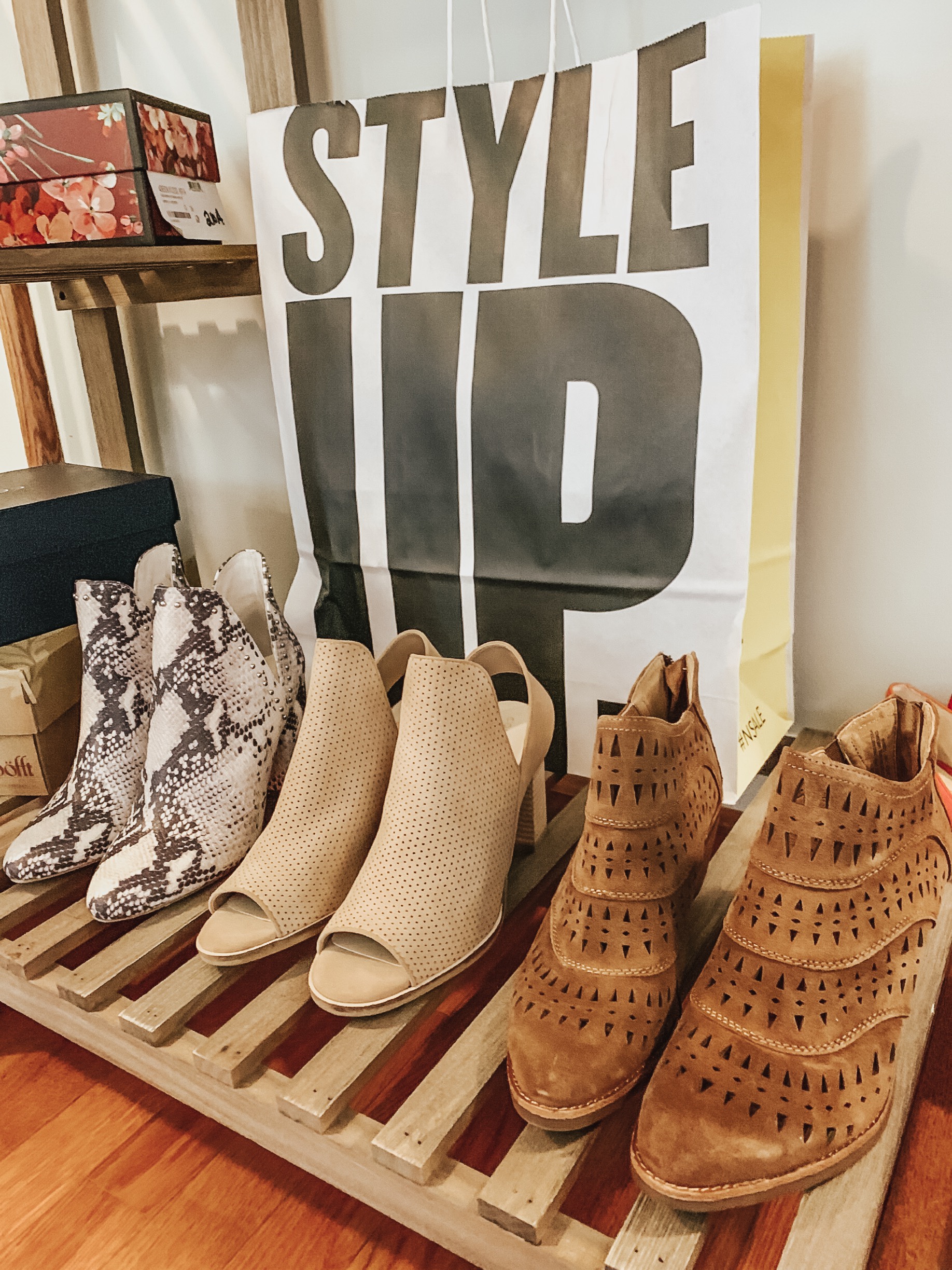 Cole Haan Perforated Booties (middle) These booties are so cute and so comfortable. They aren't too high and the soles are padded really well, I definitely feel like I could wear them awhile. Came in a few great neutral colors! $98.90 ($150 after the sale)
Sofft Western Bootie (right) I almost snagged these in black but I feel like I personally just gravitate to browns! I love the cutout detail of them and their small chunky heel. $89.90 (139.90 after the sale)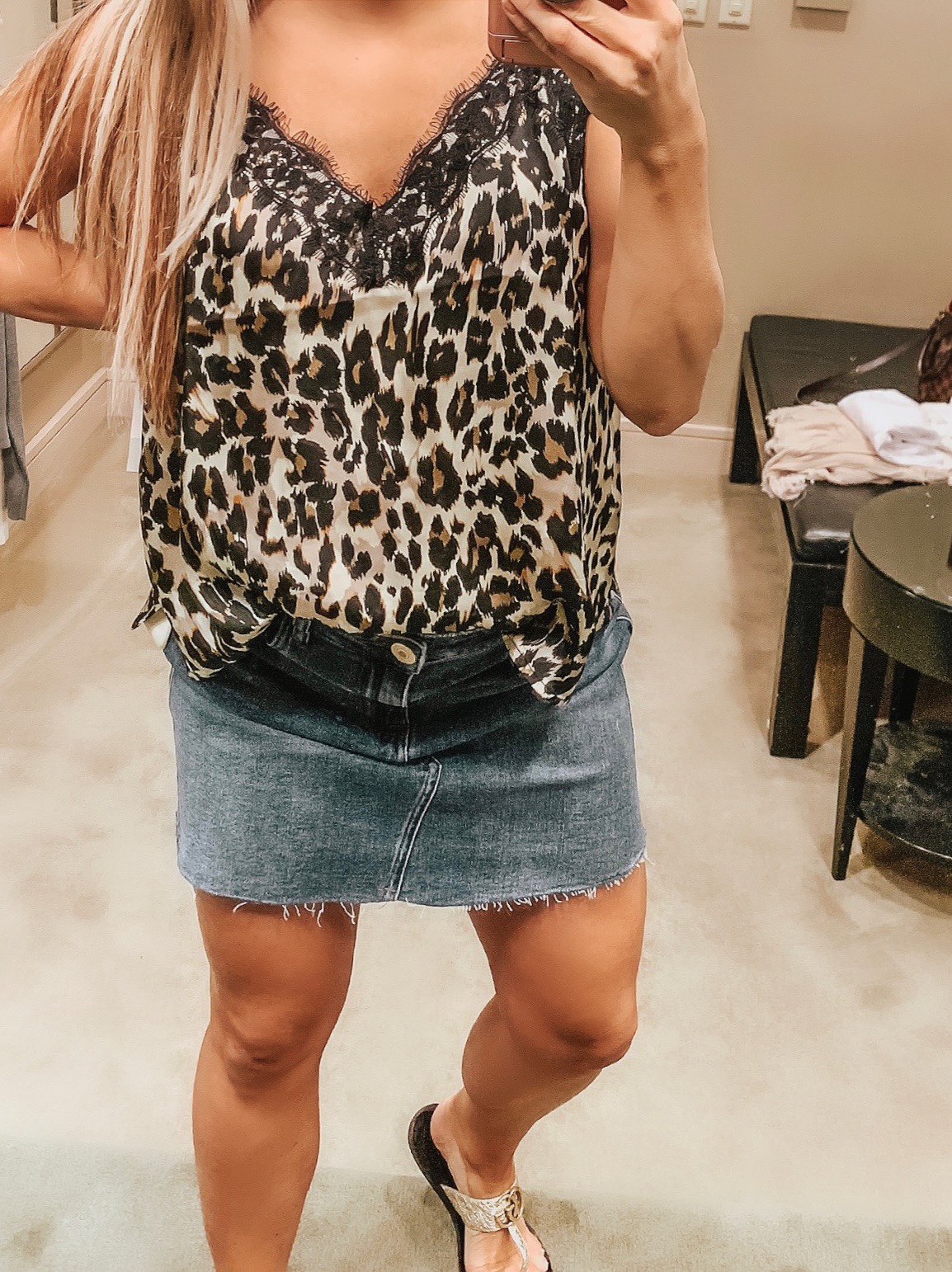 Lace Cami – only $25 and such a good staple item! Wear alone, with a cardigan or jacket, with jeans or dress it up for work or date night. comes in 5 adorable patterns too and straps are adjustable. $25.90 ($39.00 after the sale)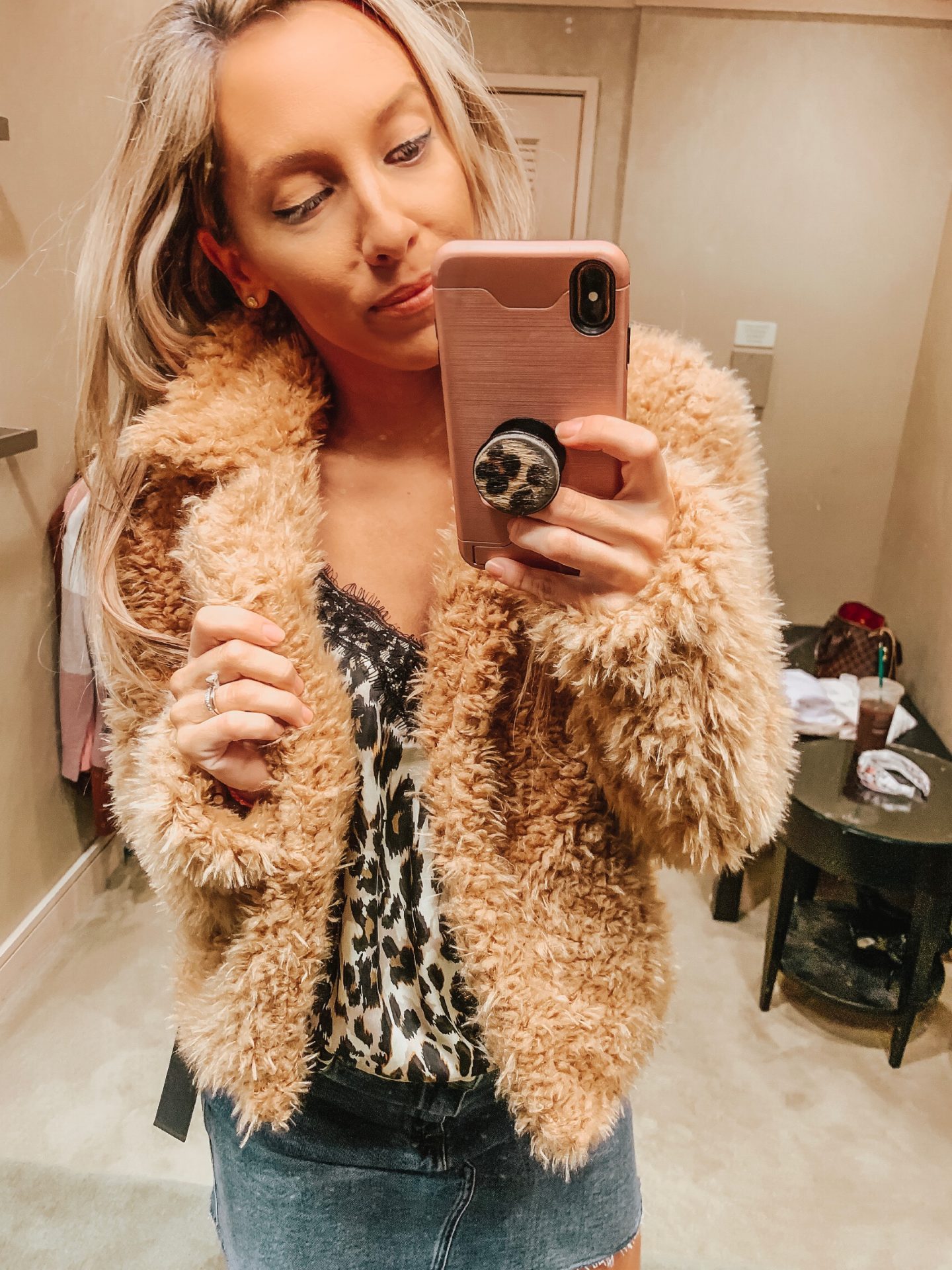 Faux Fur Teddy Coat – Soooo soft you guys! It's adorable and so warm. The cut is slightly cropped, it comes in this tan, black and a dark forest green. LOVE it and can totally wear it with nice clothes to keep warm this fall and winter. $64.90 ($98.00)
There's a few more things I snagged on the way out that I'll be sharing soon! As well as some staple pieces that go on sale each year but otherwise are never on sale! Be sure to check my instagram and instagram stories for updates! @accordingtoblaire