Our Stay at Encore Resort at Reunion (Orlando)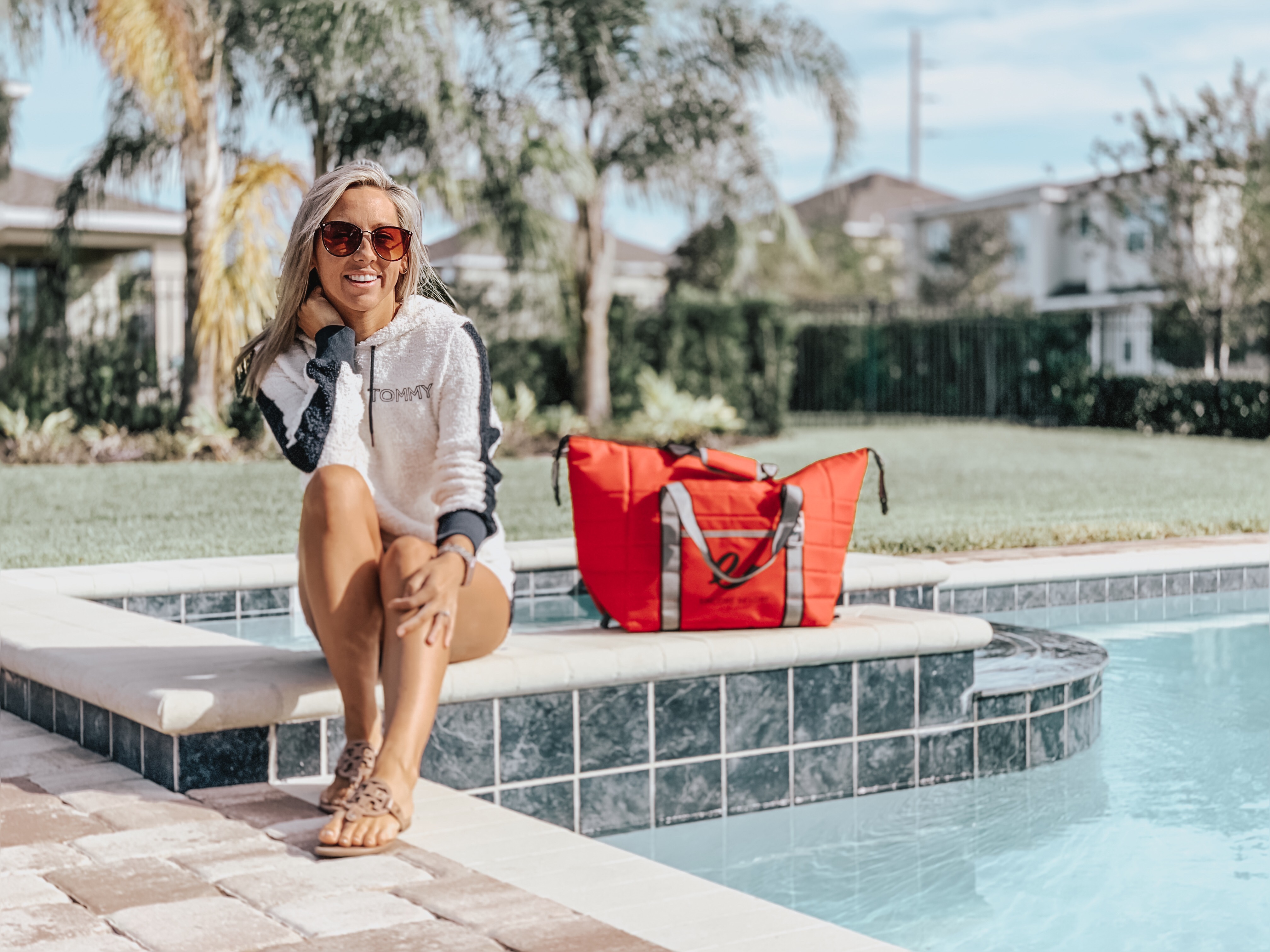 Ahhh you guys! We seriously had the very best time on vacay last week. I've never experienced a vacation like this and definitely wanted to share our experience with you – the highs, the lows, the pros, the cons, so you can know exactly what it's like to stay at Encore Resort and see if it's a right fit for you and your family!
Encore Resort at Reunion was so generous to have us stay with them last week. The resort is located in Kissimmee, Florida, literally minutes from Disney World. It's a gated, all-inclusive, award-winning resort that is changing the way families vacation – and I'm going to tell you why! I'm about to share all of their amenities, what it's like to stay with them, property conditions, customer service, food and more! I will be sharing a little bit about Disney in this post – but our overall Disney experience will be on an upcoming post.
THE RESORT

OH my gosh. The resort is literally gorgeous. Honestly, it's so different than any resort I've ever been to. First of all, you get to stay in your own luxury house on the property, in a private, safe community. The best way to explain Encore Reunion to someone that's never been is that you get the services and amenities of a resort, with the comfort and privacy of staying in your own home. On Encore's 963 acre property, they have an AquaPark and a big clubhouse with a sit down restaurant. There's also giftshop and coffee shop, a full out fitness center, an arcade, and – a daycare for your kids to play for a little while! It honestly has everything you need!
When we got to the resort, check in was super easy, and in just a few minutes a staff member escorted us to our house, showed us around to make sure we knew how things worked, and that was it! No crazy hotel checkin, no waiting for our room to be cleaned, and no loud music or guests next door. Even though we got in late, my kids felt comfortable in their own space. The house was laid out so wonderfully that we had plenty of room for them & my mom who joined us for the week.
One of my favorite things about Encore, is that they have their own clubhouse and AquaPark. On a typical day we would order breakfast to be delivered from one of the restaurants on the resort. Yes, I said delivered, and yes it was amazing. We would eat our breakfast, get ready for the pool, and walk to the waterpark just a couple minutes away from our place. The Clubhouse had a big, open pool with lounge chairs and cabanas, a huge waterpark for kids of all ages, several HUGE slides that Blaire was obsessed with, a bar, a kitchen, and poolside service. What freaking more could you ask for on vacation?
Blaire loved the slides, Brooklyn loved the water falls and water structures, I loved the pool side service, and my husband loved the cabanas! Well, all of us loved the cabanas! There were a couple of afternoons that we spent in the cabanas, which was amazing for us because they each had their own tv, aka entertainment for kids, and it was nice to have some shade and a cool breeze when the little ones got too hot. We may or may not have gotten a little crazy ordering food & drinks, but everything was delish – if you go you have to try the coconut shrimp!
Our House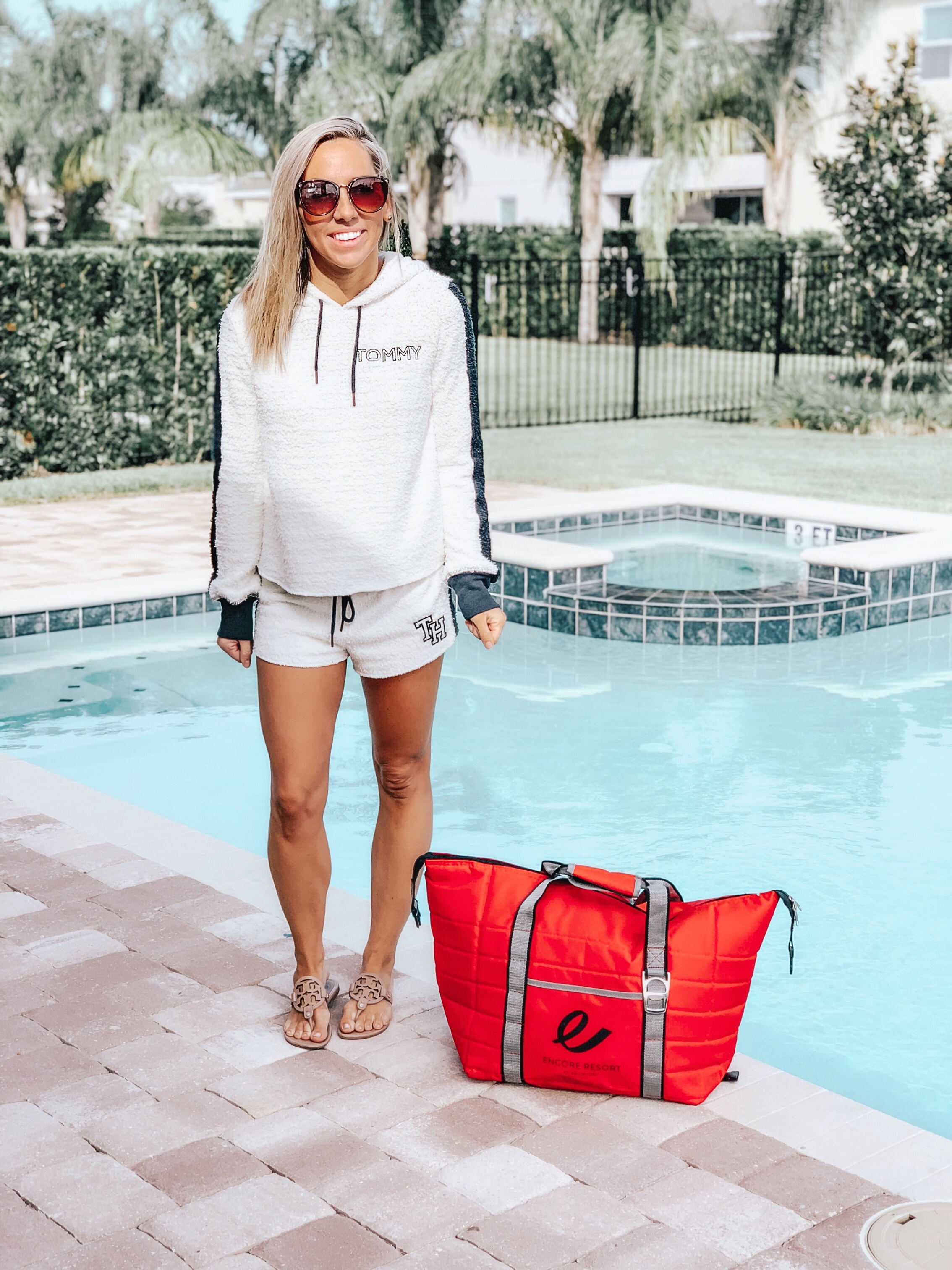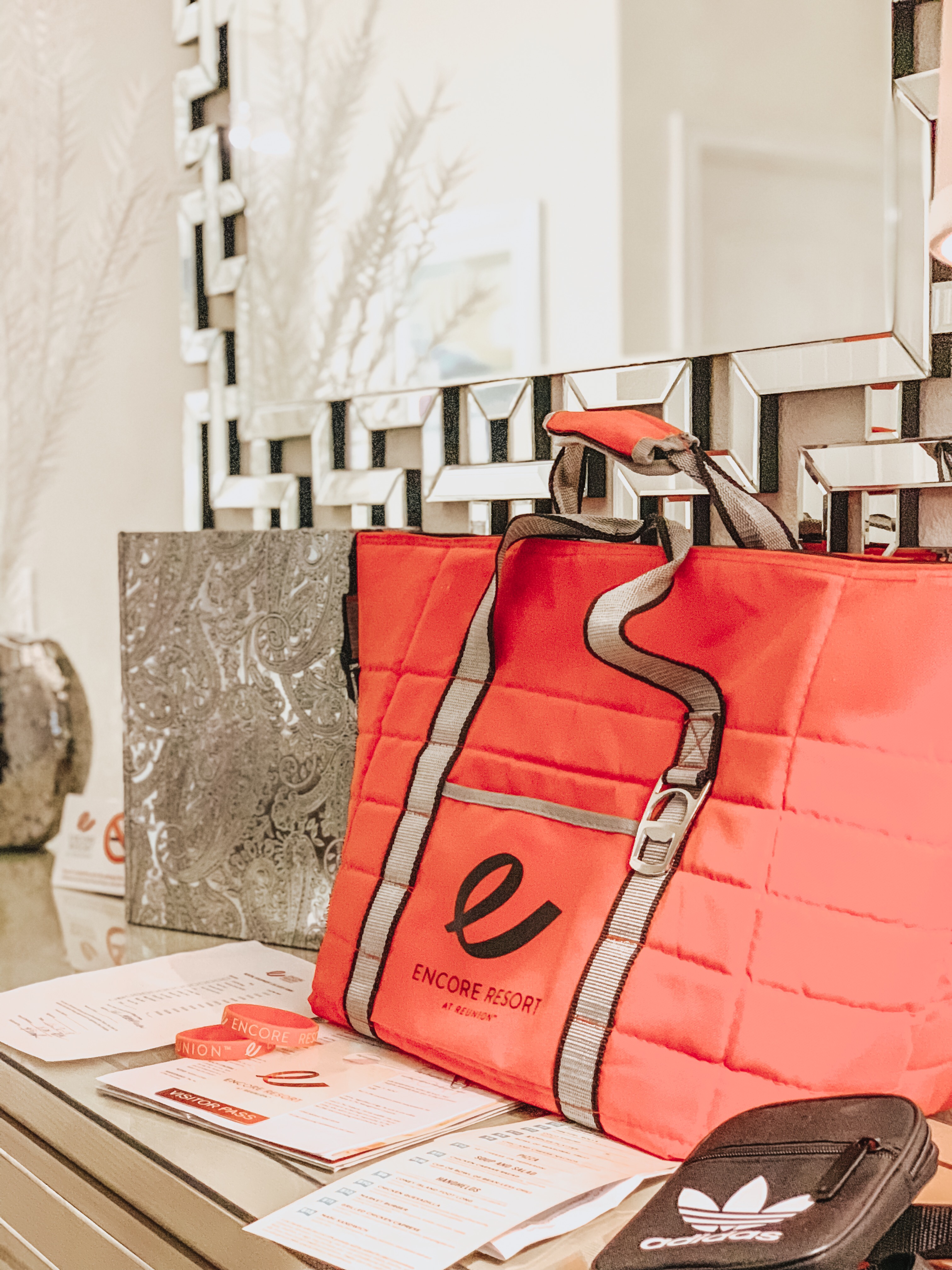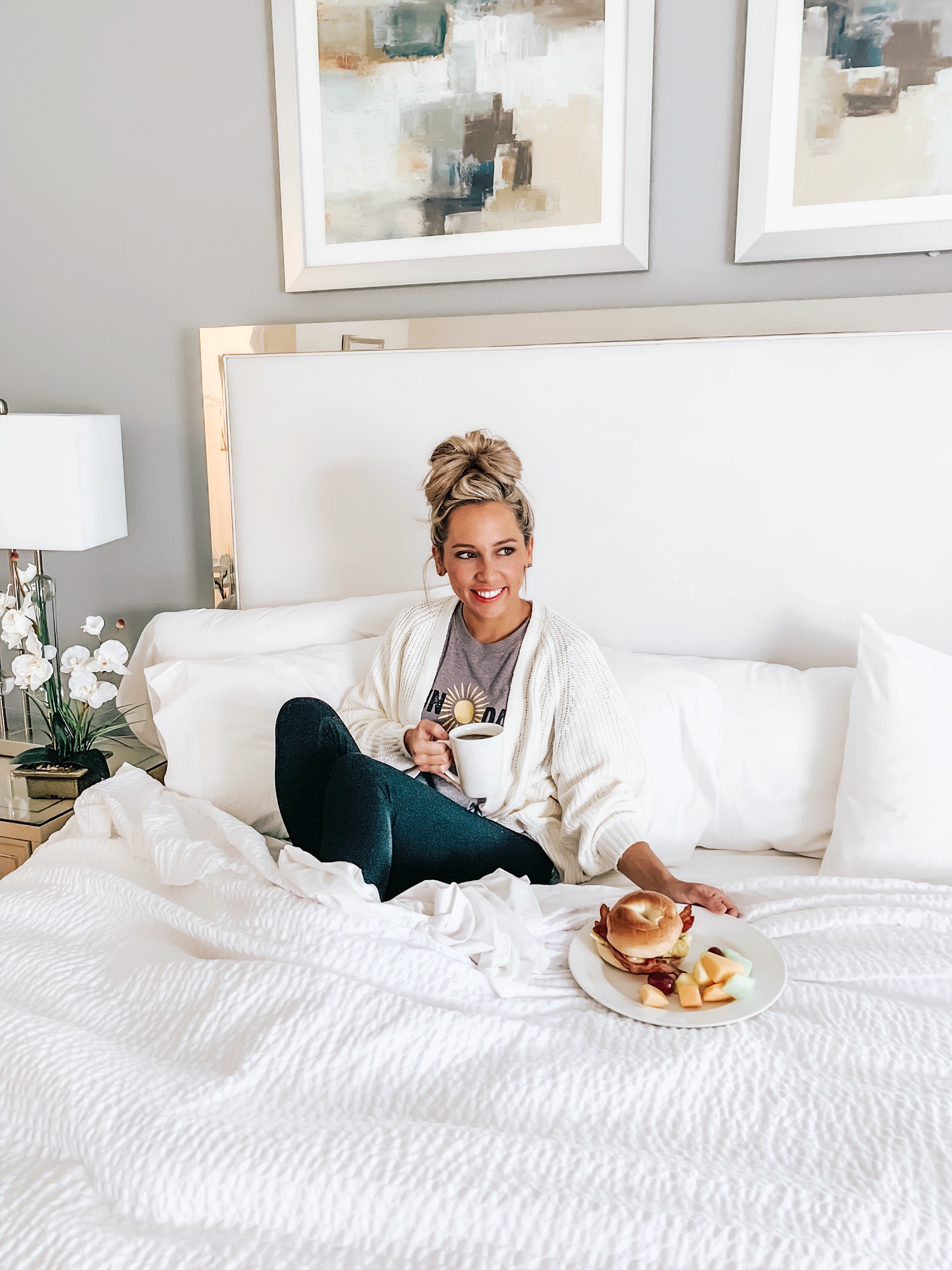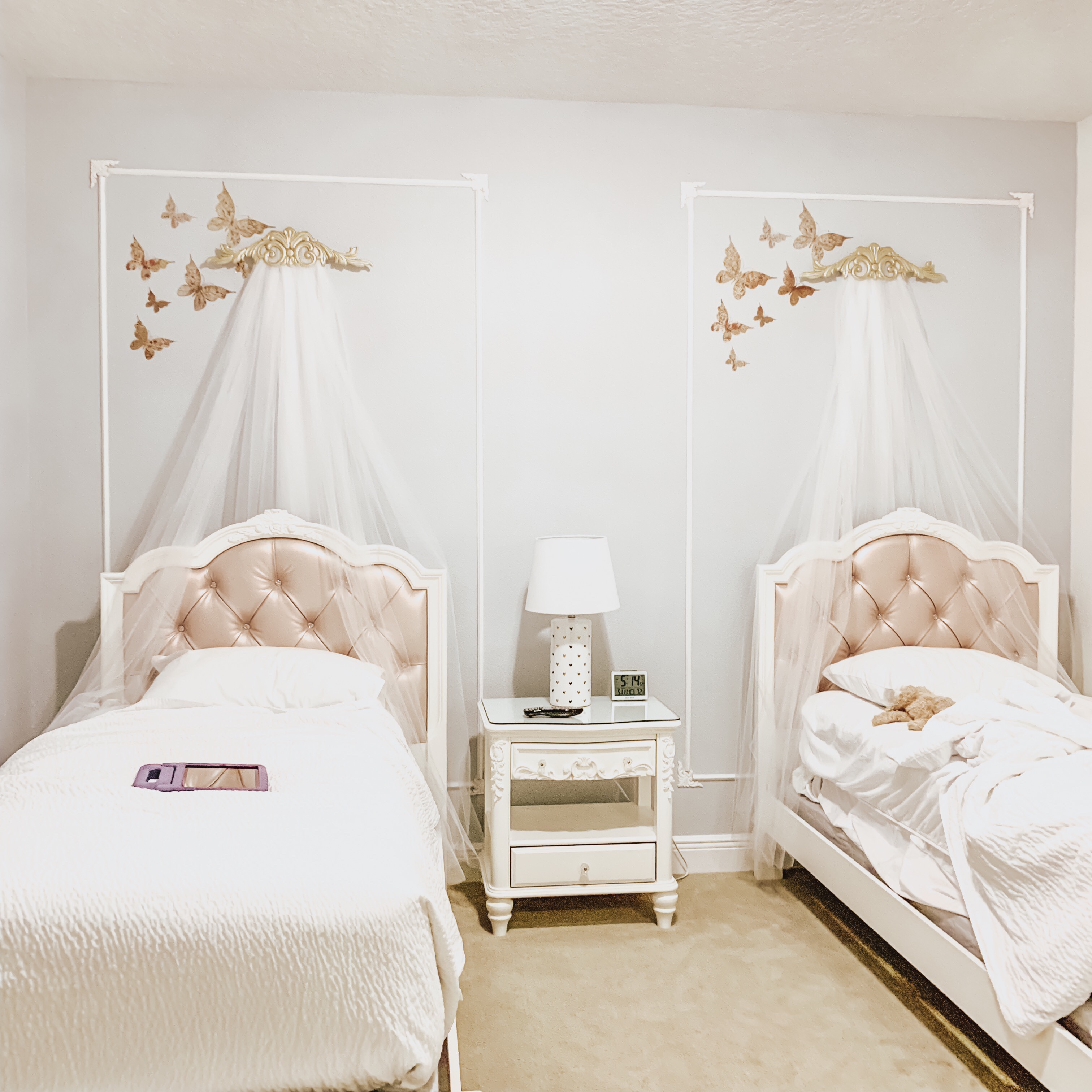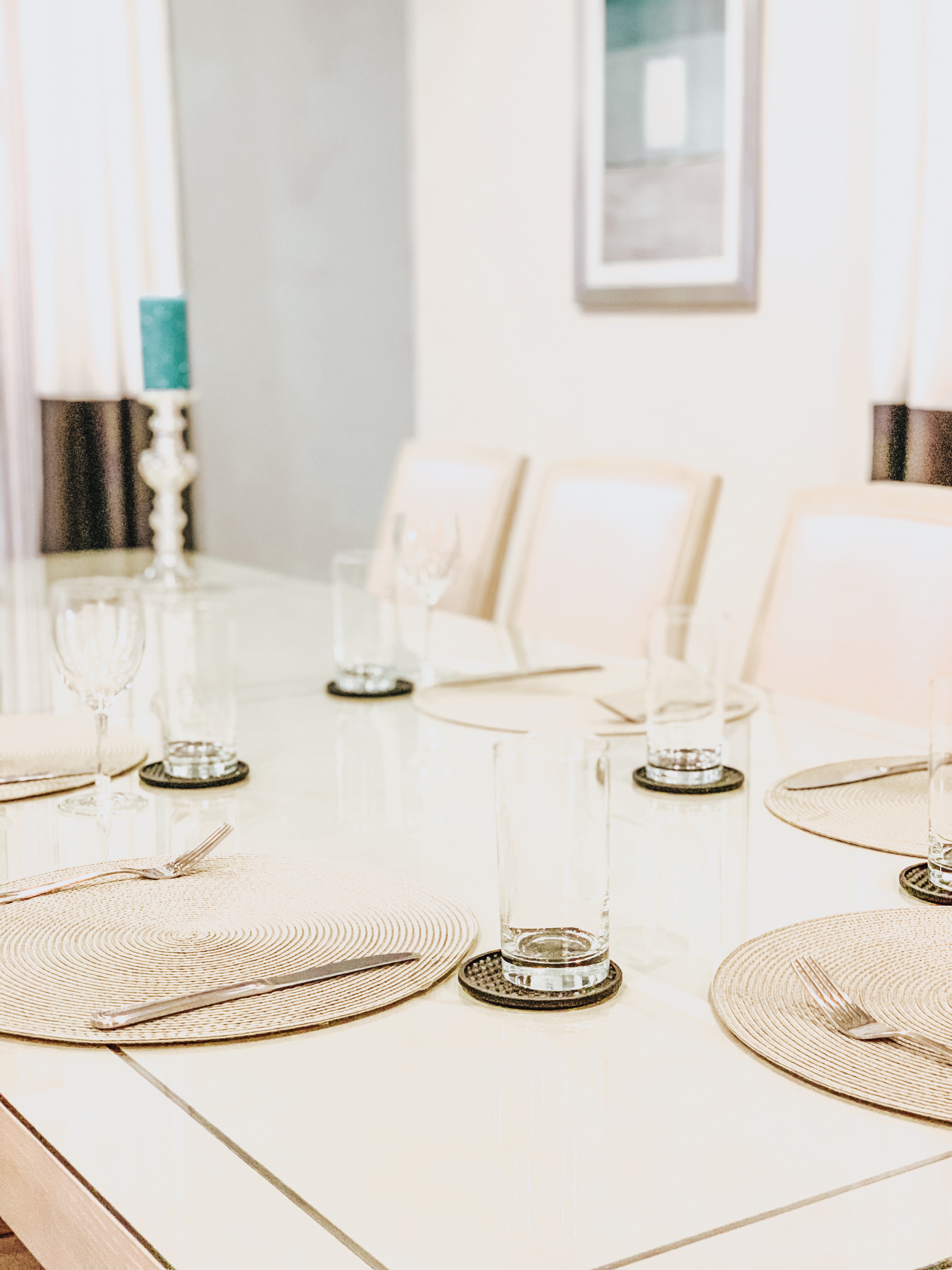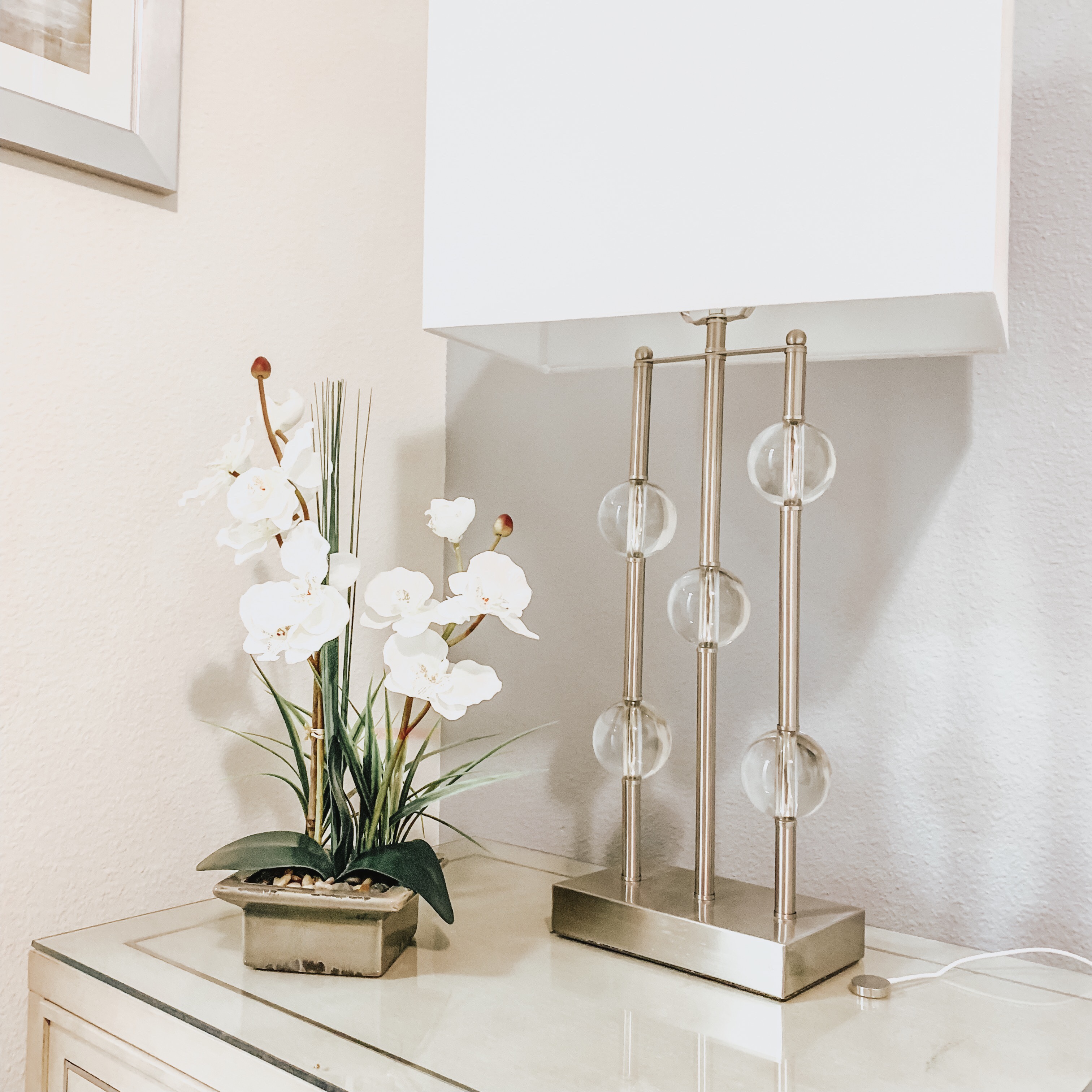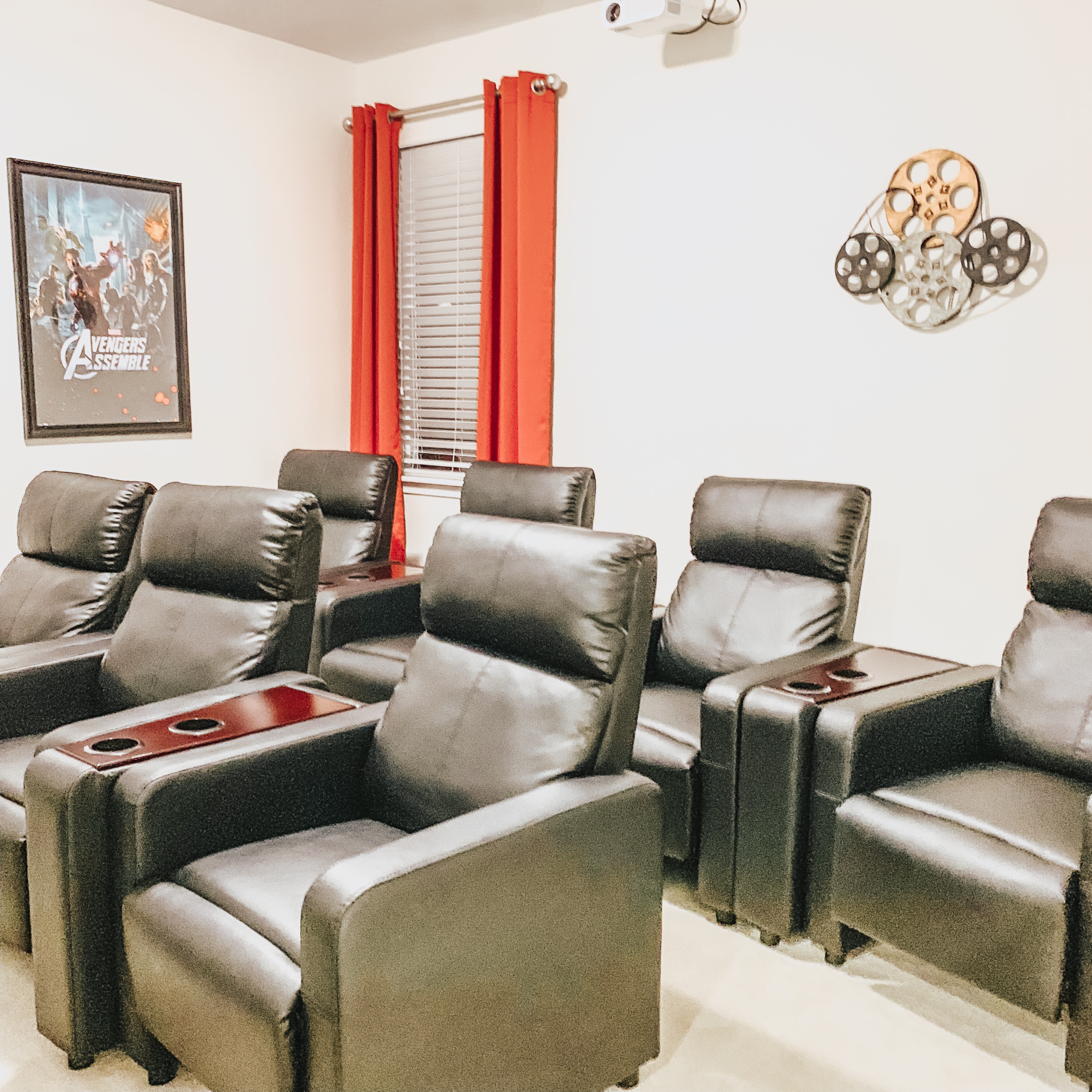 Our house was SO clean, well decorated, and spacious. It had 8 bedrooms, all with their own full bathrooms, a game room, a theatre room, our own pool, a luxury kitchen, and everything we could possibly need to feel right at home. We had our own washer and dryer to do our laundry which is a huge plus for me! I hate coming home from vacation to lots of laundry. It is nice to have the option to do laundry in case something gets stained, or you forgot extra clothes! There were also plenty of towels, dish soap, hair dryers, shampoos, etc which was really convenient.
We loved hanging by the pool while the kids napped (this is something you can't do at a hotel, or even at Disney!) The kids enjoyed night time swims, and we love that there was a safety alarm for the backdoor that went off anytime someone went out that way. Our yard was fenced in, and the landscaping was done so well that trees gave you a lot of privacy from your neighbors, but still gave you a big yard. Although we did not bring our dogs this vacation, it's nice to know that Encore is a pet-friendly resort.
There is a house cleaning service, food delivery, on site maintenance, and an on site medical staff. You can also schedule an in home massage, and a private chef! I'll share that experience with you later in this post.
One issue we had with the house was our hot water. Our first day showers were all fairly cold and less than enjoyable. After confirmimg with Jason & my mom that there showers weren't hot either, I called the concierge and they immediate got my transferred to maintenace. I think it was less than 2 hours that someone was there to check out the issue, and they fixed the problem on the spot. I didn't catch his name, but he couldn't have been nicer and all of us appreciated the promptness in addressing the matter. If we were staying off the resort in a rental somewhere, I know that problem probably never would have been addressed! It made all the difference that they could come out in a timely manner and take care of us!
Things to Do

There are so many things to do at Encore Reunion! With restaurants, an arcade, waterpark, fitness center. We never really needed or wanted to leave the resort other than to go to Disney World. With the AquaPark, restaurants, pools, fitness center and arcade, there is a lot to do. You can actually see the Disney fireworks from the top floor of the clubhouse! If you do want to head to Disney World and don't have a car, you can Uber, or reserve a shuttle through Maingate Transportation. The only negative we had with this was the specific pick up and return times. They are set, and they were build more around a full day at Disney (they also go to other attractions). With the younger kids that just couldn't do a full day at Disney, it was just easier for us personally to rent a car. If you have older kids that don't require daily naps, this service would be great!
It is SO close to Disney World & other attractions. We would hang out by the pool for half of a day, come home to change and be at Disney World (parked and everything!) in less than 15 minutes. Jason & I were talking about it and I honestly don't think we would stay anywhere else! Last year when we went to Disney World we stayed at one of the Disney resorts for a night and it was literally like a hotel room. The pools are great, and you think you're close to the park, but you're all crammed into basically a one or two – room hotel, can't leave your kids there while you hang at the pool, plus – it still takes 10-15 minutes to catch a boat to get to the park. For real – Encore is legit and perfect for a family vacation or any occasion.
So many of you guys loved our group photo at dinner on my instagram! One of the things you can do at Encore Reunion is hire a private chef for the night. At first you might wonder why you'd ever need a private chef, why can't you just go to a restaurant and eat there. I kind of thought this too at first, it seemed silly for someone to bring us food and cook for us. But it was vacation and we wanted to get the full experience of the resort, so we got the private chef experience on the last night of our stay.
I set it up this way because I knew we would be tired, we had packing to do, cleaning up to do, and the kids may or may not behave for us if we went out to dinner. It worked out perfectly because we were all exhausted from all the fun, and someone cooking us dinner sounded great. Chef Brian and Erik came over with a full cart of food, literally everything they needed to cook a meal. You can pick from a menu what you'd like to have ahead of time, but we wanted Chef Brian to choose for us. He made us the most amazing dinner we've all had in a long time. The kids wanted cheeseburgers and fries, and we all shoved our faces with homemade chips and guac, and an entree of the best chicken and steak fajitas. Erik served us wine, set our table, and cleaned up the kitchen for us when it was over. We didn't think this experience would be worth it, or it would be awkward, but it wasn't. It was one of the highlights of the entire stay. Once the kids were done eating they just hung out and watched tv, it was such a peaceful dinner for once that our crazy family of 5 hadn't had in awhile!
The Food

So, if you know me at all, you know how much I love food. I've always been a picky eater but if the food is good, I'll eat it all! Thinking back to last week, we actually only ate on the resort – and not necessarily on purpose! Everything we had was so good, and their was a ton of variety. Even Blaire who only eats the same three things over and over again, actually found a lot of things to eat during our stay!
Our favorite meal was probably all the breakfast food's we ordered from Finn's. We usually picked up our food from Yoshi – who was incredibly sweet and always got our day off to a good start!
Food unfortunately was not available 24 hours a day. There wasn't a late night cafe or anything and my husband and I love a good late night snack! But, it was super easy to order food for delivery from off the resort which was nice. If I had to change one thing, it would be nice to have a 24/7 convenience shop by the concierge, but thats being pretty picky!
The AquaPark

Ummm ok. This AquaPark was a freaking blast! We took all the kids several times and all had fun. Blaire loved the tall slides so much, and when she was done with those she enjoyed playing with her sister in the water structures. There were tons of slides there as well and I actually had fun on them too! There were lifeguards everywhere, which made me feel at ease with all the kids.
When we got tired of chasing each other and riding the slides – the cabanas were definitely the way to go. The staff is so nice and leave you fresh towels, cold rags, and bring you a menu & drinks. The kids were in awe of the TV and mini fridge and it was so relaxing and peaceful to just hangout awhile. A staff member named Lauren came by several times throughout the day to make sure we had everything we needed and were enjoying our time. It was staff members like her that makes us want to come back again soon!
The only negative for us at the AquaPark was there weren't any slides meant for Brookie. She is 18 months, and there were a lot of things that she could do, but when she saw Blaire on the slides she really wanted to join. The small yellow slides you see us on above I think were something she could have done on her own, but she was a little too scared to go without someone. She did love the waterspouts and buckets, and swimming in the big pool with us!
A Luxury Feel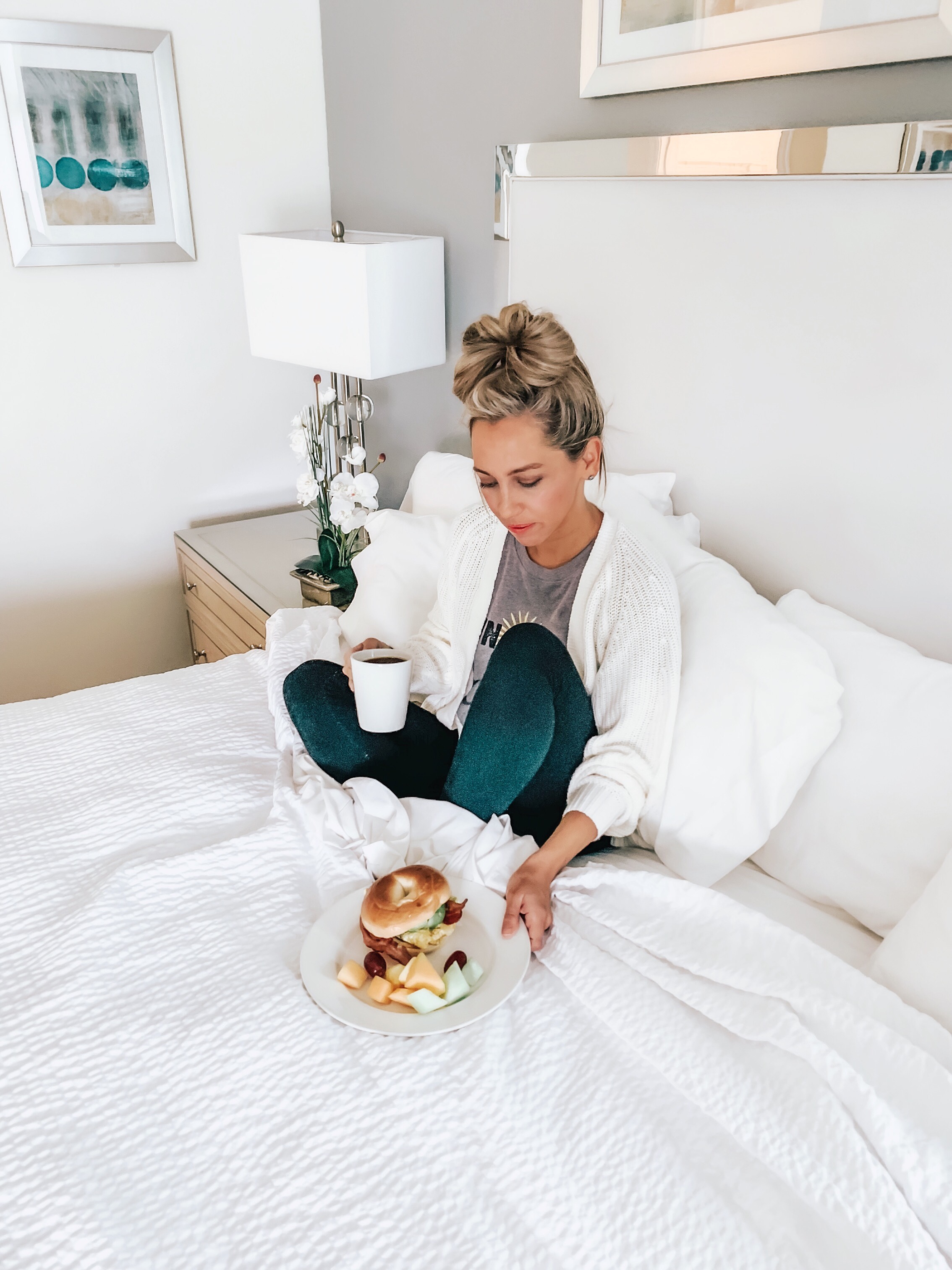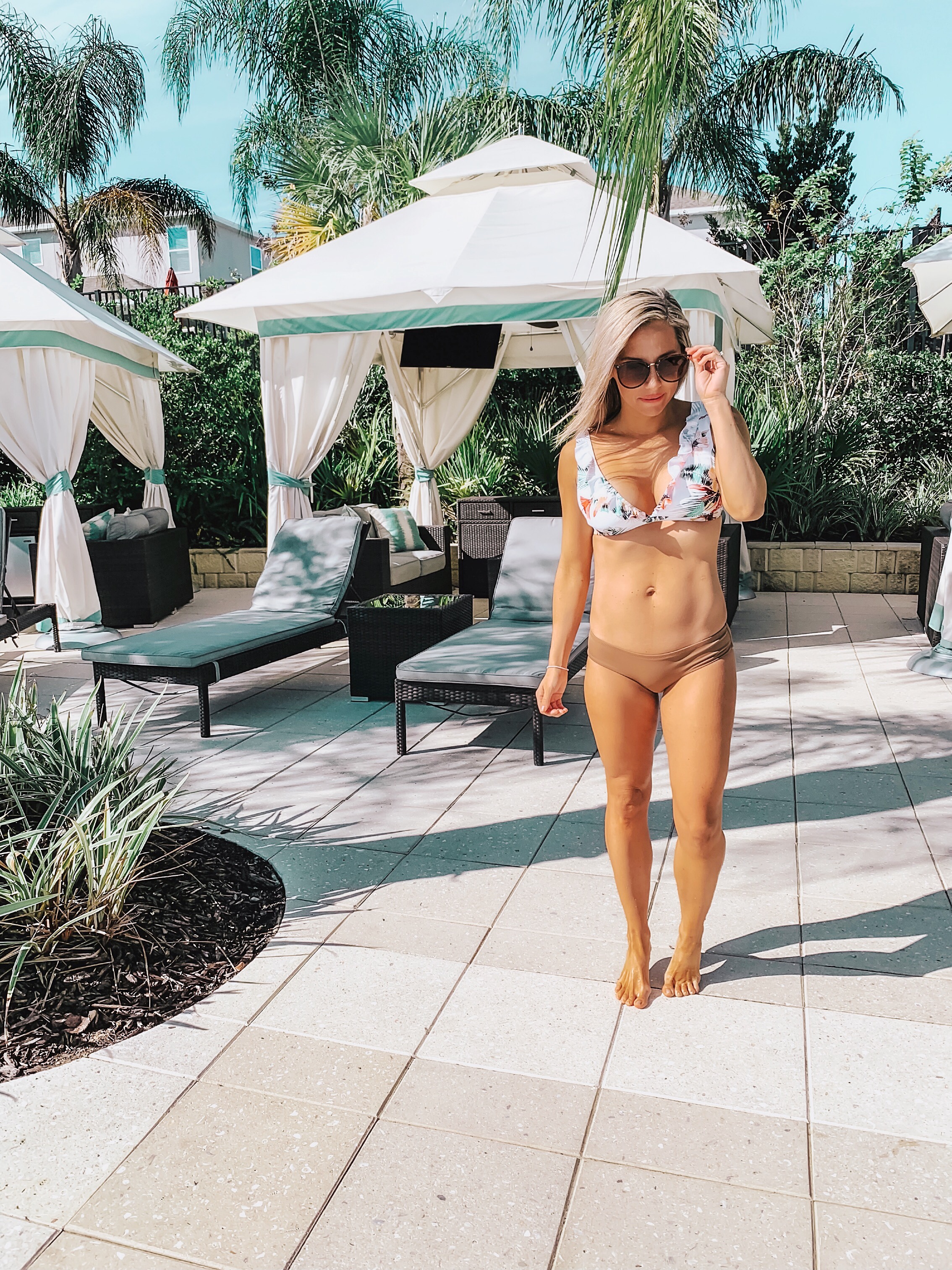 There really isn't anything to compare this experience to. Encore Resort is so beautiful, with so much to do, and the whole vacation just felt luxurious. I know you're supposed to feel like a princess at Disney, but the entire Encore staff definitely was super welcoming and inviting you couldn't help but feel like royalty. They were all so accommodating and friendly, and if something wasn't right they would fix it. From check in to check out, every staff member was seriously wonderful!
I had so many people messaging me saying that our place looked amazing, and it truly was. I'm so glad that we got to make these memories as a family and we definitely plan to go back again. I didn't mention many negatives, because there really weren't any. All of us couldn't recommend Encore Reunion more.  Thank you Encore for everything, it was an amazing experience that we will all remember forever!