Wahoo! It's a New Year which usually means – a new you! Every year everyone talks about how they want this year to be the best yet, but how many people actually follow through on doing their best and being their best? For those of you wishing and wanting a whiter smile this year, I've been using and testing out a professional teeth whitening system from Smile Brilliant.
Since becoming a mom and giving up soda for almost 2 years now, I turned to coffee for that extra boost of energy. While coffee works great, it's also taken toll on the color of my teeth. Before, I never really had to do much and everyone commented on my "refrigerator white teeth" (whatever that means!) and since drinking coffee, I've heard that less and less. So, a few months ago, I went in for my usual dental cleaning, and afterwards asked about whitening options. I knew it would be expensive, but boy was I wrong about how much. I guessed it would be around $200, but it was looking like the costs of a real whitening treatment was going to cost me upwards of $500! Nope. Sorry, I'll suffer with Crest White Strips and settle for mediocre.
I've tried different levels of Crest White Strips a few times over the past few years. The basic ones don't work well on me, so then I splurge on the Vivid Collection and immediately regret it. The strips always slip around, and the gel on them gets all over the place except for where you want it. I guess if you're able to use it perfectly every time and don't move at all or breathe while they are on, then it may work alright, but they were definitely not high quality and definitely not for me.
Before drinking coffee I always used a Colgate whitening paste. It seemed to keep up with my every day stains. But after drinking coffee almost every day – it was not helping me at all anymore. I knew I had to do something, and knew my dentist office was an option – but way too expensive for my taste.
After all this, I found Smile Brilliant… and everything changed. Reasonably priced (really inexpensive compared to the dentist office), professional, lab made custom fitted trays, in your own home, I'm sold. Soon enough, this gorgeous little kit shows up at my door.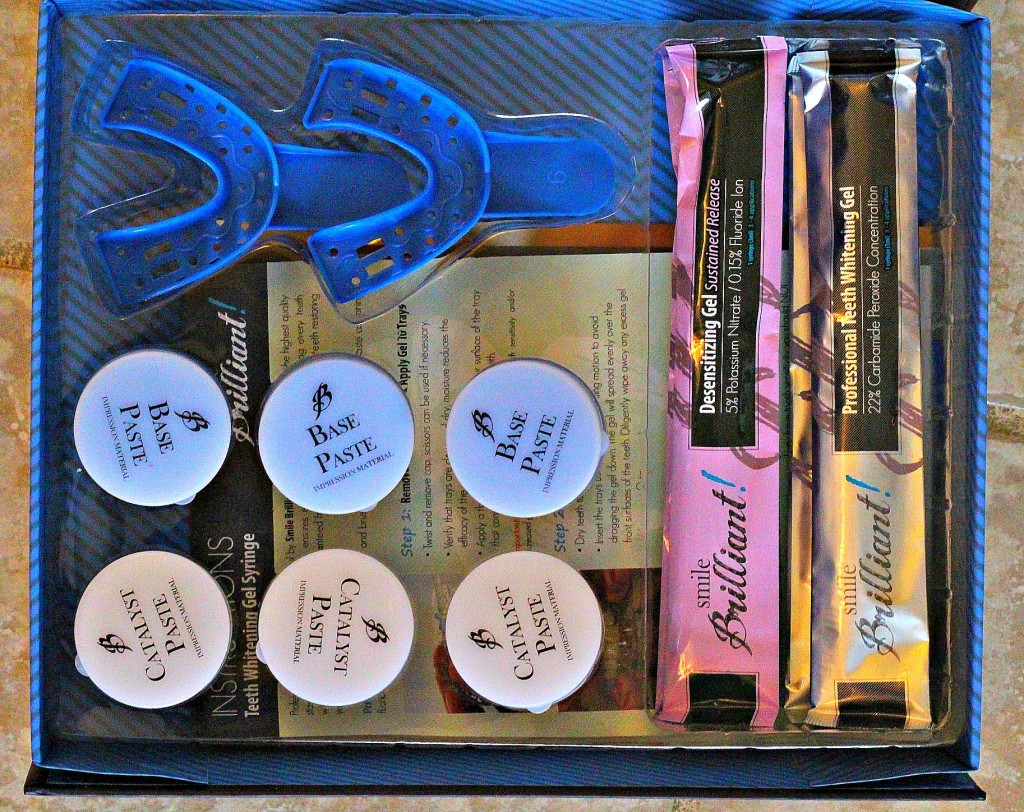 My Smile Brilliant Starter Kit. Starting $119.95 you get the following items:
| | |
| --- | --- |
| | Teeth Whitening Trays – 2 Custom-fitted whitening trays (upper and lower teeth) |
| | Carrying Case – Compact case holds both your whitening trays |
| | Impression material to make your own dental impressions (plus extra material included) |
| | 3-Way, pre-paid postage – all postage between you and the lab is covered (2-way for international orders) |
| | 1 set of custom dental models – created by our lab technicians from your impressions |
| | Professional teeth whitening gel – Dentist-strength 22% Carbamide Peroxide in 3ml syringes. |
| | 2 year teeth whitening tray replacement warranty |
| | Detailed instructional brochure – Simple guide to creating your custom-fitted teeth whitening trays |
| | 30 day satisfaction guarantee! |
(Smilebrilliant.com)
My husband and I both got a kit, and got started right away! The directions are very easy to follow, and even include pictures and each step is written out for you. Mix Base Paste & Catalyst Paste, put the mixed putty in the tray, and begin to make your impression molds. We held it in our mouth for a couple minutes until hard, removed, and put in our already paid for return envelope.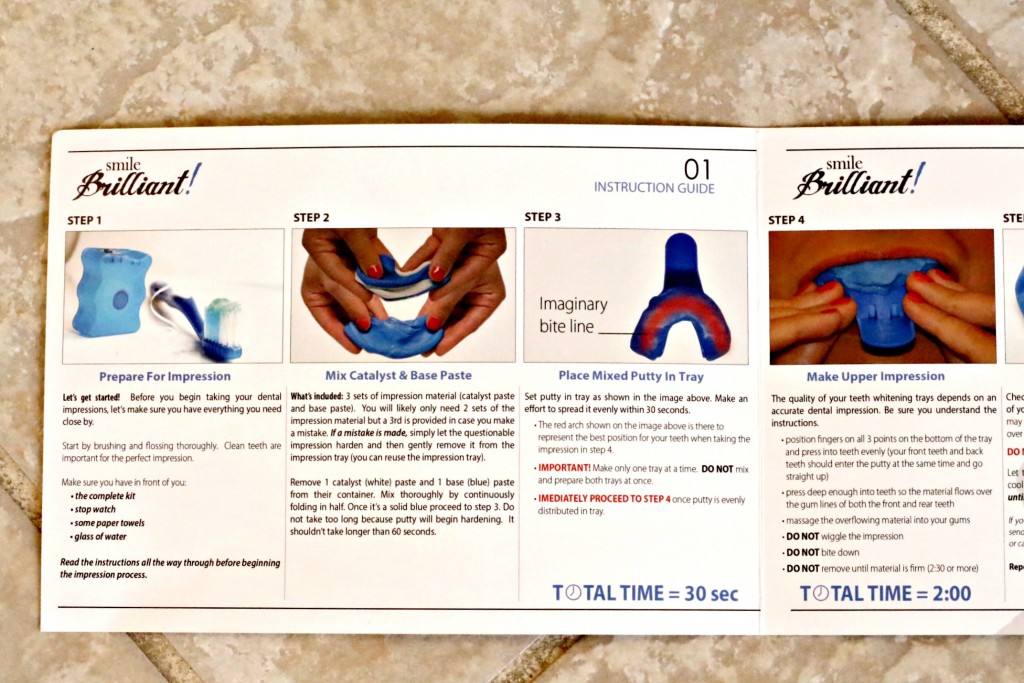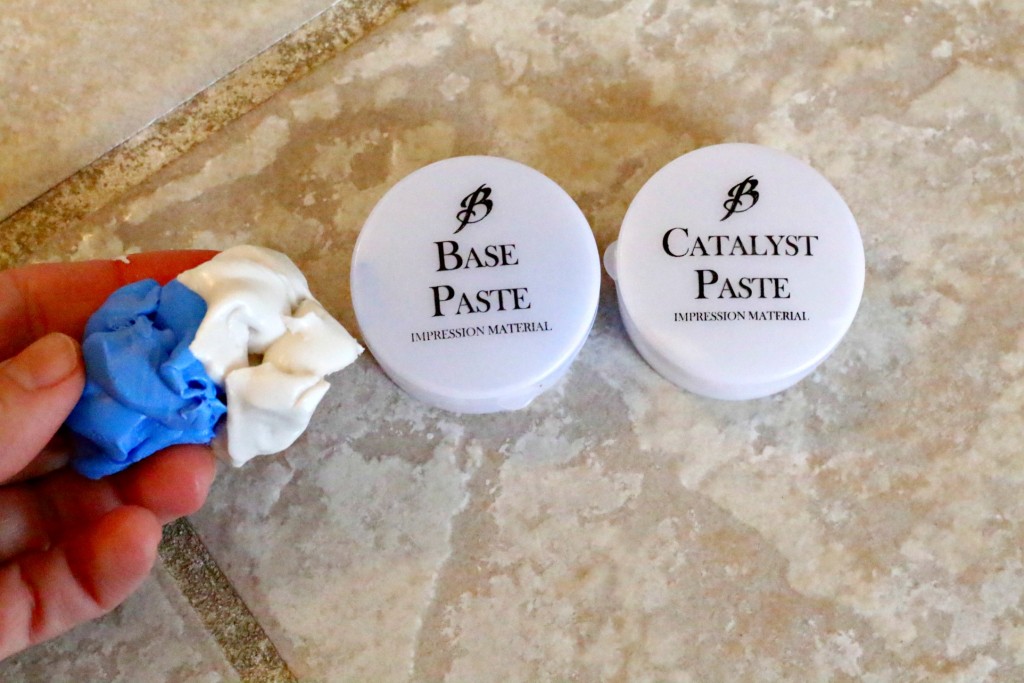 This part isn't super attractive, I may have drooled a bit when removing the molds, but its painless and only lasts 30 seconds or so per bite. We shipped them back, and shortly after got our perfectly fitted dental trays back all ready for use! Pretty cool huh?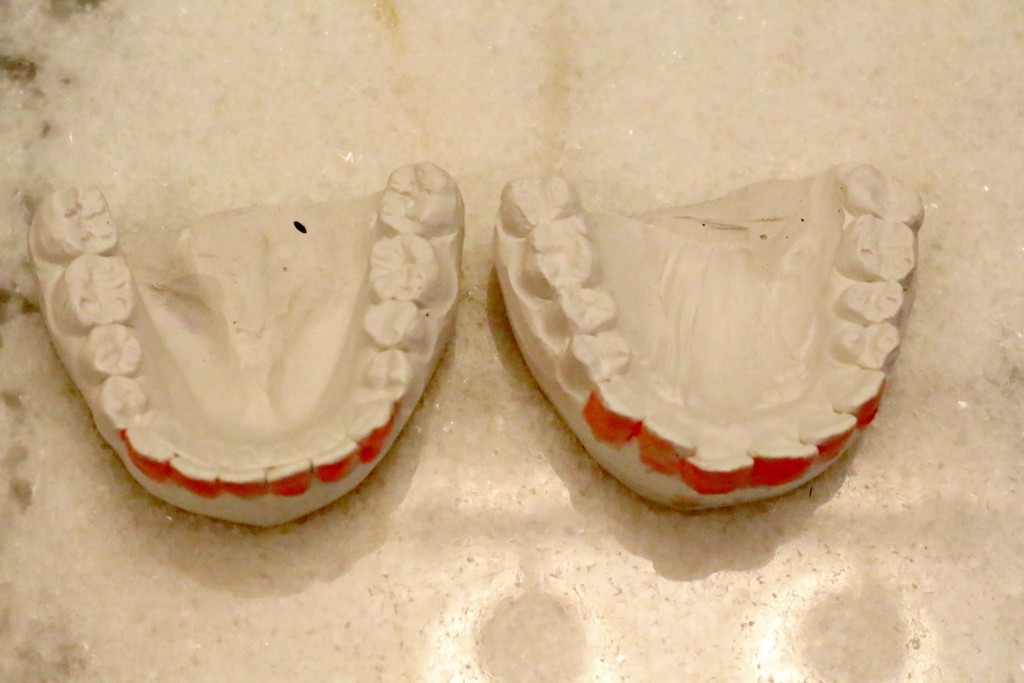 Yay! We each have our own case and new trays, easy peasy and we're ready to whiten. The kit comes with whitening gels and desensitizing gels. All you have to do is put a little tiny line of gel along the inside of each tray, and once its in it spreads out evenly over the front of your teeth. When I first began the treatment, I could tell right away it was working. My teeth felt a little tingly for a minute, and soon after I forgot the trays were even in my mouth. I usually whitened anywhere from 1 hour to 2 hours at a time (you can keep them on longer if you have time,) before removing and washing my trays for the next use. I did not use the desensitizing gel every single time, but most of the time I did. It really should be used each time to re-hydrate your teeth. I feel like I had better results on the times when I used to desensitizing gel right after my treatments.
Over several treatments, I went through about 3 whitening gel packs. I would use them after dinner watching a tv show, reading a book, or late night blogging. Even after just one 2-hour treatment I could already see a breakthrough in the coffee stains. I got pretty excited and was even more excited to see my final results. I could I have probably completed my whitening process in about two weeks, but I was whitening over the holidays and there were days I got busy and didn't whiten.
My favorite part about Smile Brilliant, is that their product is exactly what I would get at my dentists office, but in the comfort of my own home. The trays you buy from the drug store are typically one size fits all, and if not, they are still never close to your actual size. My Smile Brilliant trays are custom fitted and I never had to leave my house – which is so convenient. It saves you the uncomfortable trip to the dentist office! Smile Brilliant makes everything so easy for you, and it is the same kind of treatment you would get done for $500+ at the dentist.
Here are our results! 🙂
Stefanie Before (Top) & After (Bottom)
Jason Before (Top) & After (Bottom)
Smile Brilliant & I have teamed up and are doing a GiveAway!
Prize = $139.95 store credit which is equal to Smile Brilliant's Teeth Whitening Trays + 3 whitening gel syringes and 3 desensitizing gel syringes or the Teeth Whitening Trays + 6 whitening gel syringes. (Winner can change the selection however will need to pay the difference that the credit does not cover). Open internationally, but if outside of the US, the winner will have to pay the shipping cost for sending their impressions back to Smile Brilliant.
*First Name & Email Address required for entry (that's it!) GOOD LUCK!
*Giveaway ends on Jan 19, 2016