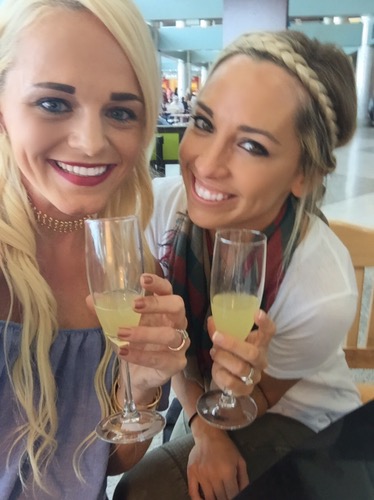 NYFW went by way too fast!! I can't believe this pic was taken exactly one week ago, getting off the plane and running around the airport to find Urban Blonde! We kicked off the weekend with a strong mimosa, and instantly clicked like old friends. Since it went by so fast, I wanted to recap some of my looks from NYC and sum up some of the fun things we did and went.
Braid // (similar) Marble Sunglasses // (similar) Steph's Pink Sunglasses // Phone Case // Mel Boteri Bag // Comfiest Tee // Bar Necklace
After out Lyft driver dropped us off 2 miles from our hotel and told us it was right there, we walked through the busy city for what felt like forever before getting to our hotel. The long haul was definitely worth it because our hotel was GORGEOUS and a frequent for the Kardashians when they are in NY. We stayed at the Gansevoort Hotel on Park Ave, where they had a rooftop pool & bar, the best staff and really chic rooms. I highly recommend staying there and will definitely be back.
We were lucky to be in an area with such good restaurants, because right across the street from us was this place, Tavern 29. Those parm truffle fries were so insane, and the view was just amazing.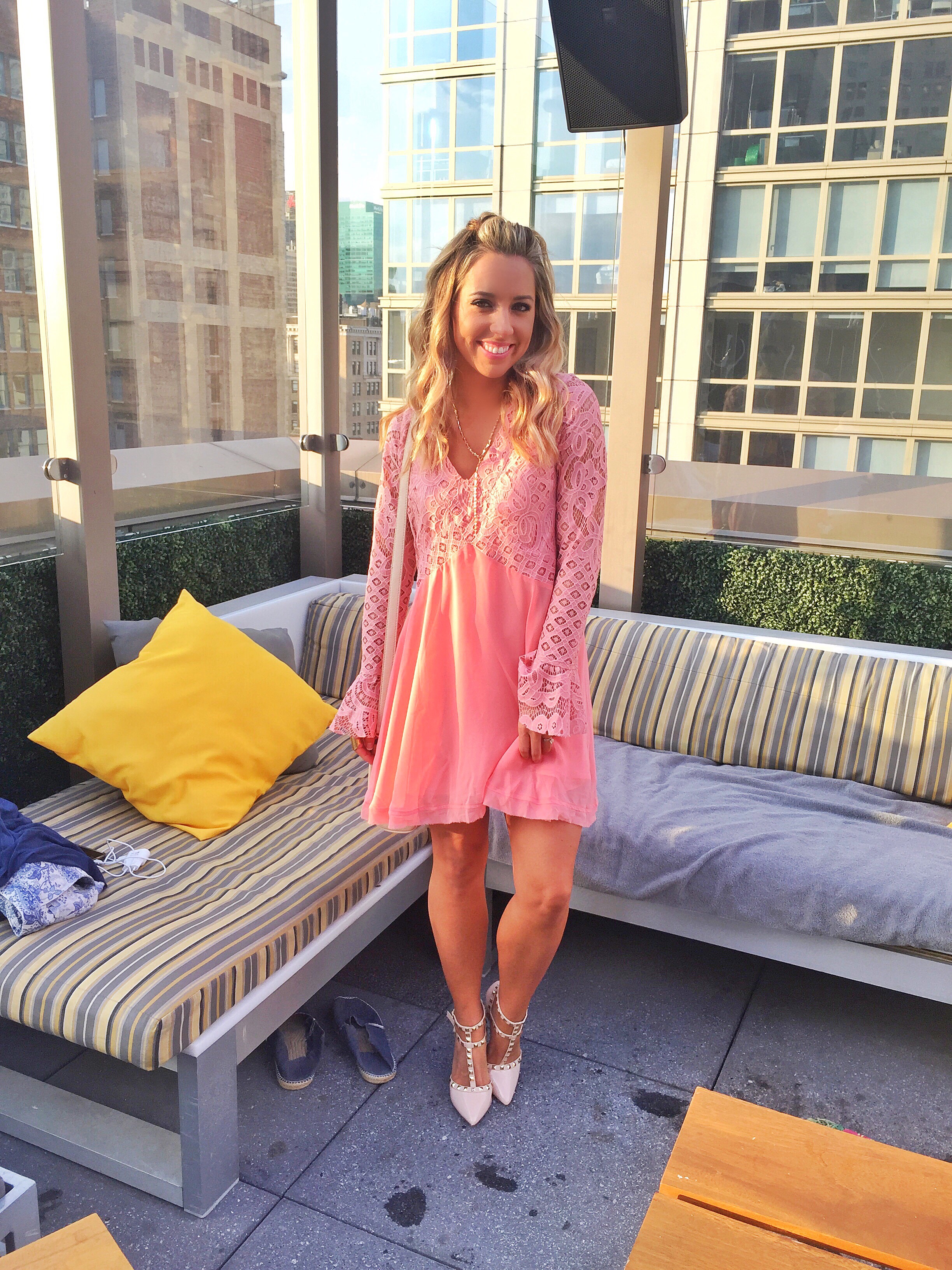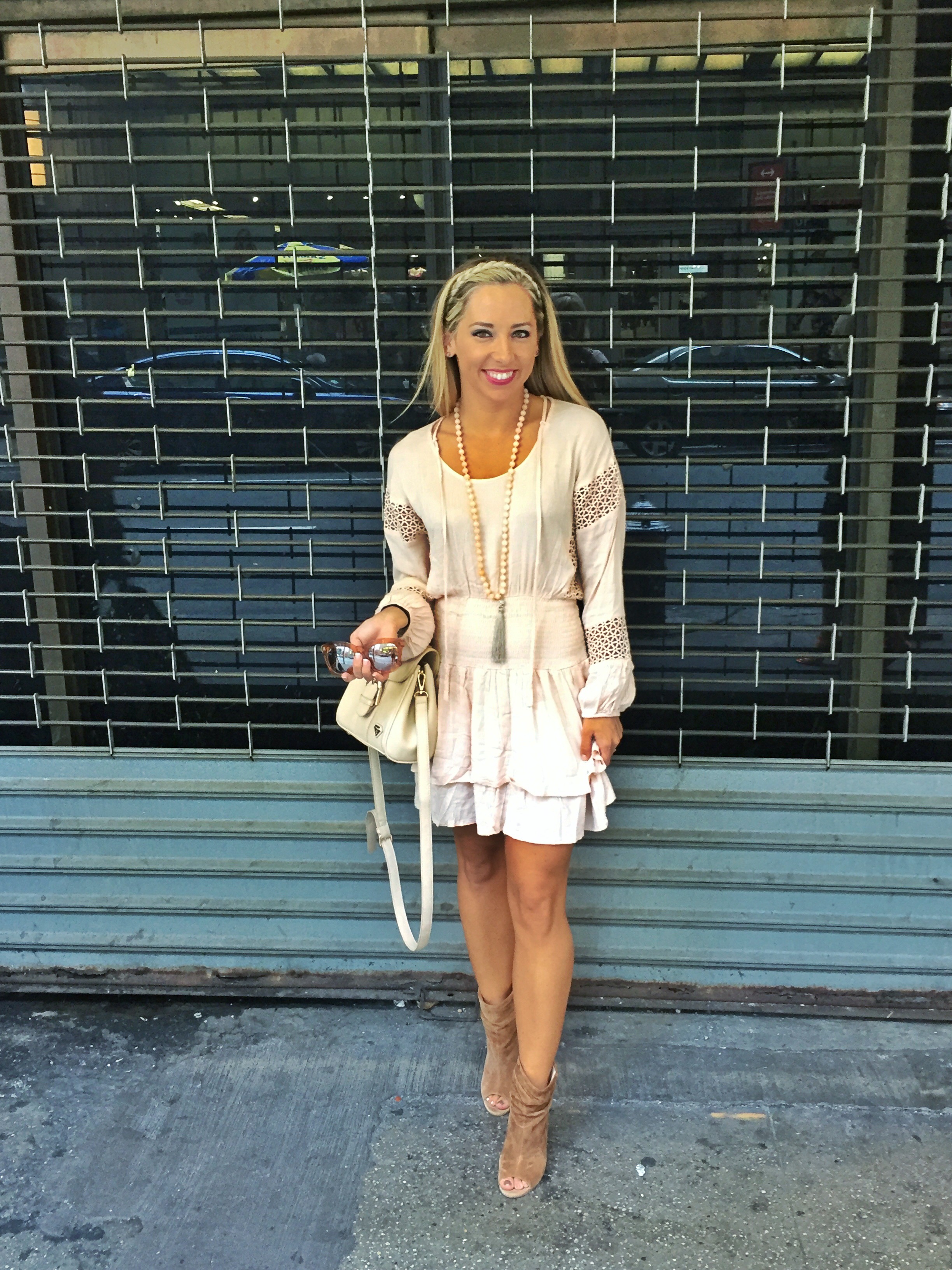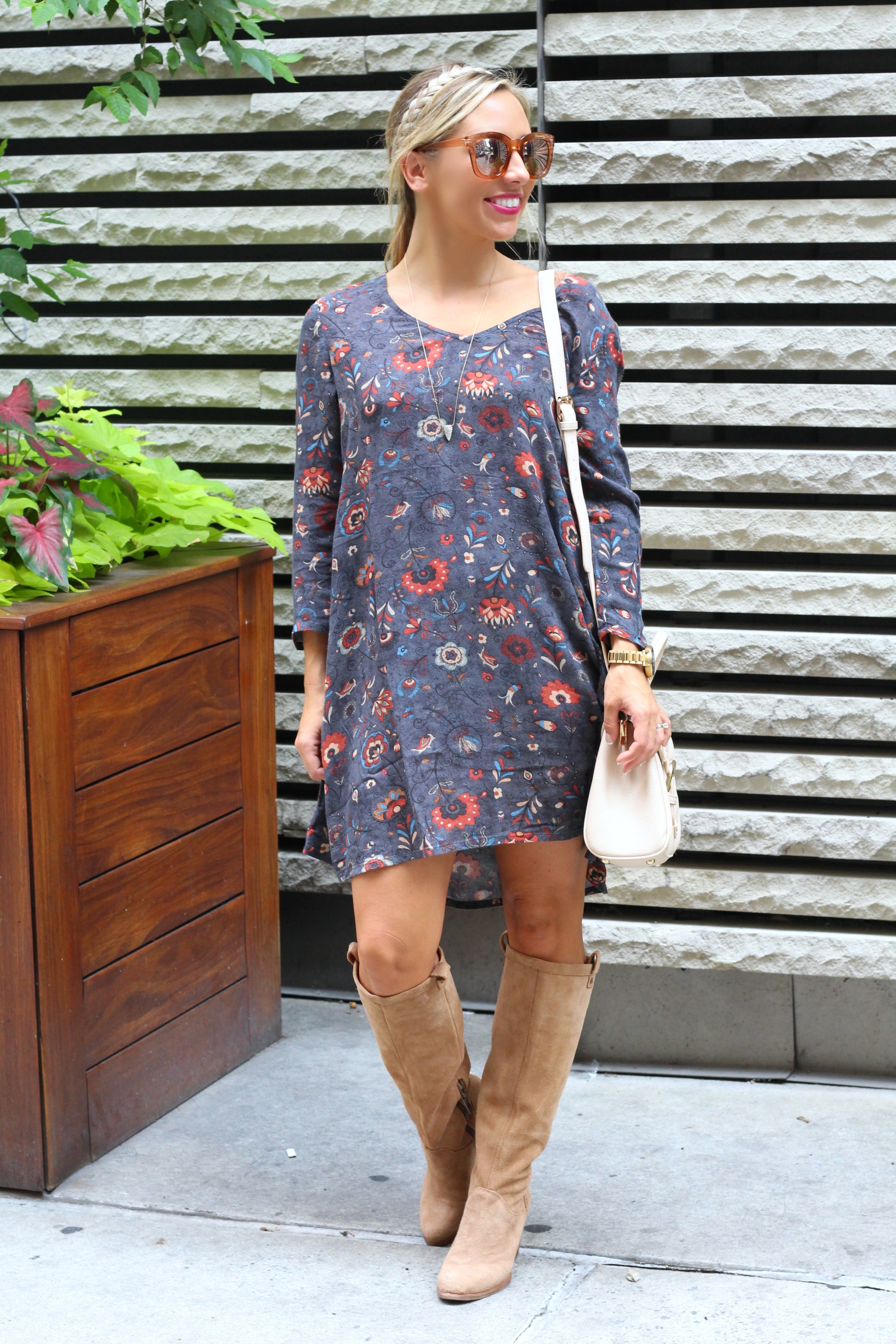 Pink Lace Sleeve Dress (MAJOR Sale) // Light Pink Boho Dress // Floral Dress (4 colors) // Tall Boots // Booties // Studded Heels // Nude Bag
These were some of my outfits for the shows we went to. The funny thing about the shows is that people are wearing all different kinds of things! Some people we're really dressy, some were very casual, and some look like they had just thrown on anything to come to the show! So no matter what you were wearing, you fit in. I tried to dress similar to the brand's clothing, after wearing a hot pink dress to the one show where all the models wore black and I felt weird. But there were lots of looks and colors, you just have to go with what works for you and what you're comfortable wearing! Make sure to check out the pink lace bell sleeve dress, it's on crazy sale!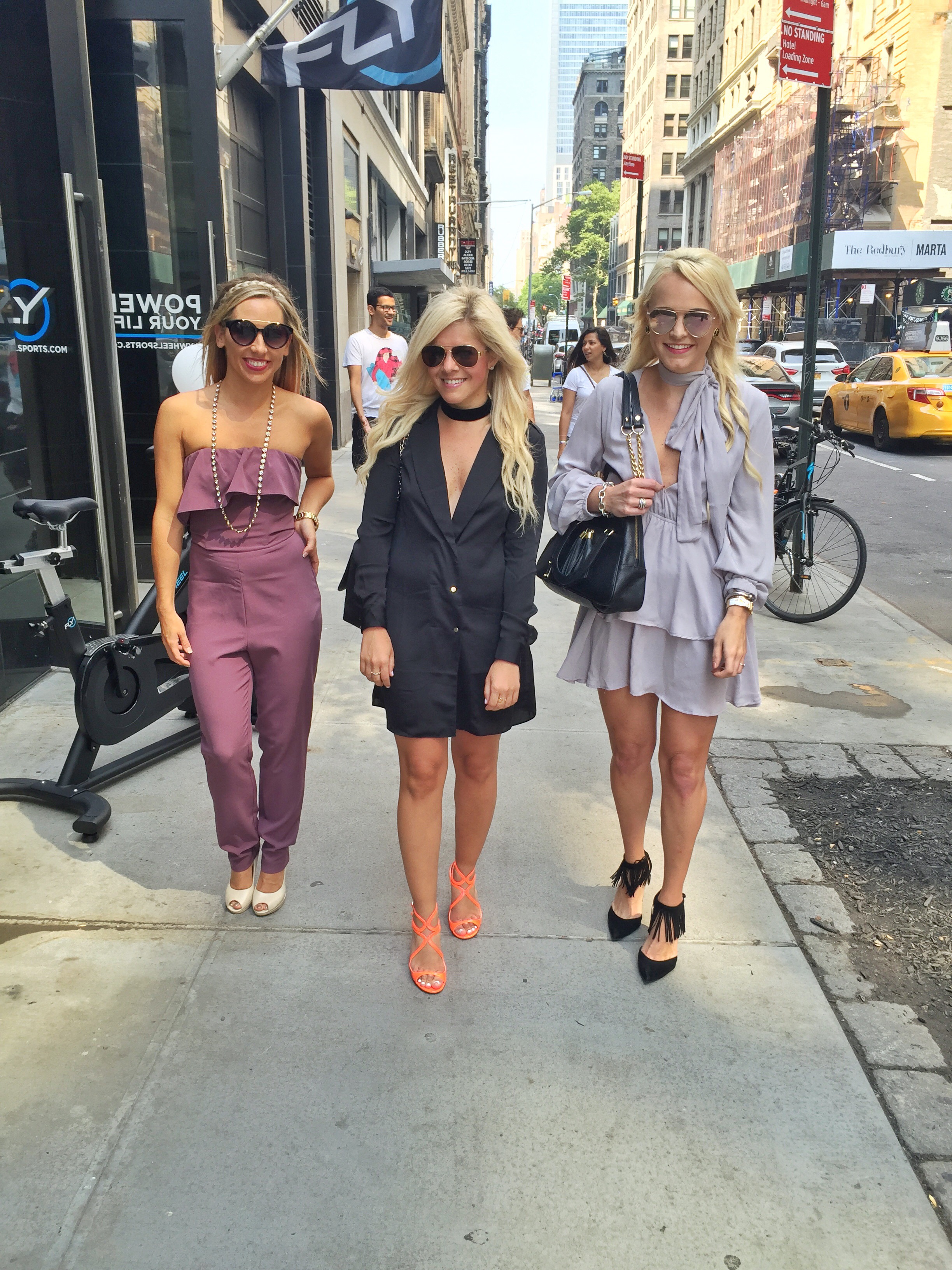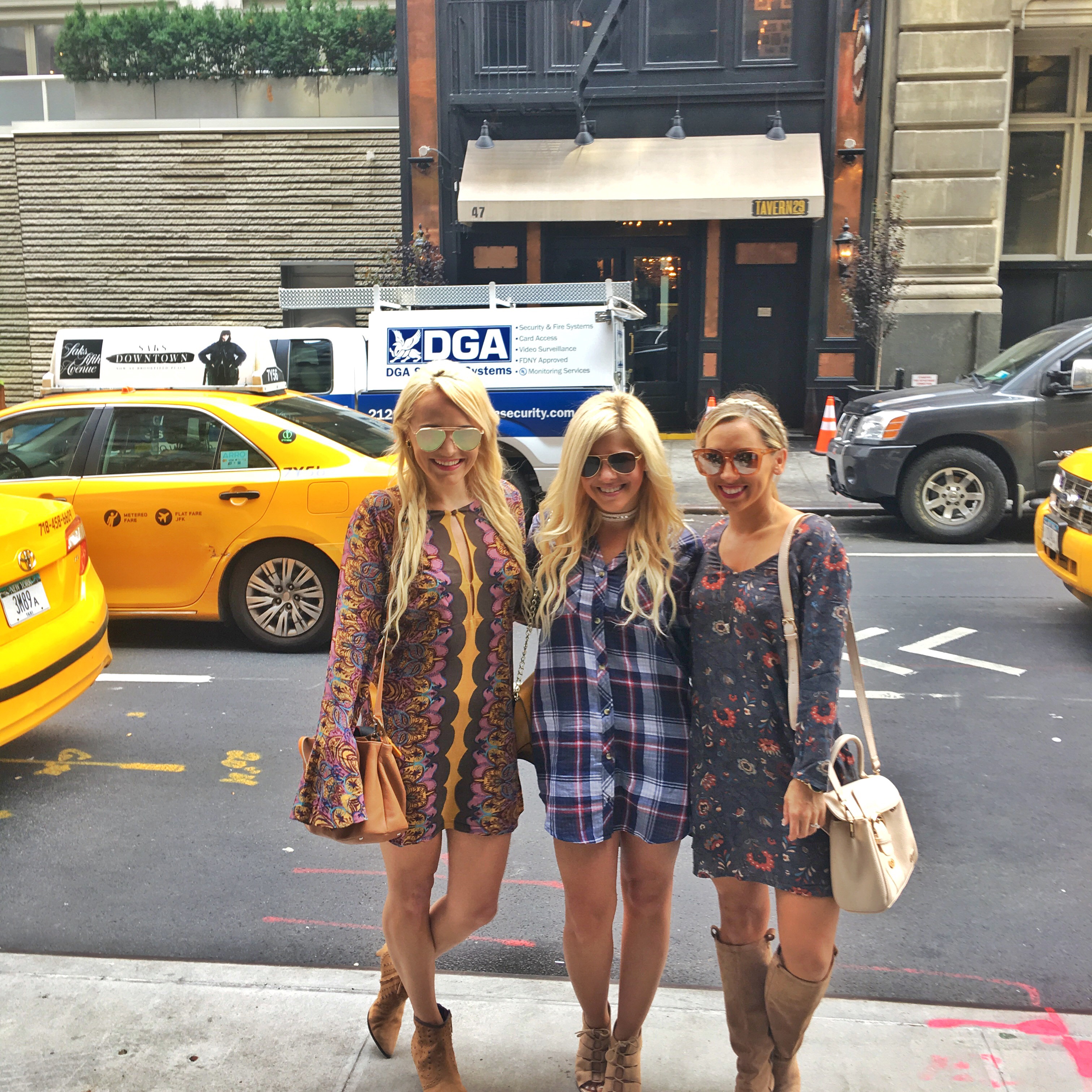 Purple Jumper // Steph's Blue Dress // Morgans Black Dress // Steph's Printed Dress
I really had a blast with these ladies and loved getting to know them! We've been talking and texting for at least a year and it was great to finally meet them in person. Every time we called an uber it was like 'look for the three short blonde girls… you can't miss us!' Morgan is from NYC but it was Steph and my's first time, so going to all the shows and events together was so much fun!
Make sure you follow them and check out their blogs, Stephanie of Urban Blonde & Morgan of Fashion Friesx.
Sorry for Partying Tee // Green Moto Leggings // Tee // Tory Burch Miller Sandals // Tory Burch York Tote // Plaid Scarf // Sunglasses
 Finally, to wrap up this post, I linked some of my really casual looks above. NYFW was so much fun and I can't wait to go back! If you're an aspiring fashion blogger and have never been before, I definitely recommend you go. You'll be able to get into some shows, and it's so fun seeing the city and meeting new people! Let me know if you have any other questions about our outfits, or our stay & I'd be happy to address them in the comment section below! xoxo