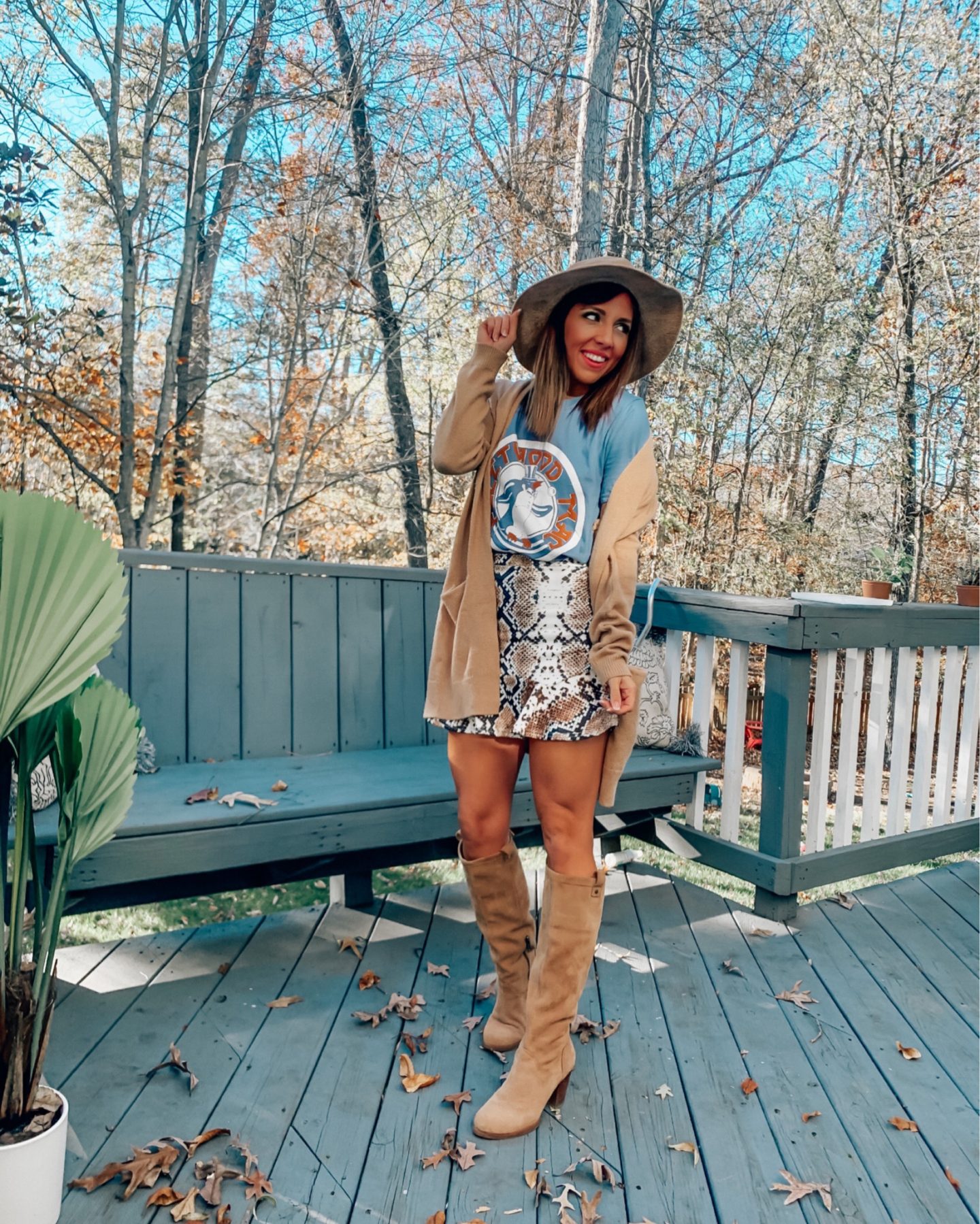 Thanksgiving Outfit Ideas
Well, since we have lots of time here at home while we finish quarantining – I'm cranking out some fun – COMFORTABLE – Thanksgiving outfit ideas. I love styling unique pieces, so I have trying to give at least two options for unique pieces so you can have ideas on how to wear them more than once. My outfits include animal print skirts, colored faux leggings, and layering. Everything is linked under the photos, most things are in stock but if something is old I have linked something very similar. Let me know if you have any questions! Thanks for being here!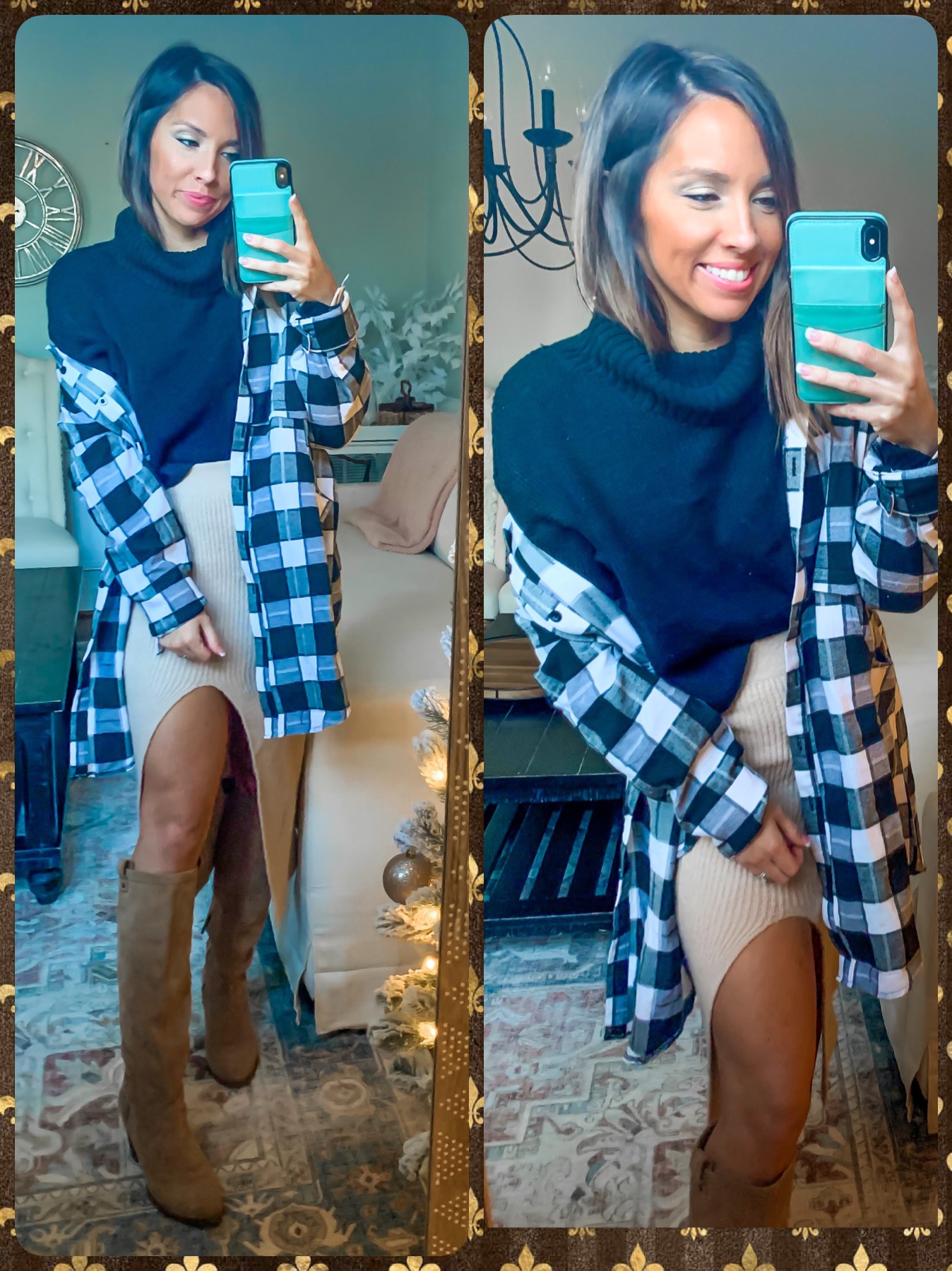 Shackets are a big trend right now, and this one from Amazon is the perfect thickness for layering as well as a great price at $26. I absolutely love the length of it, and I have worn it many times already this season!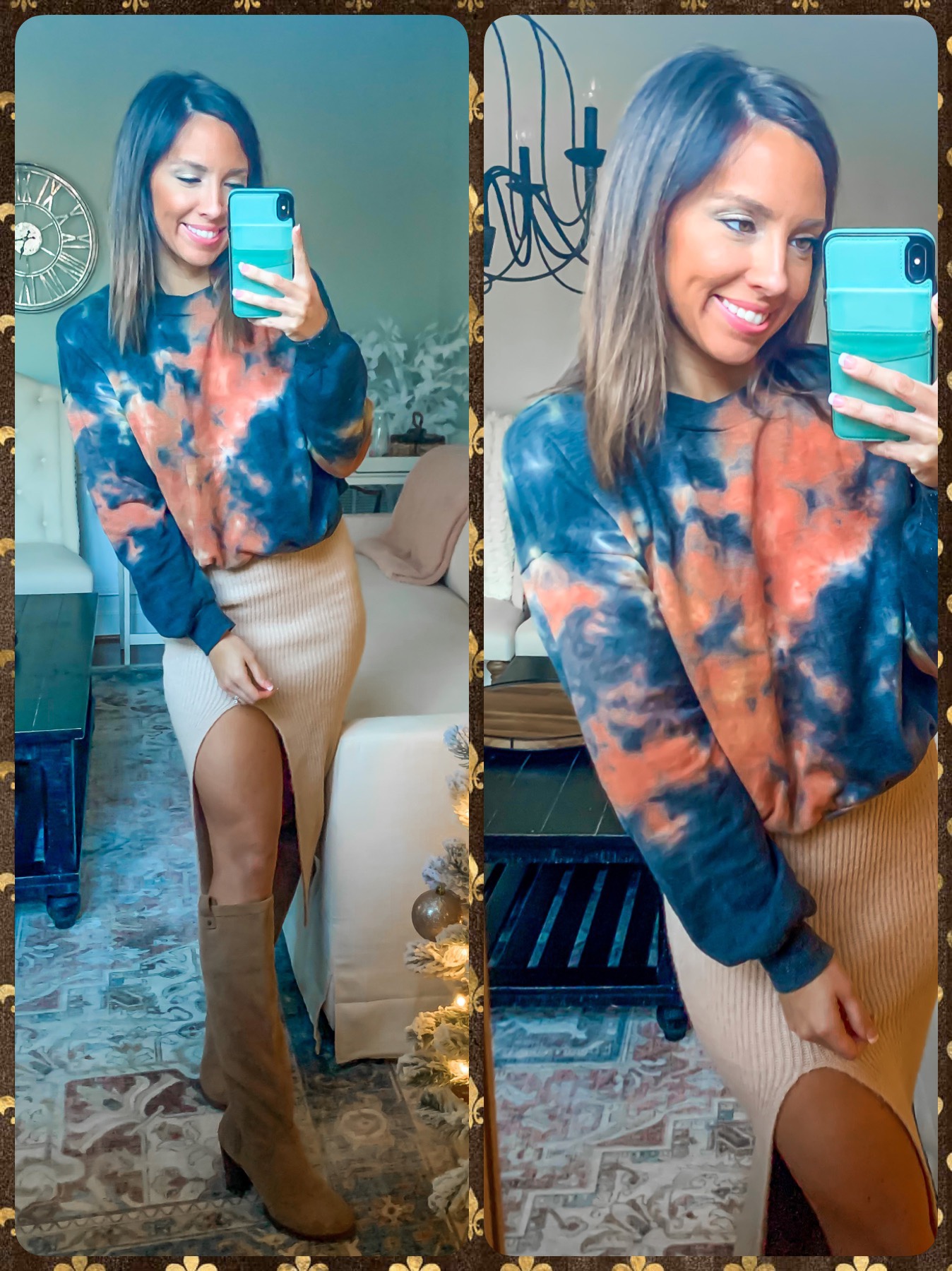 If I can get away with wearing a sweatshirt, you know I'm doing it! I recently found this tie dye sweatshirt that comes in a couple of colors and I love the fit. If you are petite, the length is very flattering! I am wearing an XS. The skirt, which you'll see I'm wearing a lot in this post – is another great find. It's thick and warm, think sweater material! I'm wearing the XXS, but it is also available in Plus size as well.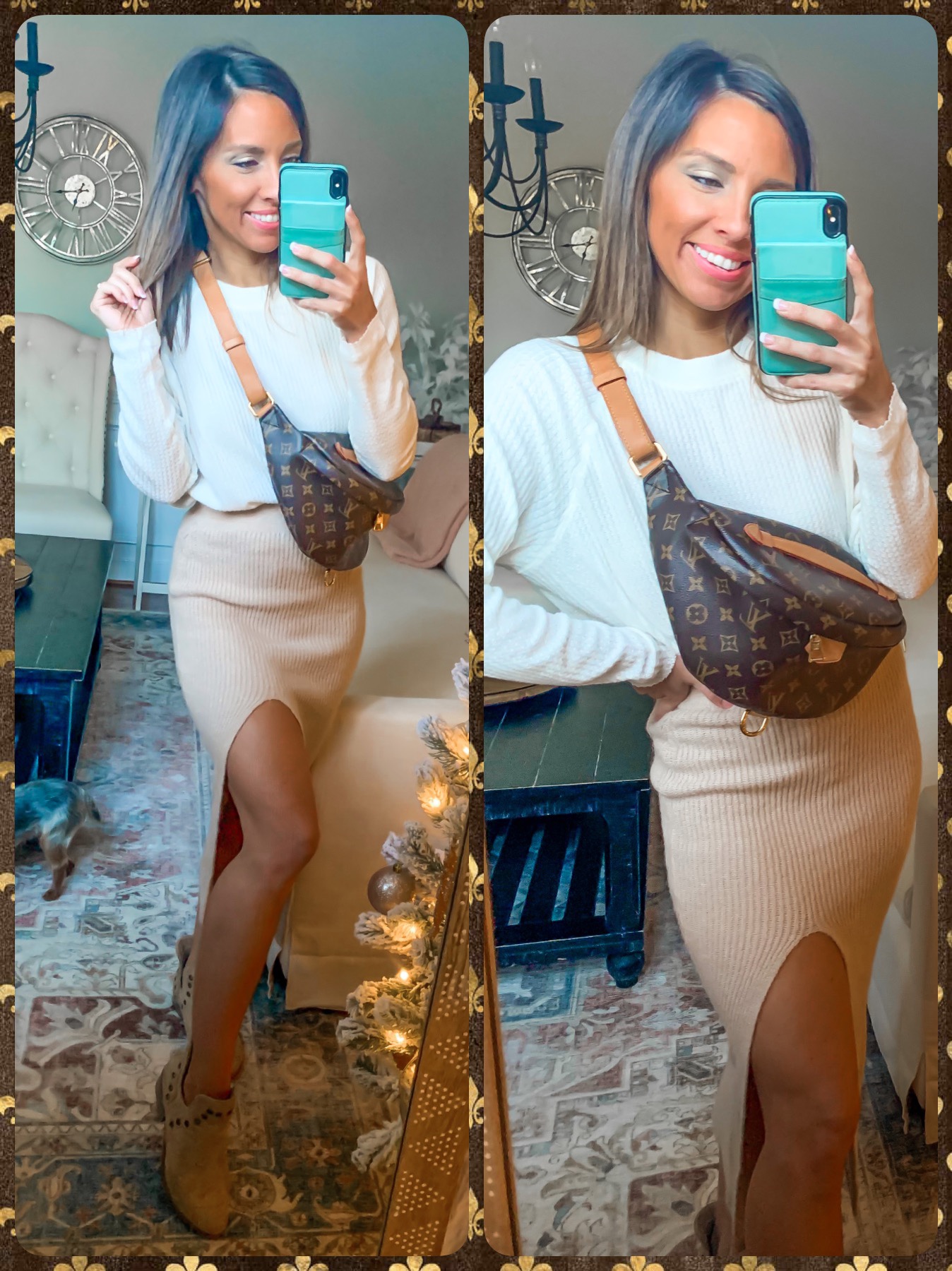 This waffle knit top is a must have basic that you'll be able to wear many ways this winter! It's $15, comes in multiple colors and is great for layering. The booties in the photo are old, but I did find some look-alike booties in black!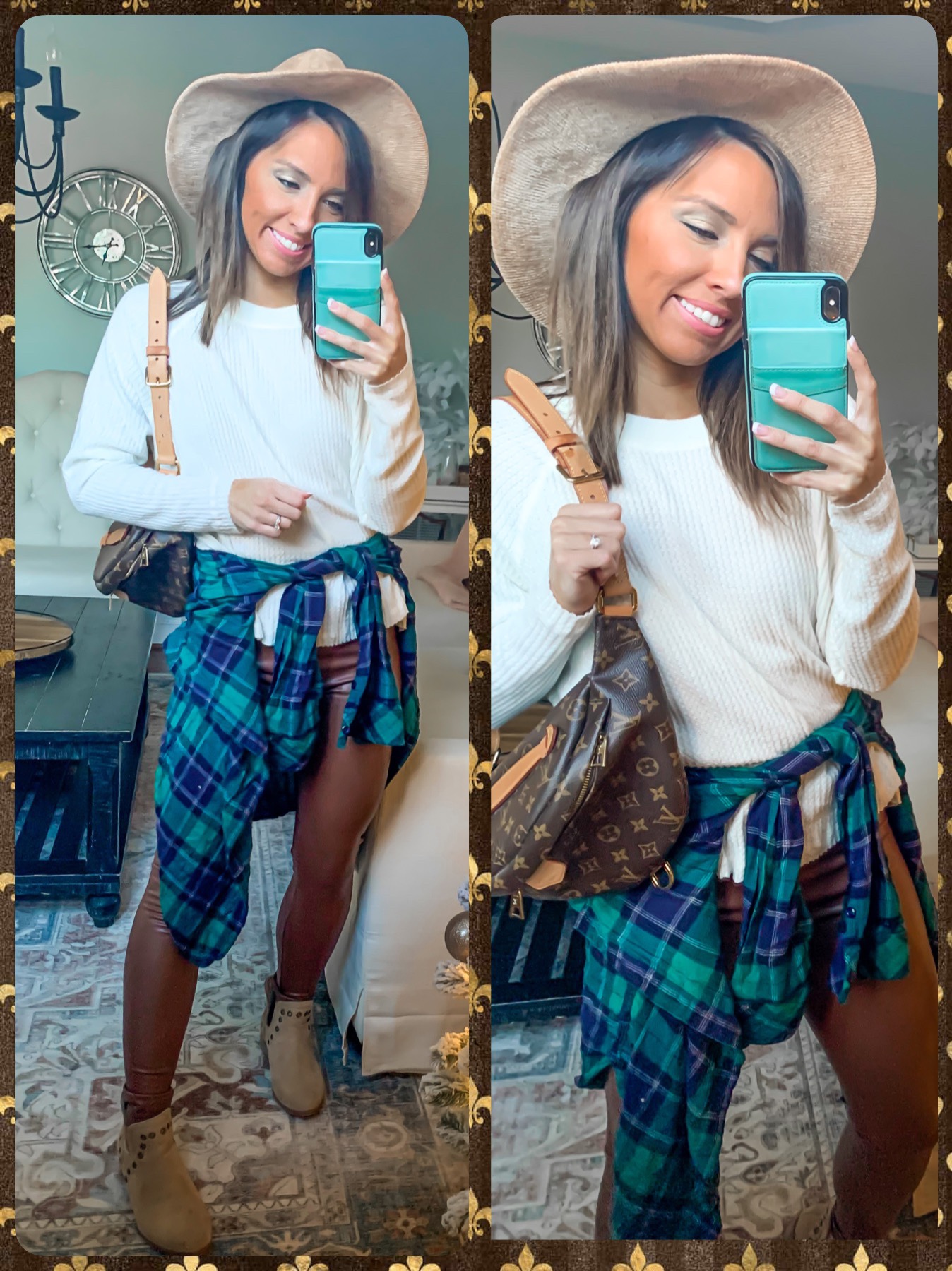 We all love our faux leather leggings – but this brand is a little bit cheaper than Spanx, and the quality is maybe even a little bit better. PLUS – they are available in some amazing colors! These are more of a leather pant legging, than just a stretchy Spanx legging, so make sure to keep that in mind when ordering. I am wearing my true size, XS.
Here is a little bit more of a dressed up look with these same pants. They are extremely flattering, and about 2/3 of the price of Spanx! Very happy with this purchase.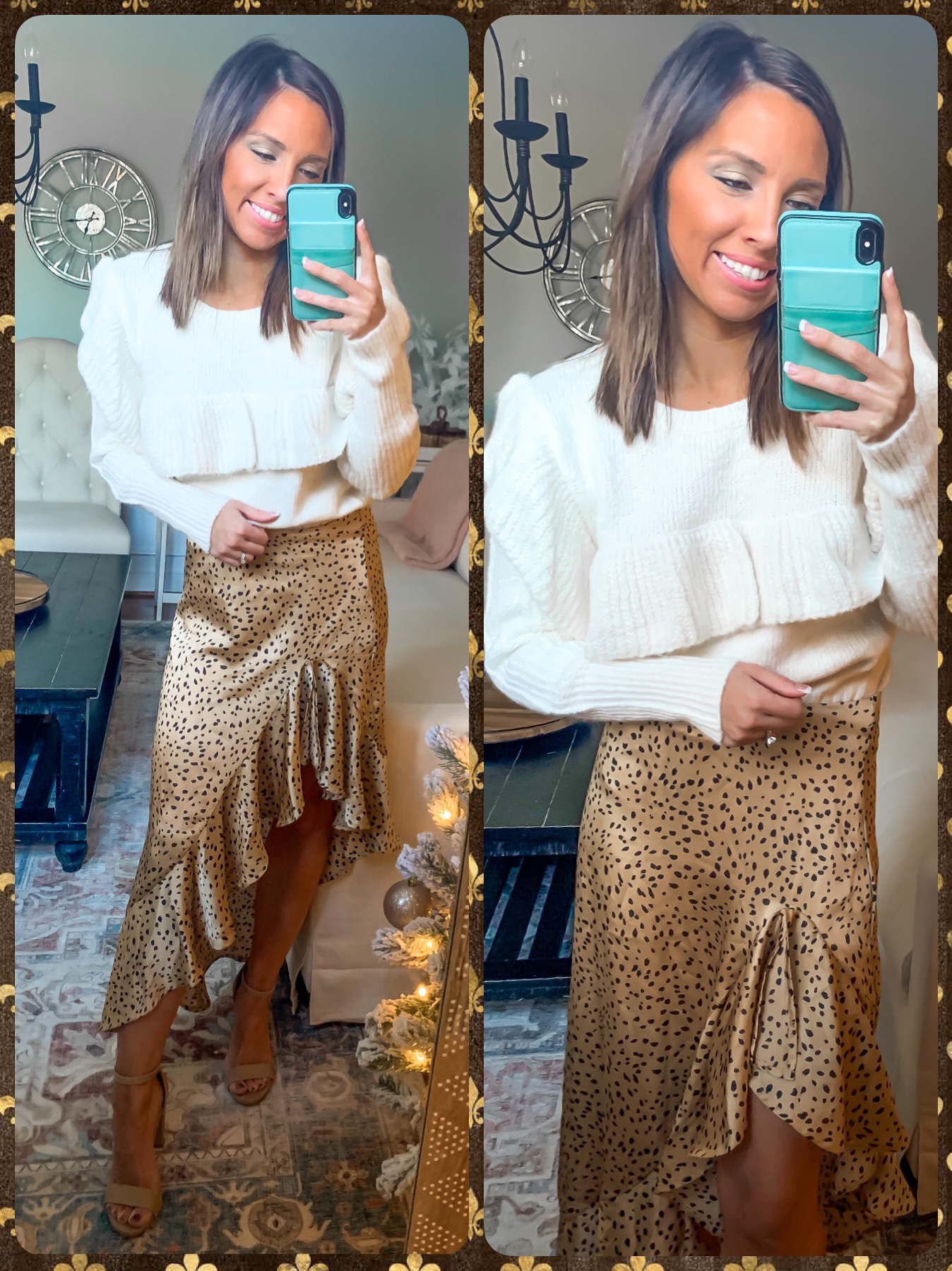 I grabbed this skirt over the summer, it's one of my favorites! It's no longer in stock so I did find a similar one at a really great price. While I do not have the skirt linked under the photo, Nasty Gal usually runs true to size.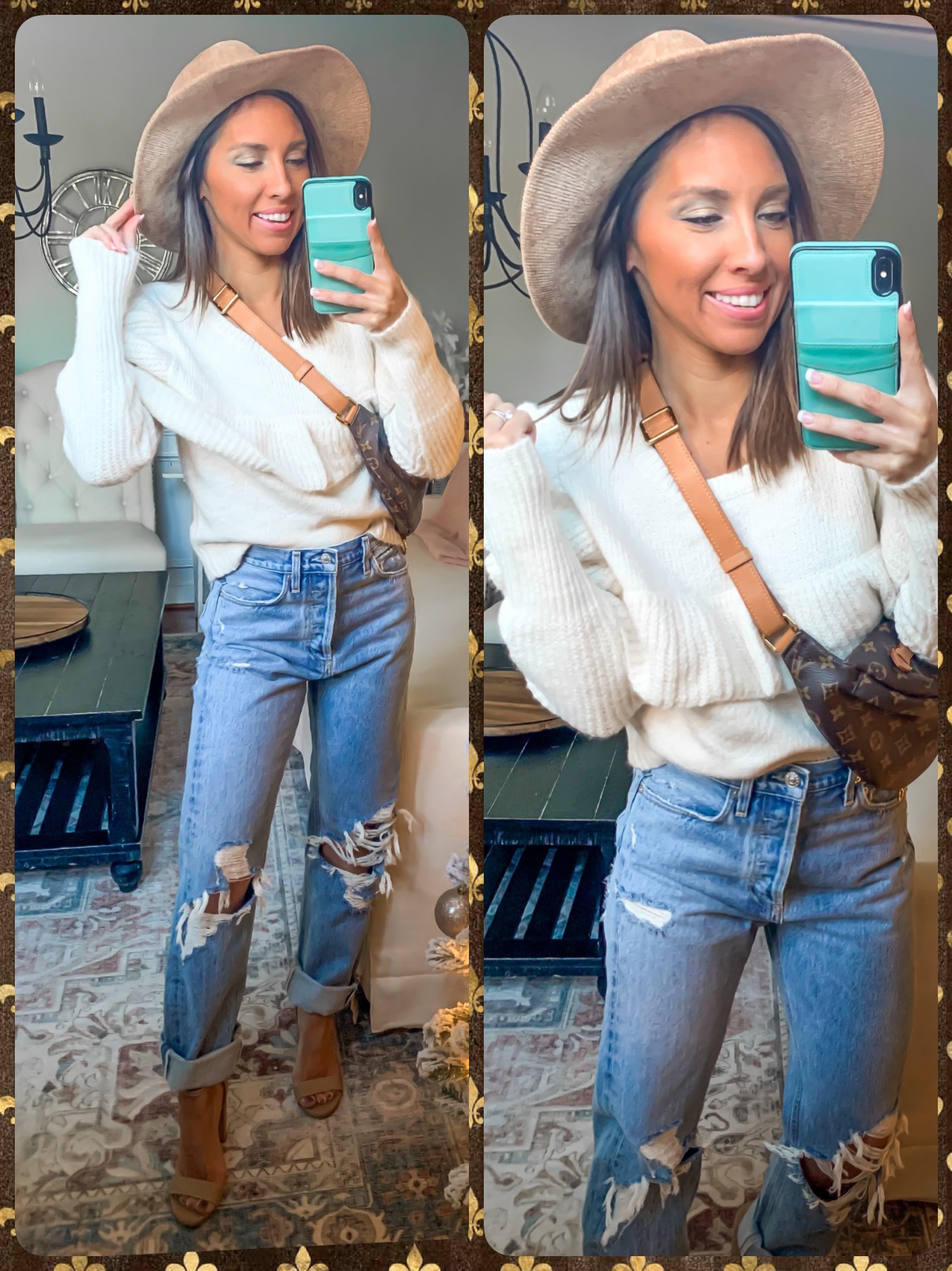 I had been sitting on ordering these jeans for quite awhile. They are definitely a splurge, but I am truly happy with my purchase! Some things to note about them is, they do run big. I am wearing a 23 (still slightly big but flattering!) and I normally wear a 23/24. They are also long – I am only 5′ 2 – but I am able to roll these up for a cute look. Finally – keep in mind that these are a true denim, they are a little heavier than your typical jean and are high waisted.
This sweater was an impulse buy at Target when I was trying to get family outfits coordinated after my Old Navy order never came. I didn't end up wearing it in our photos but it was a great find! It's $25, and has a cute little ruffle detail.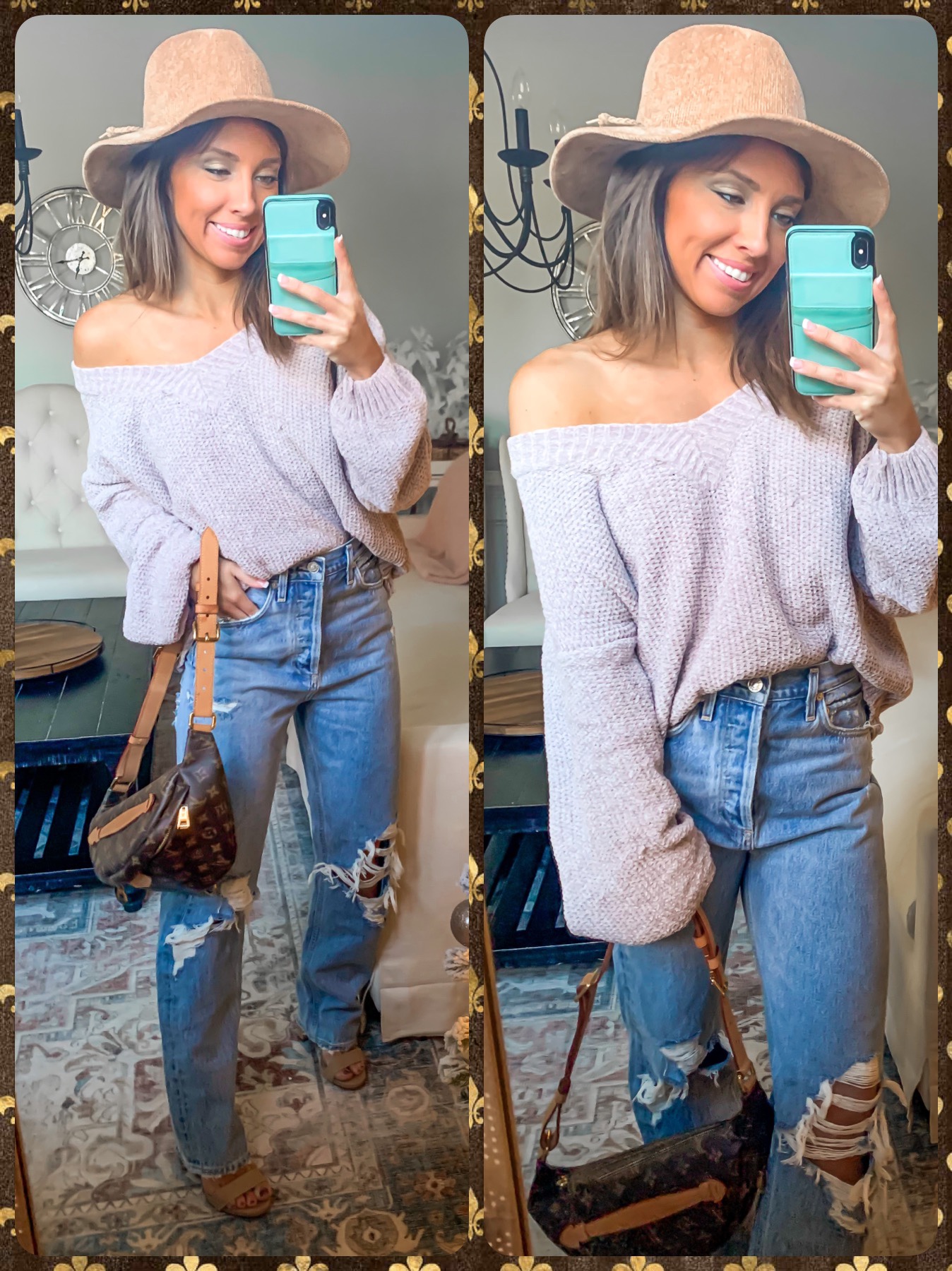 Here are the same jeans, shown unrolled with moderate heels! Speaking of heels – if you need a basic nude heel – these are affordable, long lasting and very comfortable to wear for long periods of time.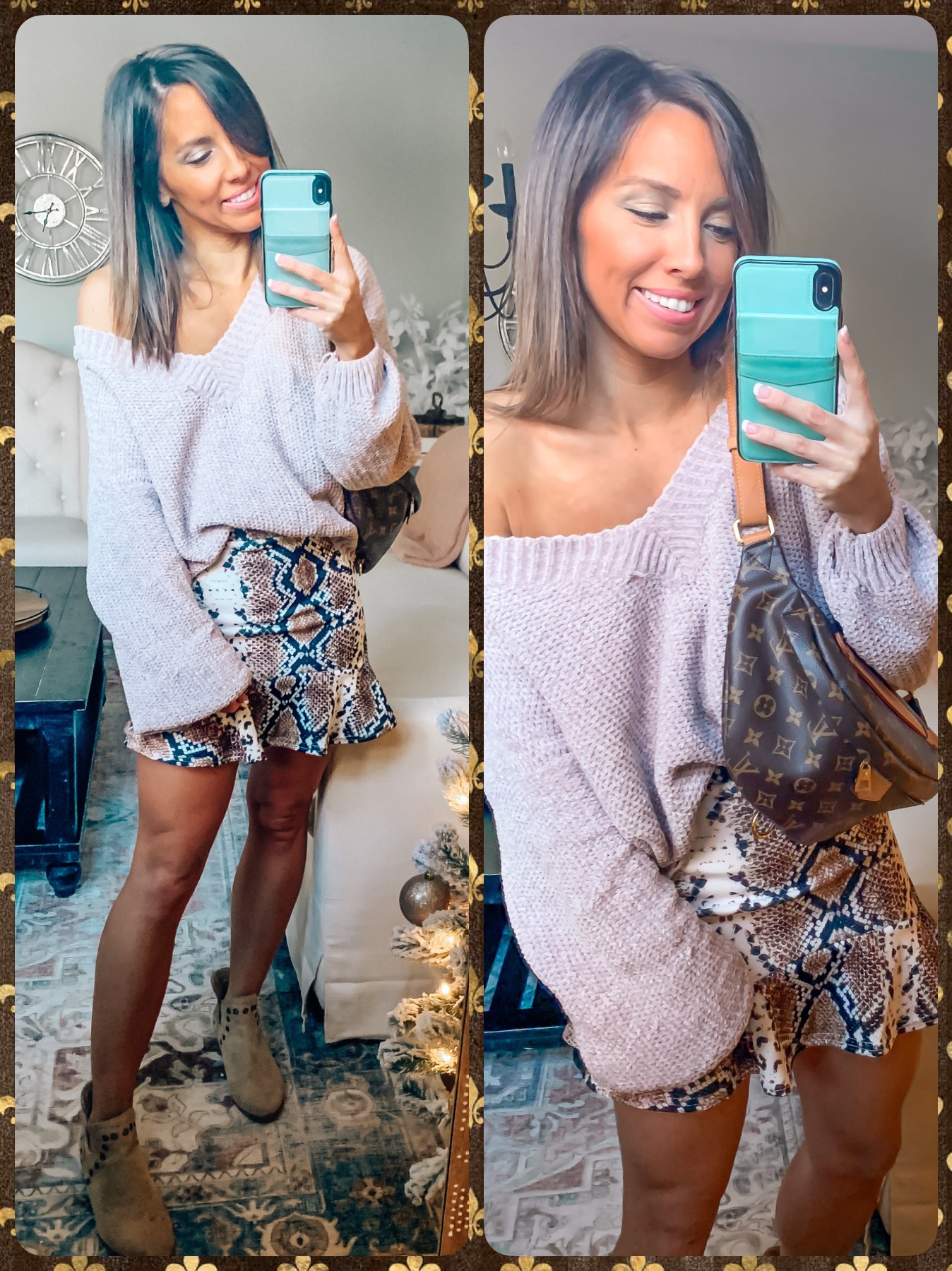 Linking some similar sweater options, I believe this is from Shein last year. This snakeskin skirt was an amazing find – currently 50% off making it $12. It fits perfectly – and is a must buy if you're petite. I am wearing the 0 and love the fit.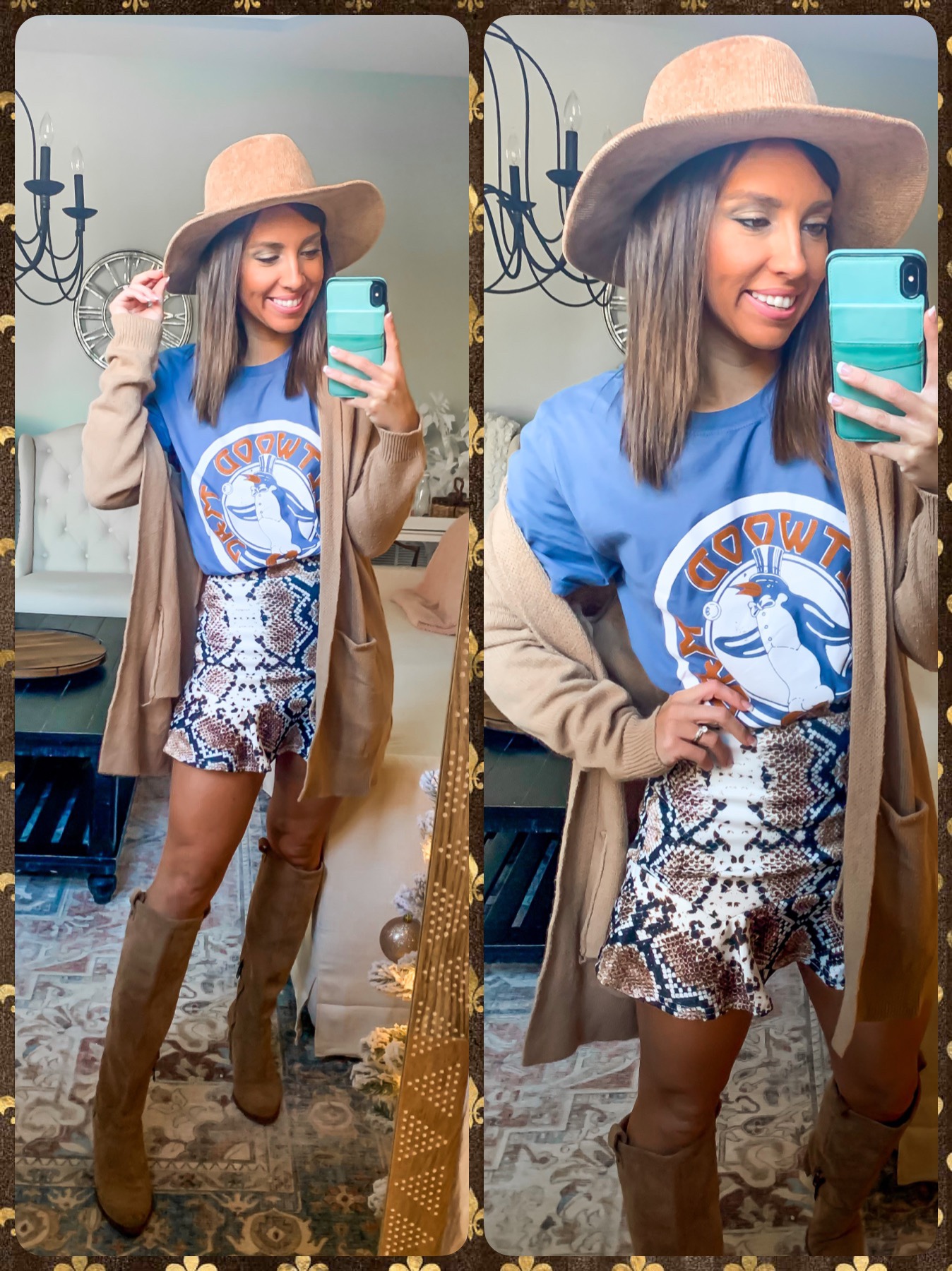 Here is that same $12 skirt another way! I have to mention these boots because they were from Nordstrom a year or so ago and are the most comfortable boots ever. They are by Ugg – and I have found them for you in a few sizes and colors! They are fur lined, just like your typical Ugg boots.